Well friends, I have to say, when we opened almost 4 years ago I never would have guessed that as we approached our 4th anniversary we would be shut down by a national viral pandemic. While watching the news we realize that this is only for the good, but yes, there are times when it is difficult. The "what ifs" creep in and wonder how this will end. We do pray for healing and for this crisis to come to an end as soon as possible. We have not kept it a secret that we are believers in God and that He is in control of everything. We have seen so many ways how He has worked for the good when it comes to the shop and we will see it in daily life, too.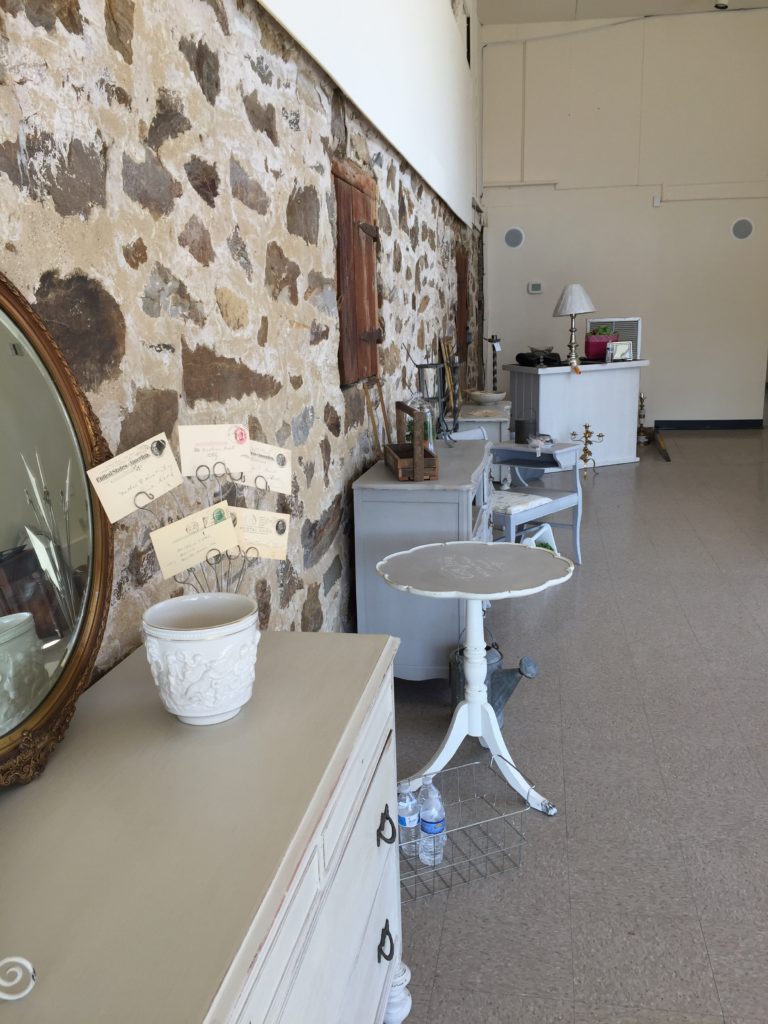 So in looking back at the beginning of the shop, four years ago, is the photo above crazy to see or what? This was taken as we were loading the store with our newly painted and repurposed furniture. It looks so BARE. It is also a reminder that whatever happens due to the temporary store closure that we can accomplish and overcome because, after all, we can see it was built up before!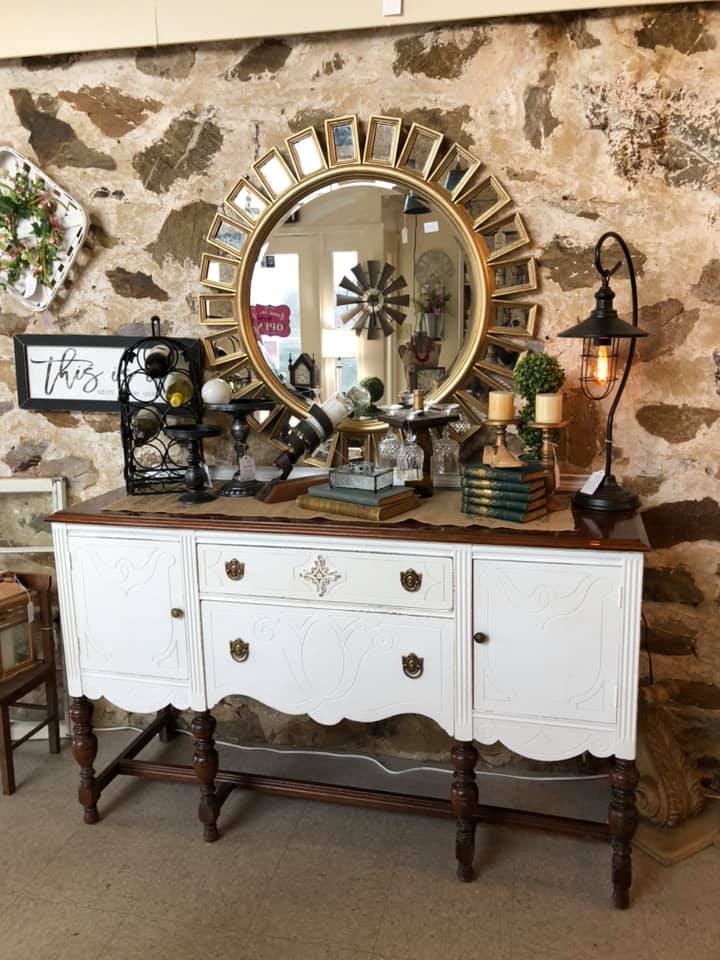 In fact, we have already brought some new pieces into the shop. We're still thinking about changing this one up… maybe add some vintage French script or painting the legs with added distressing. Since we still have some time, we are going to mull it over.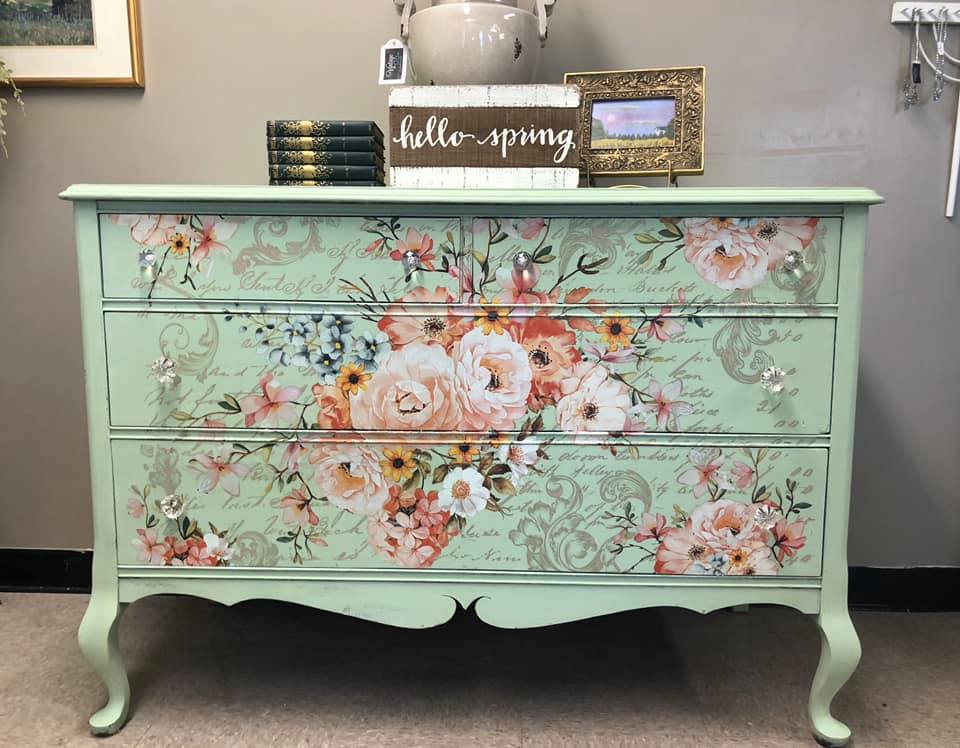 This piece was painted with "Feline Fine" from Country Chic Paint. I tried a new "Re-design by Prima" transfer and I still love 'em! Now, not for the faint at heart… this one challenged me for sure! The larger you go, the more difficult it is. I also changed out the old hardware for new glass crystal knobs.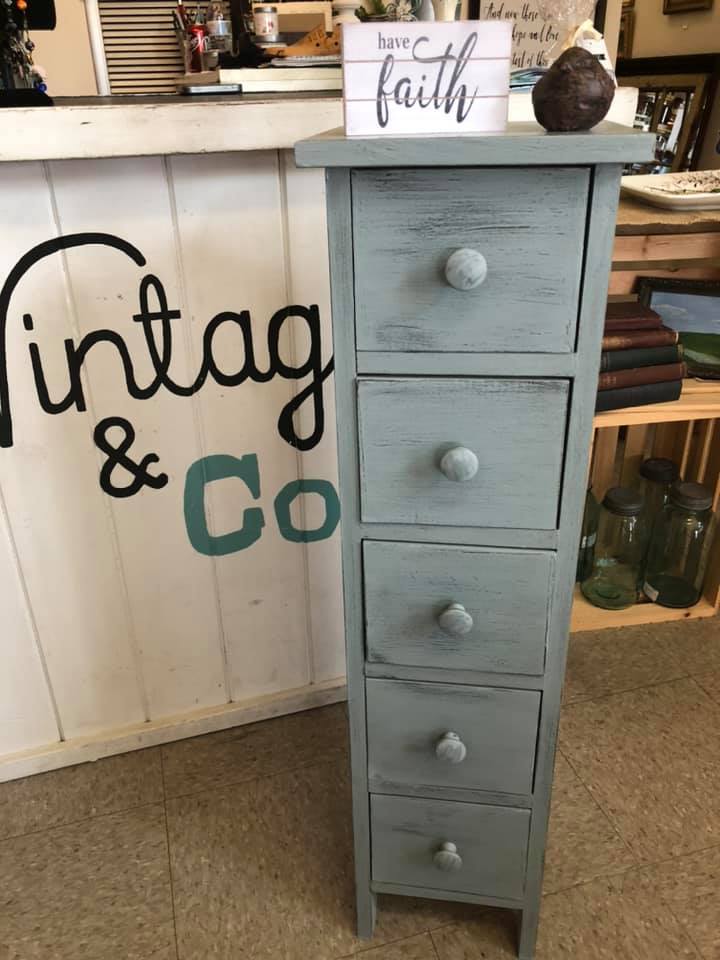 Right before the temporary closure I had just finished up working on this Candlestick chest, most likely Amish made. It was made out of fresh and bare wood so I had to paint it with Dark Roast first. I did this so that after I applied the second coat of Glass Slipper (the blue,) I could distress it with some sort of age or weathered look showing through.


And like my little sign on top reads: "Have Faith." We will get through this challenging time. It helps to keep busy but for us, our Faith in God gets us through.
Praying for you all to get through these uncertain times too. We will be back and can't wait to see you.