The Best Kept Secrets Tour – Lancaster County is in full swing
at the shop and runs until October 22nd!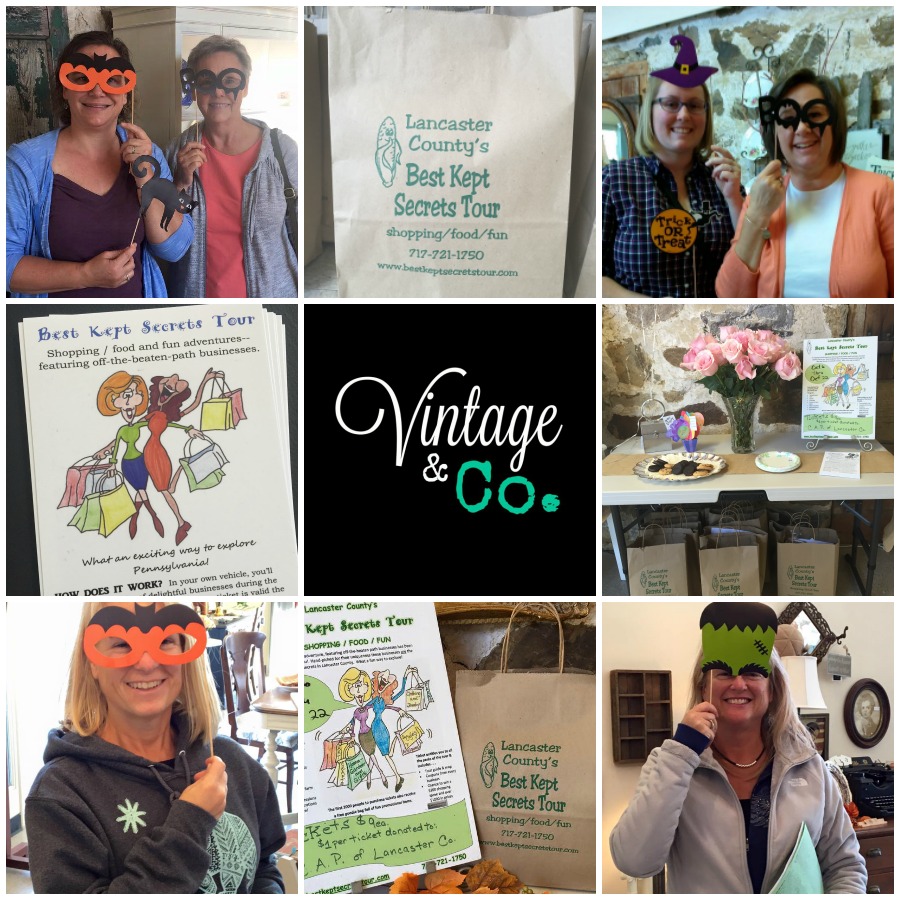 We had lots of fun spirited tour goers who enjoyed hamming it up
for our social media posts using Halloween photo props! Thanks, Ladies!
Special note:
We are open from 9 to 5  thru  this Saturday. We will be closing
on Sunday October 23rd to get some much needed rest!
**Wednesday, Oct 26th we will return to our regular Fall Hours**
Wed – Fri 11 – 5   *   Sat 10-5   *   Sun 1 – 5
 ___________________________
Now, here's what's new at Vintage & Co!
Feel free to contact us if you see something you like.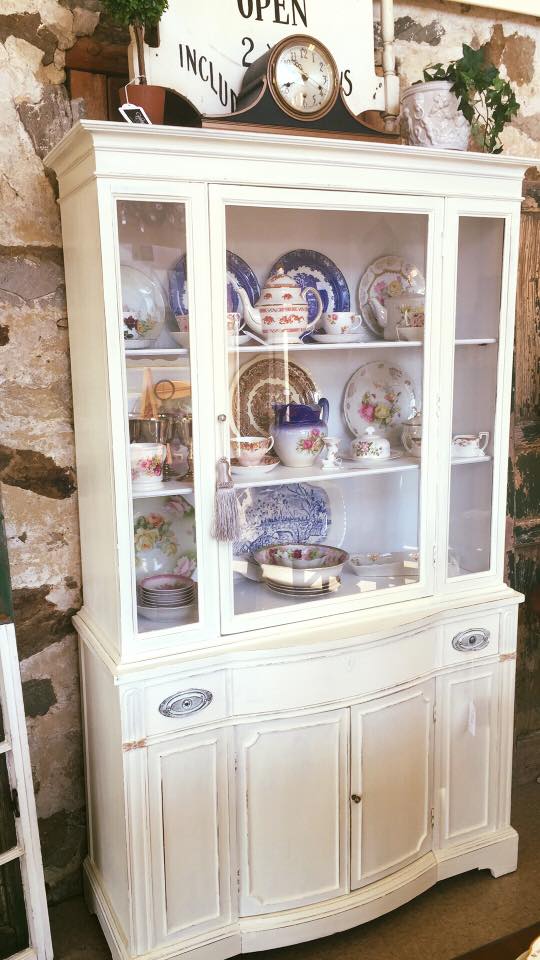 Our latest arrival is a real stunner!
We just love how this china hutch looks in the shop
against the brownstone wall!
Great way to ramp up your dining area's storage
and "wow" factor as the holidays approach!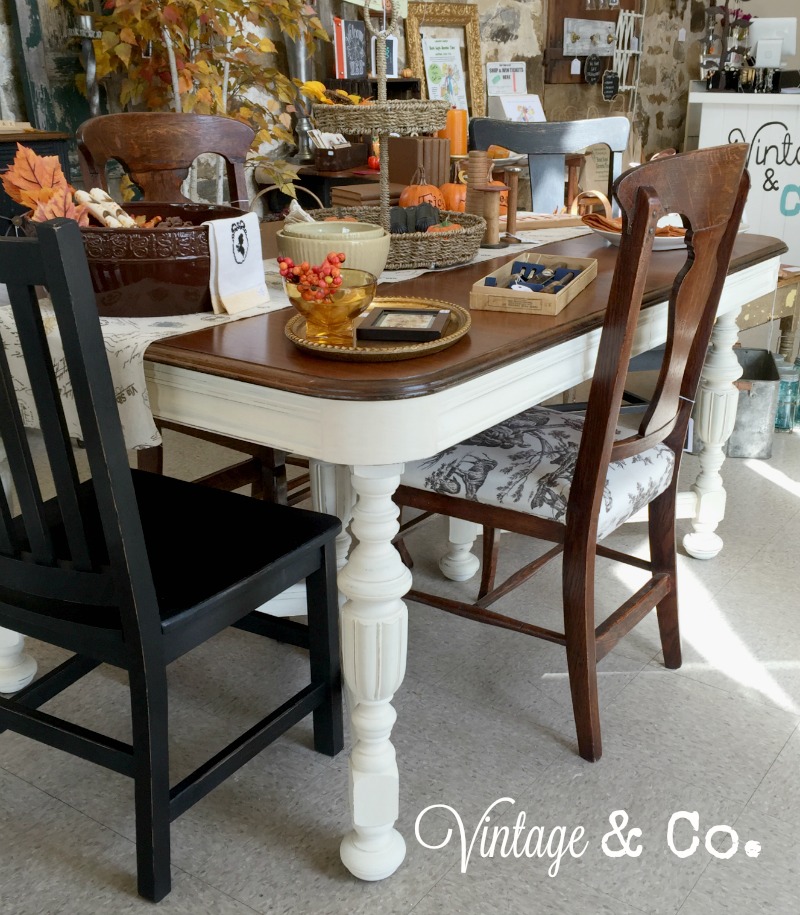 We've been able to have another farmhouse style table ready
in the shop! This one is 5 feet long and has a leaf to extend it.
Painted the same color as the new china hutch above…
what a great pairing!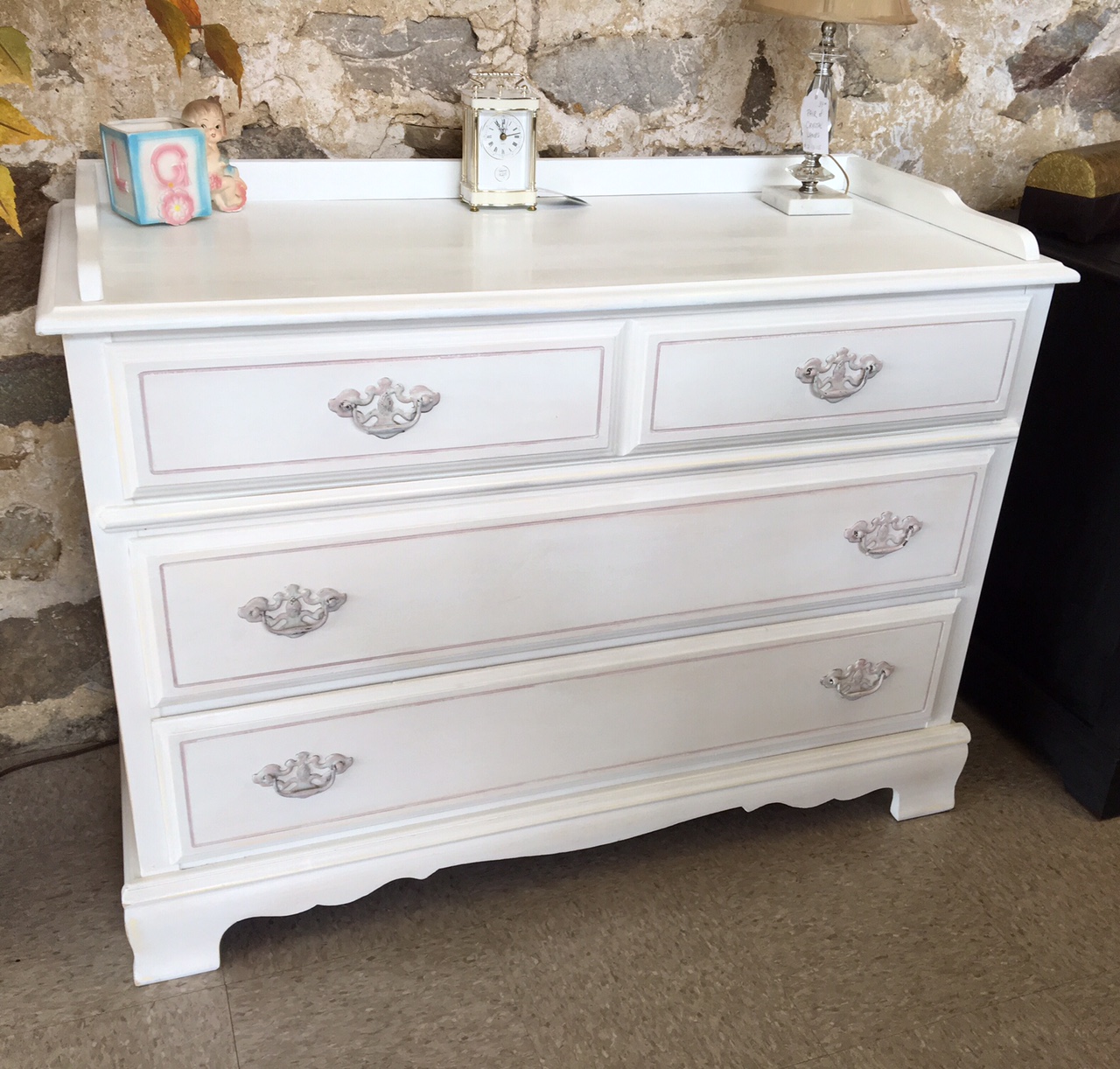 We try to think of the couples coming in to look for
vintage furniture for the baby's room.
This white chalk painted dresser with a hint of pink,
 is perfect for a changing table. Then you will be able to use 
it for storing clothes as the baby grows.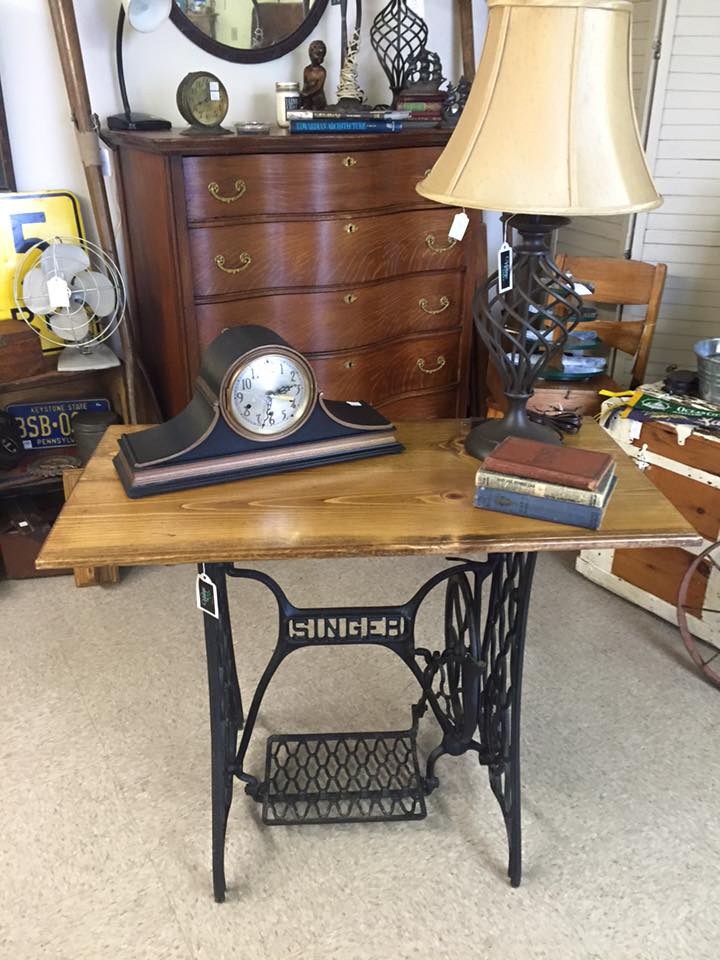 Upcycled by my hubby, this antique Singer sewing machine base received
a new table top, given a routed edge, stained and then varnished.
She's ready for a new home! Works great as an entryway, side, or sofa table!
Measures approx. 37″l x 29 1/2″h x 19 3/4″.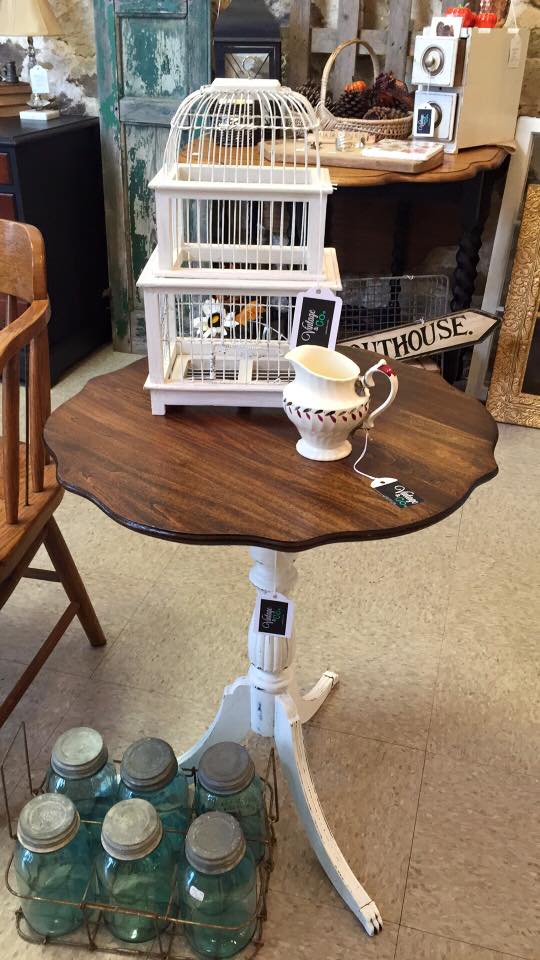 Also new this week is this sweet vintage pie crust table.
We decided to make the top wood grained and stained
while chalk painting and distressing the lower half.
~~~~~~~~~~
We also have a new gal in the store who
is a big help in selling vintage clothing.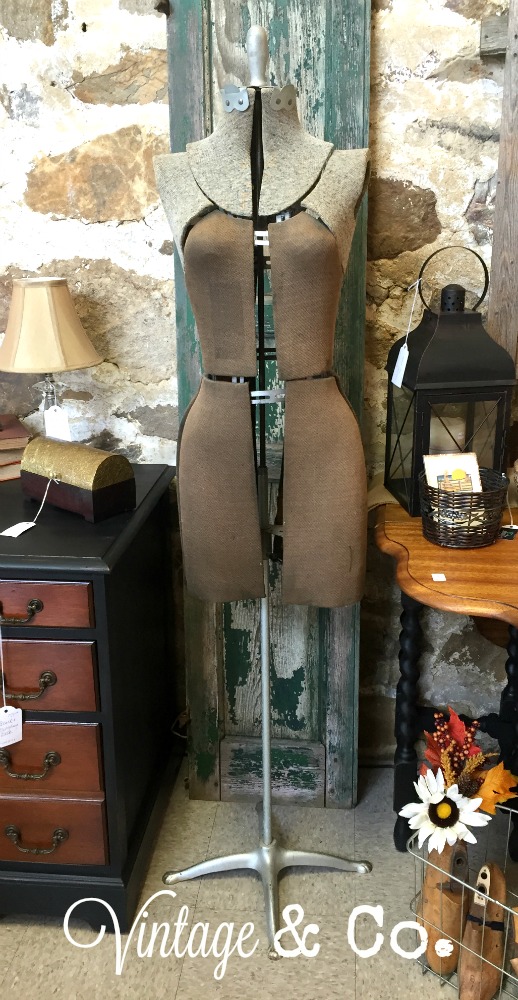 Meet "Carmella!"
I'll be bringing in some vintage clothes for
possible use in costumes this October.
Stop in to see what we have!
And yes, Carmella is also willing to help
you in your home, too.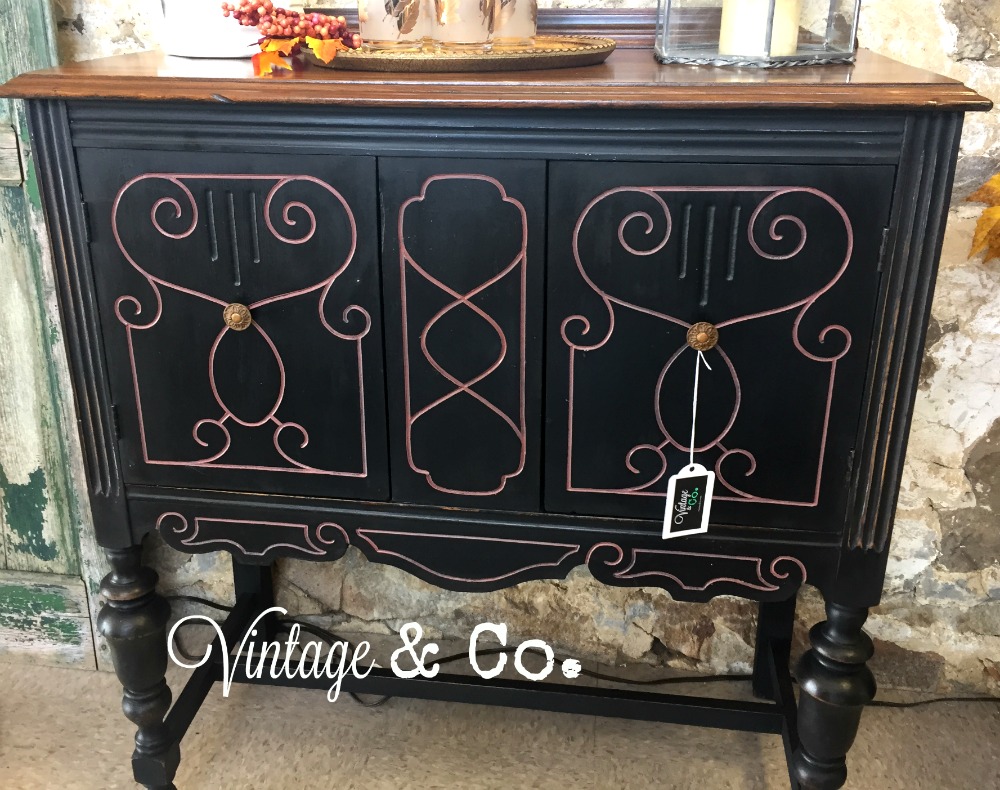 This is what we like to call our "Flea Market Flip!"
We took an old sideboard or buffet and turned it into
a wine bar!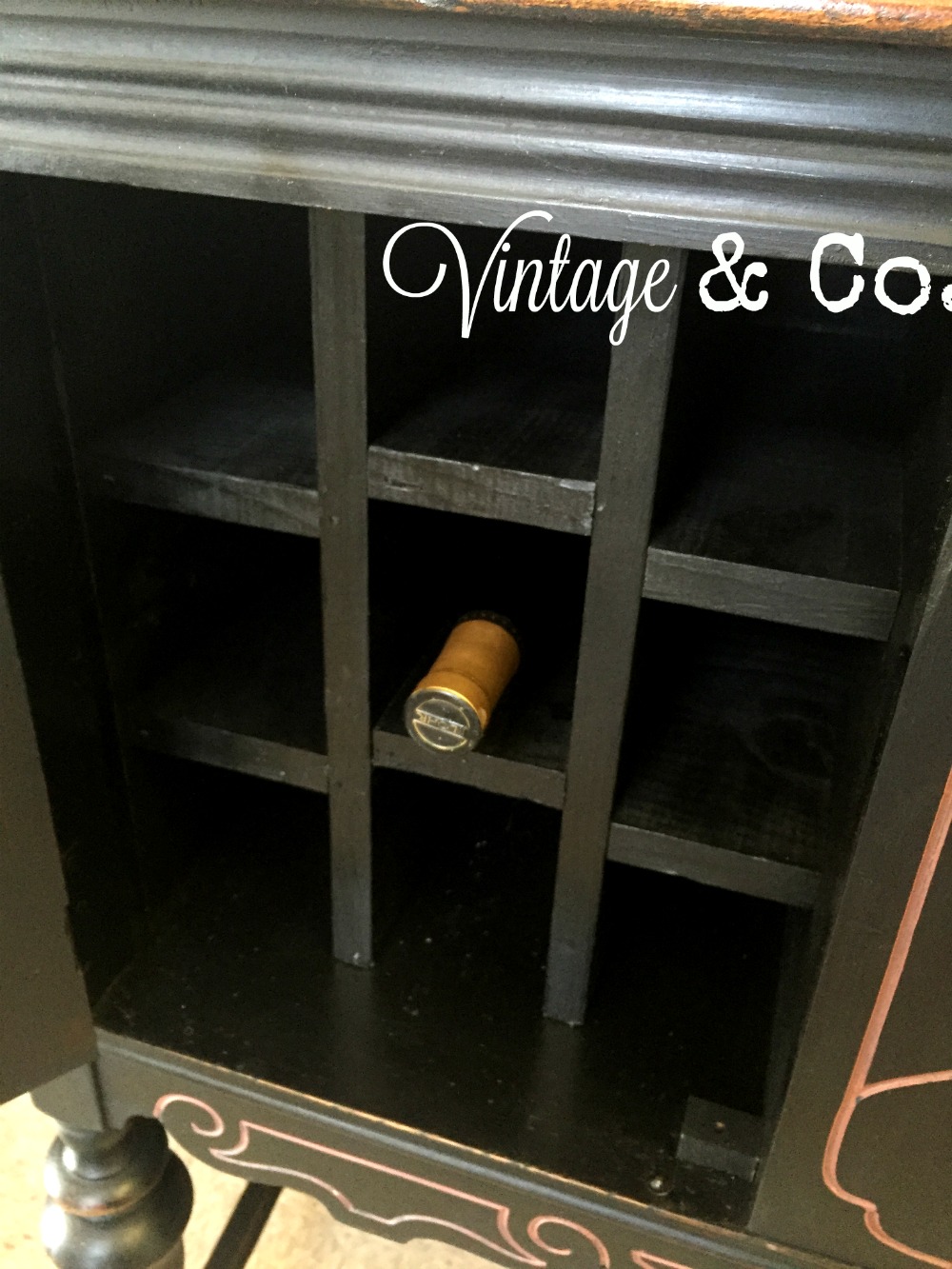 Slots were added to store your wine bottles.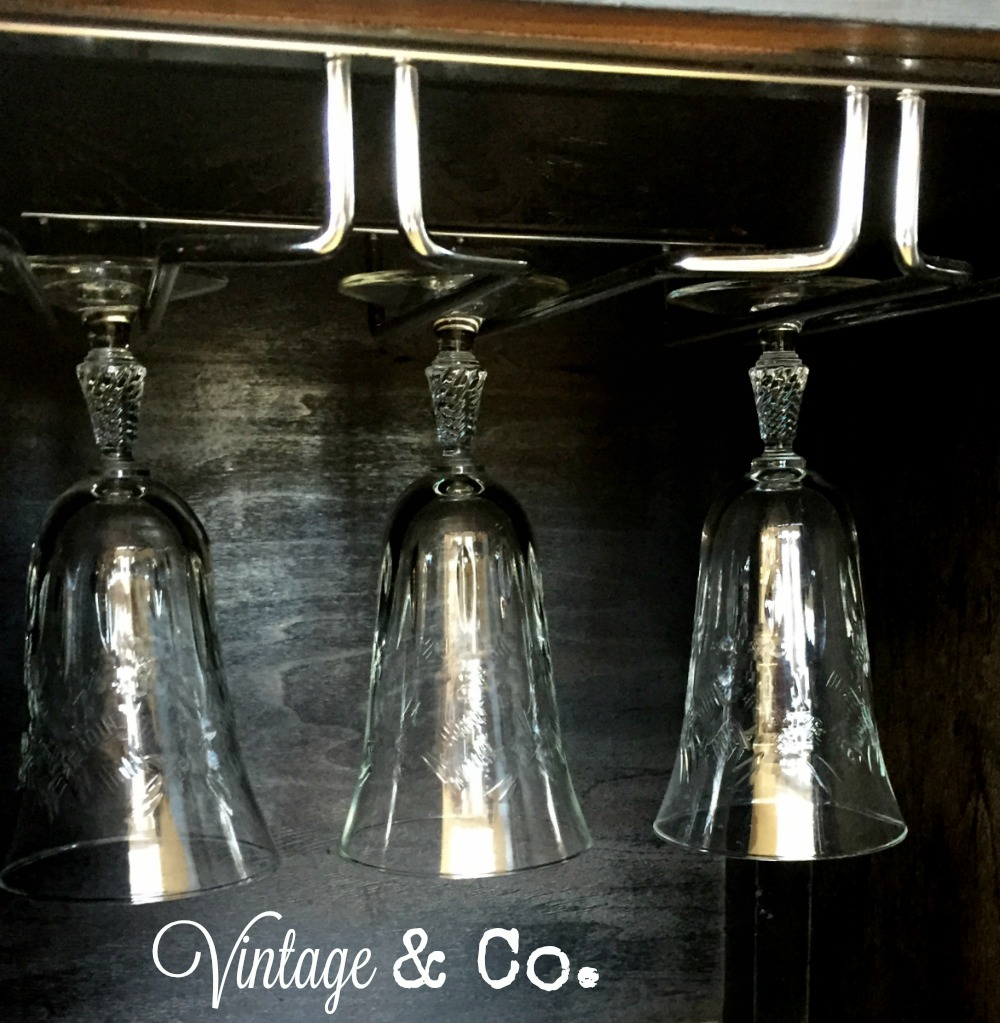 And racks were added for your stemware.
We'd love for you to stop in and check it out!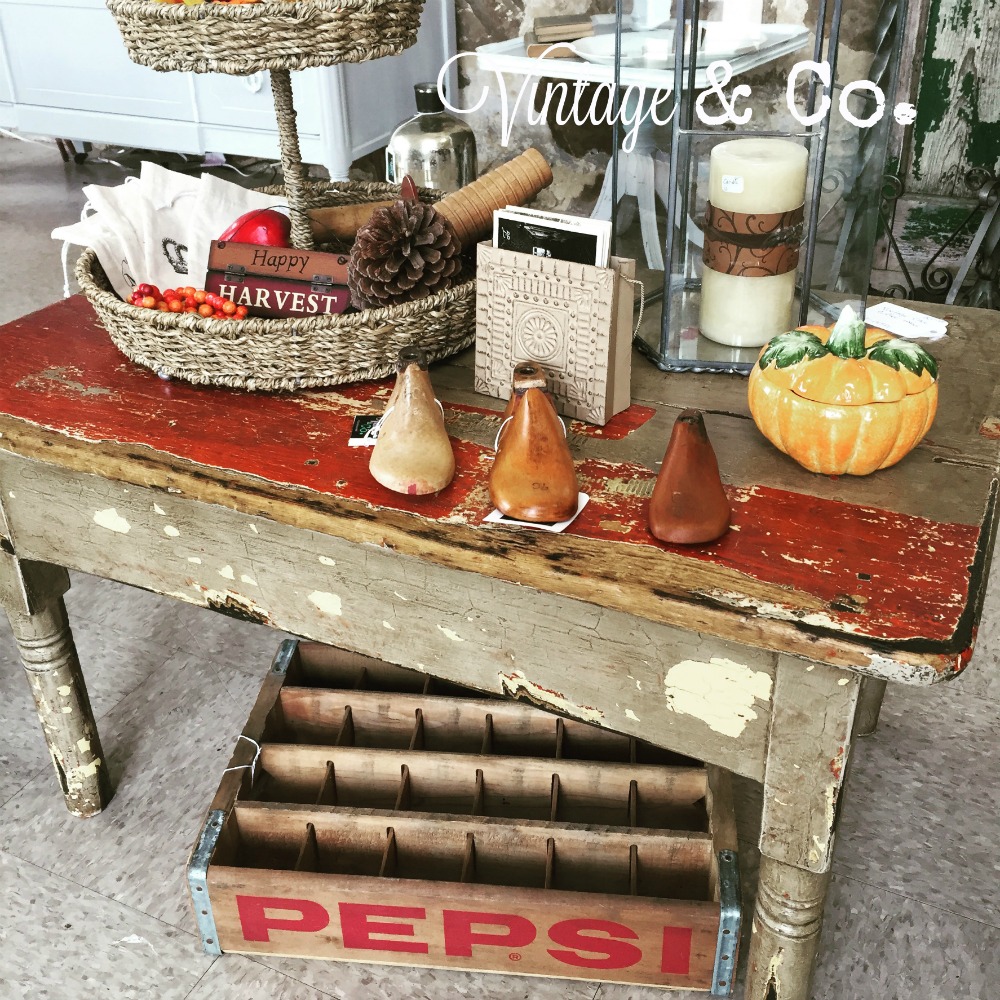 We couldn't resist bringing this awesome
coffee table into the mix. It is just
layered with different levels of distressing.
We can't take credit for the art work,
but we are giving ourselves kudos for the find.
Super cool!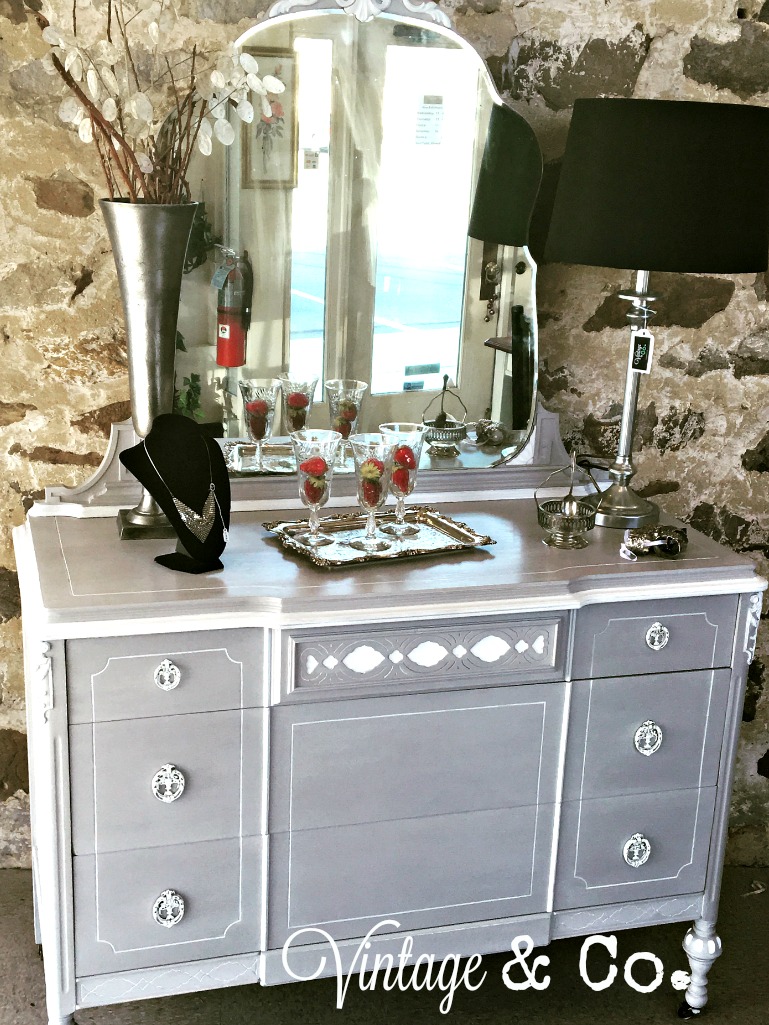 You'll also see this antique dresser and she is really dolled up!
We gave her a wonderful coat of Parisian Gray chalk paint,
then white for accent, finely sanded and then sealed with an
Annie Sloan wax.
More details and photos can be found on our blog, here.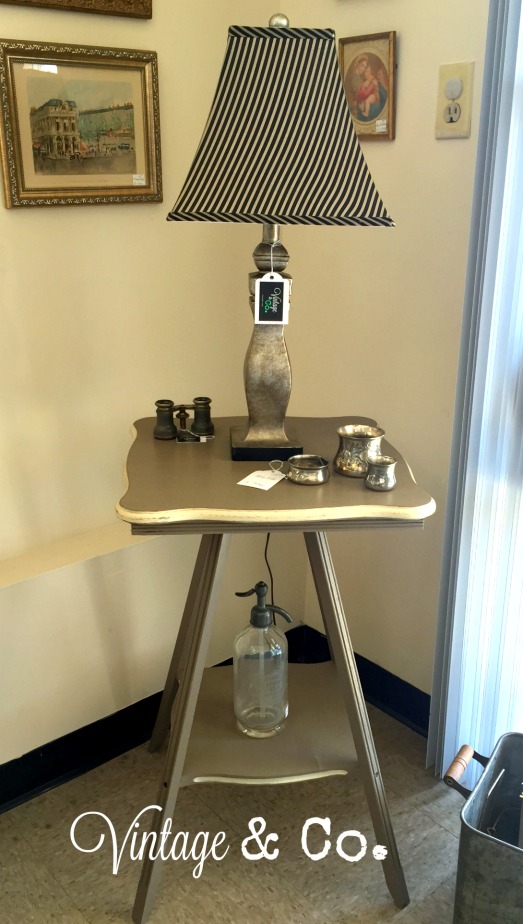 This fern table also makes a great
place for a trendy lamp.
It is a hand crafted piece, by one of its former
owners and we gave it a new, updated look.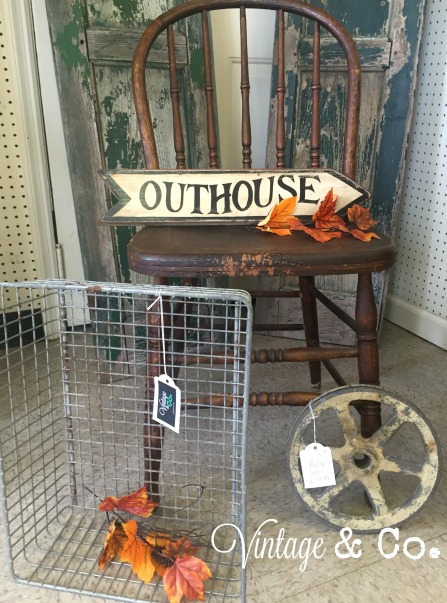 We've also brought in some of our
latest finds… some are fun and
some are very farmhouse practical!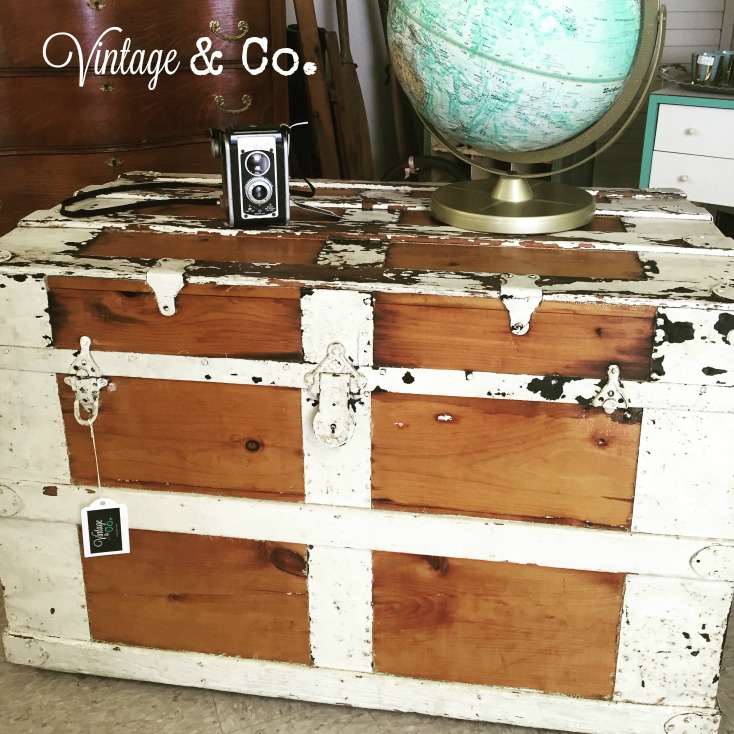 We just love this antique trunk!
No styling needed, just a varnish
to bring out the color of the wood.
Great for a coffee table with lots of storage!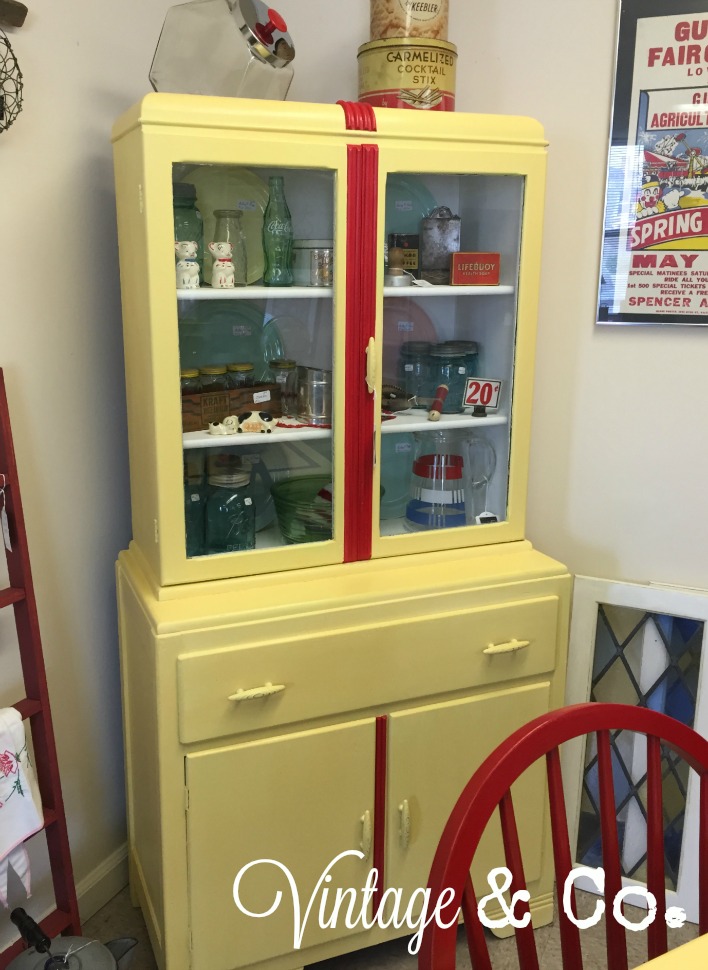 This vintage, depression era china cupboard will add a
pop of color to your cottage kitchen! 
Charming and perfect for a smaller kitchen or
dining area.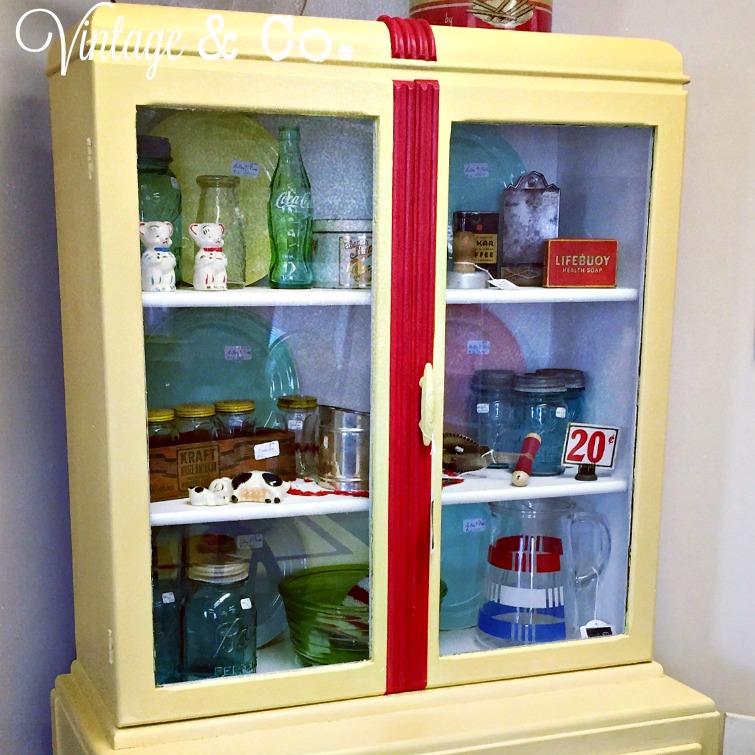 Lots of great storage in the upper
cabinet,  a roomy drawer, plus shelving behind
the lower doors! Priced at just $169.00.
Stop by and check it out!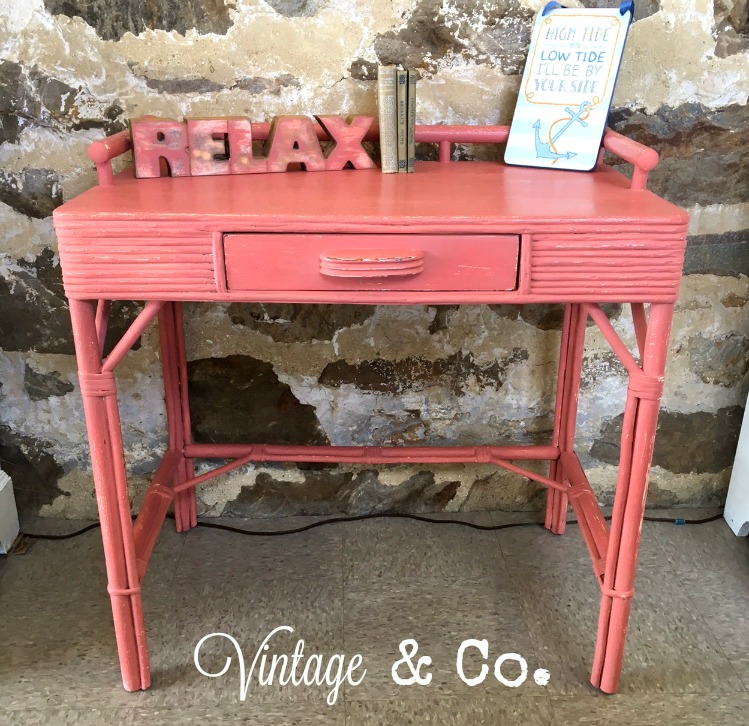 Have a small area for your office?
 Try this vintage bamboo desk on for size. Love the coral color!
A perfect piece for a bedroom or office.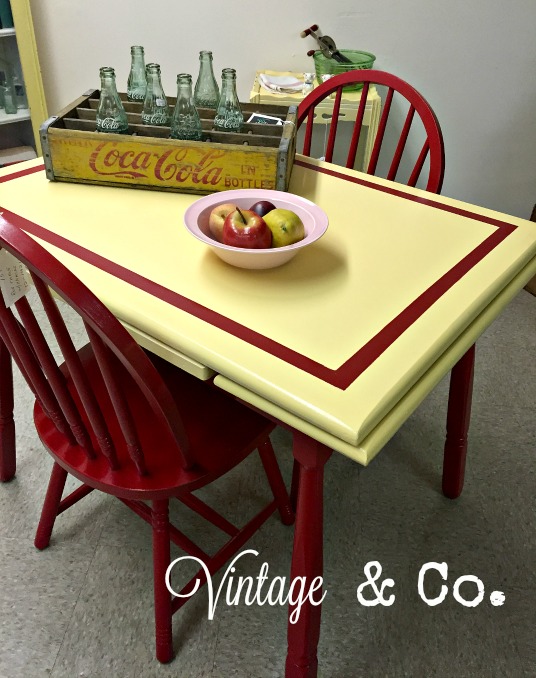 This cute farmhouse, 1950's table is another recent arrival!
It measures approx.  38″ l x  28″ x  30″ before pulling out the
extended sides! Great for a small kitchen or for a second home.
It is made out of wood and has been specially painted with the
wonderful graphic design on the top.  The chairs are
included at the wonderful price of 159.00!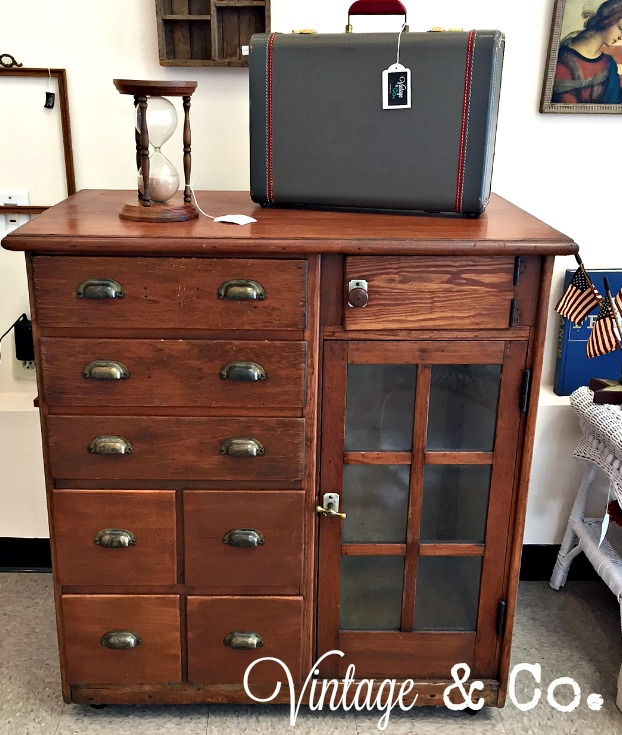 We were thrilled to bring this antique cabinet to the shop.
It was possibly used by a dentist because behind the glass
you see slots for trays or small drawers.
I love the industrial hardware!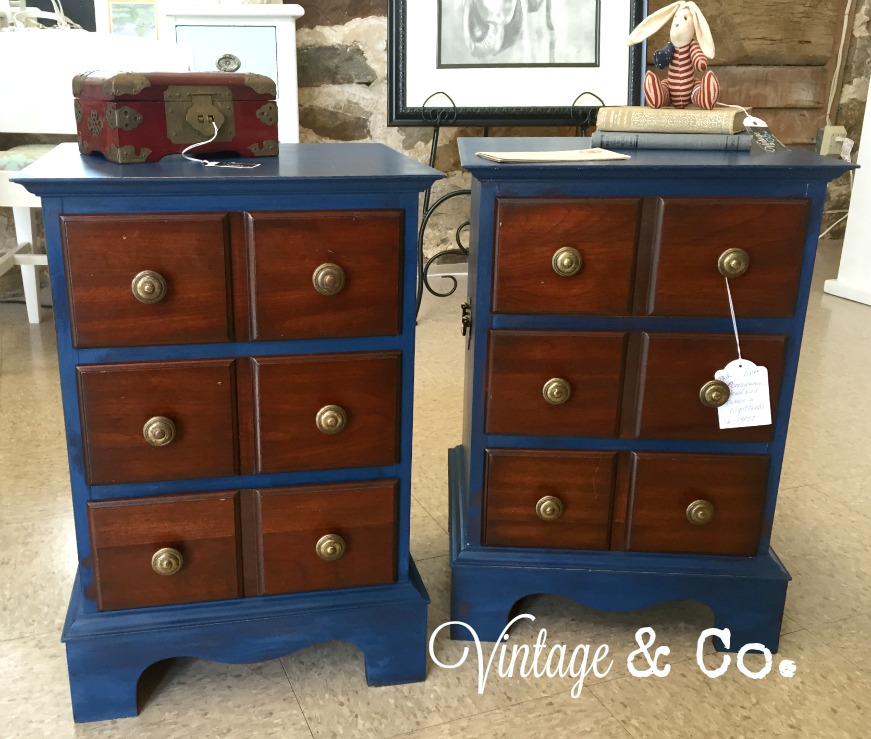 I was inspired to paint these night stands (or end tables) with a nautical blue.
I love how they look with the drawers left in their original finish.
Pennsylvania House furniture is always high quality, too!
$120.00 for the pair.
 ________________________________________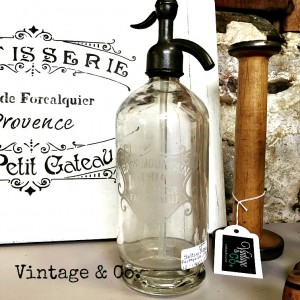 We just came back from an inventory buying trip…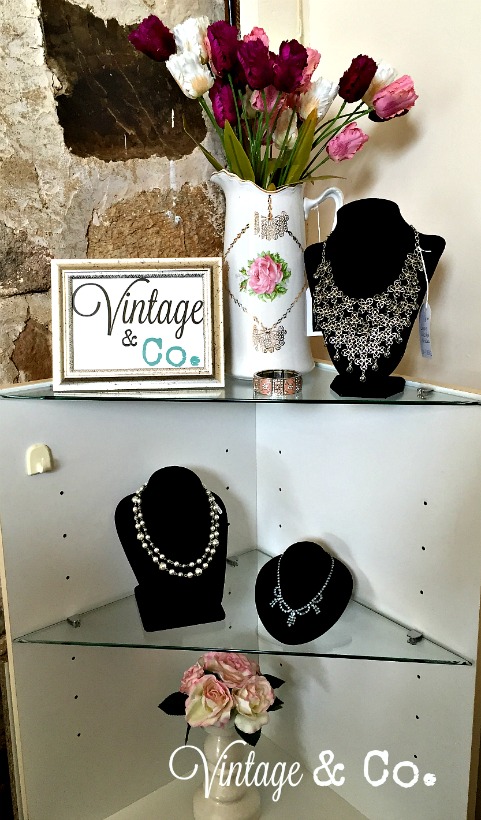 … lots of new smalls will be in the store, like the jewelry above.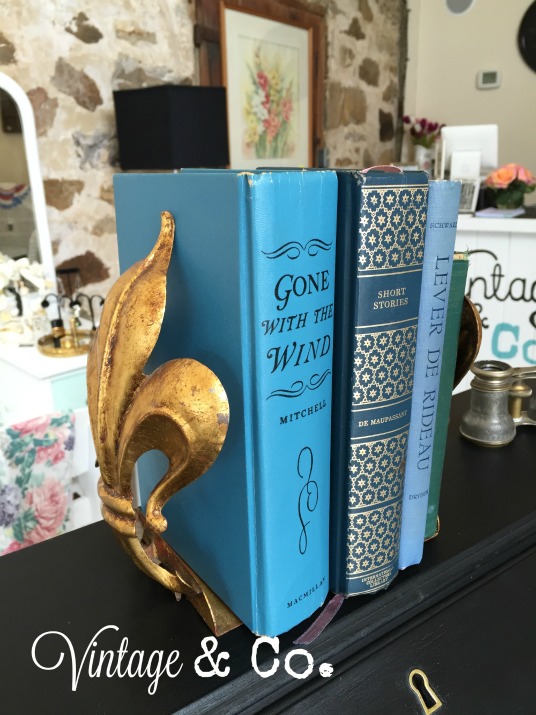 and these gold leaf fleur di lis bookends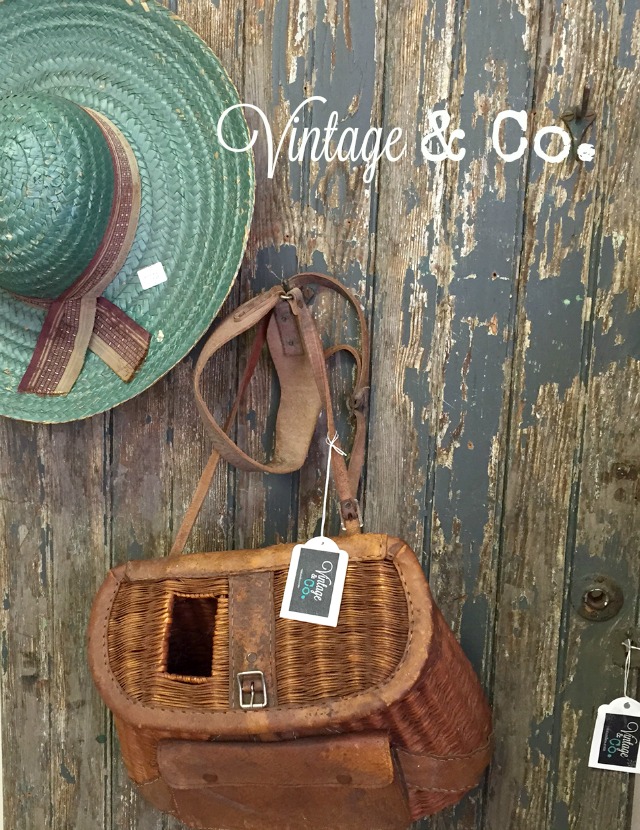 Antique fishing creel (SOLD), gardener's hat…
just to name a few! Stop by and check them all out!
Fall and Winter Hours:
Wed 11 – 4
Thurs 11 – 4
Fri 11 – 4
Sat 10 – 5
Sun 1 – 5
Mon/Tues – Closed
~~~~~~~~~~~~~~~~~~~~~~~~~~~~~~~~~~~~~~~~~~~~~