Welcome to Vintage & Co!
We're happy you stopped by.
~~~~~~~~~~~~~~~
Our Winter/Spring Season
Store Hours Are:
Wed – Fri 11 to 5   
Sat 10 to 5   *   Sun 1 to 5
 ___________________________
NOW, HERE'S WHAT'S NEW AT VINTAGE & CO: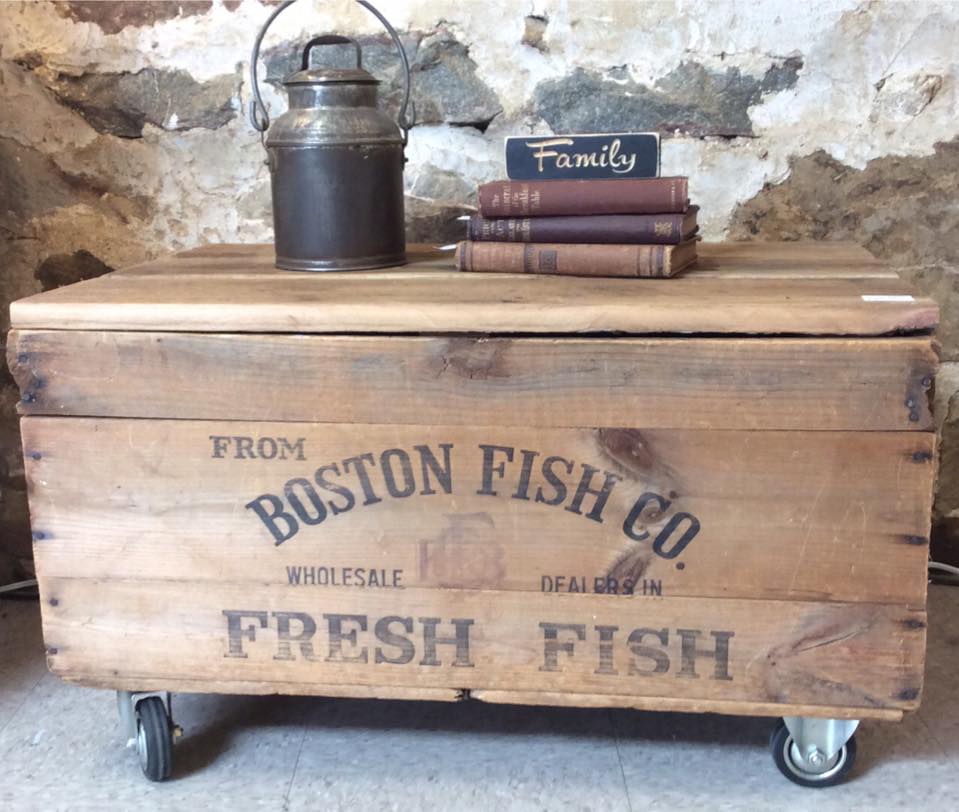 This is a great upcycled piece!
We turned a vintage Boston Fish Co. crate into
a rolling coffee table with storage!
Great price of $159.00!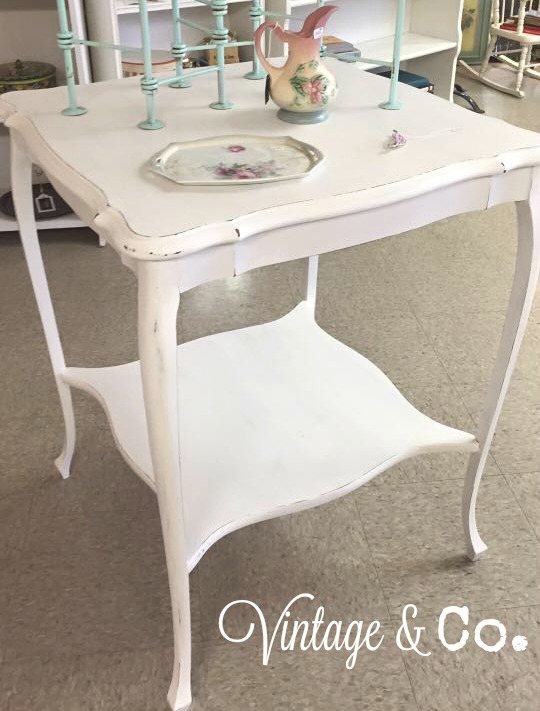 This pretty white square top table has beautiful lines
as well as plenty of surface space.  Measurements are: 24″ w  x 24″ d  x 30 1/4″ h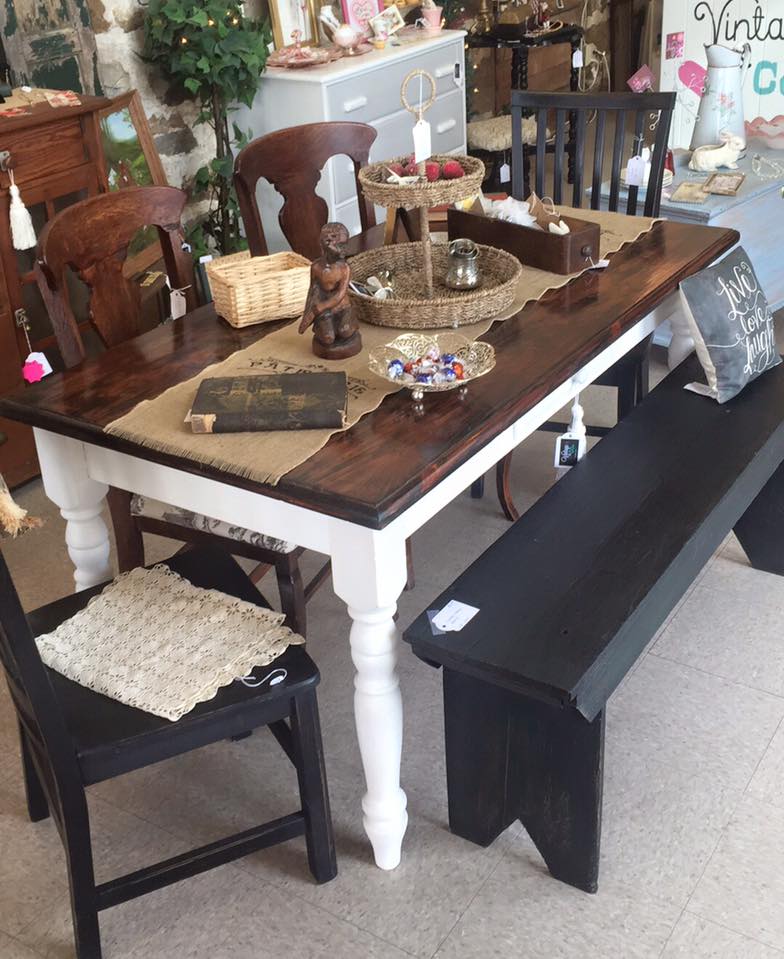 We're always thrilled to be able to add a farmhouse table to the shop.
This one is 5ft long and has wonderful tones in the wood.
We paired it with a black bench, black chairs and two wood stained chairs with toile
seat covers. All of the pieces are priced individually so you may
choose what works best in your home.
Table $385
Bench: $85.00
Chairs: $49.00 each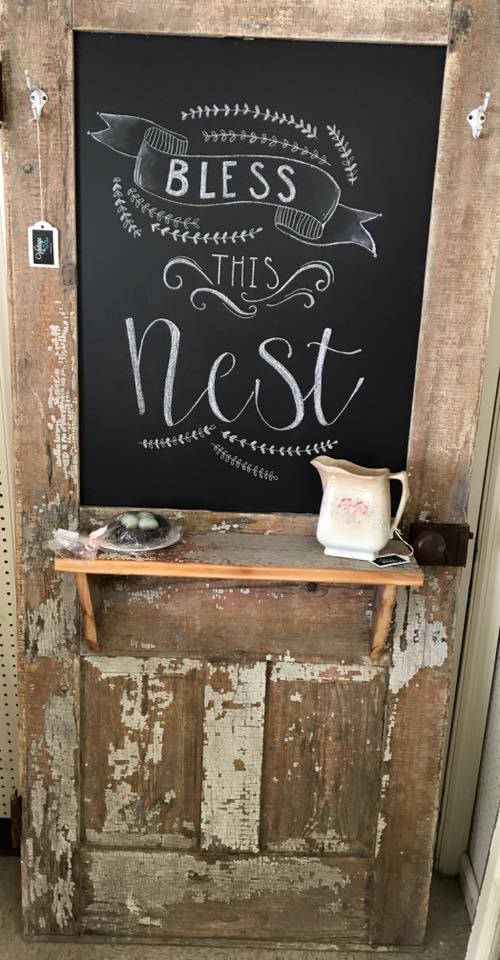 A vintage door was given a new look with a chalkboard, hooks, and a shelf.
$135.00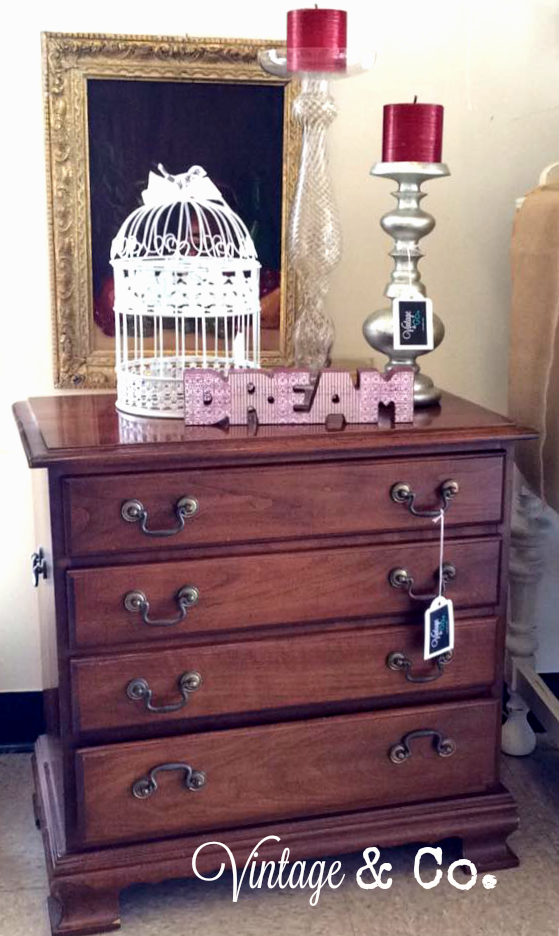 We think you'll love this nightstand or end table as much as we do.
We have another one, in a similar form, just a slightly different style.
Nightstand or end table, we think it is great for either purpose!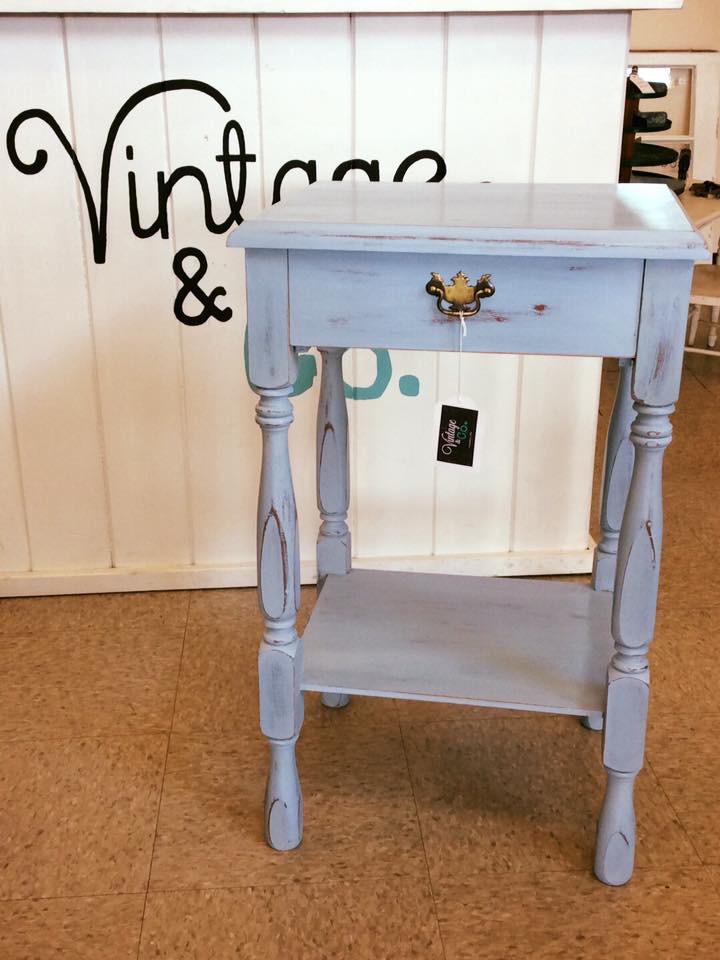 This beautiful blue chalk paint helped give this
nightstand a new life!  With a drawer and
a shelf for storage – this piece is sure to sell.
We love how it turned out so beachy and fun.
$59.00

Another side table made it into the shop but
this one has unique features… we highlighted
areas in an "antiquey" bronze.
$59.00

We're having fun with this vintage buffet turned coffee bar.
Awesome storage underneath when you open the doors.
Add matching baskets for convenient "pull out and carry"
of your coffee making items and dishware.

This vintage, hand crafted Grandmother clock/bookcase
was in need of some TLC! We gave it a new look with a creamy color
chalk paint and a contrasting taupe. A very unique piece.
 It matches the little bookcase we did earlier in the month!

And another bookcase in white, was added to the shop.
Perfect for a little one's room or for brightening up any room!
Measures approx. 44 1/2″ h x 36″ w x 10 1/2″ d

We know that dressers are always needed
especially in a baby's room or a guest room.
This 3 drawer dresser was given
a coat of white and gray chalk paint, and a special
eye catching stencil was added to the top.

Check out the chalkboard writing … way to go, Rachel!
Fantastic. 

This antique blanket chest was given a "white wash" in a pretty robin's egg blue,
then sanded and waxed for a beautiful, smooth finish.
Wonderful storage and an even better focal point for your living room, bedroom or entry way!
 
How about a little window shopping?
We've added a 12 pane…

and a gorgeous 16 pane!
So many possibilities to decorate your home with.
Add garland or a wreath … or maybe you
enjoy a little DIY … add black and white photos
with a little personalization using craft paint for glass.

And, always something unique and fun… we think this vintage red airplane
would be perfect for a man cave or family room!

And speaking of unique….
We are rockin' this vintage Coca Cola machine!
How fun for a family room where
you watch movies or play board games.
A great Christmas present for Dad! 

And on the elegant side we just love how this china
hutch looks in the shop against the brownstone wall.
Great way to add to your dining room storage
and a definite"wow" factor as the holidays approach!

This neutral pair of gray end tables can also be
used as night stands.  Buy them with our gray dresser
and you have an instant set!

Also new this week is this awesome, Mid-century beauty!
Look how long and slender it is… in a nice clean, look.
 ~~~~~~~~~~

We even have a vintage dress form or two.
Fun to decorate with jewelry or vintage prize ribbons!

Have a small area for your office?
 Try this vintage bamboo desk on for size. Love the coral color!
A perfect piece for a bedroom or office.
 
This cute farmhouse, 1950's table is another recent arrival!
It measures approx.  38″ l x  28″ x  30″ before pulling out the
extended sides! Great for a small kitchen or for a second home.
It is made out of wood and has been specially painted with the
wonderful graphic design on the top.  The chairs are
included at the wonderful price of 159.00!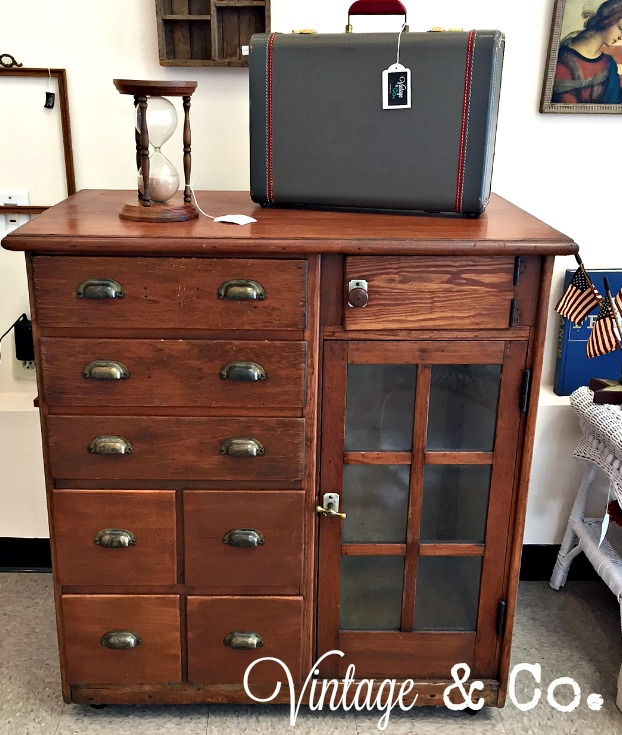 We were thrilled to bring this antique cabinet to the shop.
It was possibly used by a dentist because behind the glass
you see slots for trays or small drawers.
I love the industrial hardware!
 _______________________
Our Winter/Spring Store Hours
Wed 11 – 5
Thurs 11 – 5
Fri 11 – 5
Sat 10 – 5
Sun 1 – 5
Mon/Tues – Closed
~~~~~~~~~~~~~~~~~~~~~~~~~~~~