Hello and welcome to Vintage & Co!
We're happy you stopped by.
Our Winter/Spring Season Store Hours Are:
Wed – Fri 11 to 5   
Sat 10 to 5   *   Sun 1 to 5
 ___________________________
HERE'S WHAT'S NEW AT VINTAGE & CO: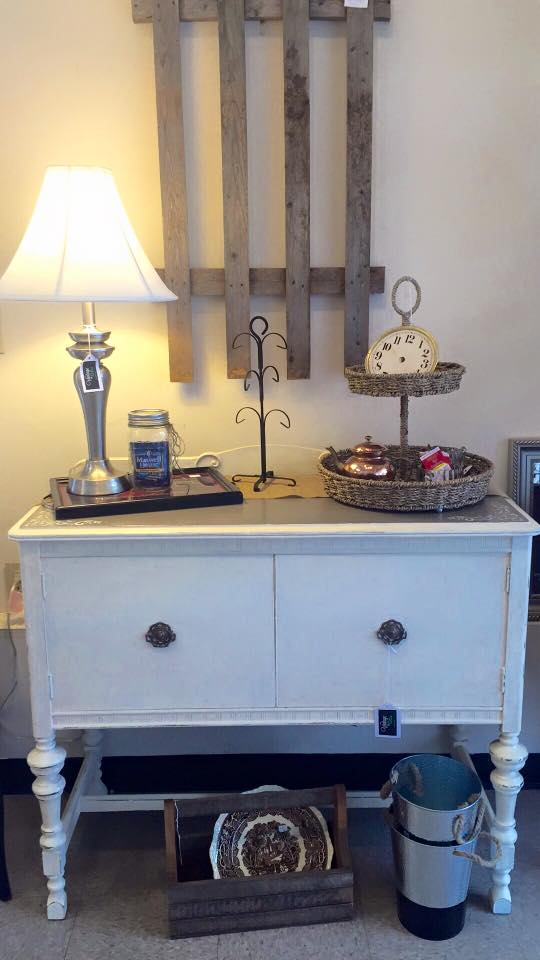 We're having fun with this vintage buffet turned coffee bar.
Awesome storage underneath when you open the doors.
Add matching baskets for convenient "pull out and carry"
of your coffee making items and dishware.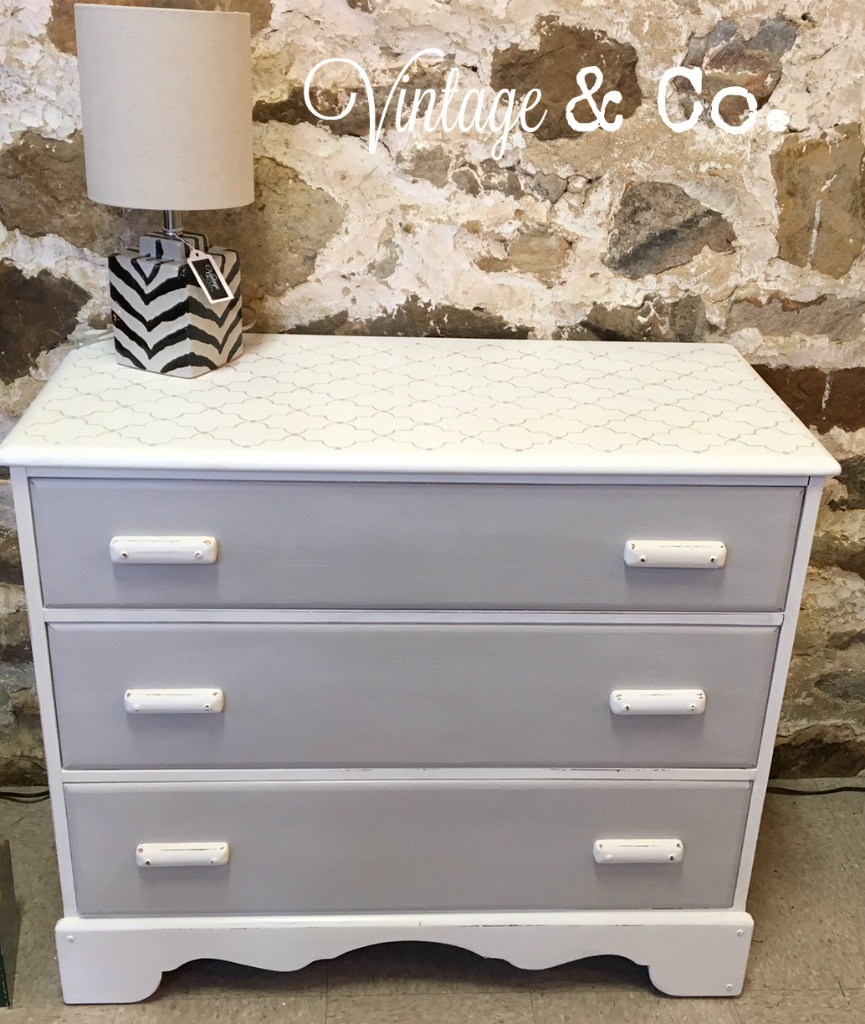 Our newest addition is this 3 drawer dresser, given
a coat of white and gray chalk paint, and a special
eye catching stencil was added to the top.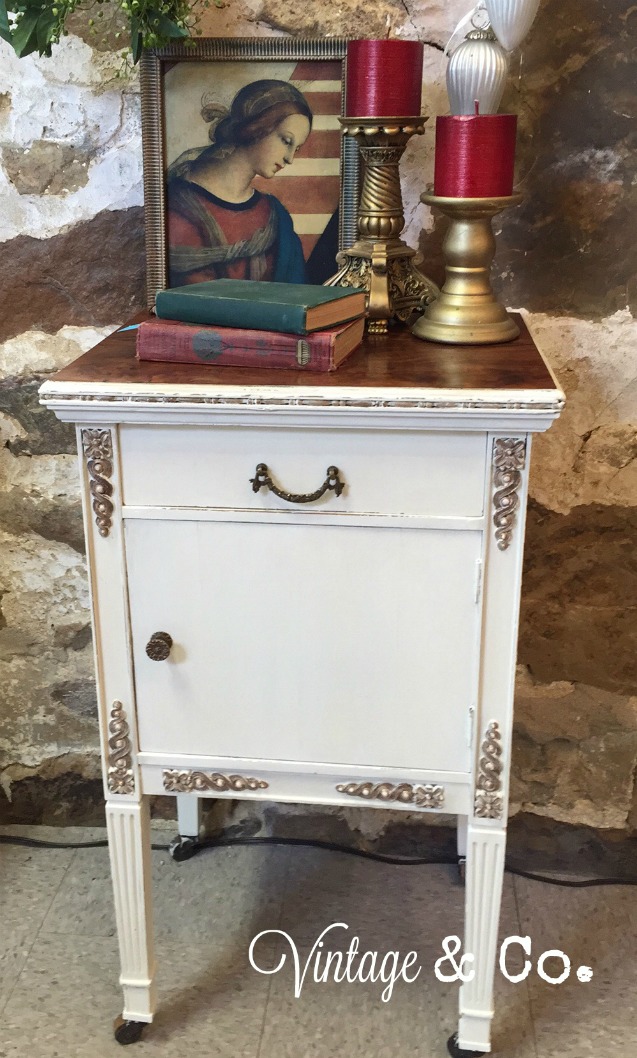 This elegant phone or night stand has a wonderful
wood grain top which was left alone to show off it's great feature!
Great storage too with a drawer and a lower cabinet.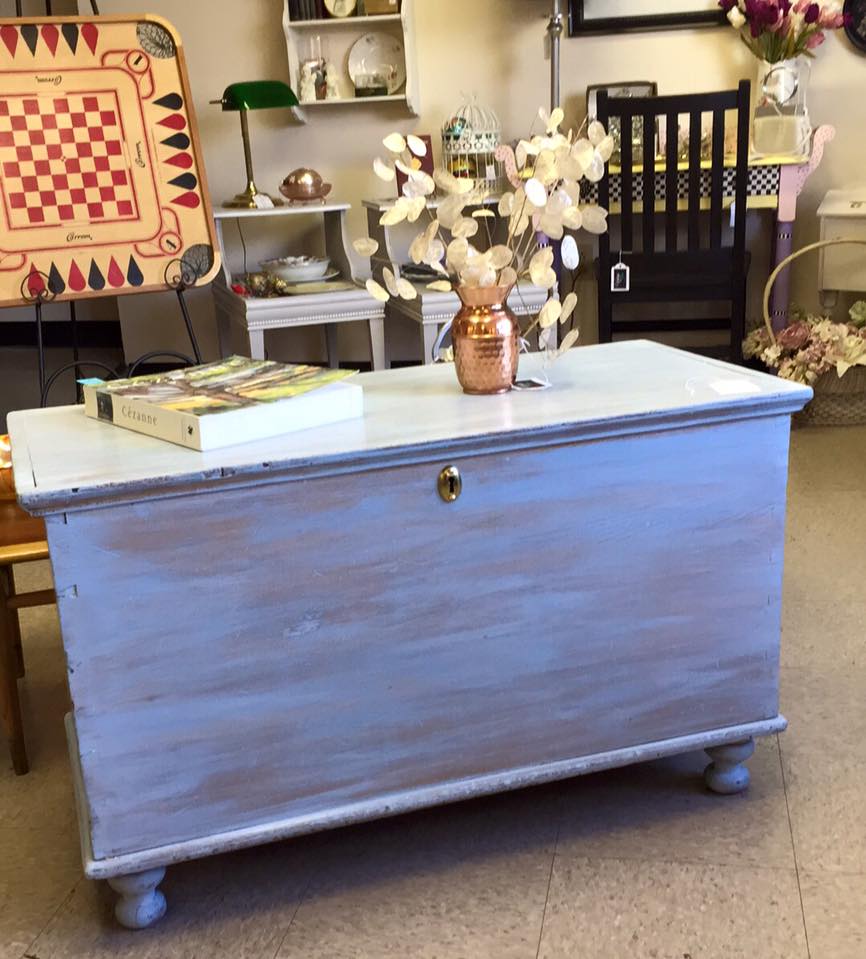 This antique blanket chest was given a "white wash" in a pretty robin's egg blue,
then sanded and waxed for a beautiful, smooth finish.
Wonderful storage and an even better focal point for your living room, bedroom or entry way!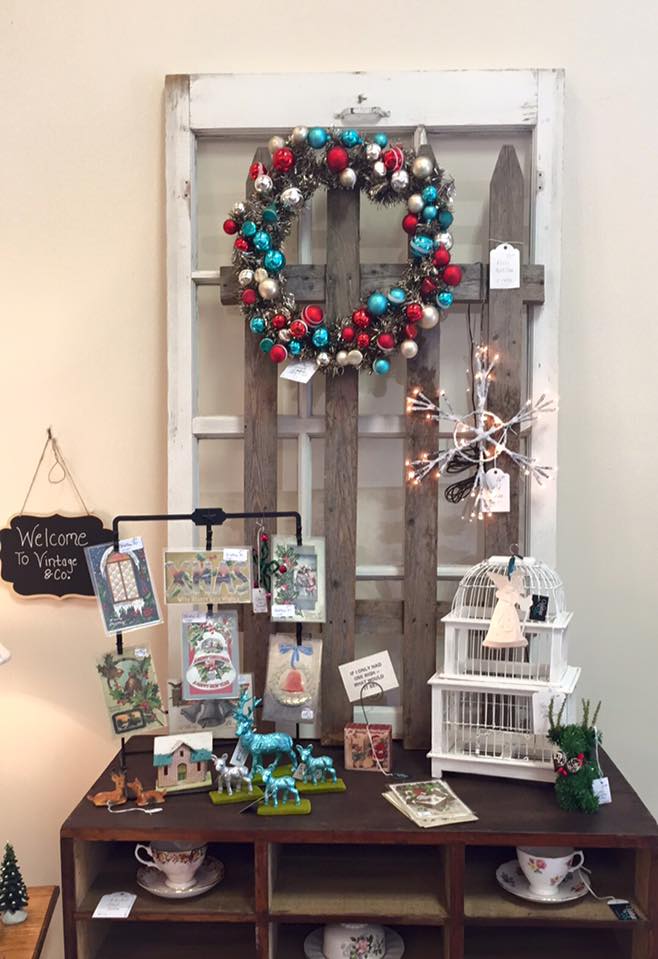 How about a little window shopping this Christmas?
We've added a 12 pane
(shown here in a layered look)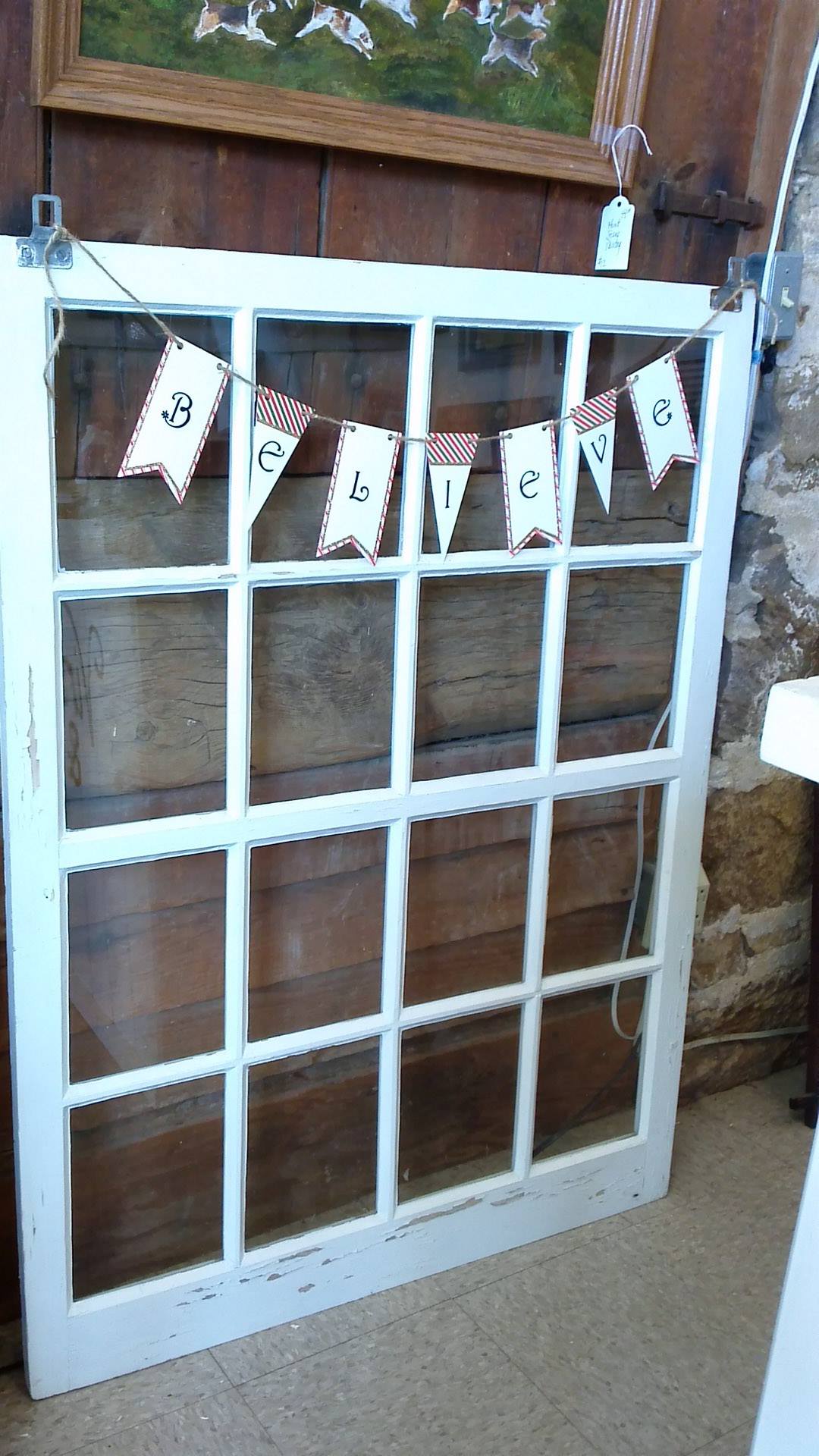 and a gorgeous 16 pane!
So many possibilities to decorate your home with.
Add garland or a wreath … or maybe you
enjoy a little DIY … add black and white photos
with a little personalization using craft paint for glass.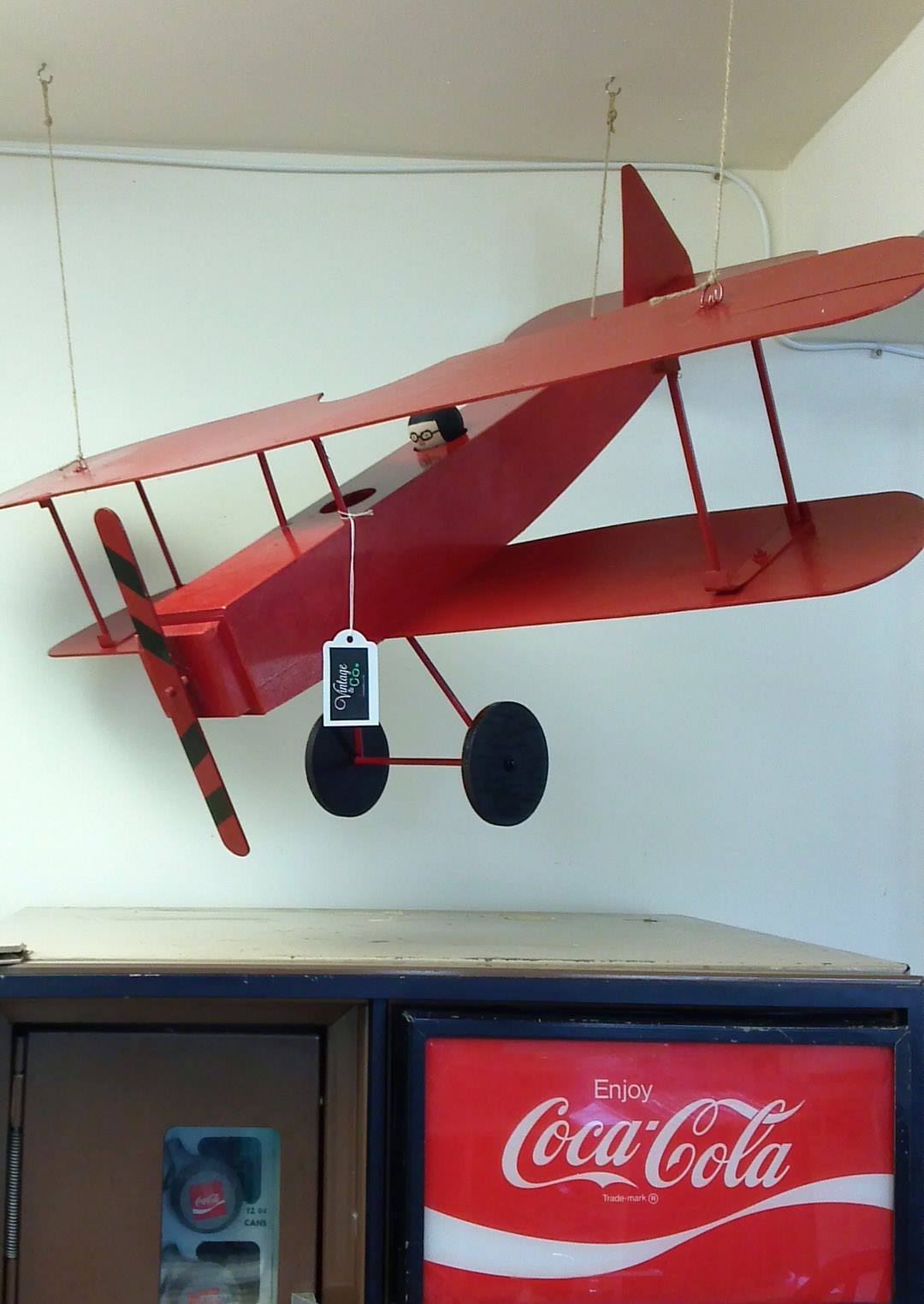 And, always something unique and fun… we think this vintage red airplane
would be perfect for a man cave or family room!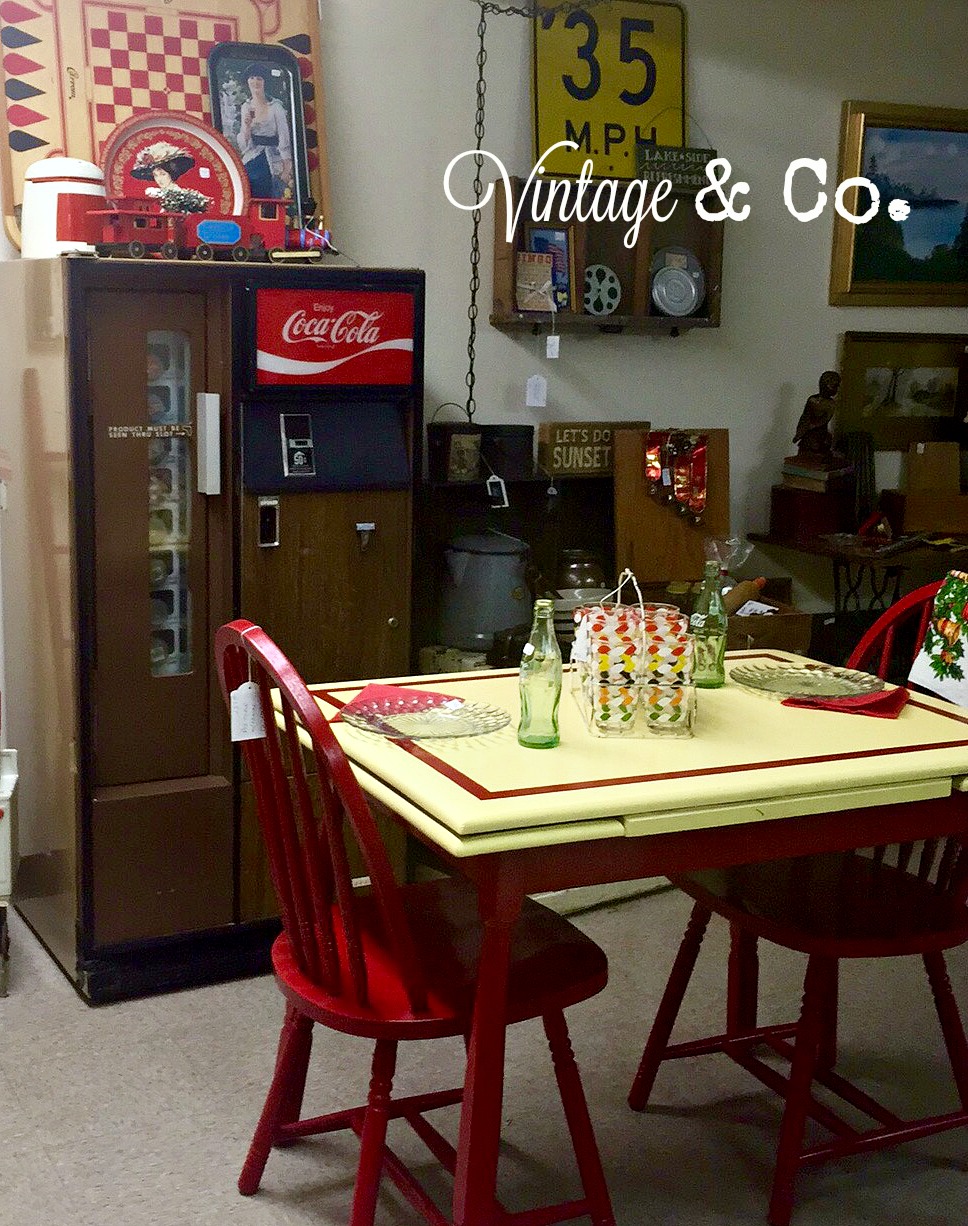 And speaking of unique….
We are rockin' this vintage Coca Cola machine!
How fun for a family room where
you watch movies or play board games.

A great Christmas present for Dad!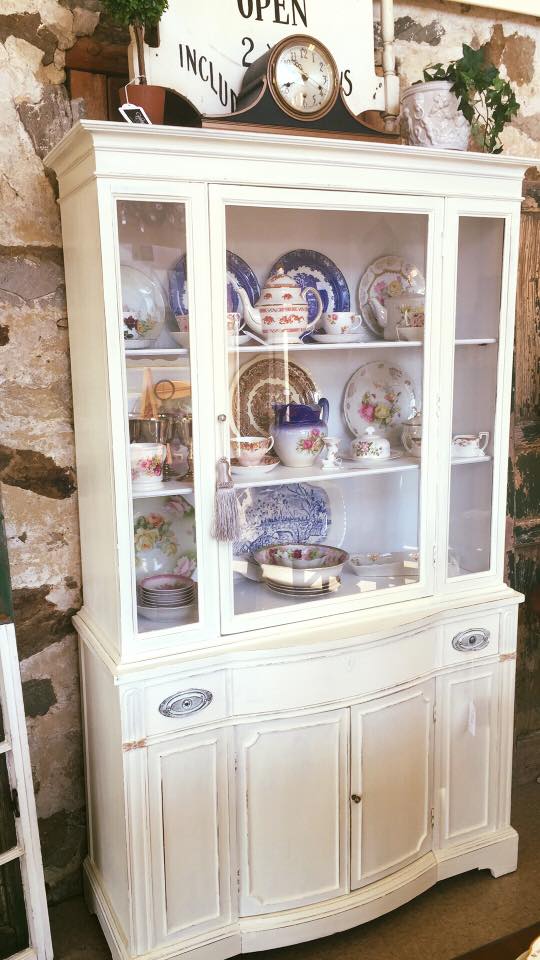 And on the elegant side we just love how this china
hutch looks in the shop against the brownstone wall.
Great way to add to your dining room storage
and a definite"wow" factor as the holidays approach!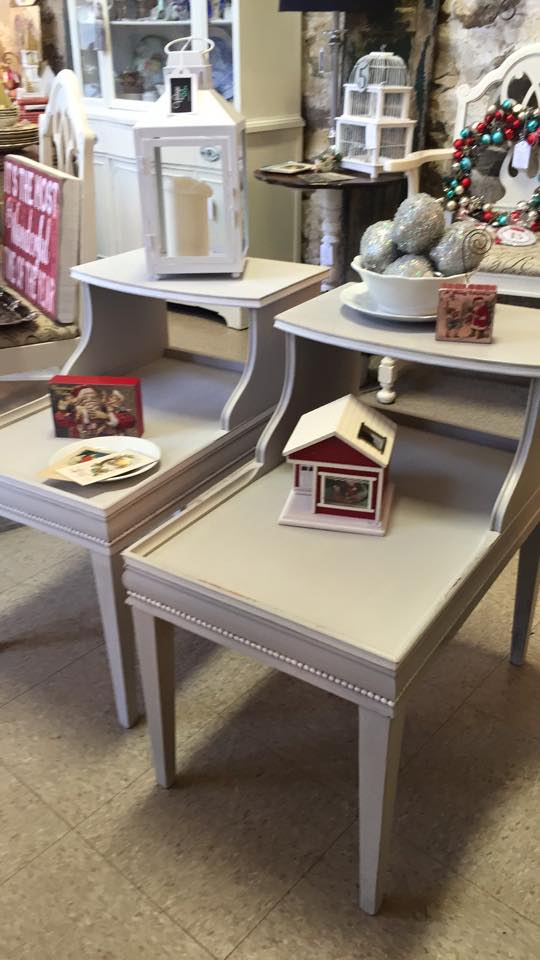 This neutral pair of gray end tables can also be
used as night stands.  Buy them with our gray dresser
and you have an instant set!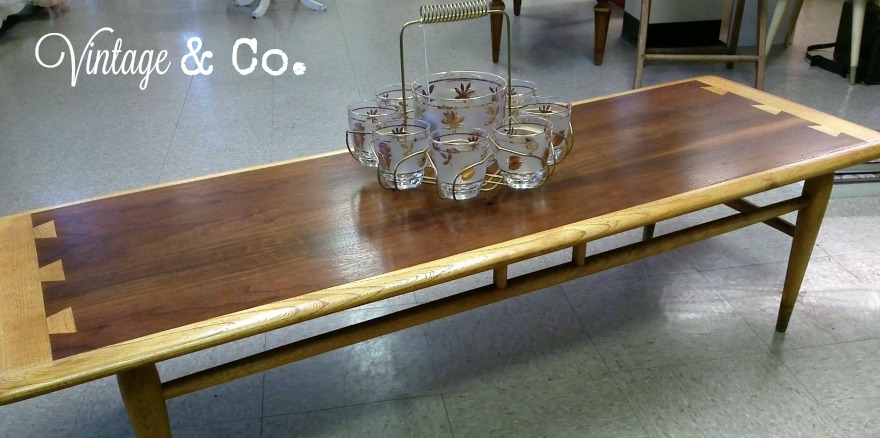 Also new this week is this awesome, Mid-century beauty!
Look how long and slender it is… in a nice clean, look.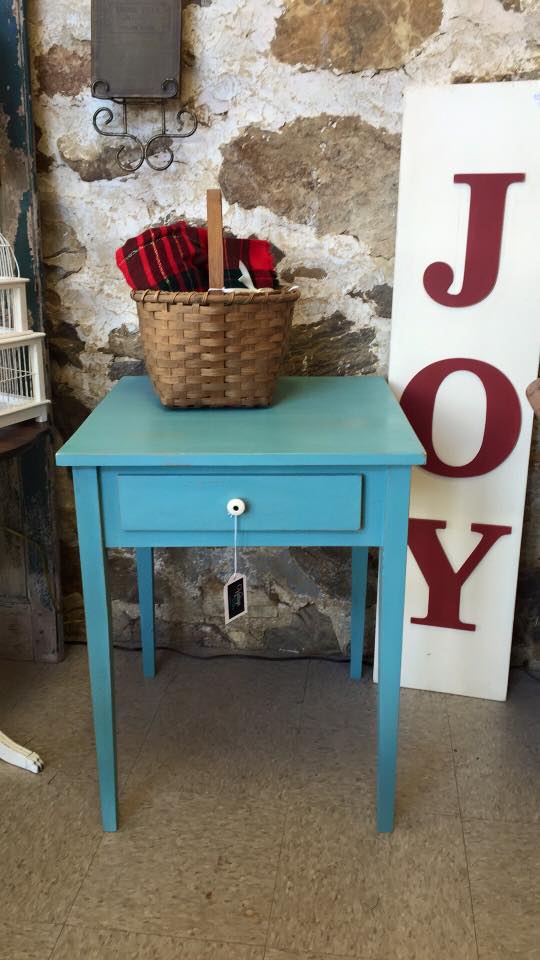 We added an aqua side table , this color is popular!
Table measures approx. 27″ x 21″ x 21″
Nice size for a lamp, a side table or even a nightstand!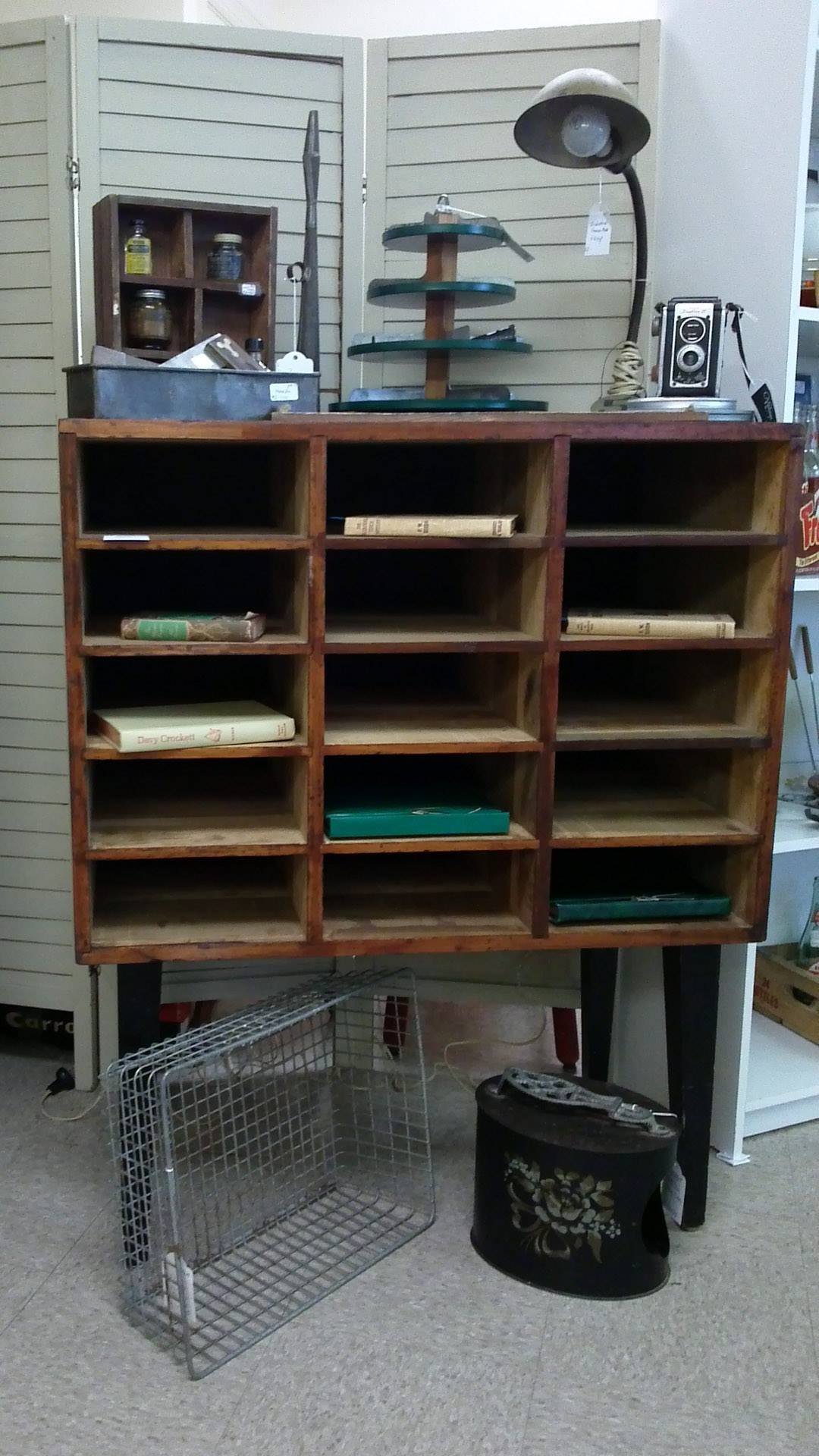 This piece is totally industrial cool! Upcycled by adding legs, this vintage wooden
mail box sorter from an old school or church is a win/win in so many ways!
Need craft room storage? Voila! Done.
$175.00 
 ~~~~~~~~~~
We also have a new gal in the store who
is a big help in selling vintage clothing.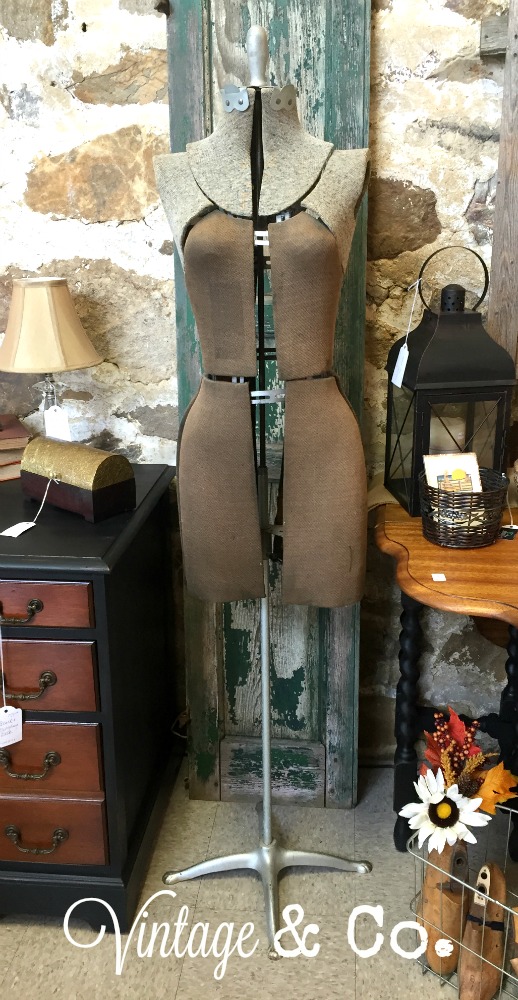 Meet "Carmella!"
I'll be bringing in some vintage clothes for
possible use in costumes this October.
Stop in to see what we have!
And yes, Carmella is also willing to help
you in your home, too.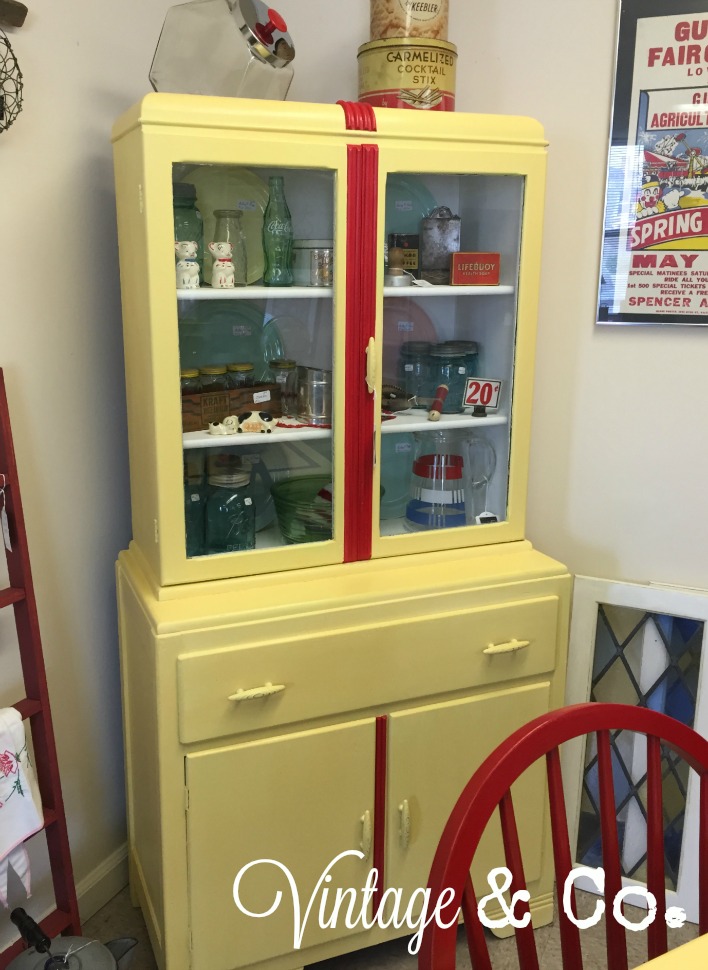 This vintage, depression era china cupboard will add a
pop of color to your cottage kitchen! 
Charming and perfect for a smaller kitchen or
dining area.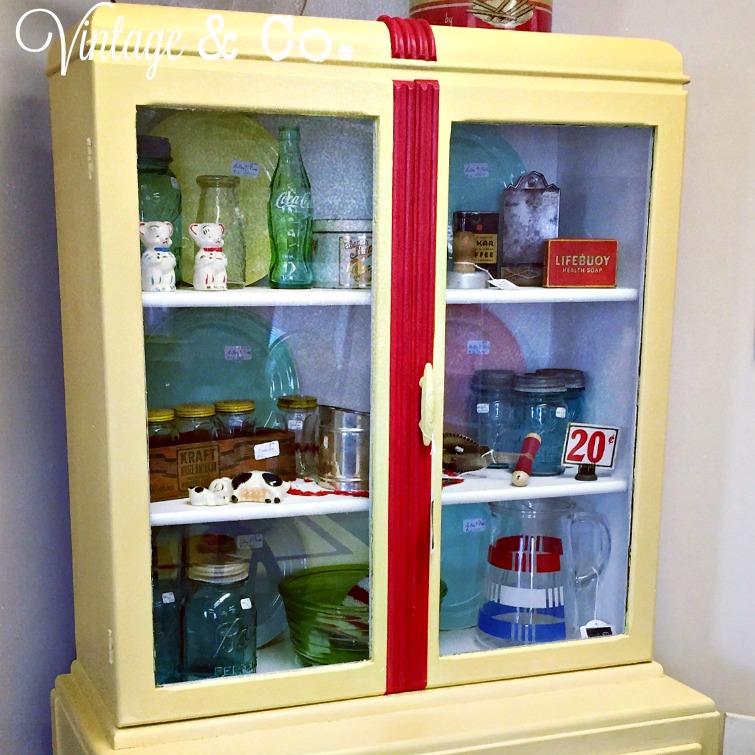 Lots of great storage in the upper
cabinet,  a roomy drawer, plus shelving behind
the lower doors! Priced at just $169.00.
Stop by and check it out!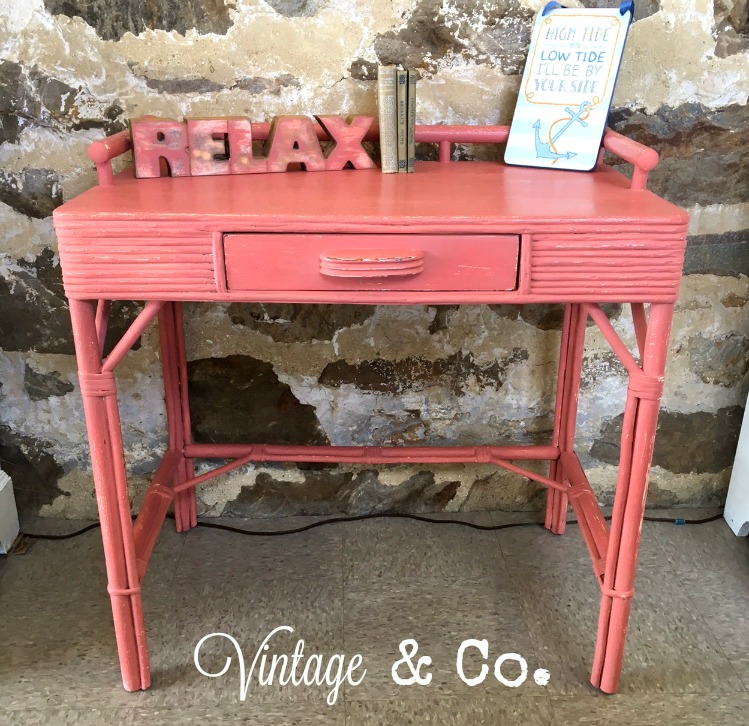 Have a small area for your office?
 Try this vintage bamboo desk on for size. Love the coral color!
A perfect piece for a bedroom or office.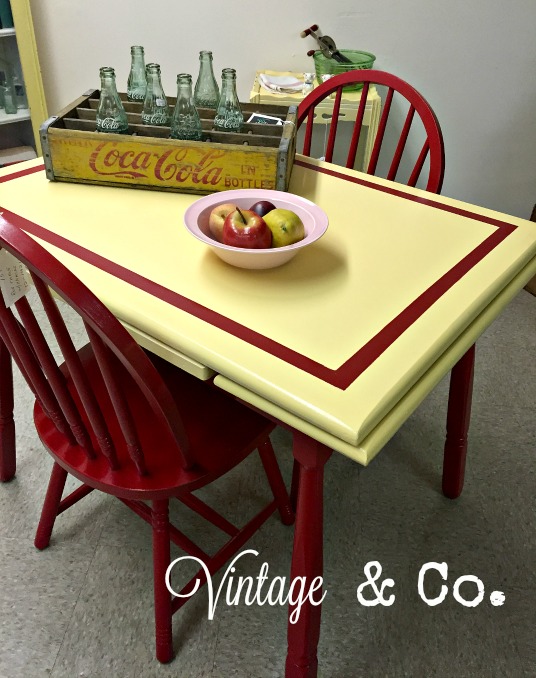 This cute farmhouse, 1950's table is another recent arrival!
It measures approx.  38″ l x  28″ x  30″ before pulling out the
extended sides! Great for a small kitchen or for a second home.
It is made out of wood and has been specially painted with the
wonderful graphic design on the top.  The chairs are
included at the wonderful price of 159.00!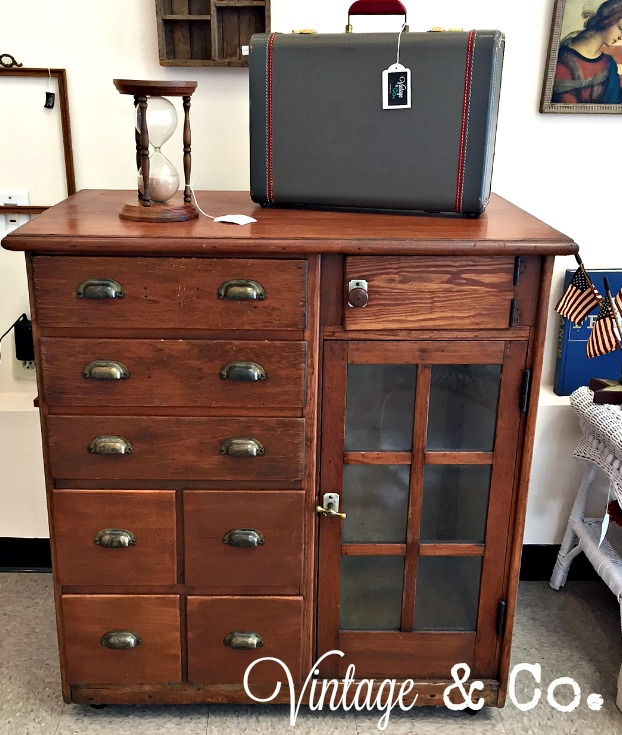 We were thrilled to bring this antique cabinet to the shop.
It was possibly used by a dentist because behind the glass
you see slots for trays or small drawers.
I love the industrial hardware!
 ________________________________________
Now open 'til 6 Wed – Fri during the Christmas season!
Our Regular Store Hours after the holidays:
Wed 11 – 5
Thurs 11 – 5
Fri 11 – 5
Sat 10 – 5
Sun 1 – 5
Mon/Tues – Closed
~~~~~~~~~~~~~~~~~~~~~~~~~~~~~~~~~~~~~~~~~~~~~