Welcome to Vintage & Co! 
Our  Summer Store Hours Are:
Wednesday thru Friday 11 to 5 
Saturday  10 to 5  &  Sunday 1 to 5
 ___________________________
HERE'S WHAT'S NEW IN THE SHOP!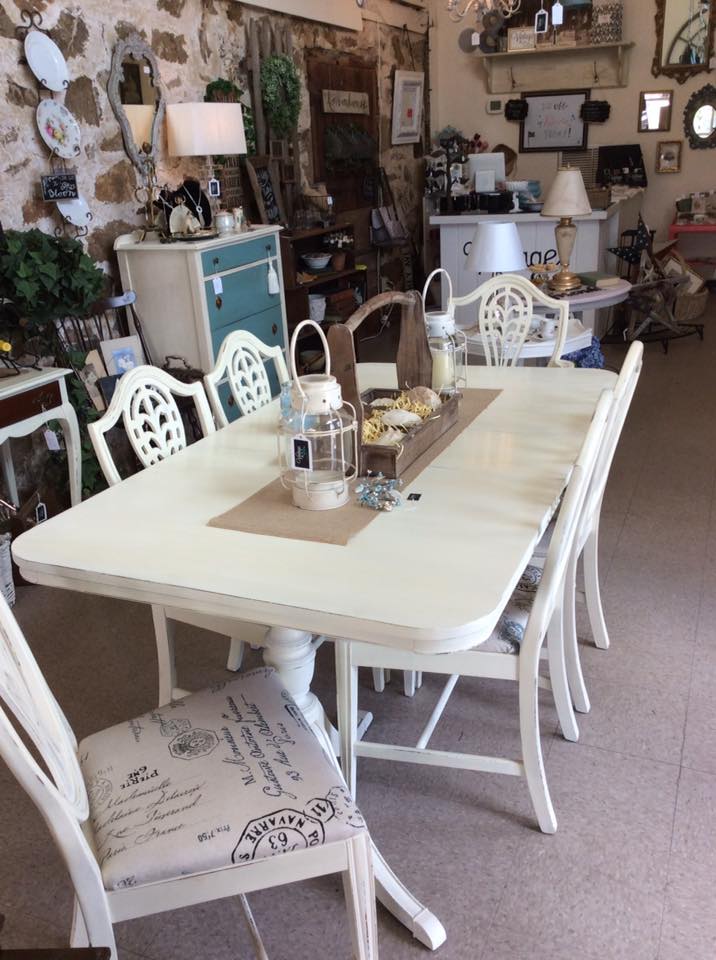 Our latest dining set is quite different than our usual, farmhouse style!
This stunning off white Duncan and Phyfe table is 68″ with the leaf and 56″
without. The chairs were given new French script postcard
fabric which gives them a sophisticated, yet casual, flair!

The table with six chairs (one is a captain's chair) is $575.00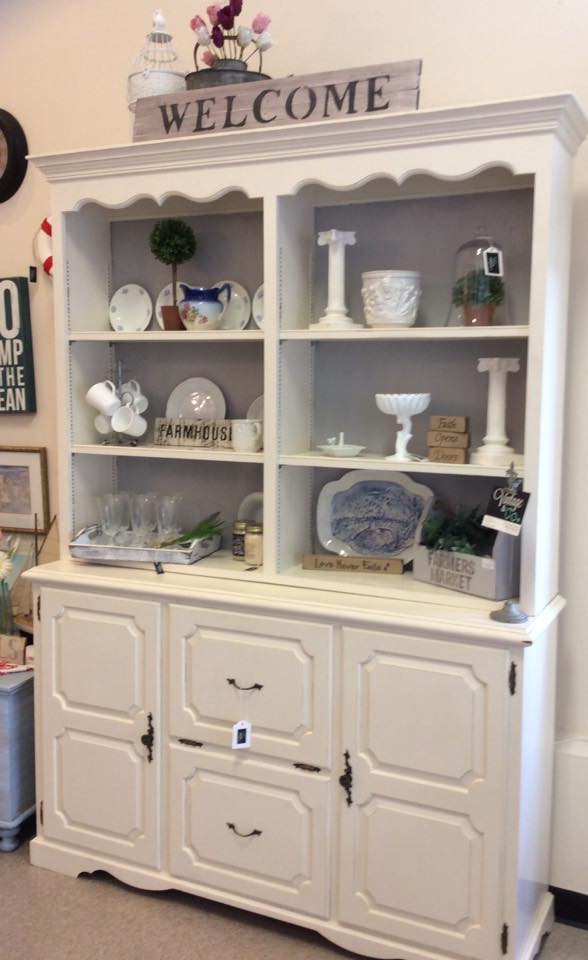 SOLD!
This lovely farmhouse hutch and lower cupboard is amazing!
Perfect for homes with high ceilings this sweet piece is over 7 ft tall!
Great price, too! Just  $369.00!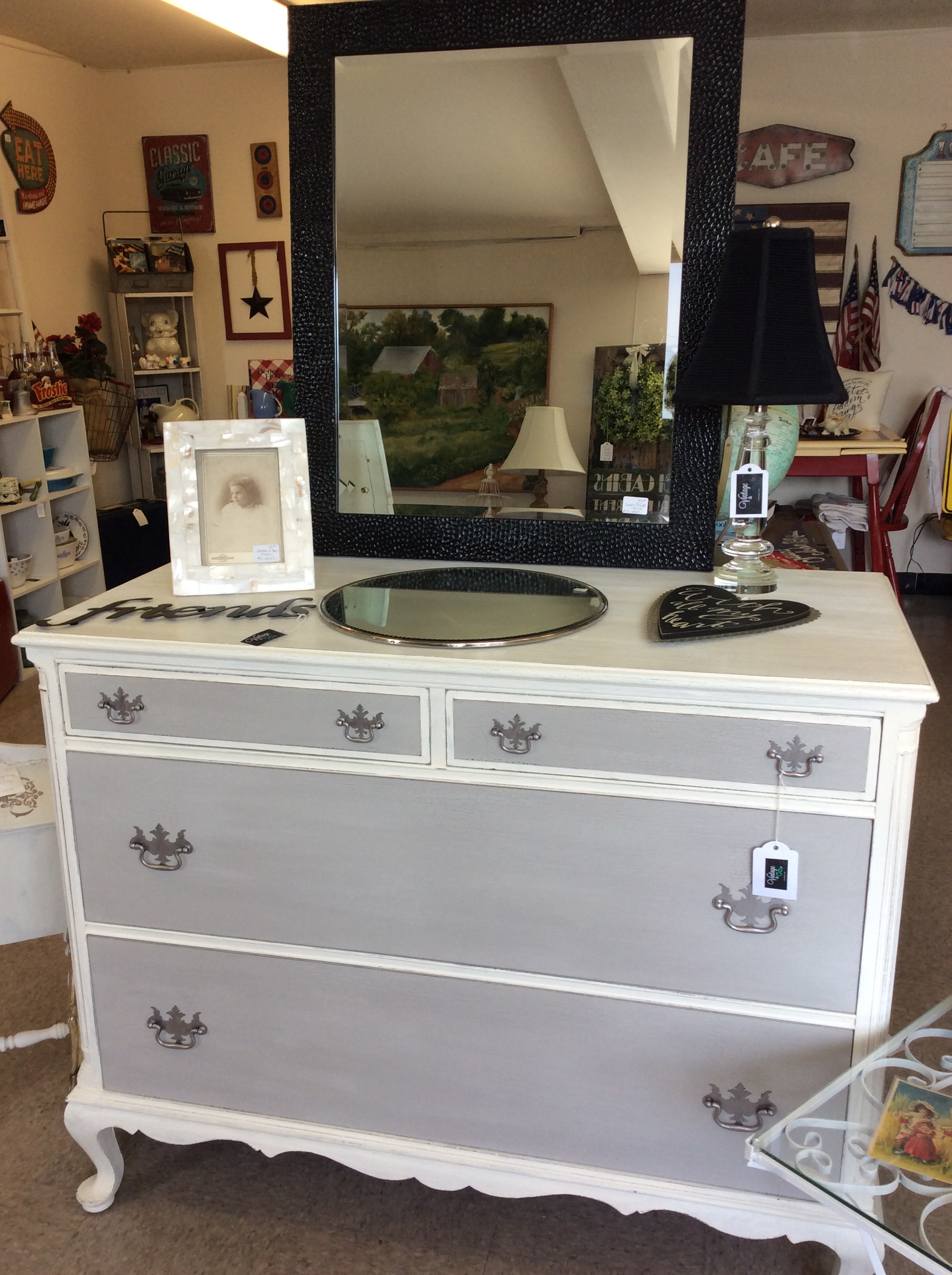 We've added a wonderful and very roomy dresser, chalk painted
in Parisian Gray and white. A special silver gilt wash
treatment was given to the drawer pulls. A must see!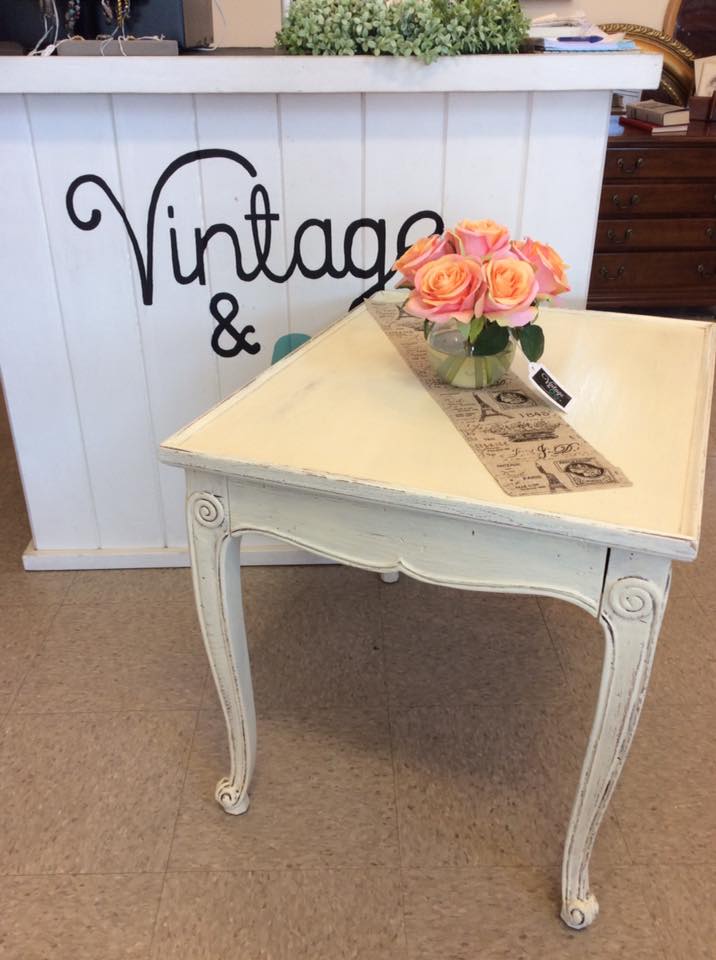 I love how this end table with whimsical legs turned out after it was
given a coat of cream chalk paint. 

It even has a drawer for holding remote controls or your latest magazine!
Just $49.00 and is perfect for your neutral home décor.
~~~~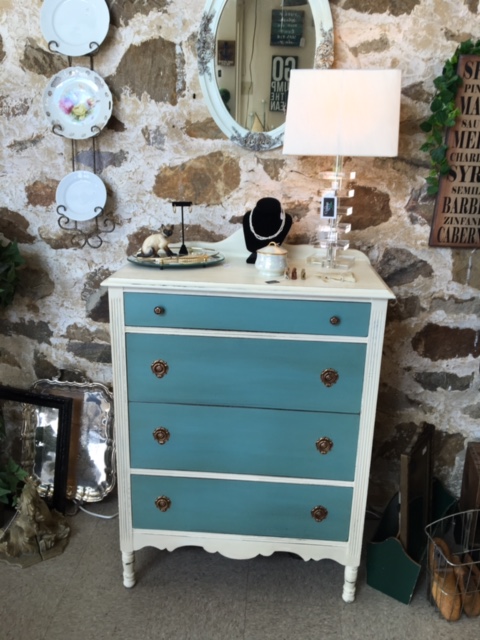 Check out this beautiful, two-tone dresser!
We used an aqua chalk paint paired with a pretty cream color.
Special antiquey gold enhancements were added to the drawer pulls.
The measurements are 32″l x 48″ h x 16″w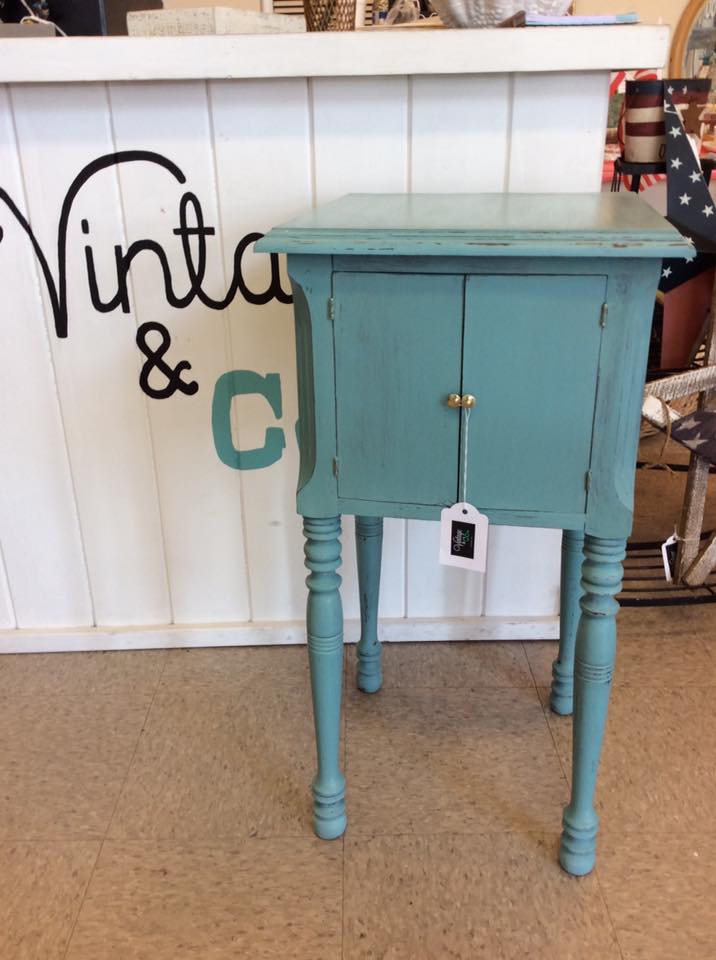 This aqua stand is a perfect go-along with the dresser above.
It was probably a phone stand or smoking stand back in its heyday.
Now, a great nightstand for a guest room or child's room!
$55.00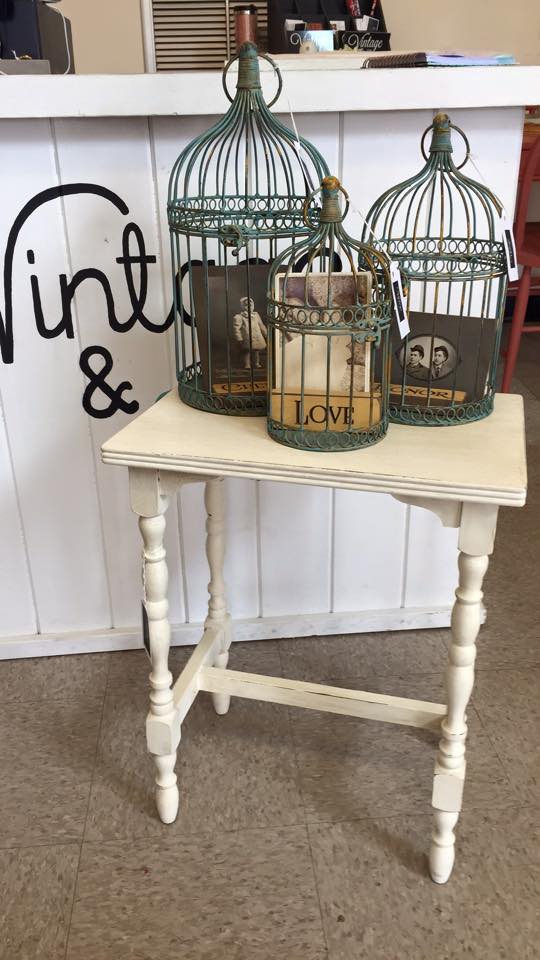 Sometimes a petite side table is all you need.
This one is super sweet!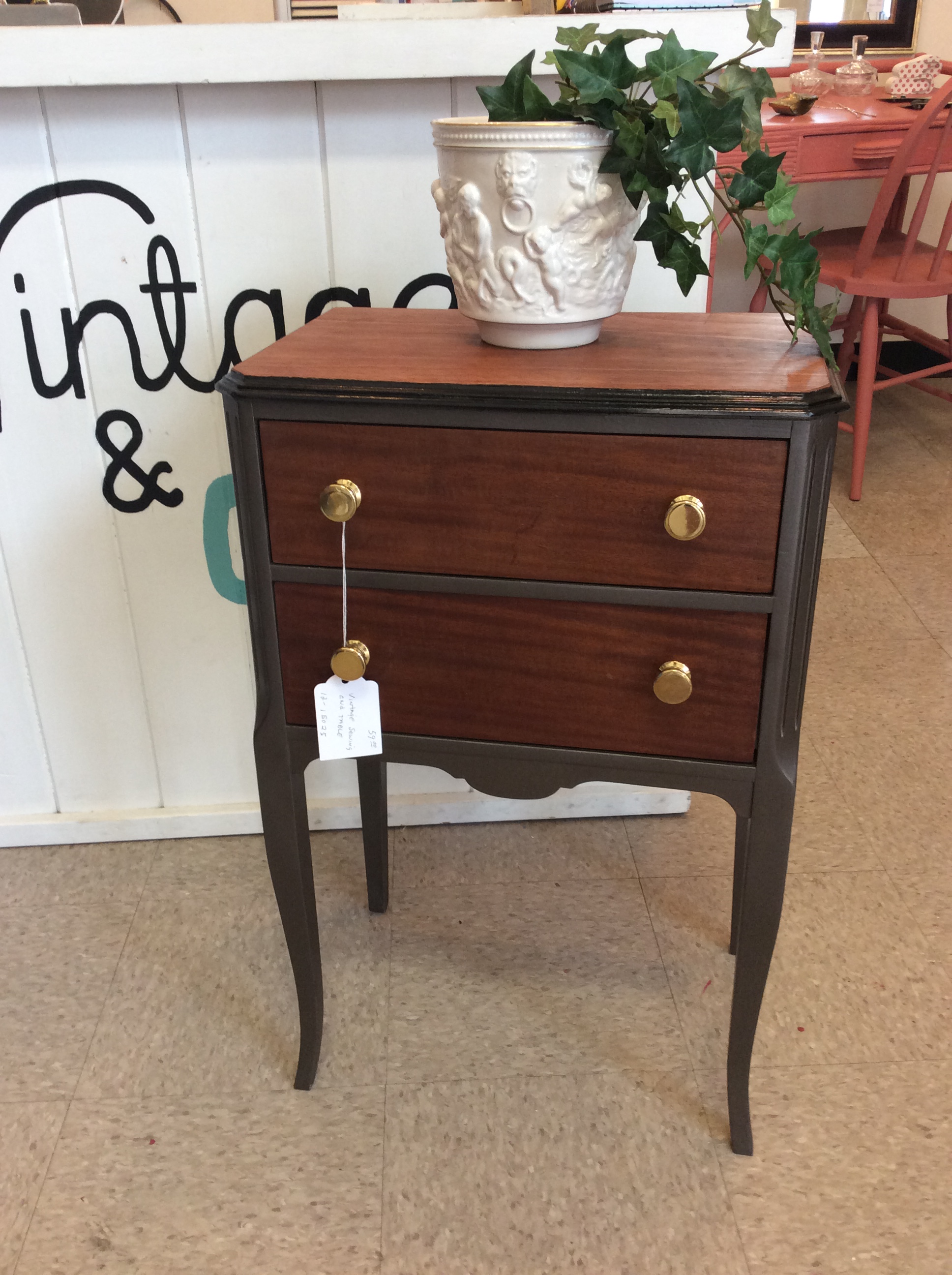 Another petite piece is this nightstand or end table.
We found it just like this, already painted and updated.
But wait, there is more to it!

It was an old sewing table and the lower "drawer" opens up to
reveal a sewing caddy. Use it for jewelry or crafts!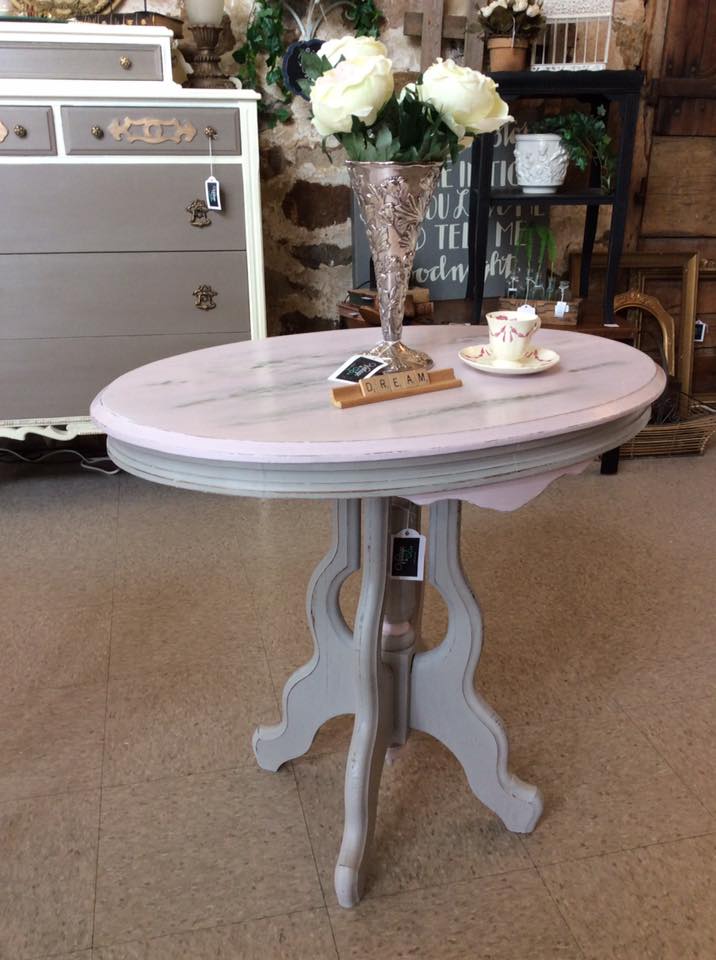 Love this princess style table!  I paired a light lavender chalk
paint with a Parisian gray chalk paint on this antique lamp table.
Simply charming!
$95.00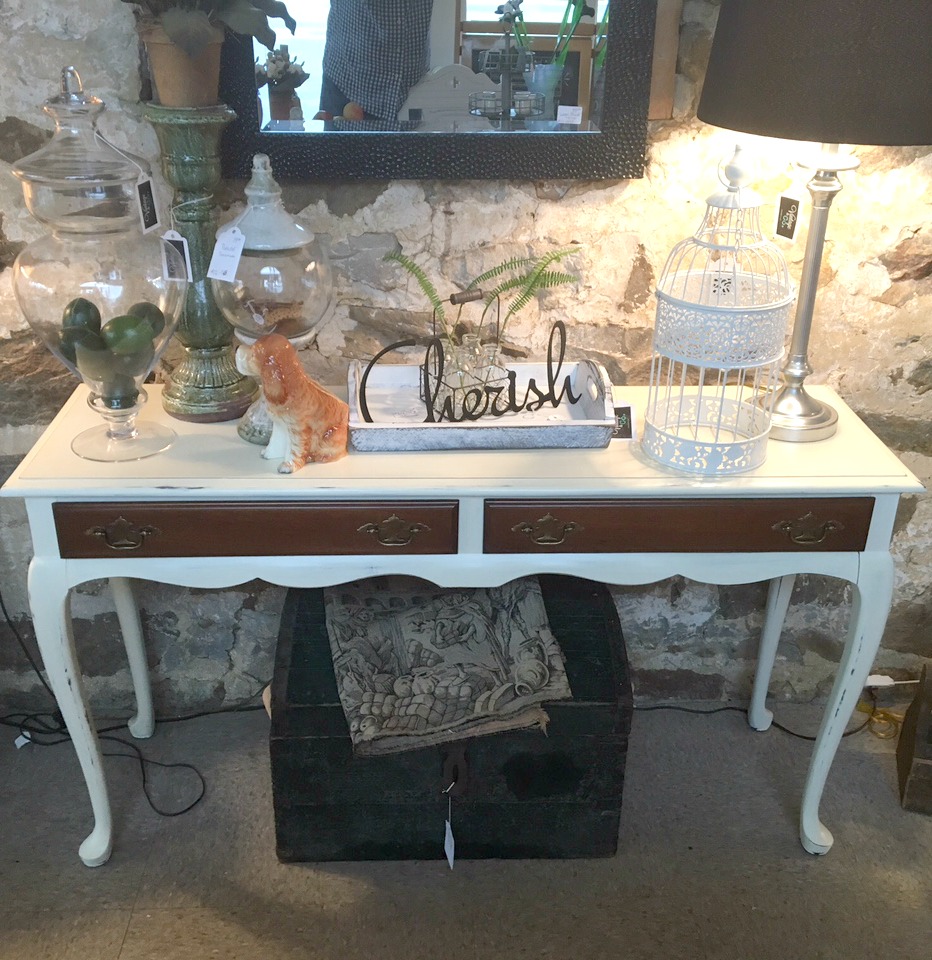 And I'm lovin'  this beautiful entryway or sofa table that my Hubby
worked on. With cream chalk paint, the original drawers just seem to POP!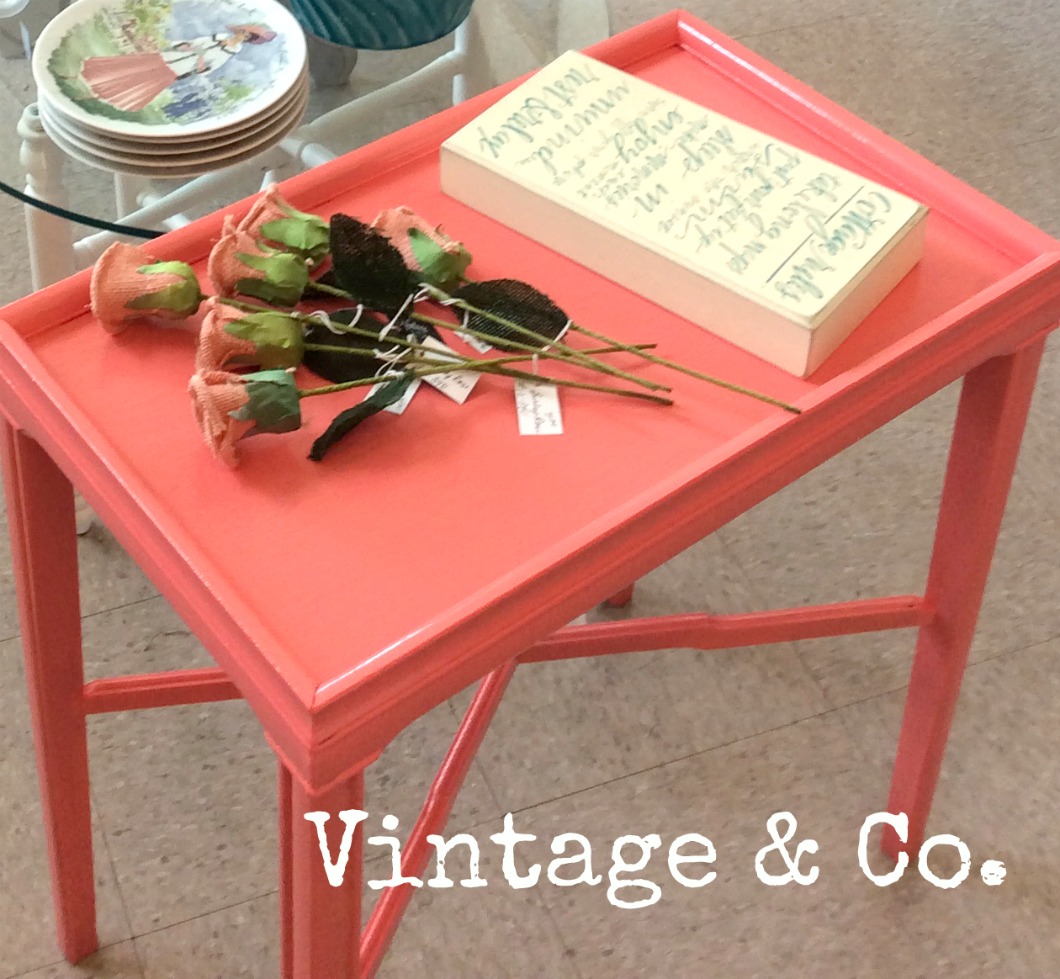 Here's a piece that is sure to brighten up any room!
I used a high gloss coral on this side table and now
it really pops!  It has has simple, clean lines which
makes it a great nightstand or end table!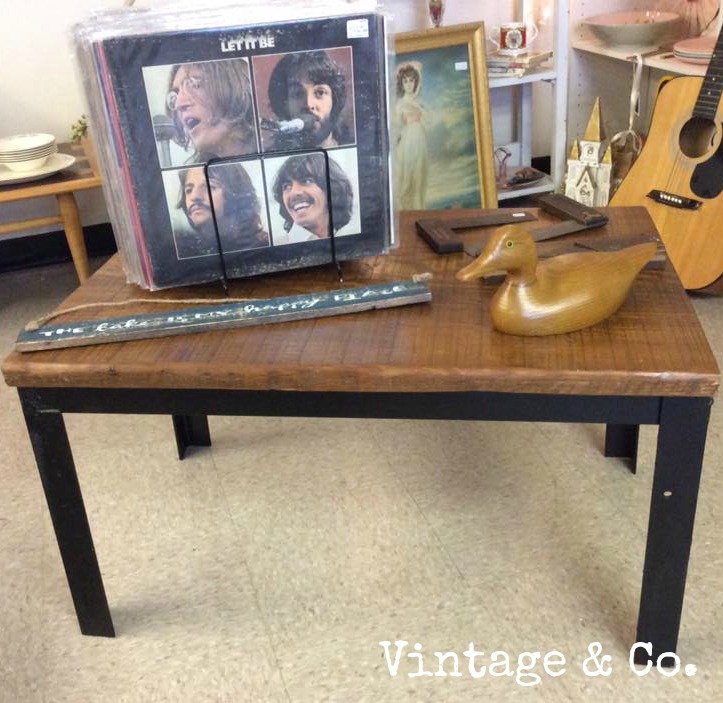 Another industrial piece for your living or family room!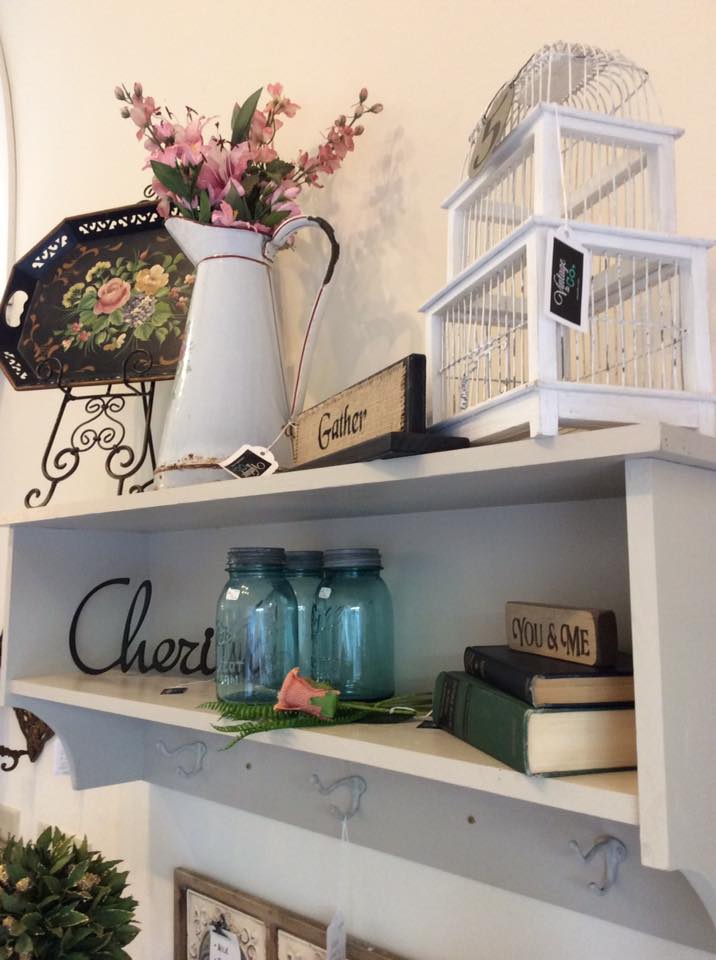 This neutral toned wall shelf is super handy
for organizing and displaying your stuff!
Hand crafted by my husband, Andrew, it
has

two shelves and three hooks!
~~~~~~~~~
We also make a similar shelf out of reclaimed barn wood.
(Contact us under "Custom Order.")

This pretty octagon "pie crust" table is sure to blend well
with any home décor style! Chalk painted, distressed and waxed! 

This is an antique table from the mid 1800's.
And yes, we painted it … because it was a "rescue" piece.
It was given a new life with chalk paint.
The drawer is original and just pops against the cream color!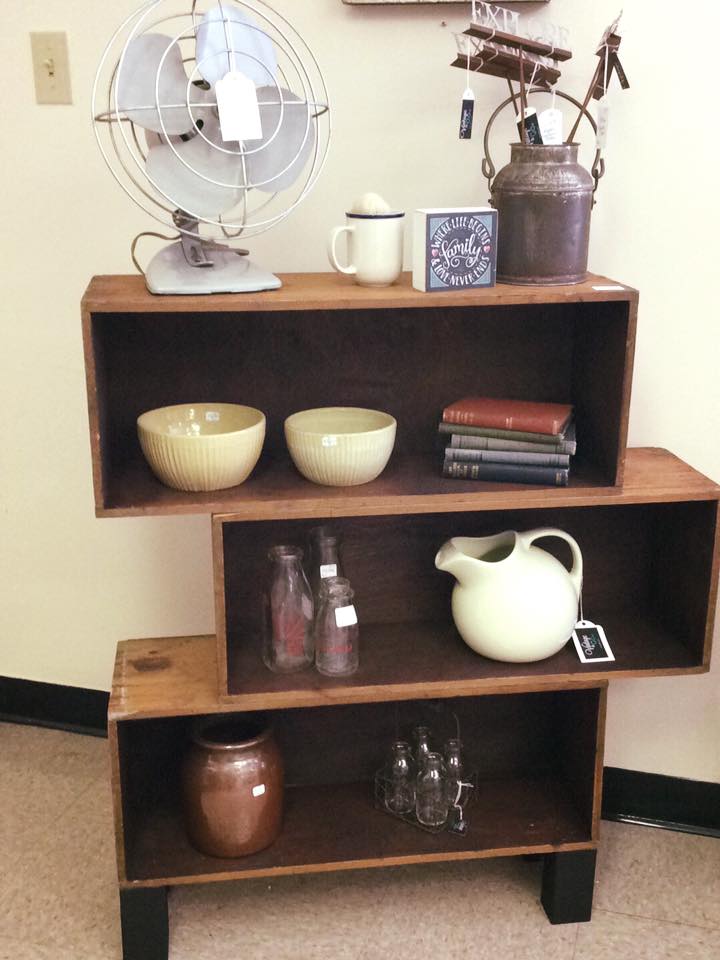 Love how this upcycle project turned out!
We took 3 old wooden boxes and created
a unique, one of a kind bookshelf with legs.
$95.00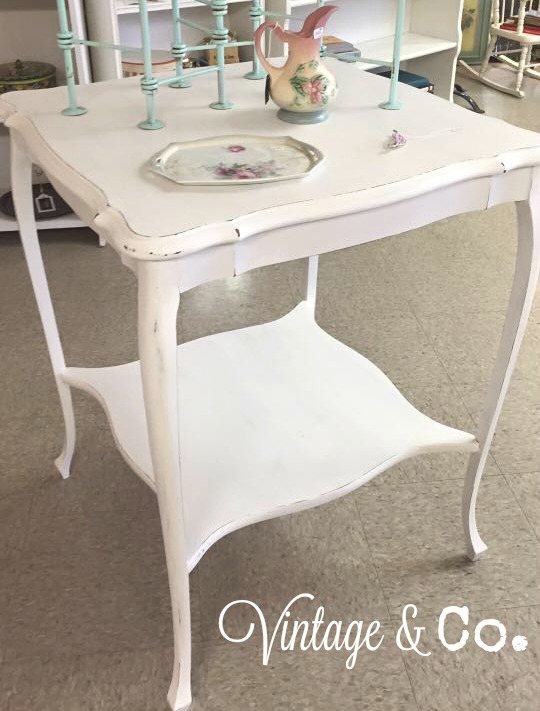 This pretty white square top table has beautiful lines
as well as plenty of surface space.  Measurements are: 24″ w  x 24″ d  x 30 1/4″ h

A vintage door was given a new look with a chalkboard, hooks, and a shelf.
$135.00

Here are some of the newest "smalls" we sell in the shop.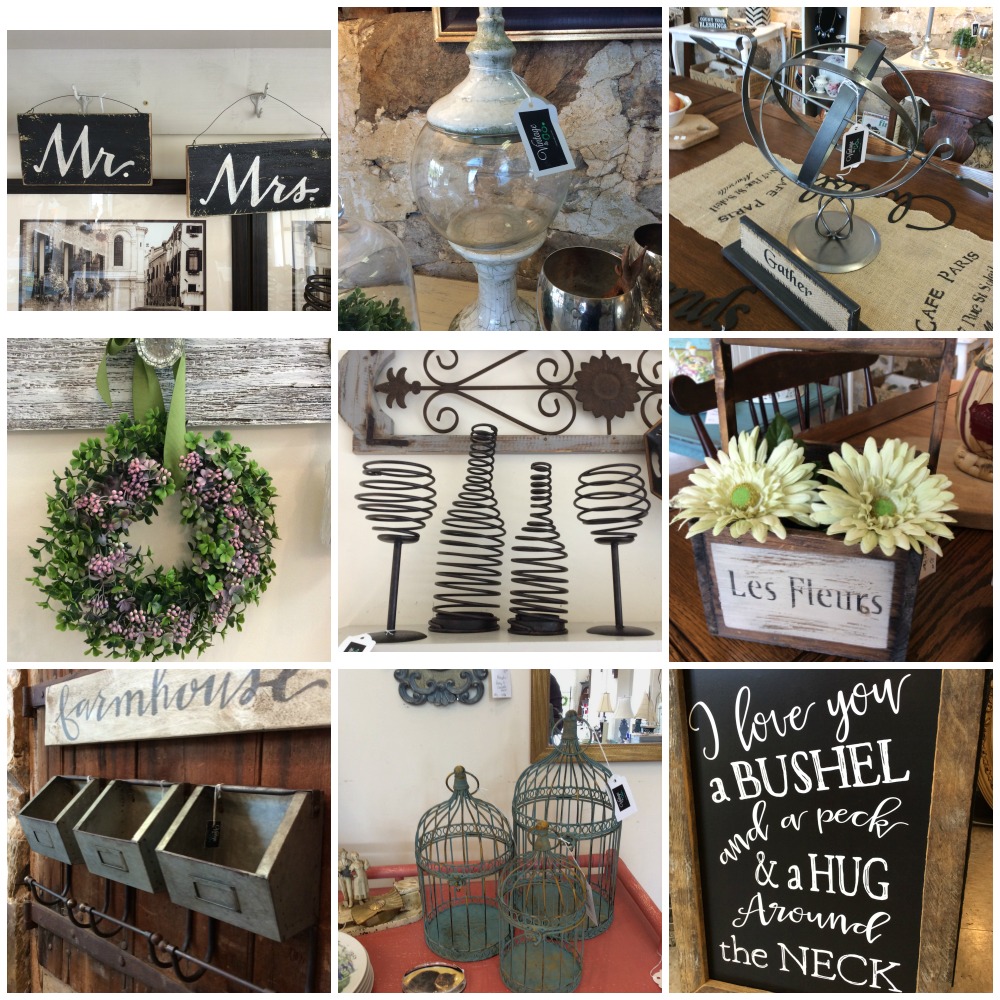 We love farmhouse items as well as cottage and industrial styles!

We think you'll love this nightstand or end table as much as we do.
We have another one, in a similar form, just a slightly different style.
Nightstand or end table, we think it is great for either purpose!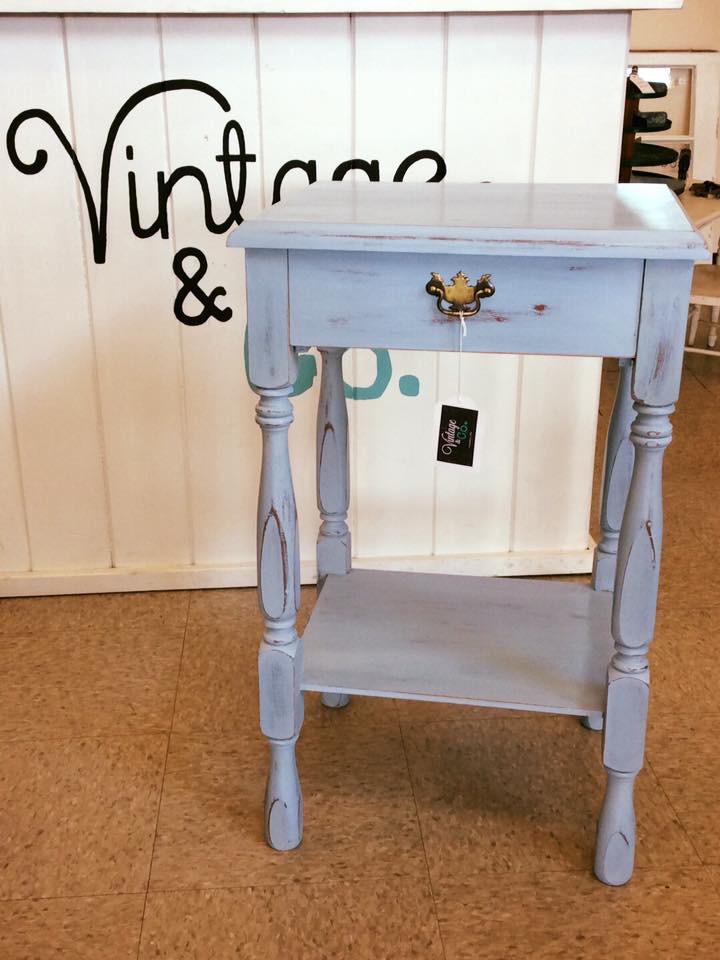 SOLD!
This beautiful blue chalk paint helped give this
nightstand a new life!  With a drawer and
a shelf for storage – this piece is sure to be an eye catcher. 
We love how it turned out so beachy and fun.
$59.00

Another side table made it into the shop but
this one has unique features… we highlighted
areas in an "antiquey" bronze.
$59.00 

And another bookcase in white, was added to the shop.
Perfect for a little one's room or for brightening up any room!
Measures approx. 44 1/2″ h x 36″ w x 10 1/2″ d

(SOLD!)
Check out the chalkboard writing … way to go, Rachel!
Fantastic. 
We can make more, with your own personal saying.
Just give us a shout!

This antique blanket chest was given a "white wash" in a pretty robin's egg blue,
then sanded and waxed for a beautiful, smooth finish.
Wonderful storage and an even better focal point for your living room, bedroom or entry way!
 
How about a little window shopping?
We've added a 12 pane which looks wonderful
on a mantel with a wreath or to use for a family photo display!
  
We also carry from time to time, retro or Mid-century pieces.
Check out this  beauty!
Look how long and slender it is… in a nice clean, look.
My hubby, Andrew brought it back to its original condition. 
 ~~~~~~~~~~ 

We even have a vintage dress form or two.
Fun to decorate with jewelry or vintage prize ribbons!
  _______________________
Our Summer Store Hours
Wed 11 – 5
Thurs 11 – 5
Fri 11 – 5
Sat 10 – 5
Sun 1 – 5
Mon/Tues – Closed
~~~~~~~~~~~~~~~~~~~~~~~~~~~~