Welcome to Vintage & Co! 
Our  Store Hours Are:
Wednesday thru Friday 11 to 5 
Saturday  10 to 5  &  Sunday 1 to 5
_________________________
Exciting News!  We are now offering Country Chic Paint in the shop!

It is an environmentally friendly
clay-based paint with superior adhesion
and is easily distressed!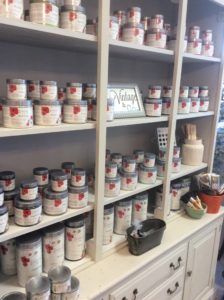 Stop in and let us help you get started! If you're interested in joining us
for a girl's night out worksh0p, contact us by simply clicking
on the "Contact Us" icon in the top menu.
____________________________
HERE'S WHAT'S NEW IN THE SHOP!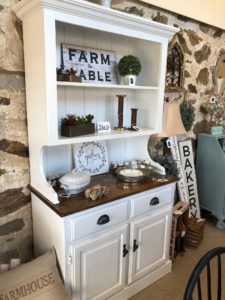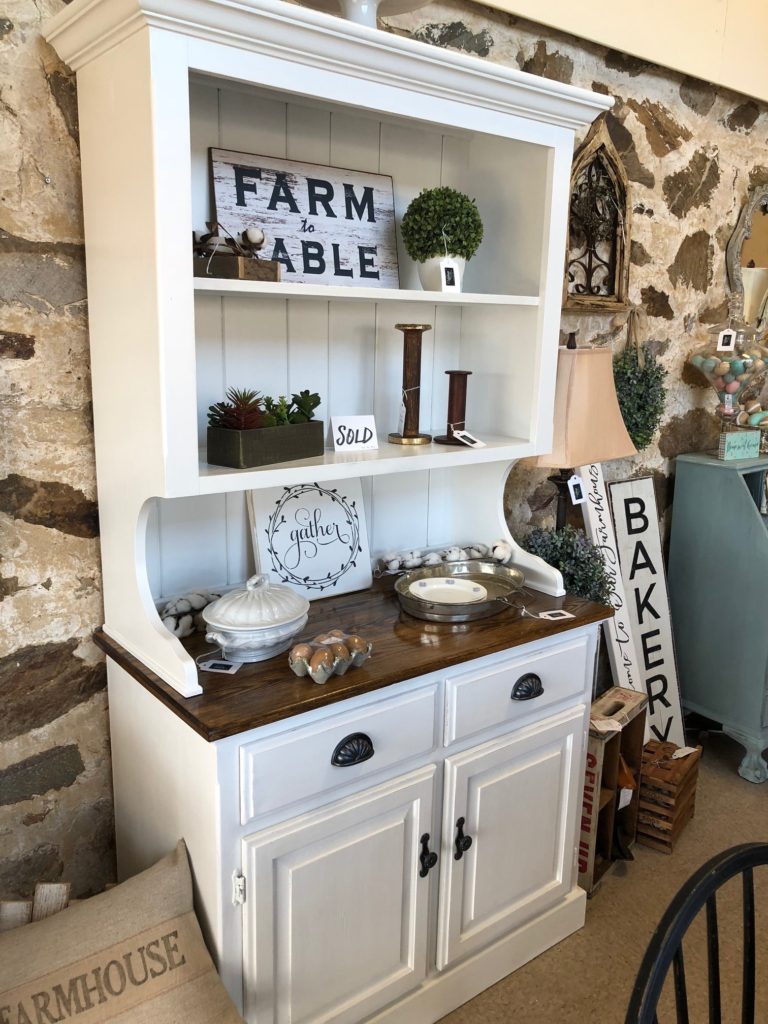 (SOLD!)
I just loved how this Farmhouse China Hutch turned out!
We used Country Chic Paint in Simplicity and also their
metallic cream for the hardware in "Trigger."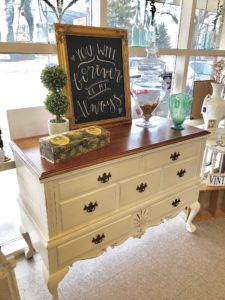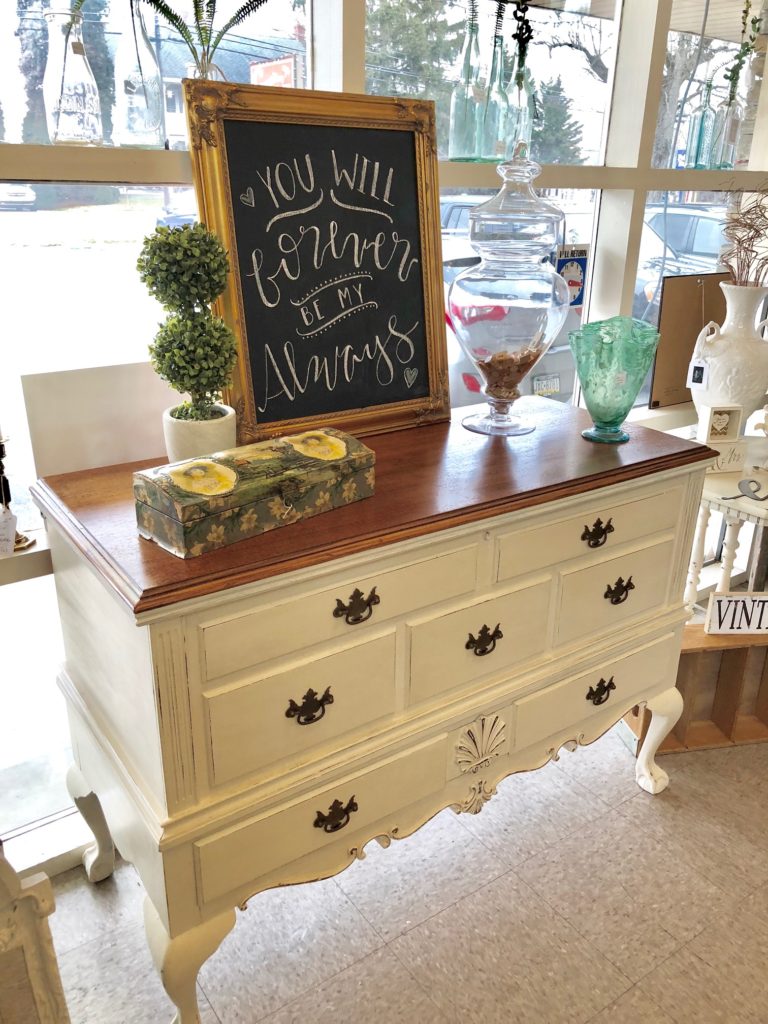 (SOLD!)
This is a beautiful vintage cedar chest, painted using Country Chic Paint in "Cheesecake."
We used the Country Chic natural wax to give it a protective coating.
The lid was stripped and re-stained, then varnished.  It measures 45″w x 19″d x 32″h and is $225.00.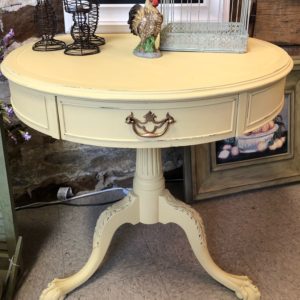 This sweet yellow pedestal table is a real gem!
We painted it using Country Chic Paint in "Bee's Knees." Gave it a coating of their Natural Wax for protection.
There is one drawer but has two "faux" drawers and hardware on the other side.
A really neat piece that also has ball and claw "feet."
$95.00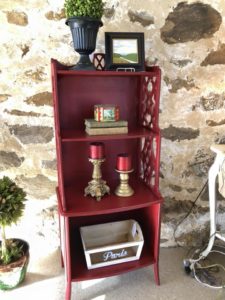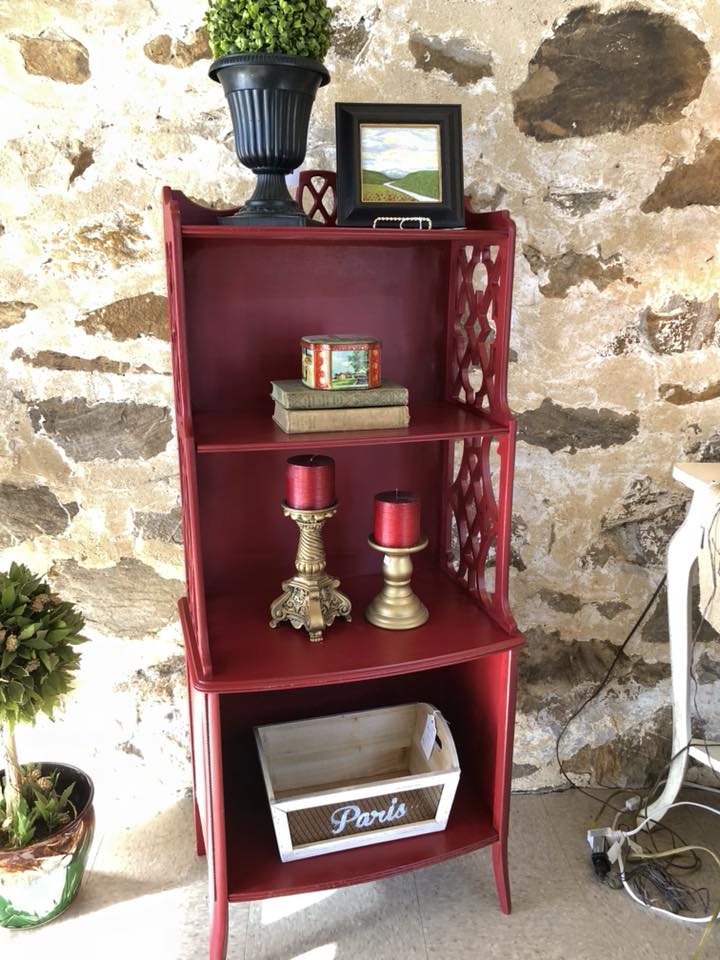 (SOLD!)
A vintage étagère was given a new look with
Country Chic Paint in Cranberry Sauce.
There are four shelves for storage…
great for using as a coffee or wine bar too!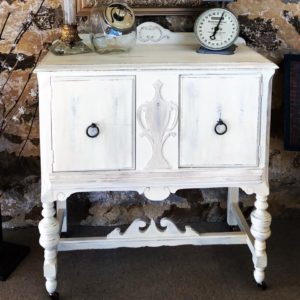 (SOLD)
And speaking of coffee bars, this one lasted one day in the shop!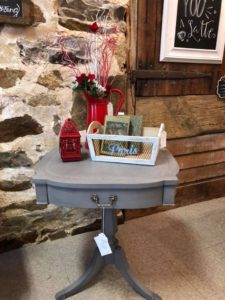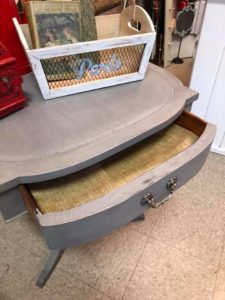 (SOLD!)
Also new in the shop is this wonderful Duncan & Phyfe pedestal table.
I used Country Chic Paint in Pebble Beach with a grey wax.
Great for a lamp or even a nightstand with the
convenient drawer for storage.
The gray wax gave it a beautiful velvety looking texture.
$59.00

 (SOLD!)
We used Country Chic Paint on this sweet octagon table in "Cheesecake."
This paint is so easy to distress and the wax goes on so smoothly!
(We used the natural wax)
Add this side or lamp table to your decor for only $55.00!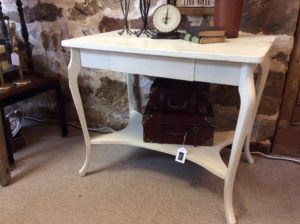 (SOLD!)
This antique table has lots of appeal due to the curved legs and unique
design. It also has a drawer to store remotes in or other essentials!
Even better is the price:
Just $95.00! 

(SALE PENDING!)
An antique farmhouse style dining table has arrived!
It is 5 ft long x approx. 37″ wide.
There are black metal brackets underneath for support
which give it a cool industrial feel.
It also makes a great desk with lots of
surface space!  There are four black chairs to go with it. 
Price for all 5 pieces: $395.00

(Dresser SOLD!)   (Black Mirror SOLD!)
 We've added a wonderful and very roomy dresser, chalk painted
in Parisian Gray and white. A special silver gilt wash
treatment was given to the drawer pulls. A must see!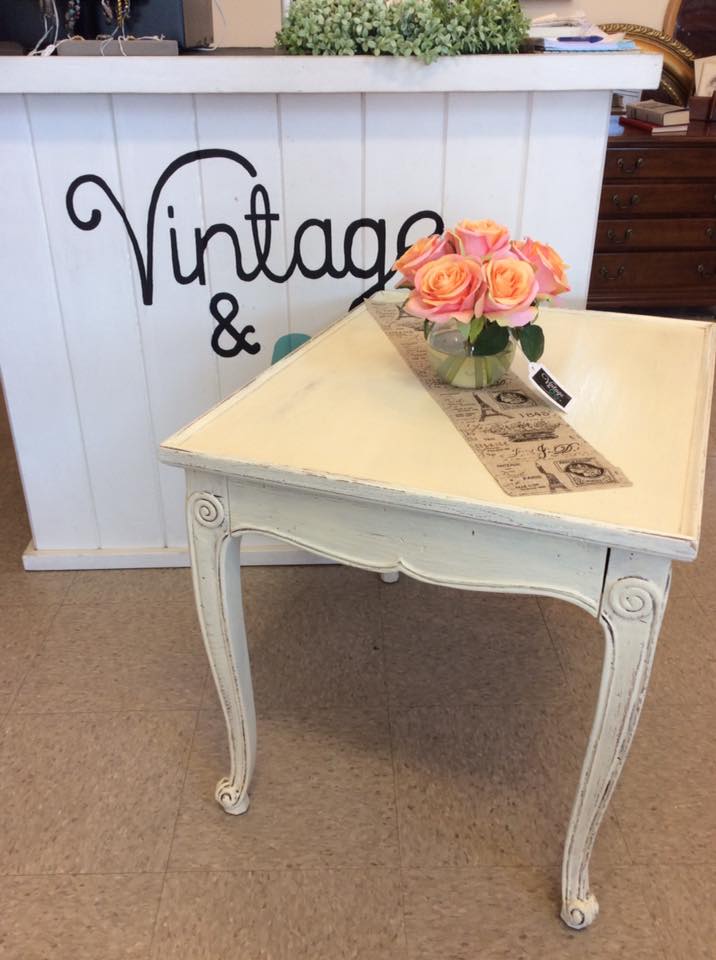 I love how this end table with whimsical legs turned out after it was
given a coat of cream chalk paint. 

It even has a drawer for holding remote controls or your latest magazine!
Just $49.00 and is perfect for your neutral home décor.
~~~~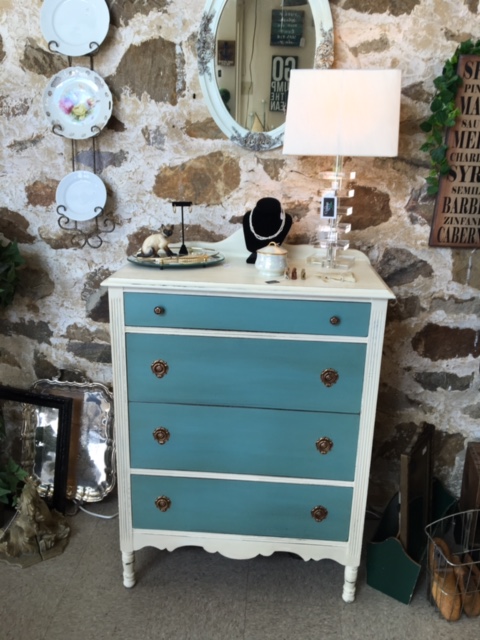 Check out this beautiful, two-tone dresser!
We used an aqua chalk paint paired with a pretty cream color.
Special antiquey gold enhancements were added to the drawer pulls.
The measurements are 32″l x 48″ h x 16″w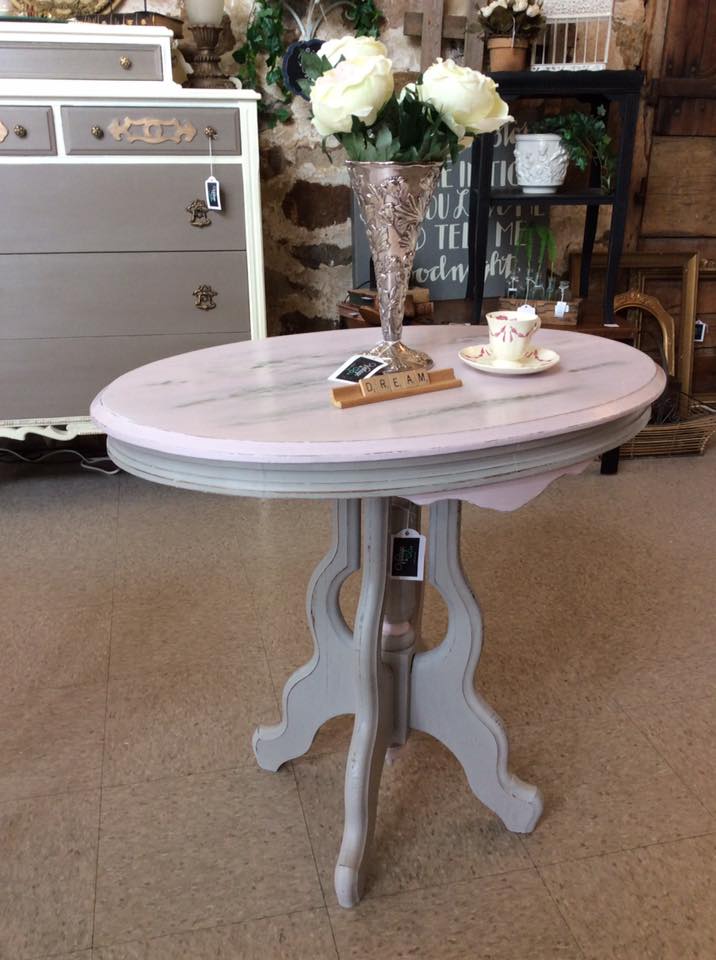 Love this princess style table!  I paired a light lavender chalk
paint with a Parisian gray chalk paint on this antique lamp table.
Simply charming!
$95.00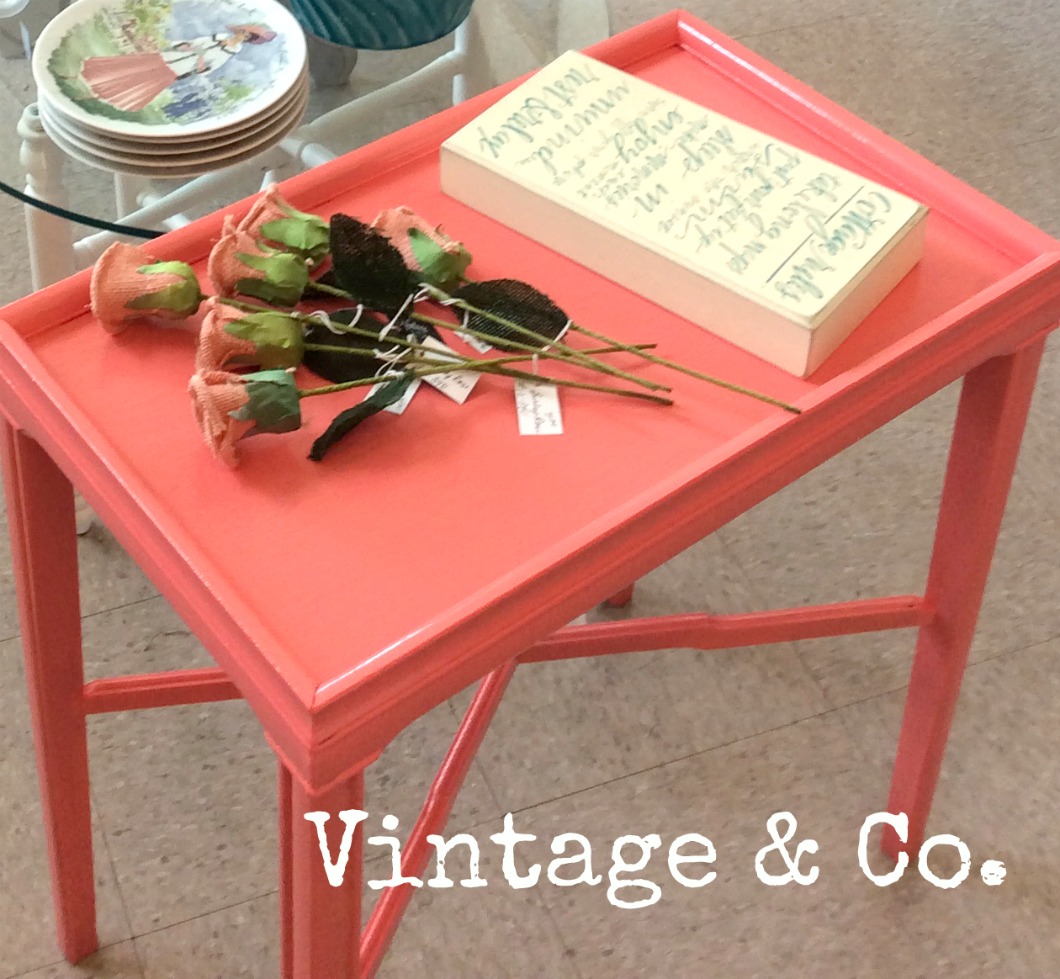 Here's a piece that is sure to brighten up any room!
I used a high gloss coral on this side table and now
it really pops!  It has has simple, clean lines which
makes it a great nightstand or end table!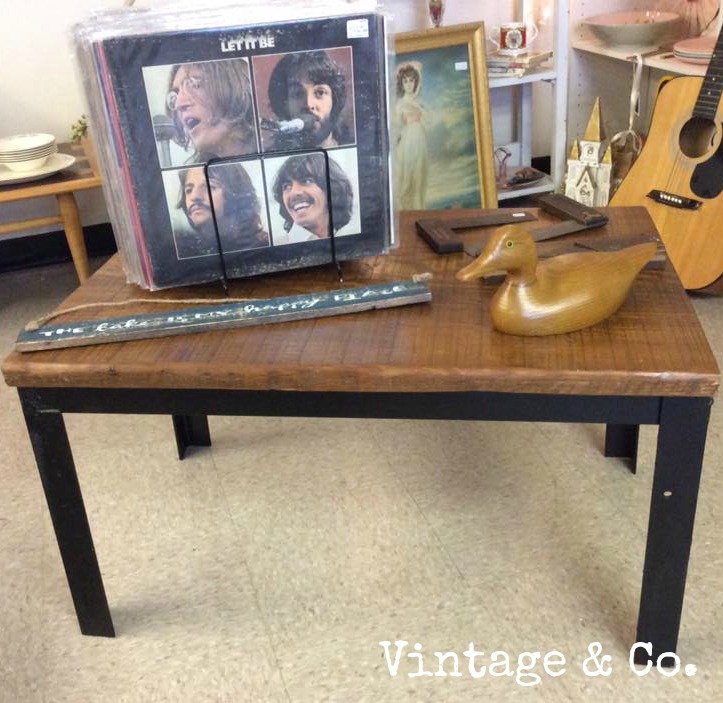 Another industrial piece for your living or family room!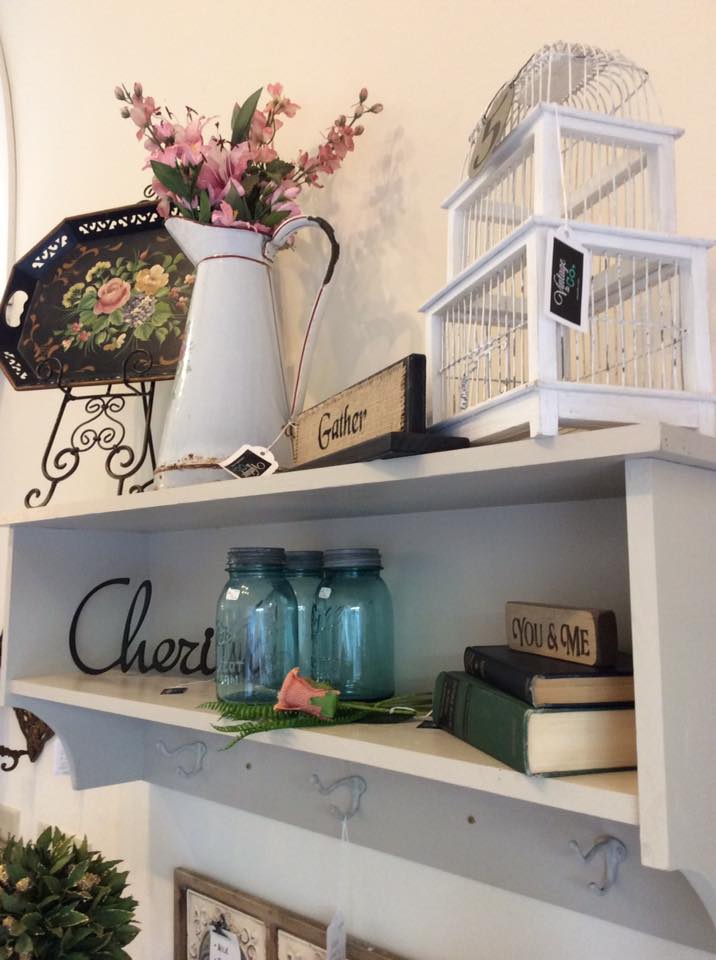 This neutral toned wall shelf is super handy
for organizing and displaying your stuff!
Hand crafted by my husband, Andrew, it
has

two shelves and three hooks!
~~~~~~~~~
We also make a similar shelf out of reclaimed barn wood.
(Contact us under "Custom Order.")
 $95.00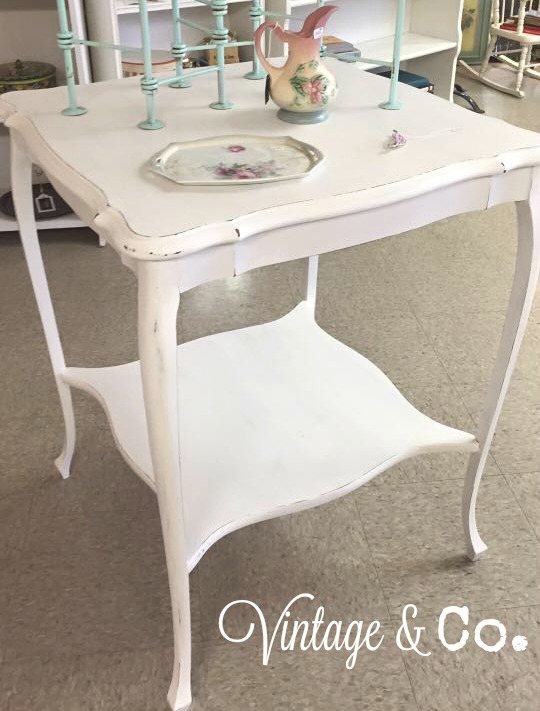 (SOLD!)
This pretty white square top table has beautiful lines
as well as plenty of surface space.  Measurements are: 24″ w  x 24″ d  x 30 1/4″ h

 Another side table made it into the shop but
this one has unique features… we highlighted
areas in an "antiquey" bronze.
$59.00
 
How about a little window shopping?
We have several windows plus a couple of 12 paned windows which
look wonderful on a mantel with a wreath or to use for a family photo display!
  
This is the coffee table from our mid century post above.
Just wanted to show a better view of it.
It is a  beauty!
Look how long and slender it is… in a nice clean, look.
My hubby, Andrew brought it back to its original condition. 
(The Libbey autumn leaf glass set has SOLD, thank you!)
 ~~~~~~~~~~ 

We even have a vintage dress form or two.
Fun to decorate with jewelry or vintage prize ribbons!
  _______________________
Our  Store Hours
Wed 11 – 5
Thurs 11 – 5
Fri 11 – 5
Sat 10 – 5
Sun 1 – 5
Mon/Tues – Closed
~~~~~~~~~~~~~~~~~~~~~~~~~~~~