Welcome to Vintage & Co!
Our Store Hours Are:
Tuesday 10 – 2:30
Wednesday thru Friday 11 to 5 
Saturday  10 to 5  
Sunday – By Appointment Only
_________________________
 Our Christmas Open House is
THIS SATURDAY from 10 to 5!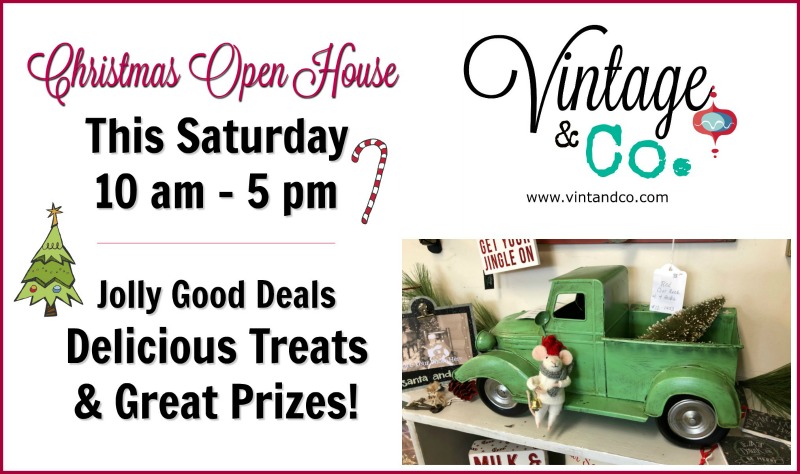 ________________________________________________________________
Looking for a great furniture and home décor paint?
You will absolutely LOVE Country Chic Paint! 
 It is an environmentally friendly,
clay-based paint with superior adhesion,
and is easily distressed!

 We are Lancaster's ONLY Country Chic Paint Retailer!
Stop in and let us help you get started!
____________________________
Here is some of our latest inventory: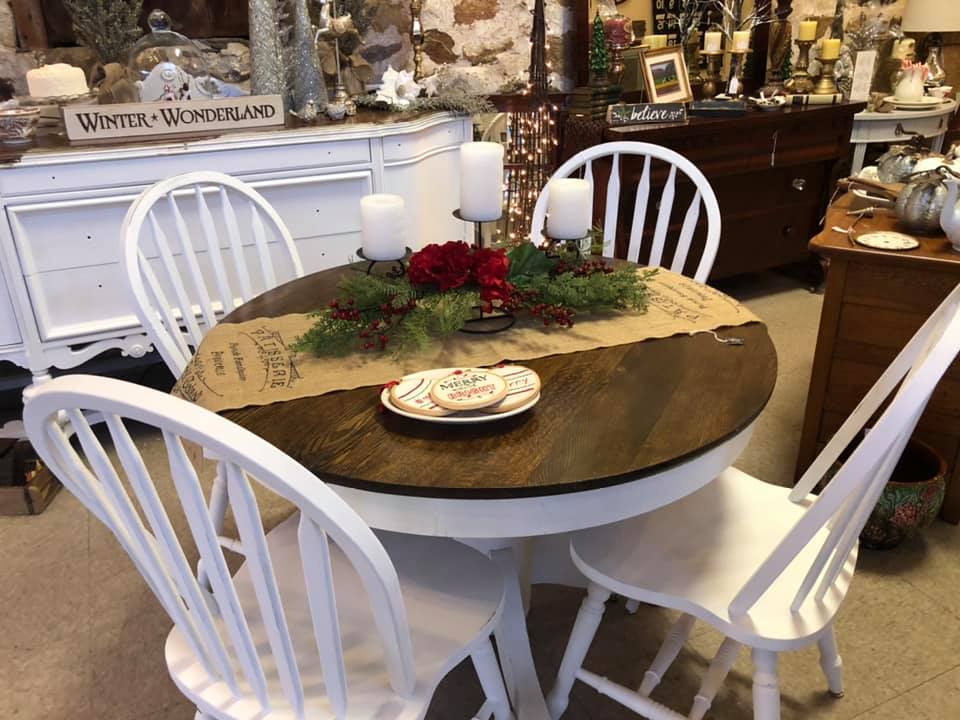 This beautiful white table and chairs set was refinished using
Country Chic Paint in Simplicity. $275.00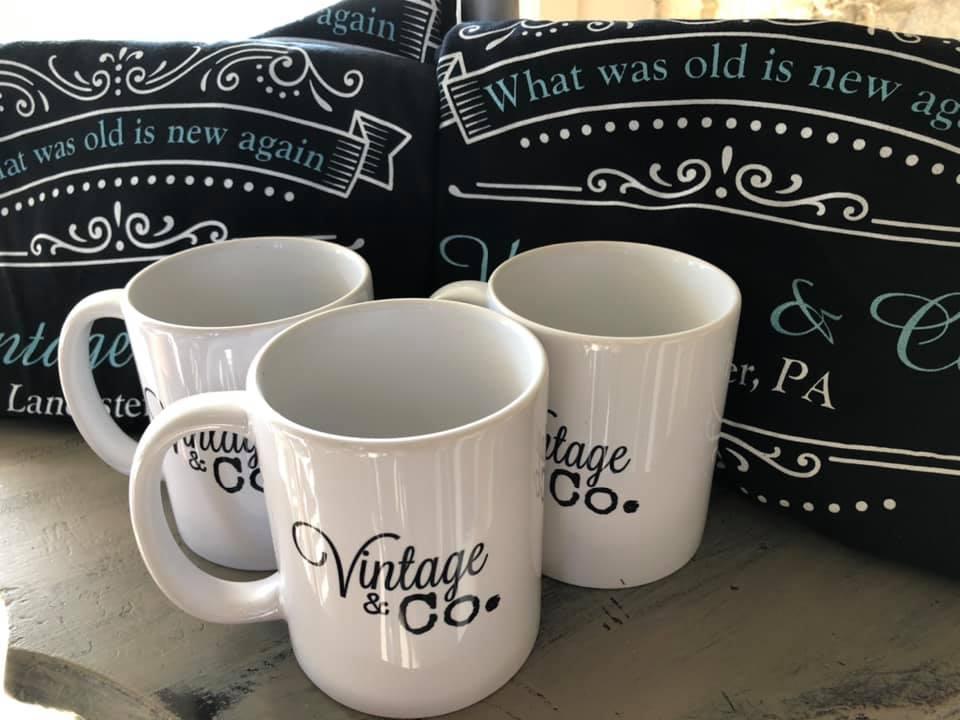 Also new to the shop this year… Vintage & Co. gear!
So far it is just mugs and T-Shirts but we're still excited about it!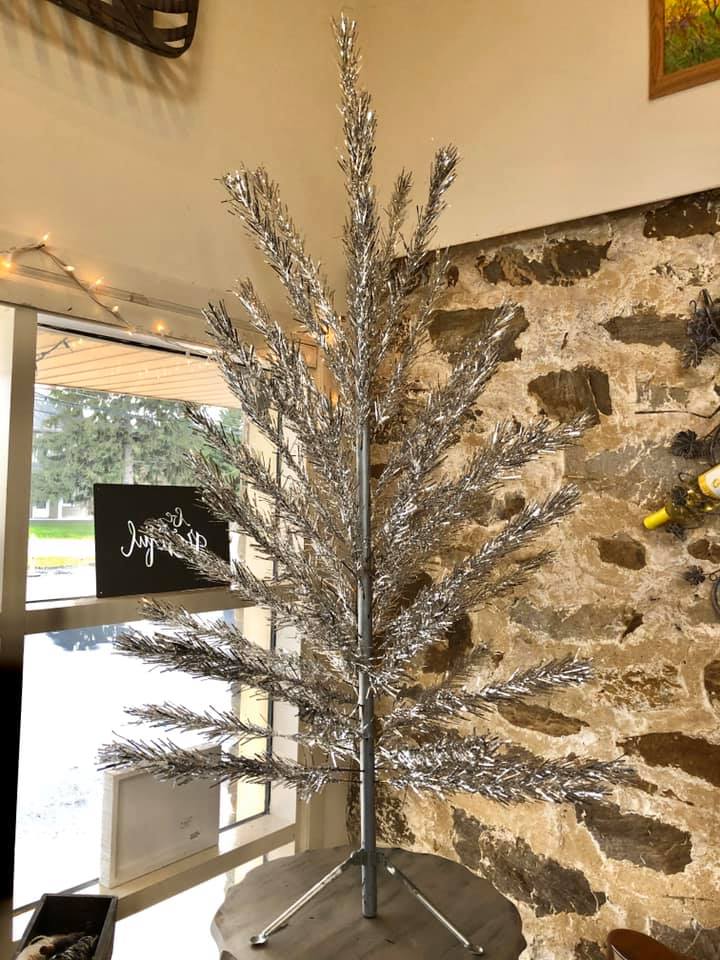 We were just as thrilled to find this vintage mid-century aluminum Christmas tree! It is now all decked out in colorful vintage ornaments, too!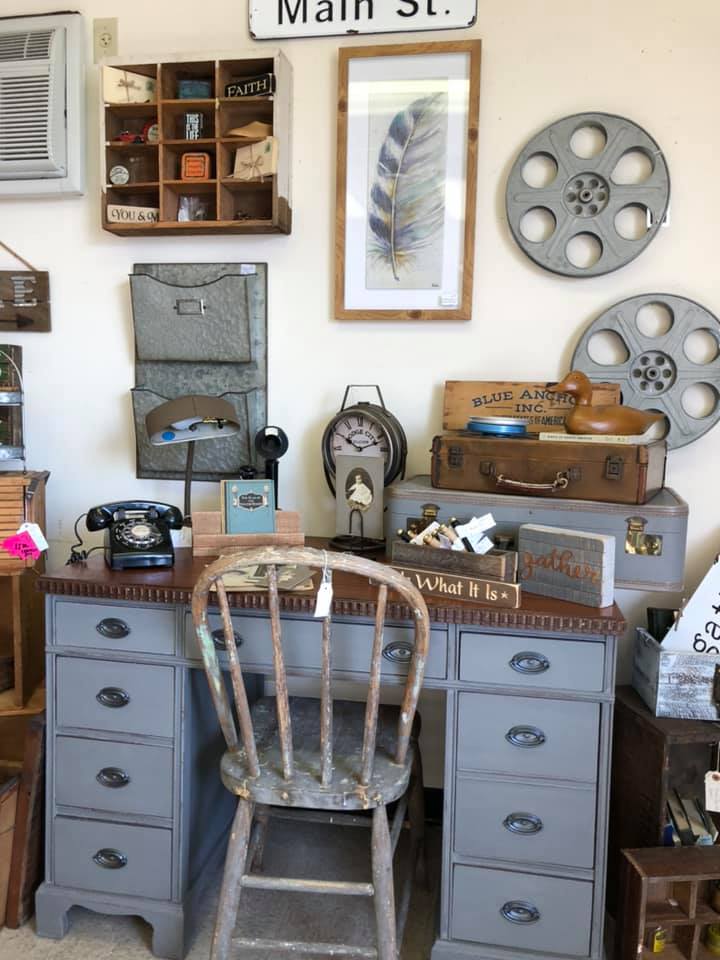 SOLD
We took a vintage desk that needed some love and painted it with Country Chic Paint in "Cobblestone." I love the "Industrial" vibe that it has! The existing drawer pulls were updated by giving them a coating of a metallic cream called "Trigger" by Country Chic Paint.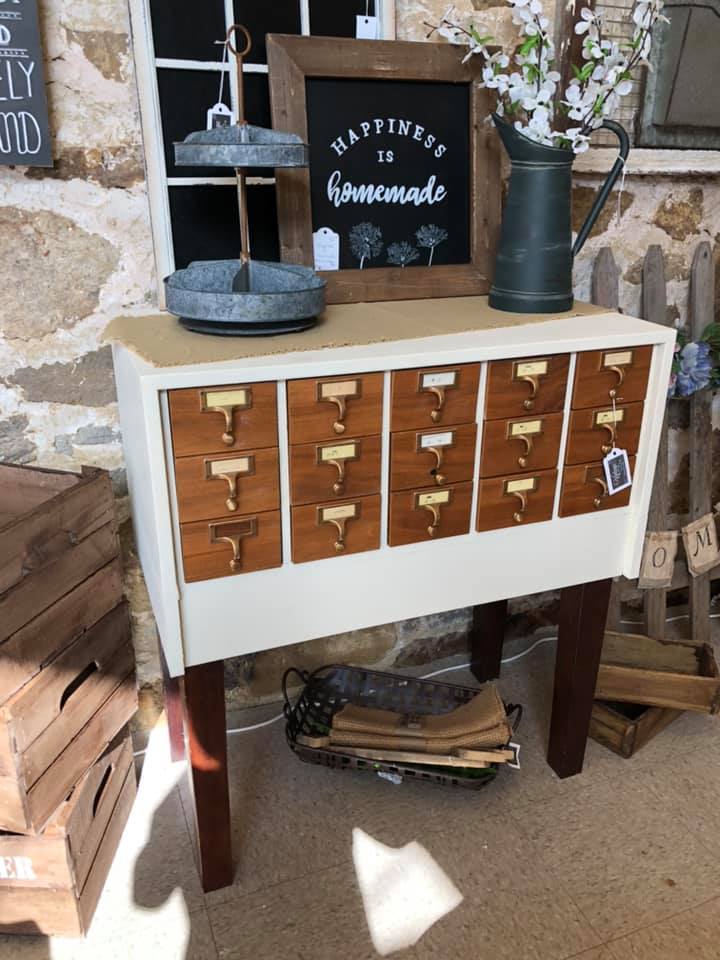 SOLD
This card catalog storage unit was an upcycled piece created by my husband, Andrew.  What was once just a countertop card catalog or just the top piece of a larger unit, became a wonderful accent piece for a craft room, living room, or dining area.  (We noted that wine bottles fit inside the drawers perfectly!) This piece sold only a few hours after it hit the sales floor!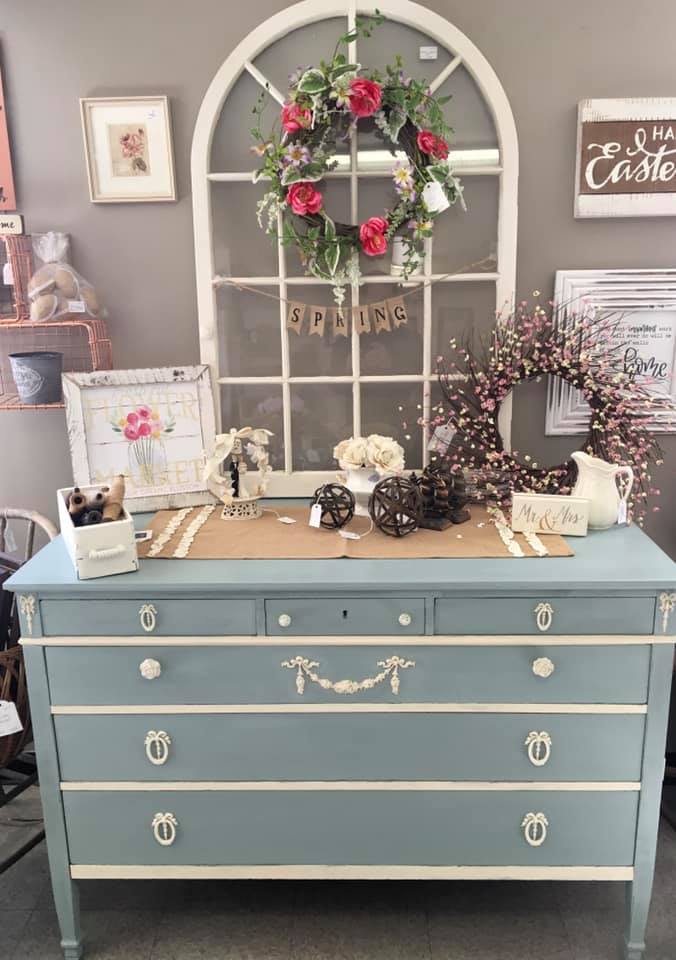 We added this beautifully painted dresser which has a look of the old vintage Wedgwood designs.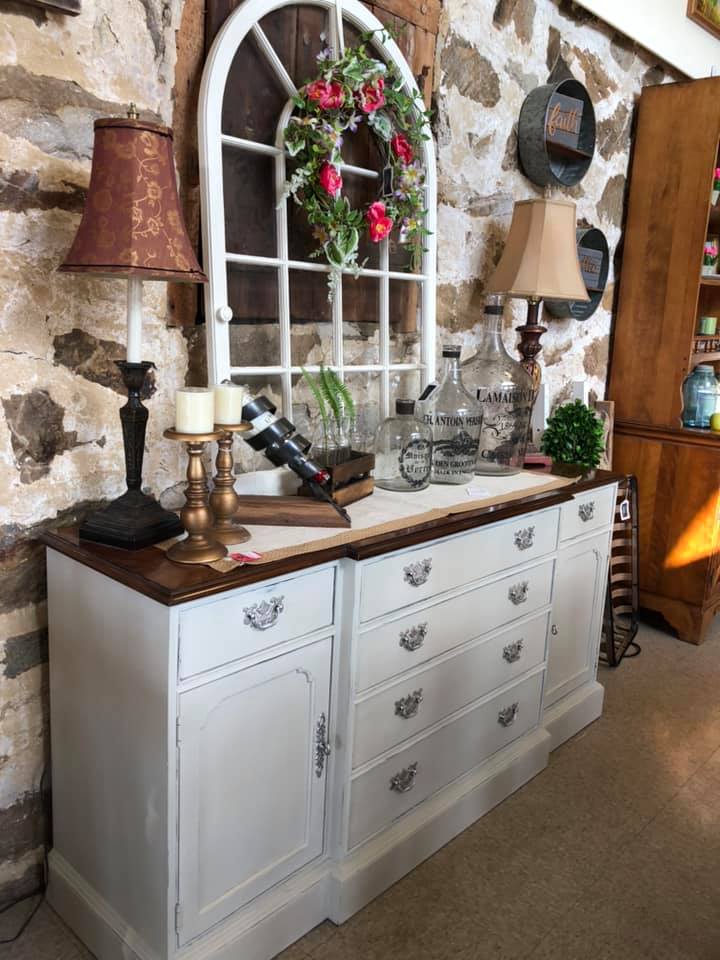 Our latest piece…. a vintage "Knob Creek" buffet.  We gave it a complete makeover by stripping, re-staining and varnishing the top while the lower portion was painted with Country Chic Paint in "Sunday tea."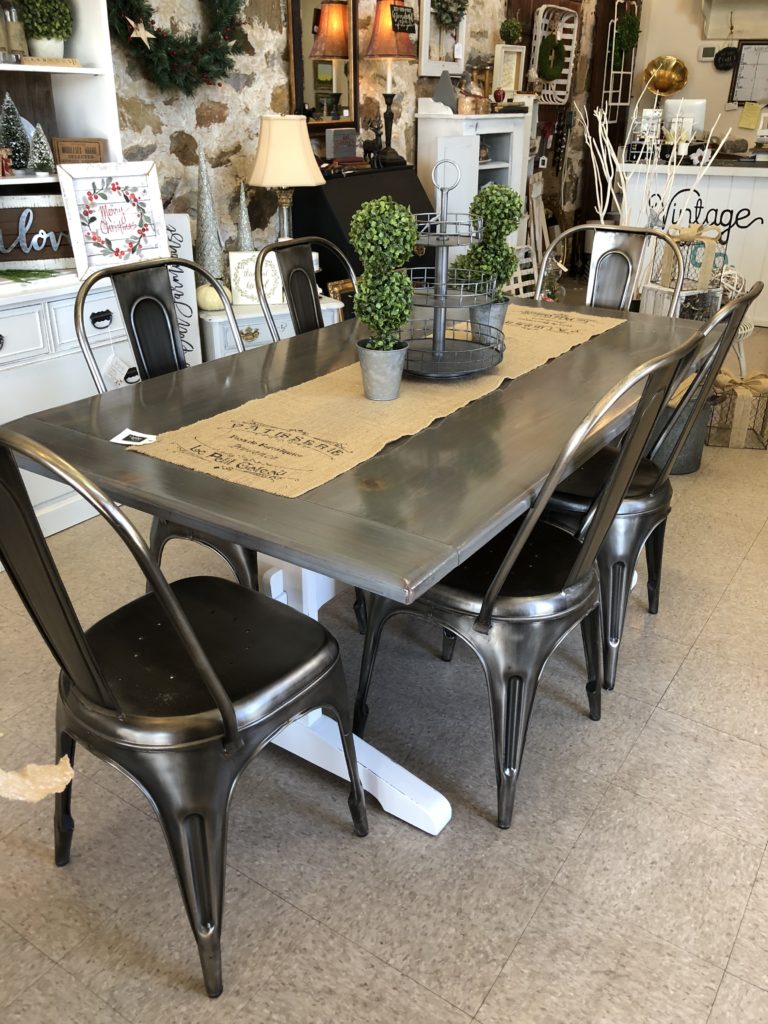 We just love our latest farmhouse table!
It was given a makeover by staining the top in a transparent gray and
painting the lower portion with Country Chic Paint in Simplicity.
The six nickel silver / iron chairs compliment the set perfectly!
Two additional leaves can be added for a total space of over 8 ft!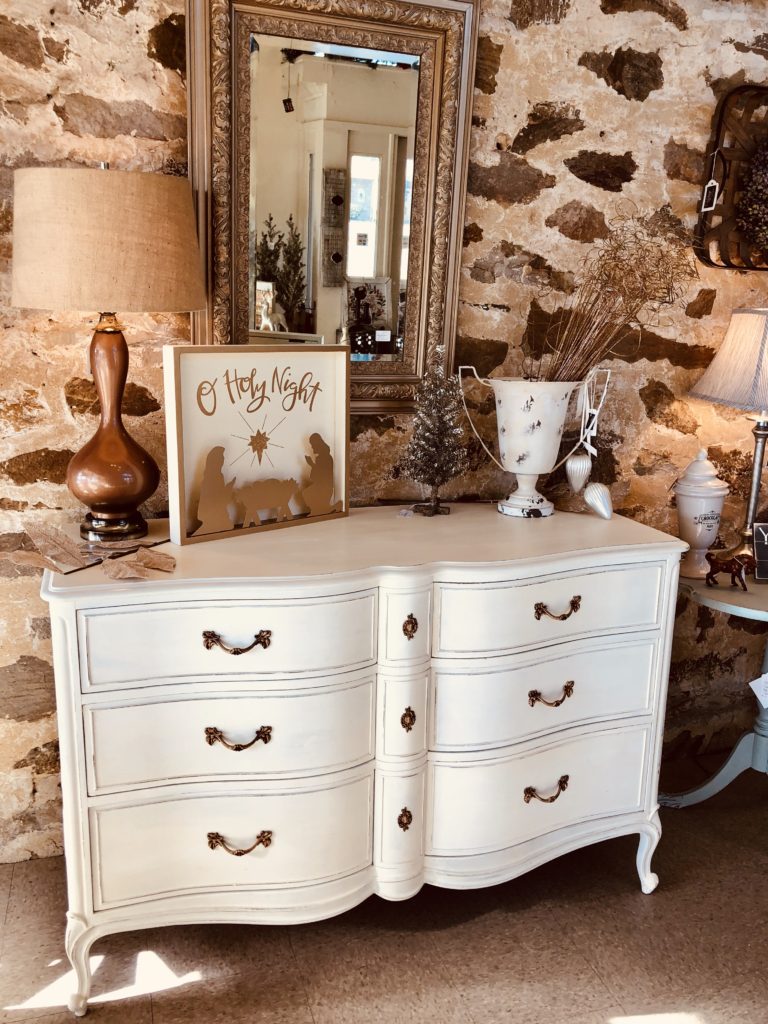 SOLD!
We are sooooo excited about this French Provincial dresser!
Not only was it given a new life with Country Chic Paint in "Vanilla Frosting,"
there are several pieces that match for a complete bed room set! 
Stay tuned or stop in the shop to see the rest!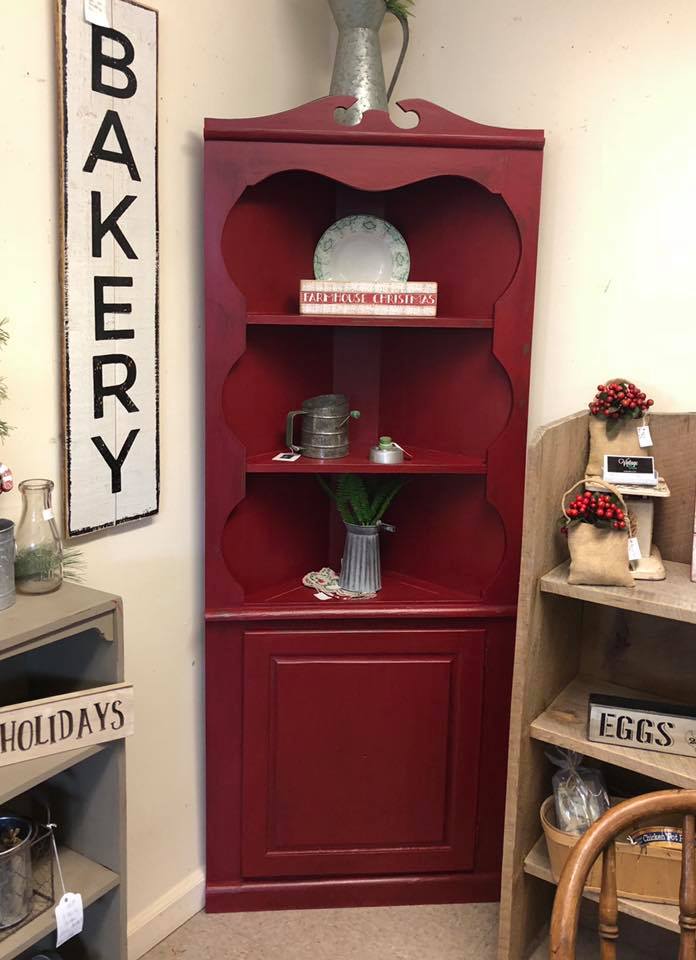 SOLD!
A pop of red always catches my attention!
This corner cupboard is just the right touch. We used
Country Chic Paint in the color "Cranberry Sauce."

This pair of end tables can also double as nightstands.
I love this navy blue color from Country Chic Paint called "Peacoat."
Beautiful!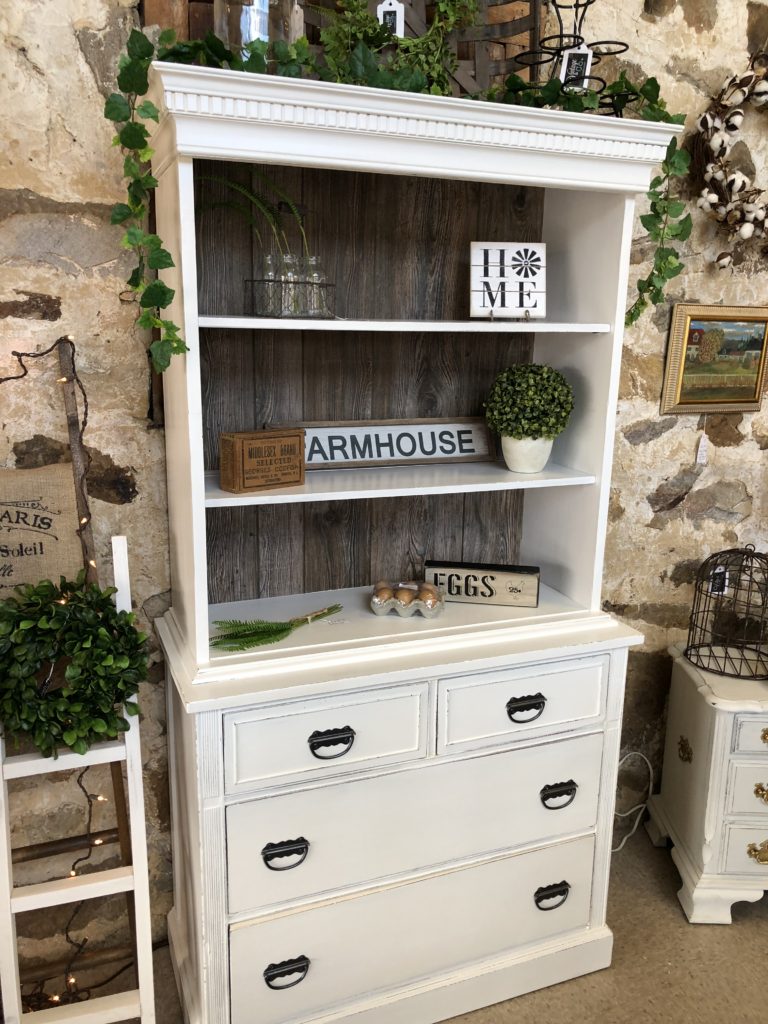 (SOLD)
This vintage china cabinet was given a total transformation.
We love how it turned out.
The doors were removed, a barn wood panel was placed in the back.
We painted the rest with Country Chic Paint in "Simplicity."
The hardware went from brassy to sassy with
Country Chic Paint's metallic cream in "Trigger."

SOLD!
This is a sweet piece! Great farmhouse country
storage with three shelves plus a roomy drawer below.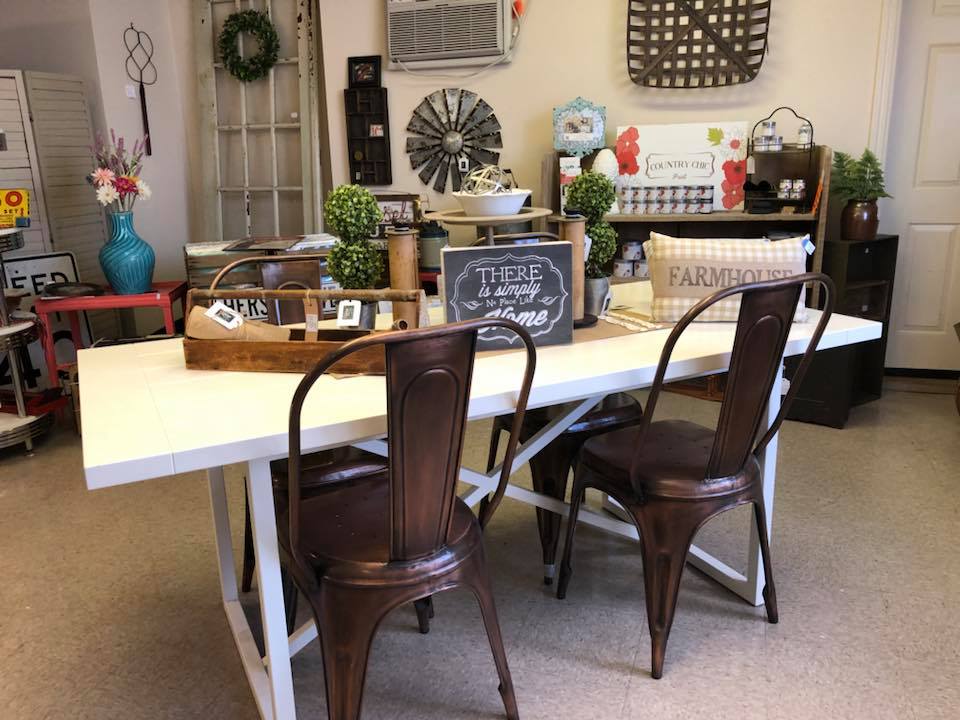 (SOLD!)
This is a unique industrial table in WHITE!
The four antique copper chairs were paired with it
to give it great character and appeal.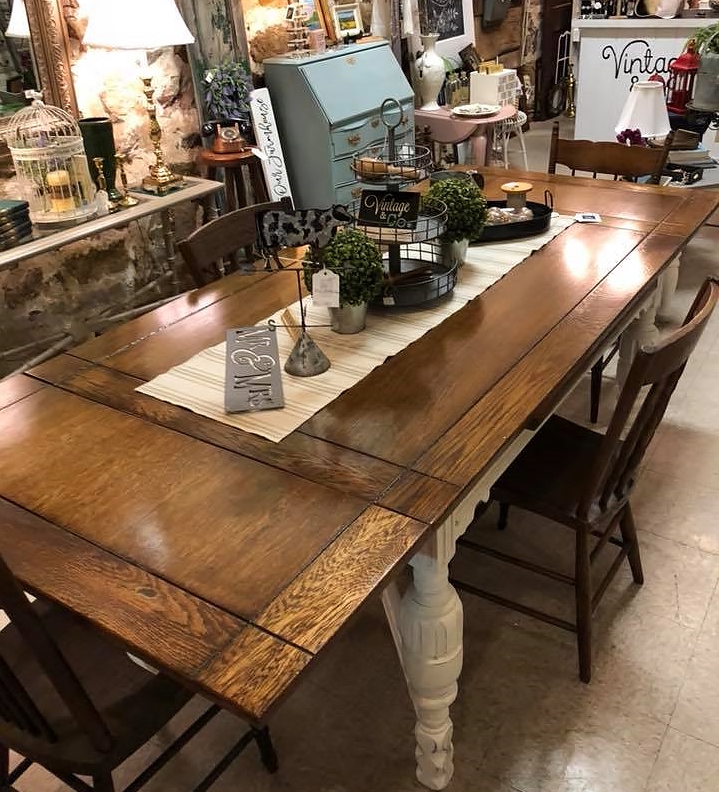 (SOLD!)
This is one of our best selling styles in Farmhouse tables and it is a beauty!
The sides pull out and extend for extra seating. The base was painted using Country Chic Paint in Simplicity.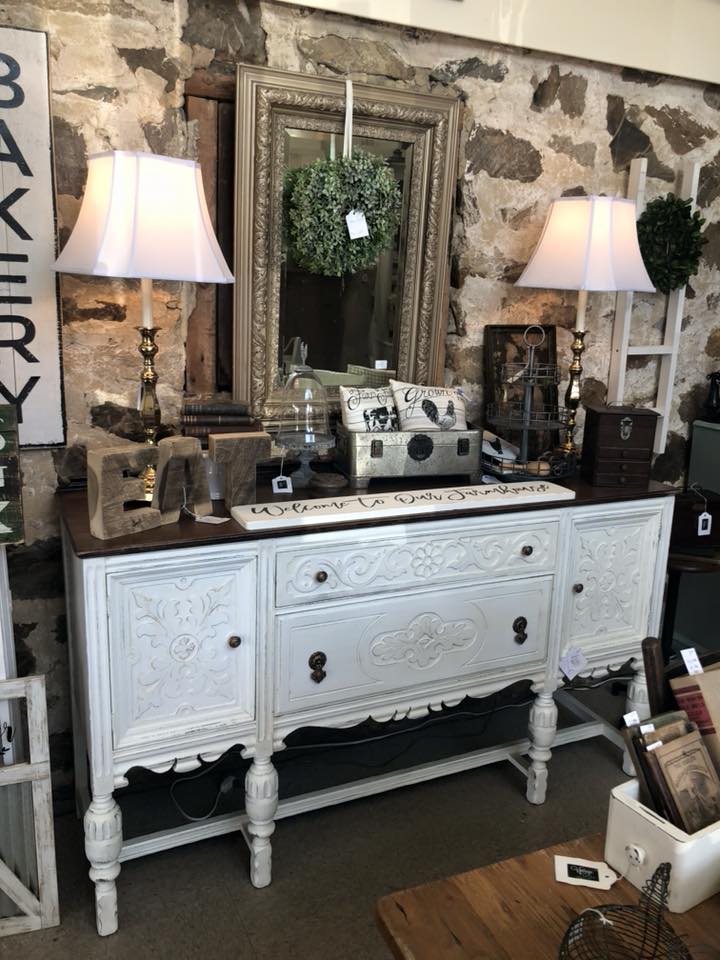 (SOLD!)
This Spanish Revival buffet is wonderful for pairing with a large dining table.
It was painted with Country Chic Paint in the color "Simplicity" on
the lower portion and stained and varnished on the top.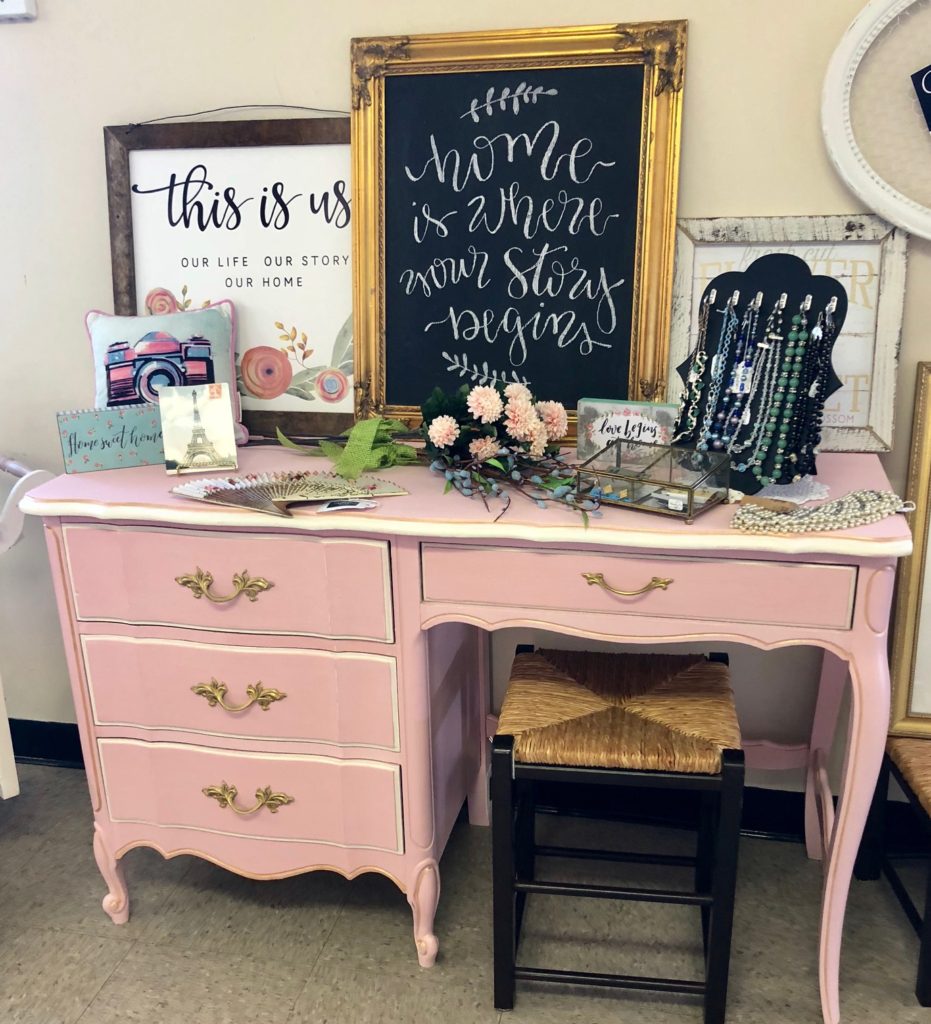 SOLD!
A vintage French Provincial desk or vanity was given a glamorous makeover!
We used a blend of Country Chic Paint in Vintage Cupcake
and Vanilla Frosting. The hardware was coated
in the CCP metallic cream in the color
"Pocket Watch."  A young girl's dream piece!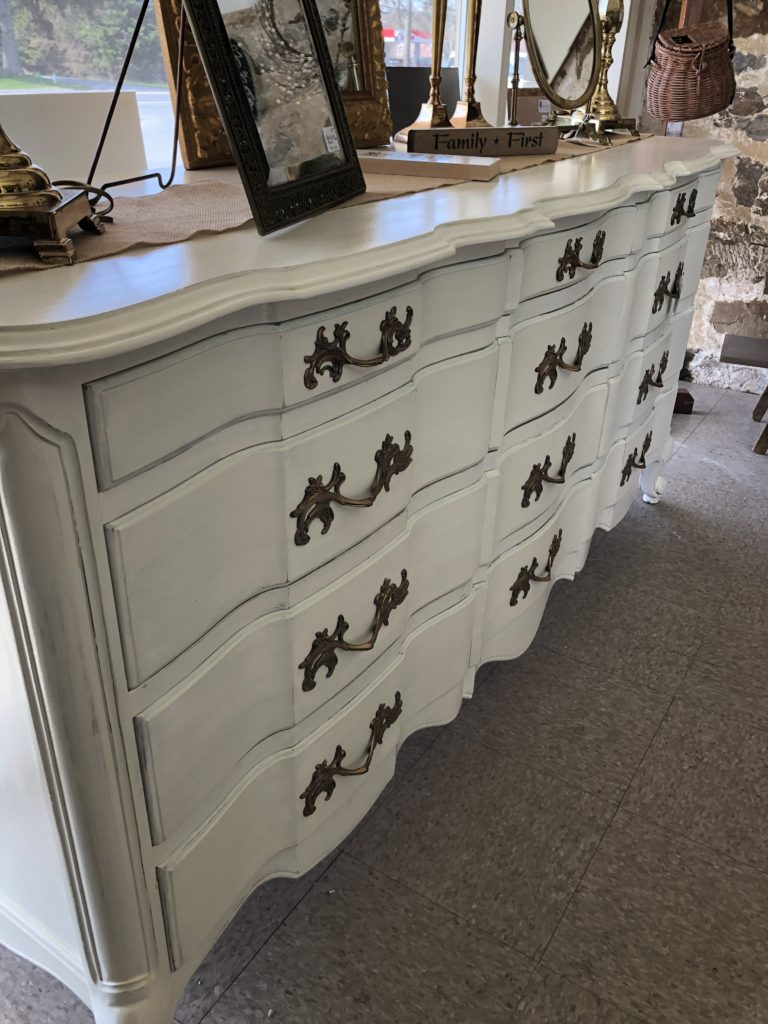 (SOLD!)
We brought in this beautiful 12 drawer French Provincial dresser.
You will not be short on storage space with this lovely piece!
Very well made and is in good condition.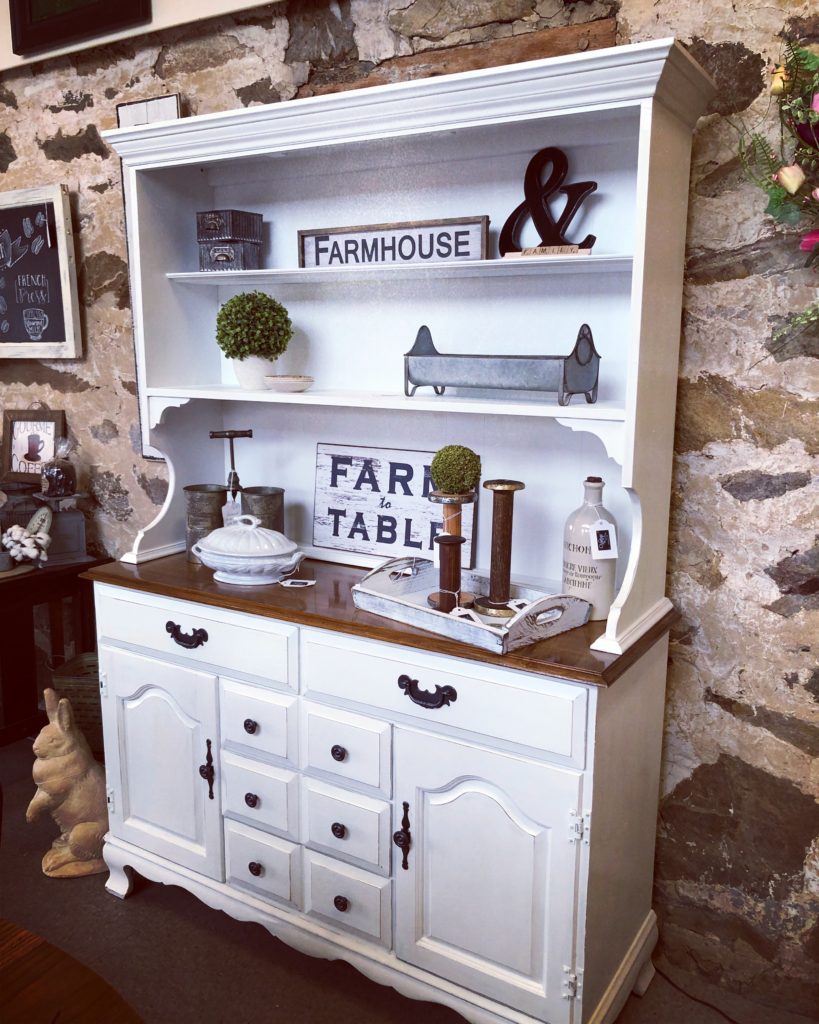 (SOLD!)
We have this gorgeous white farmhouse china hutch in the store!
Love it! We used Country Chic Paint (clay based) in the color Simplicity.
The main counter area was stripped and re-stained and varnished.
5 drawers and two lower cabinets provide lots of storage space!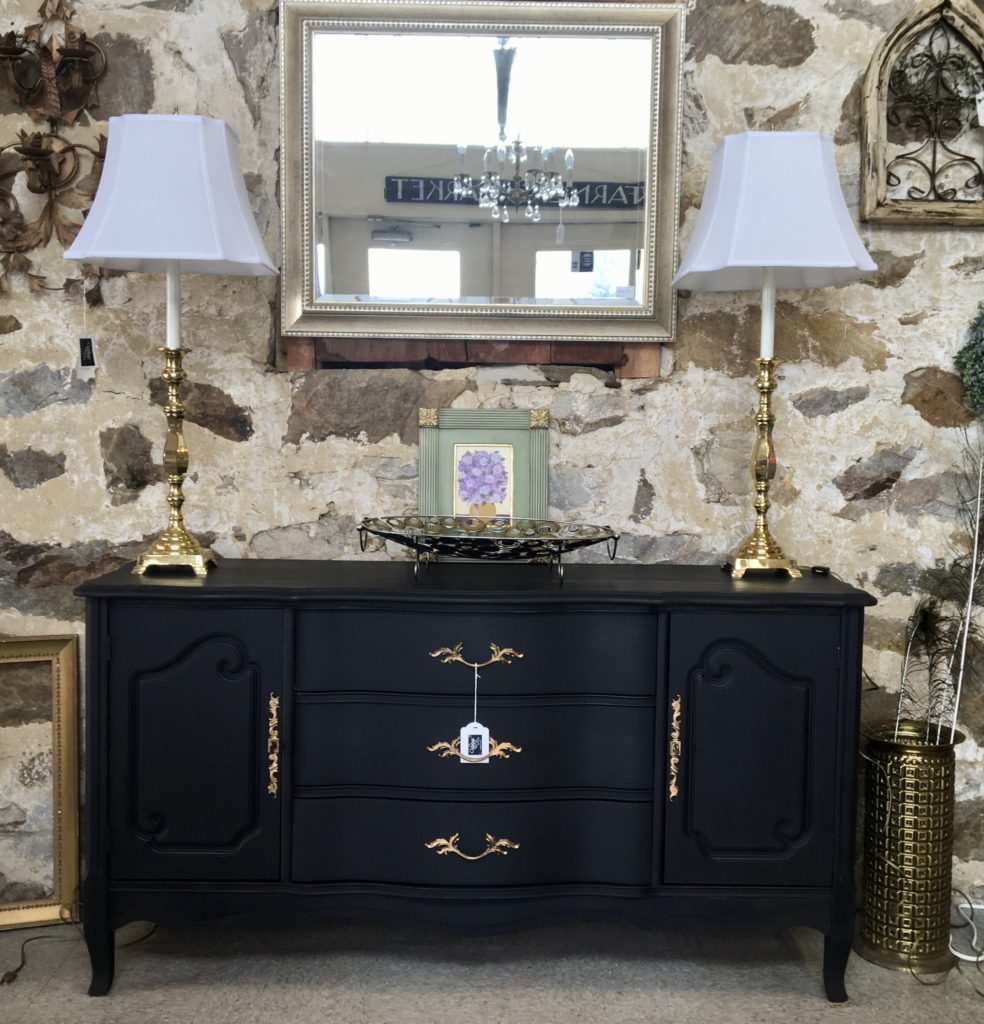 (SOLD!)
This French Provincial buffet was given a makeover
using Country Chic Paint's black called "Liquorice."
So elegant and classic. The gold hardware just pops!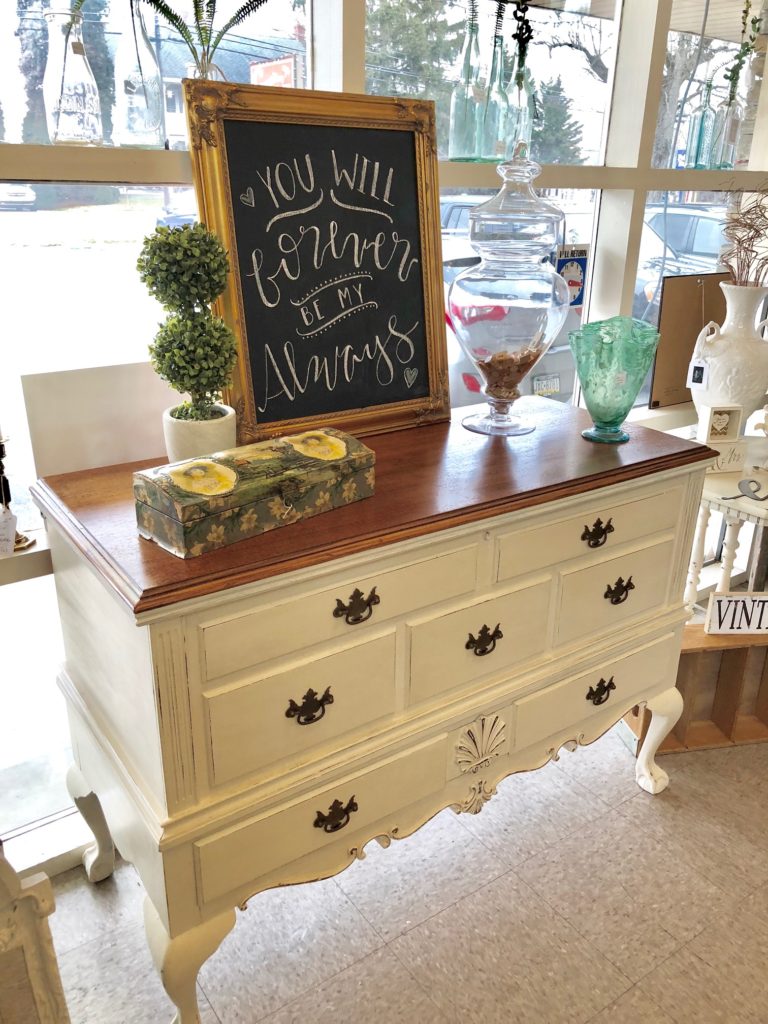 (SOLD!)
This is a beautiful vintage cedar chest, painted using Country Chic Paint in "Cheesecake."
We used the Country Chic natural wax to give it a protective coating.
The lid was stripped and re-stained, then varnished.  It measures 45″w x 19″d x 32″h and is $225.00.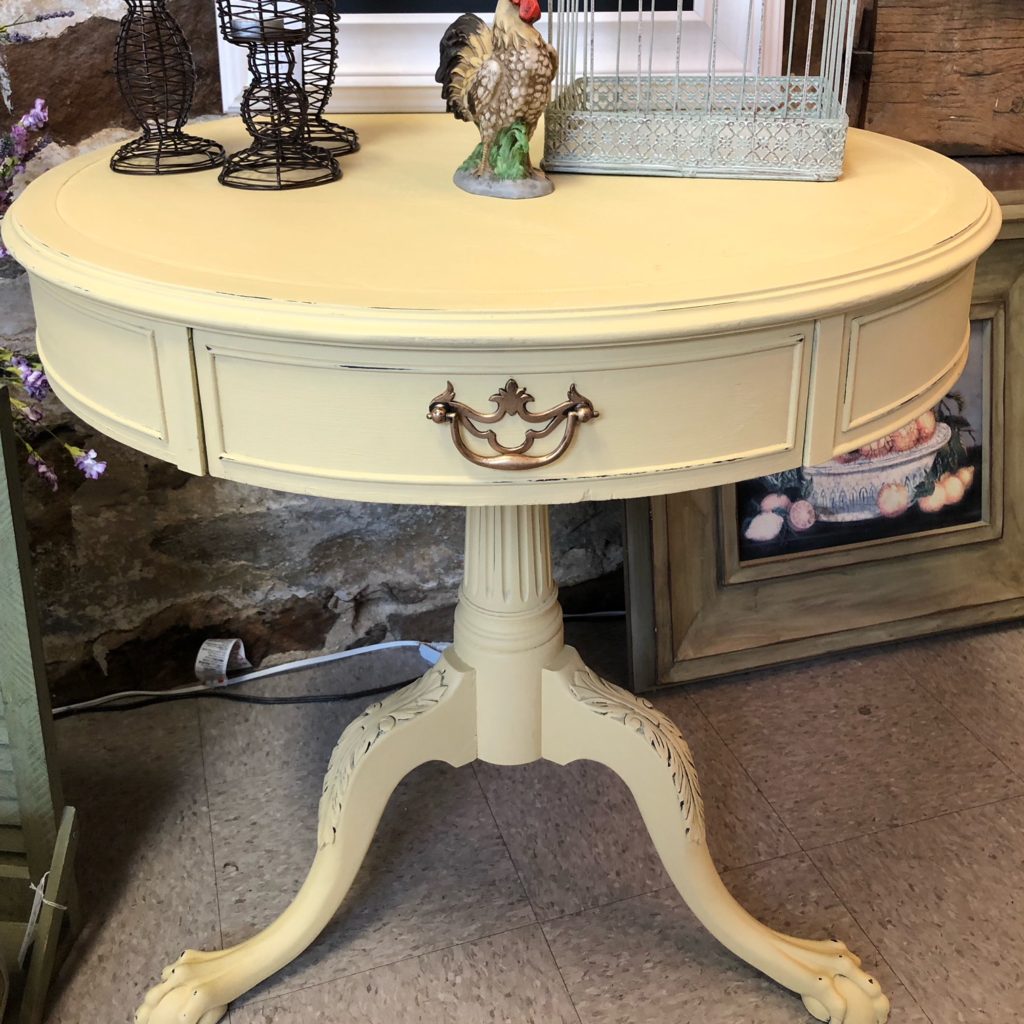 (SOLD!)
This sweet yellow pedestal table is a real gem!
We painted it using Country Chic Paint in "Bee's Knees." Gave it a coating of their Natural Wax for protection.
There is one drawer but has two "faux" drawers and hardware on the other side.
A really neat piece that also has ball and claw "feet."

(SOLD!)
A vintage étagère was given a new look with
Country Chic Paint in Cranberry Sauce.
There are four shelves for storage…
great for using as a coffee or wine bar too!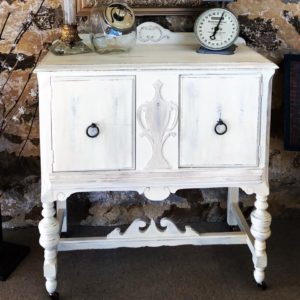 (SOLD)
And speaking of coffee bars, this one lasted one day in the shop!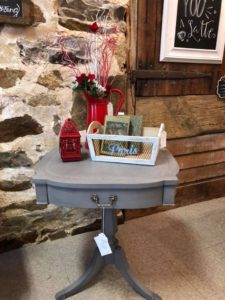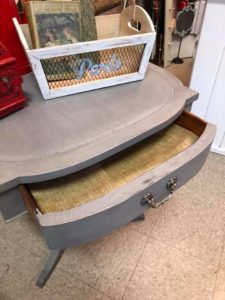 (SOLD!)
Also new in the shop is this wonderful Duncan & Phyfe pedestal table.
I used Country Chic Paint in Pebble Beach with a grey wax.
Great for a lamp or even a nightstand with the
convenient drawer for storage.
The gray wax gave it a beautiful velvety looking texture.
$59.00

 (SOLD!)
We used Country Chic Paint on this sweet octagon table in "Cheesecake."
This paint is so easy to distress and the wax goes on so smoothly!
(We used the natural wax)
Add this side or lamp table to your decor for only $55.00!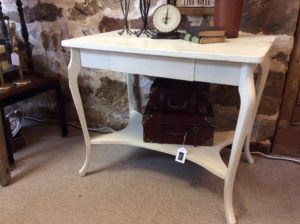 (SOLD!)
This antique table has lots of appeal due to the curved legs and unique
design. It also has a drawer to store remotes in or other essentials!
Even better is the price:
Just $95.00! 

(SOLD!)
An antique farmhouse style dining table has arrived!
It is 5 ft long x approx. 37″ wide.
There are black metal brackets underneath for support
which give it a cool industrial feel.
It also makes a great desk with lots of
surface space!  There are four black chairs to go with it. 
Price for all 5 pieces: $395.00

(Dresser SOLD!)   (Black Mirror SOLD!)
 We've added a wonderful and very roomy dresser, chalk painted
in Parisian Gray and white. A special silver gilt wash
treatment was given to the drawer pulls. A must see!  
(SOLD!)
Check out this beautiful, two-tone dresser!
We used an aqua chalk paint paired with a pretty cream color.
Special antiquey gold enhancements were added to the drawer pulls.
The measurements are 32″l x 48″ h x 16″w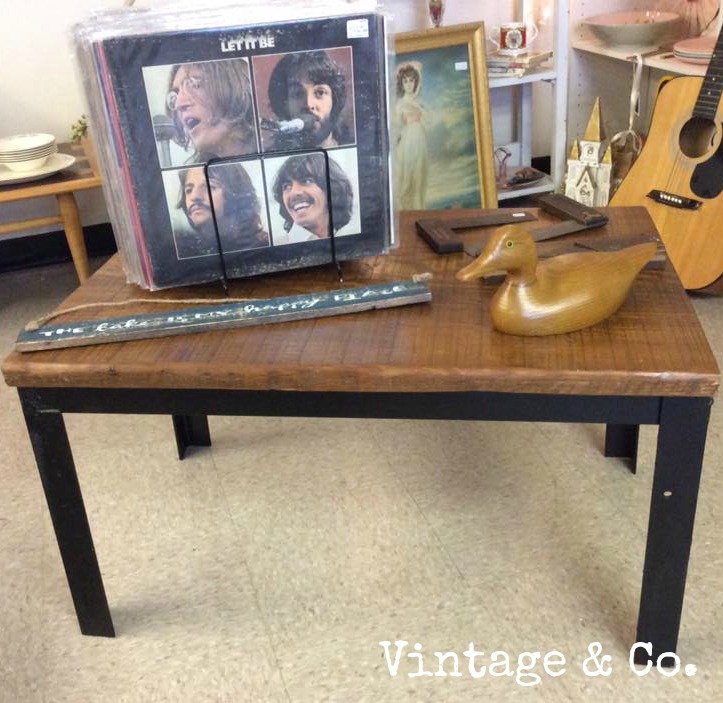 Another industrial piece for your living or family room!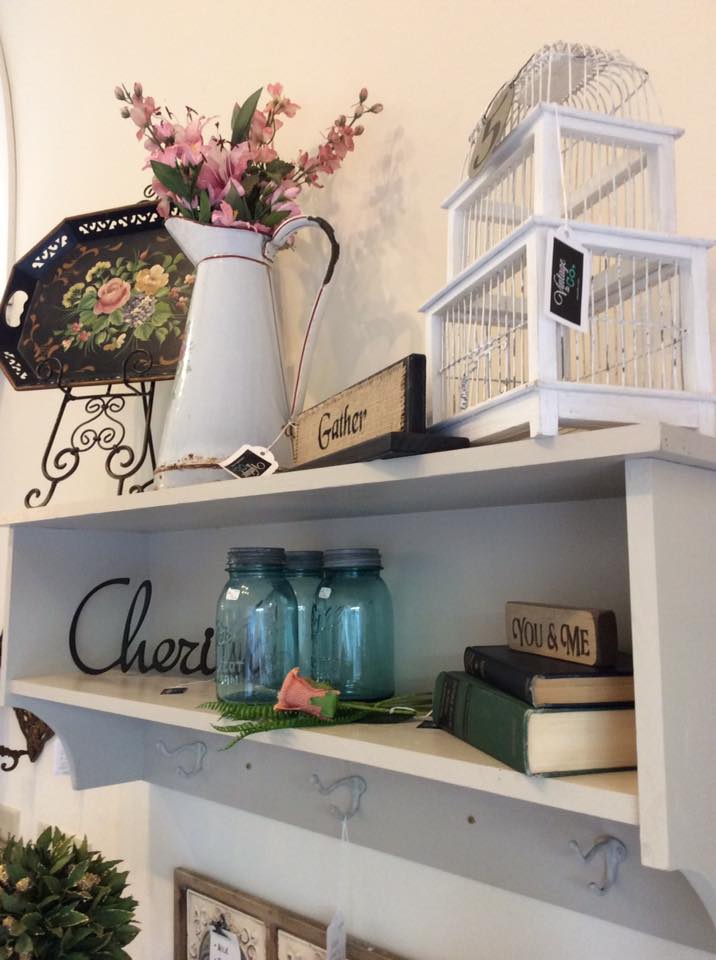 This neutral toned wall shelf is super handy
for organizing and displaying your stuff!
Hand crafted by my husband, Andrew, it
has

two shelves and three hooks!
He also makes a similar shelf out of
reclaimed barn wood.
(Contact us under "Custom Order.")
 $95.00
Our  Store Hours
Tues 10 – 2:30
Wed 11 – 5
Thurs 11 – 5
Fri 11 – 5
Sat 10 – 5
Sun: By Appt Only
Mon – Closed
~~~~~~~~~~~~~~~~~~~~~~~~~~~~