We are RE-OPENING THIS WEEK! We have new summer hours as shown below: Thank you for your support! Also be sure to check out our new arrivals on our online Facebook Page!
We are a vintage furniture and home goods store, painting old pieces and making them new again.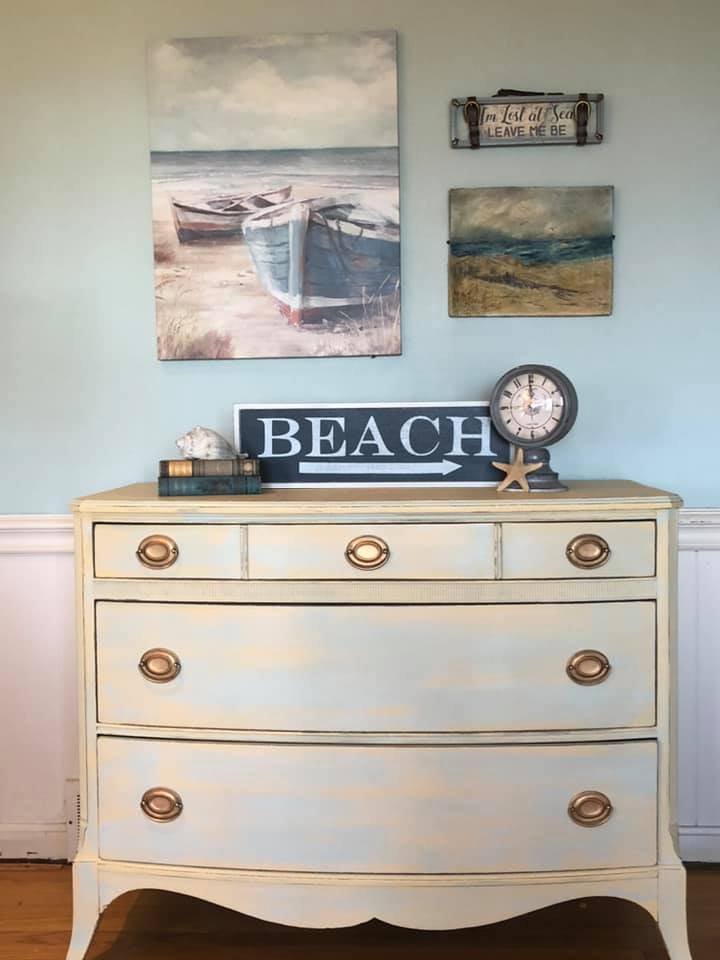 Vintage pieces were often well made using high quality wood and construction techniques. We continue that trend by selecting only high quality pieces. Our styles are classic and chic, keeping on trend in traditional styles. We also like to up-cycle & create new pieces out of vintage cast offs. Send us your vintage furniture and we'll make it look new again!
Our Summer Store Hours Are:
Wednesday – Friday 11 to 4
Saturday 10 to 5
Sunday: By Appointment Only
Monday & Tuesday – CLOSED
_______________________________________________________
We are Lancaster's
Country Chic Paint Retailer
To give our pieces a classic look, we use Country Chic Paint. It is an environmentally friendly, clay-based, furniture and home decor paint. It has superior adhesion quality and is easily distressed. 

Stop in and let us help you get started!
____________________________
Here is some of our latest inventory: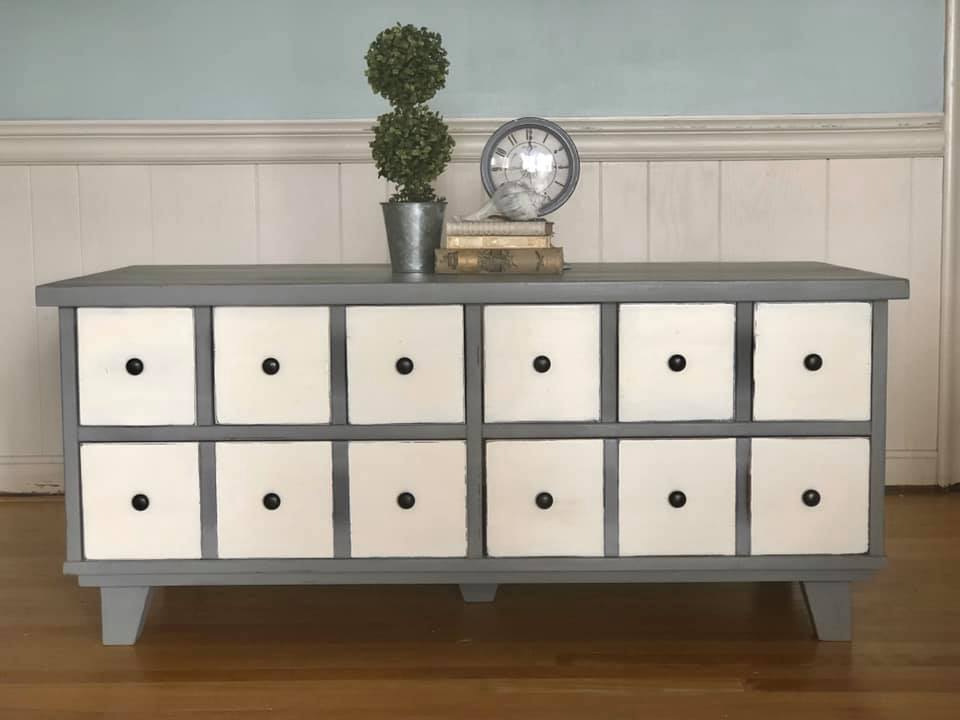 This apothecary style coffee table has SO much storage! The entire top row of bins open up from BOTH sides. The bottom row is made up of two bigger drawers that also open up from both sides. A win – win! 48″l x 24″h x 21″d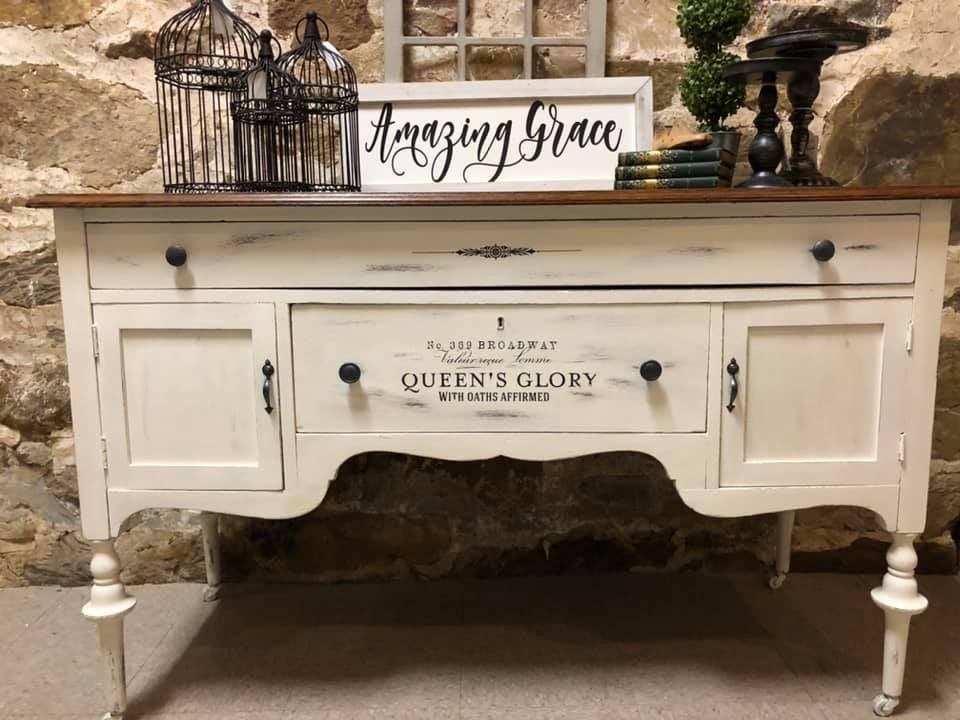 SOLD
This antique buffet was made around the turn of the century and had seen better days but we brought this queen back to life! We used Country Chic Paint in Vanilla Frosting after stripping and staining the top.  A little bit of distressing and a fun text was added so now the Queen is regal again!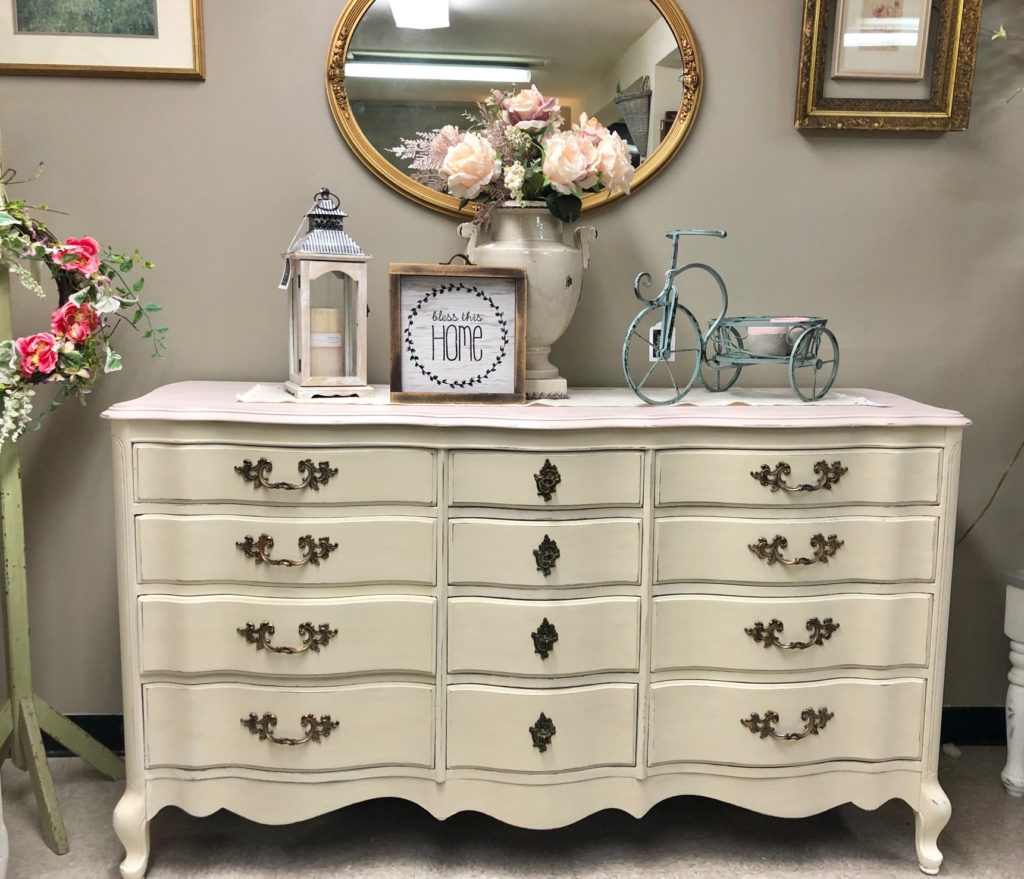 SOLD
Look at this beauty! A 12 drawer, French Provincial dresser. We gave her a makeover using Country Chic Paint in Cheesecake and Hope.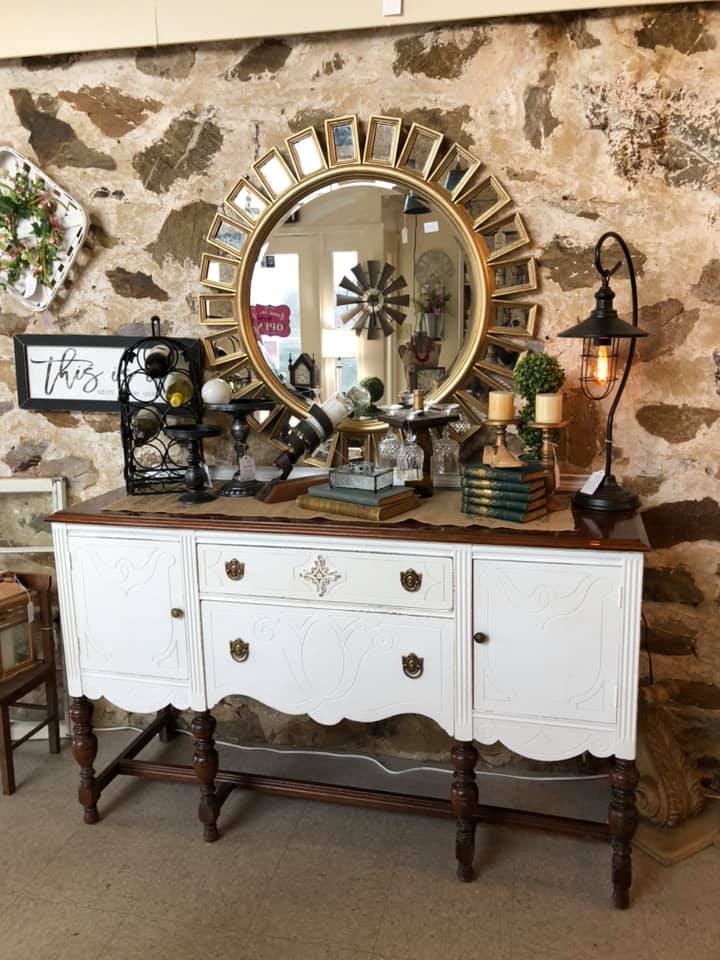 SOLD
Love these antique buffets! We left the legs unpainted for a more trendy look… this piece had such great features. We used Country Chic Paint in Crinoline for the base.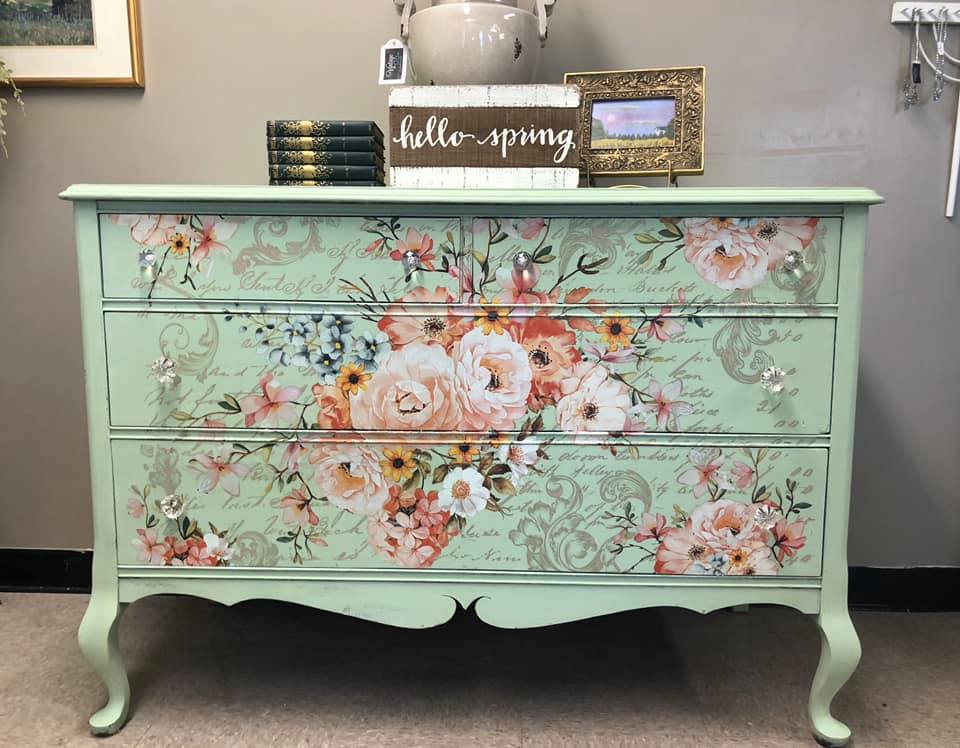 SOLD
I fell in love with these floral transfers and this one really popped against the background of Country Chic Paint's "Feline Fine." Switched out the hardware for crystal knobs for the final finish!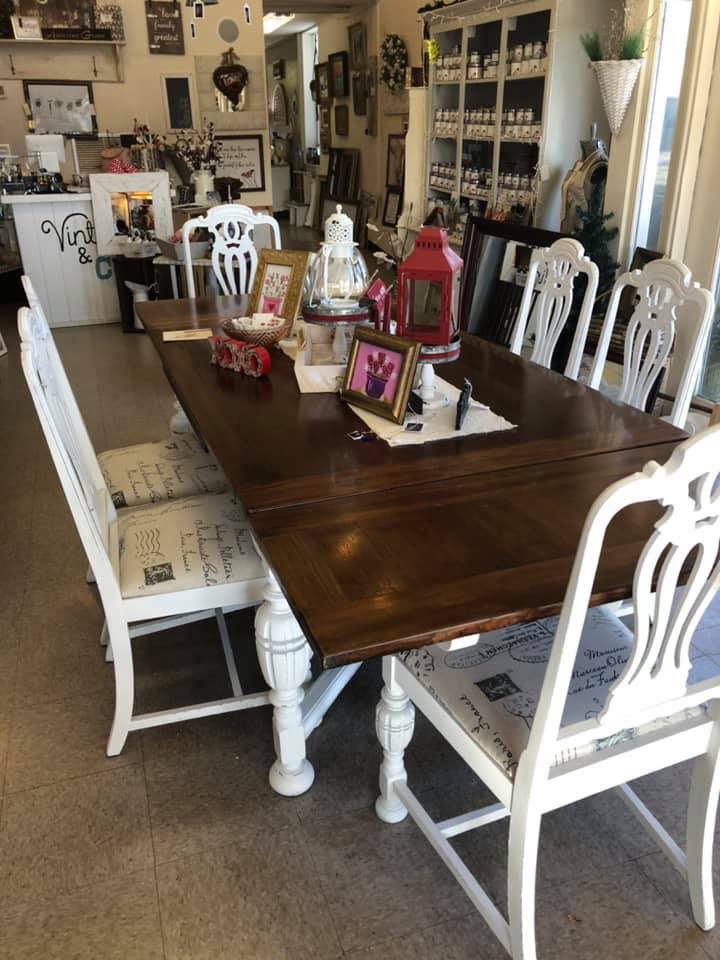 SOLD
This farmhouse style dining set features an extended leaf system that slides underneath for easy storage! Painted with Country Chic Paint in Simplicity as well as the chairs. Comes with 5 regular dining chairs and one "Captain's Chair."  $1100.00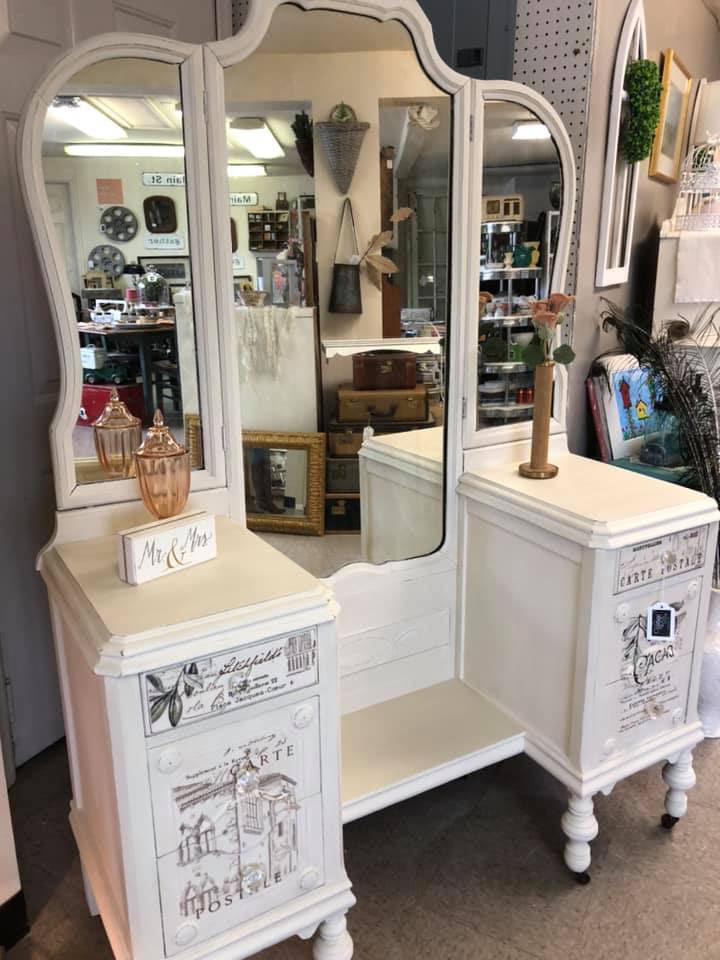 SOLD
Beautiful French script decorated vanity!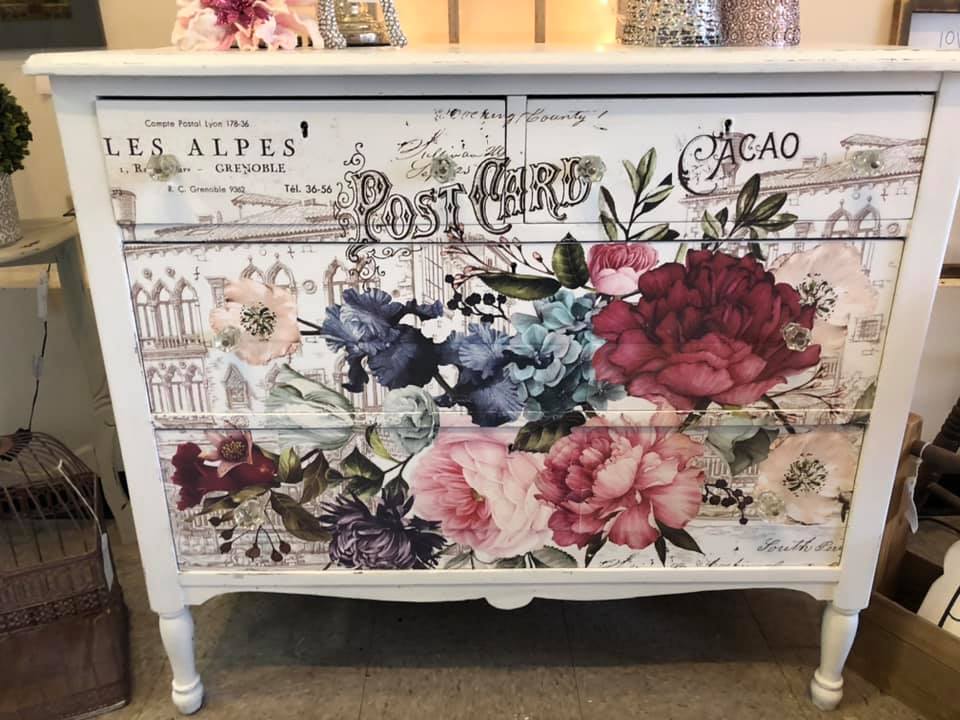 SOLD
This was one of my favorite pieces of 2019!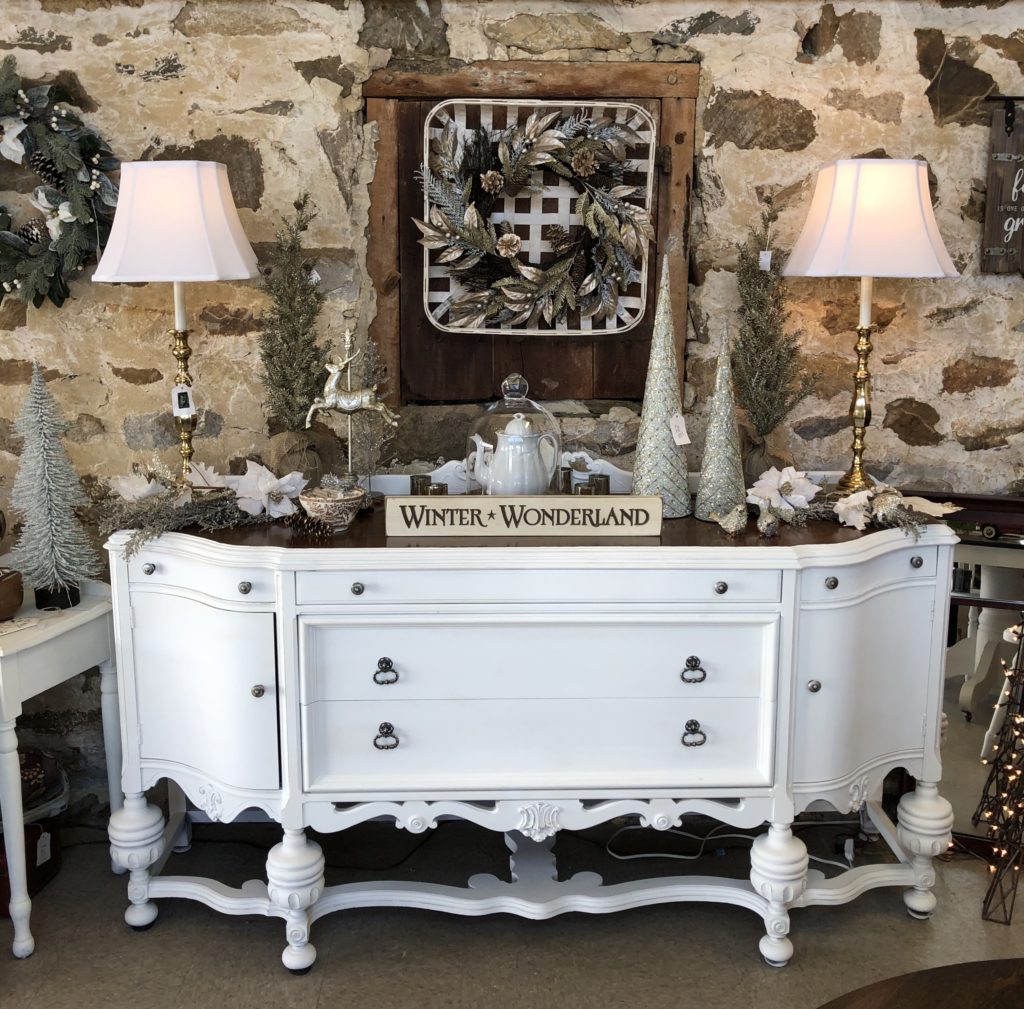 SOLD
This buffet was majestic in size and it looked gorgeous when complete! We used Country Chic Paint in Simplicity.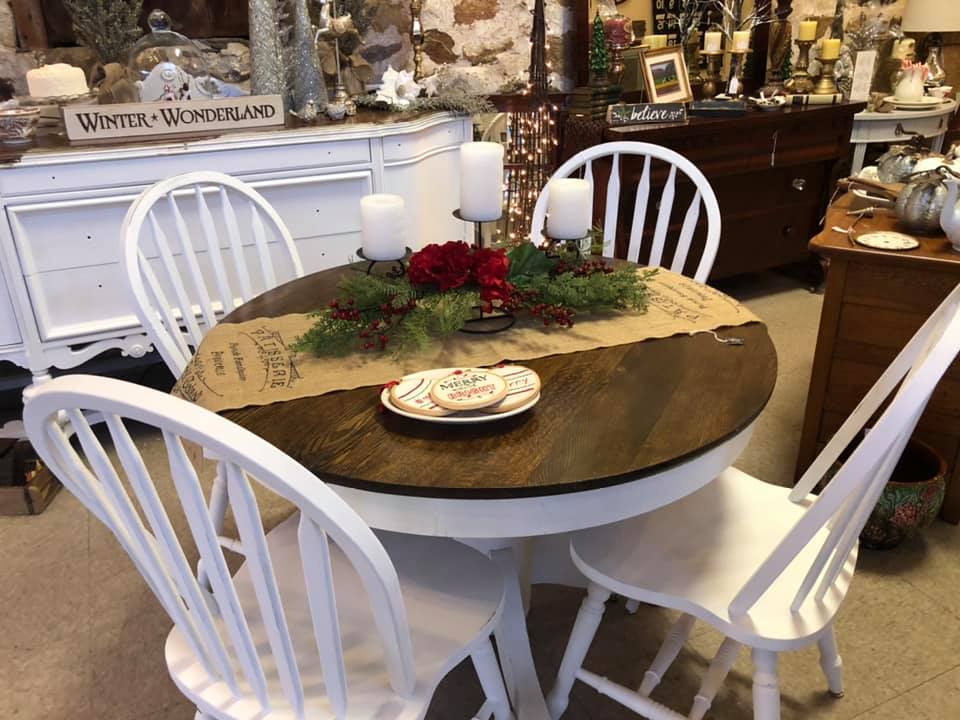 SOLD
This beautiful white table and chairs set was refinished using
Country Chic Paint in Simplicity. $275.00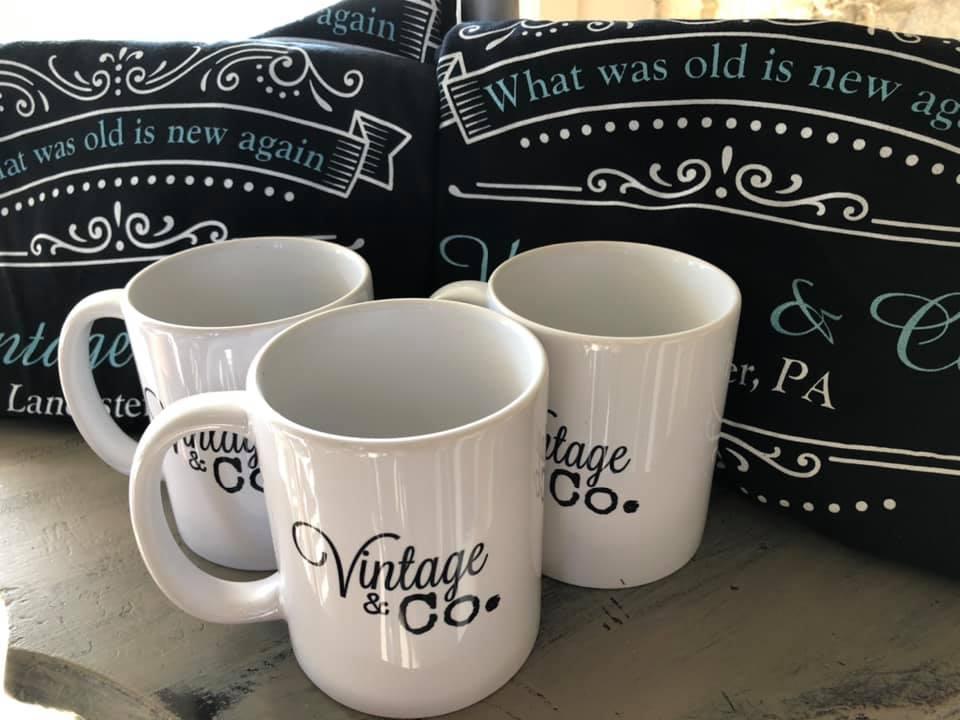 New to the shop this year… Vintage & Co. gear!
(SOLD OUT)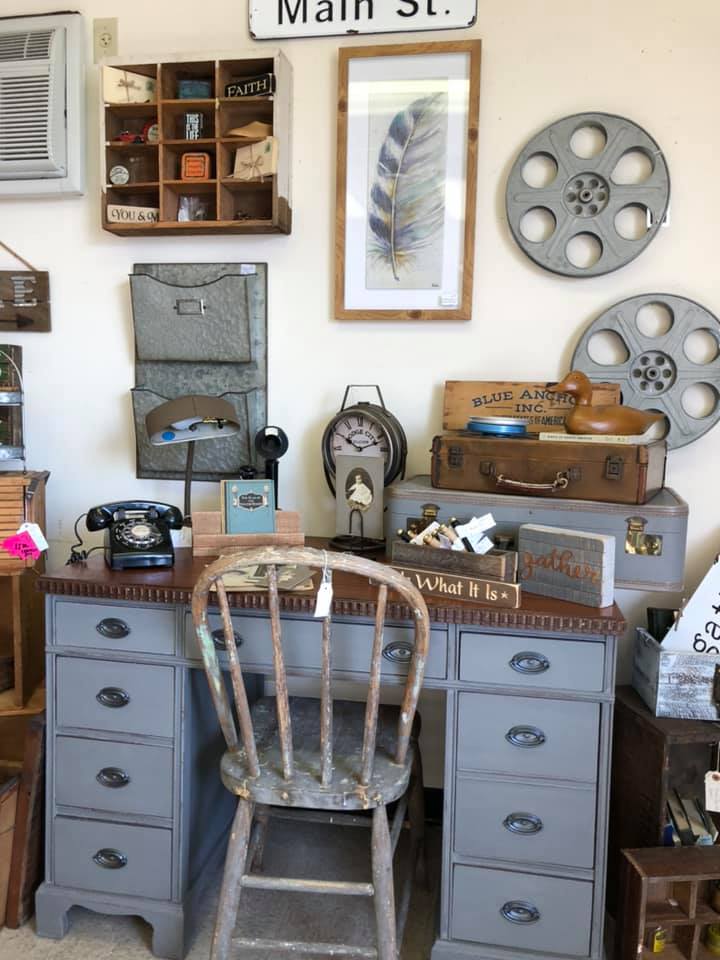 SOLD
We took a vintage desk that needed some TLC and painted it with Country Chic Paint in "Cobblestone." I love the "Industrial" vibe that it has! The existing drawer pulls were updated by giving them a coating of a metallic cream called "Trigger" by Country Chic Paint.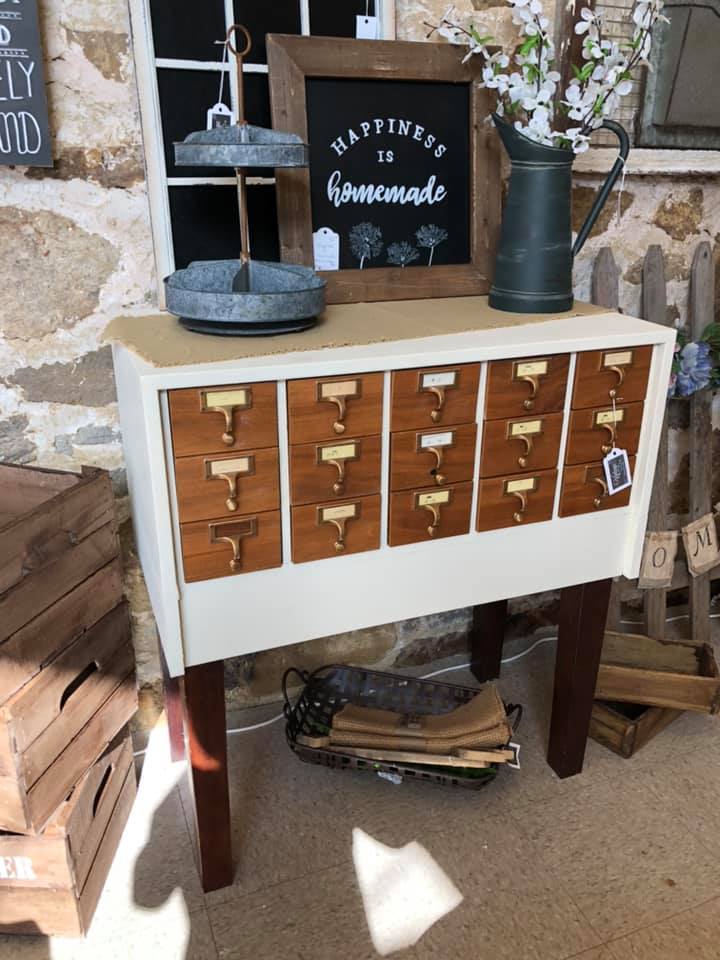 SOLD
This card catalog storage unit was an upcycled piece created by my husband, Andrew.  What was once just a countertop card catalog or just the top piece of a larger unit, became a wonderful accent piece for a craft room, living room, or dining area.  (We noted that wine bottles fit inside the drawers perfectly!) This piece sold only a few hours after it hit the sales floor!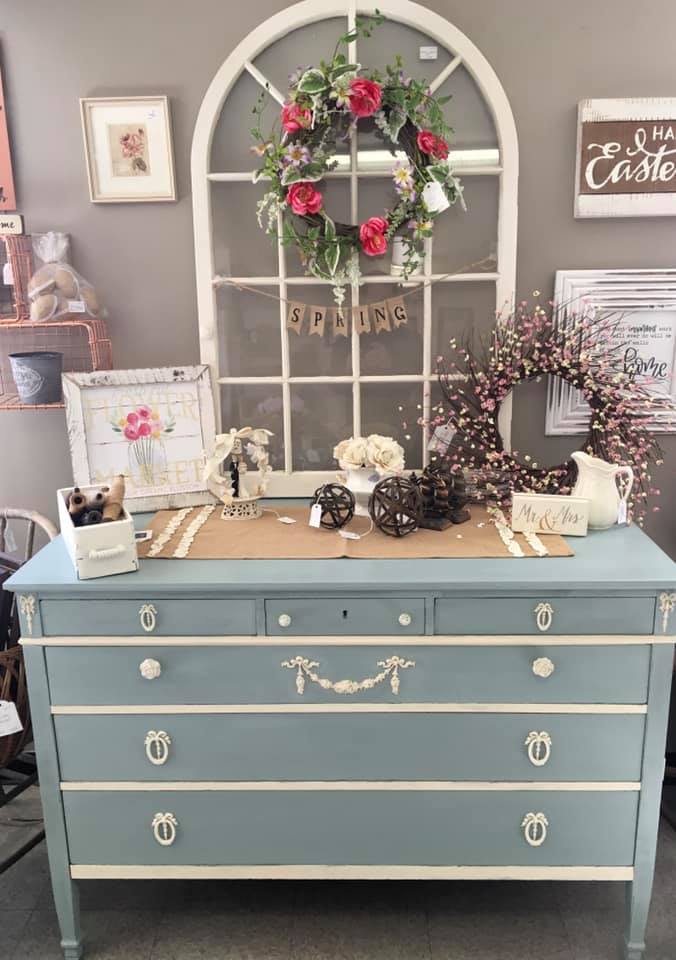 SOLD
We added this beautifully painted dresser which has a look of the old vintage Wedgwood designs.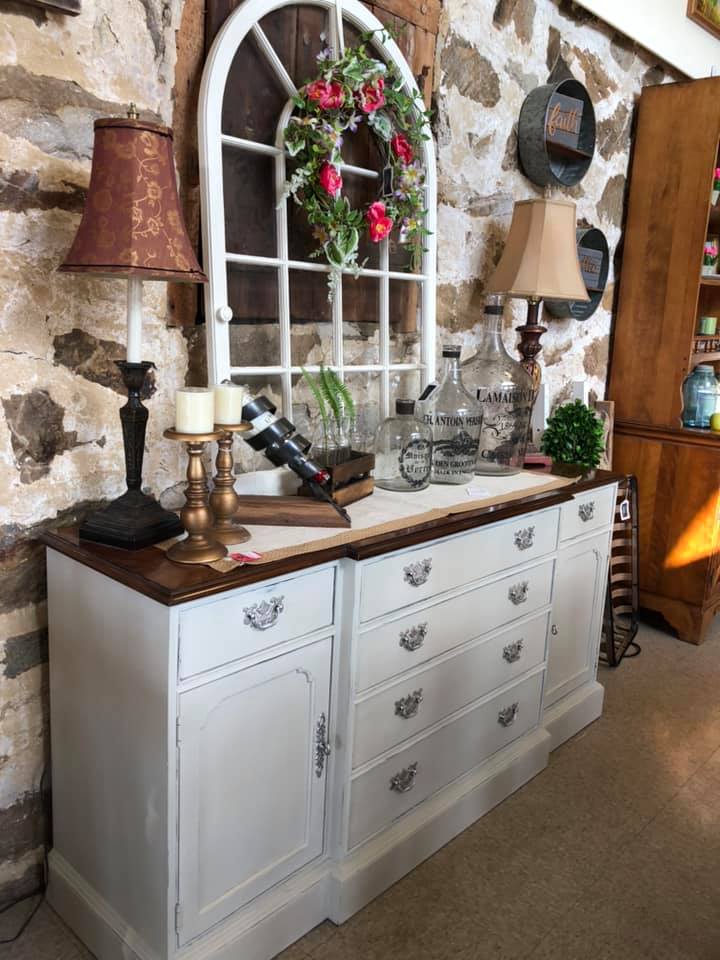 SOLD
We loved this vintage "Knob Creek" buffet.  We gave it a complete makeover by stripping, re-staining and varnishing the top while the lower portion was painted with Country Chic Paint in "Sunday tea."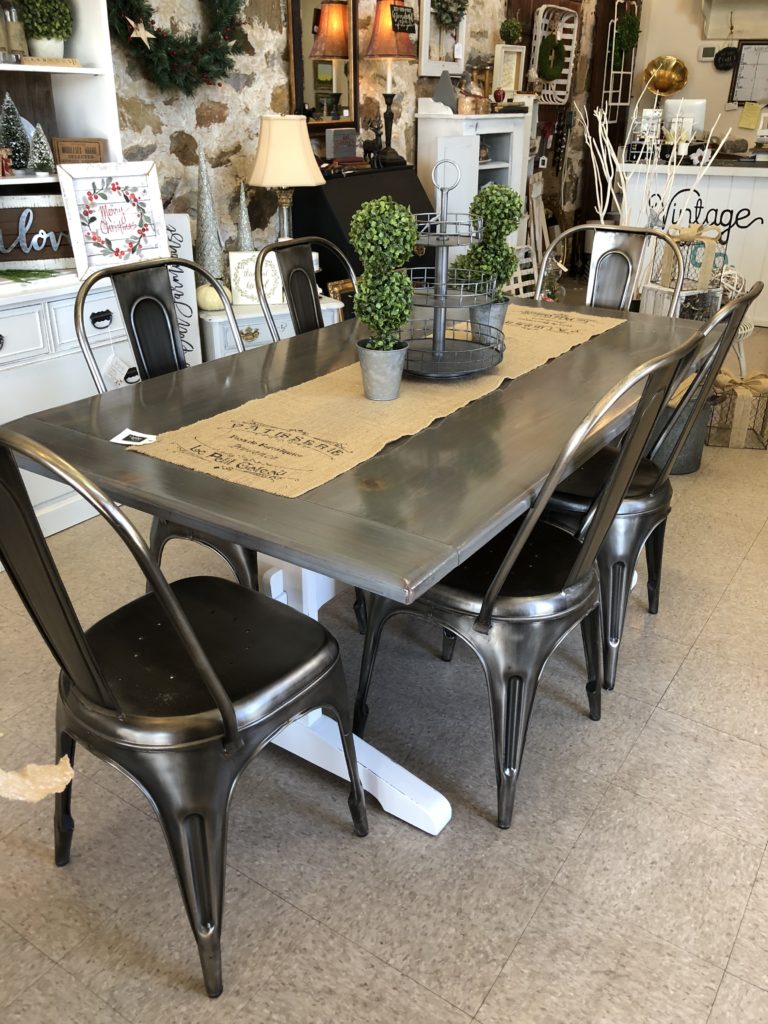 SOLD
We just love our latest farmhouse table!
It was given a makeover by staining the top in a transparent gray and
painting the lower portion with Country Chic Paint in Simplicity.
The six nickel silver / iron chairs compliment the set perfectly!
Two additional leaves can be added for a total space of over 8 ft!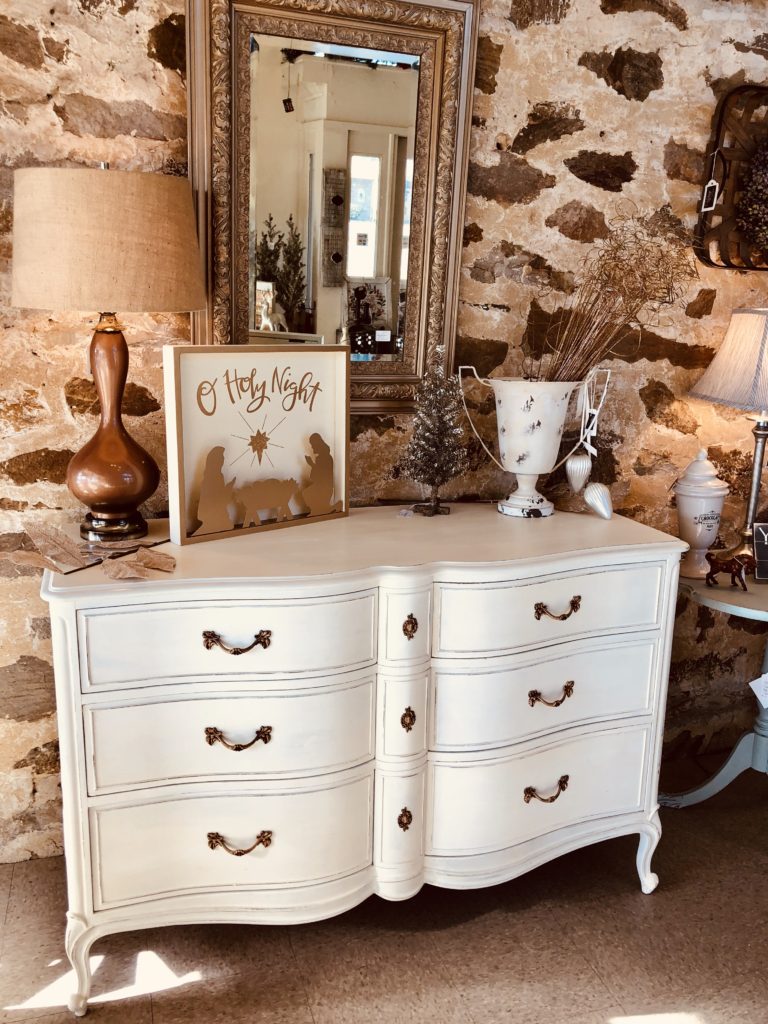 SOLD!
A beautiful French Provincial dresser!
Not only was it given a new life with Country Chic Paint in "Vanilla Frosting," there were several pieces that matched for a complete bed room set!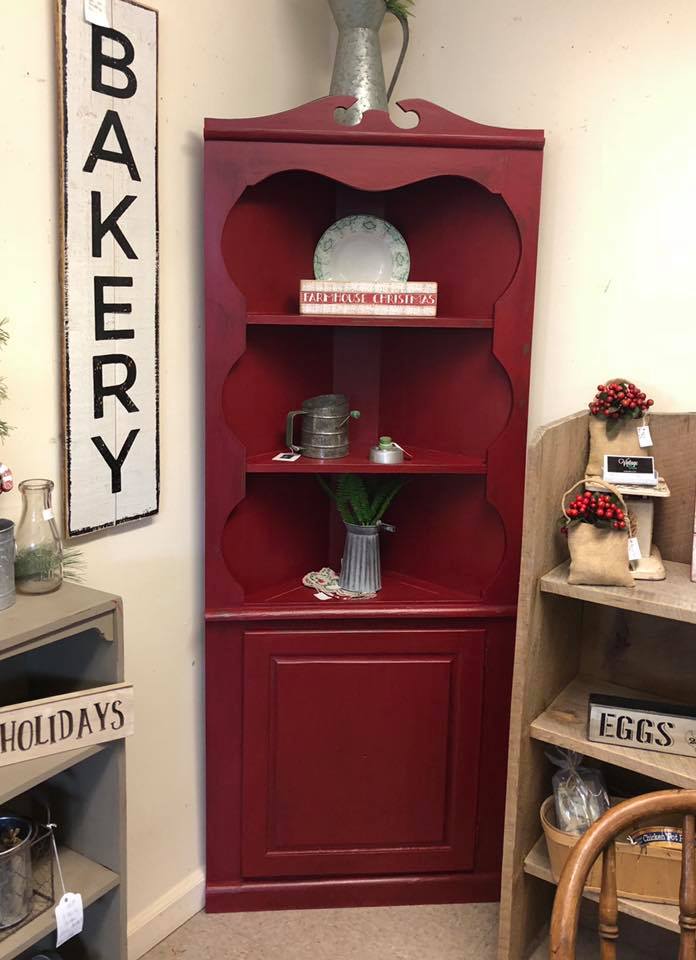 SOLD!
A pop of red always catches my attention!
This corner cupboard is just the right touch. We used
Country Chic Paint in the color "Cranberry Sauce."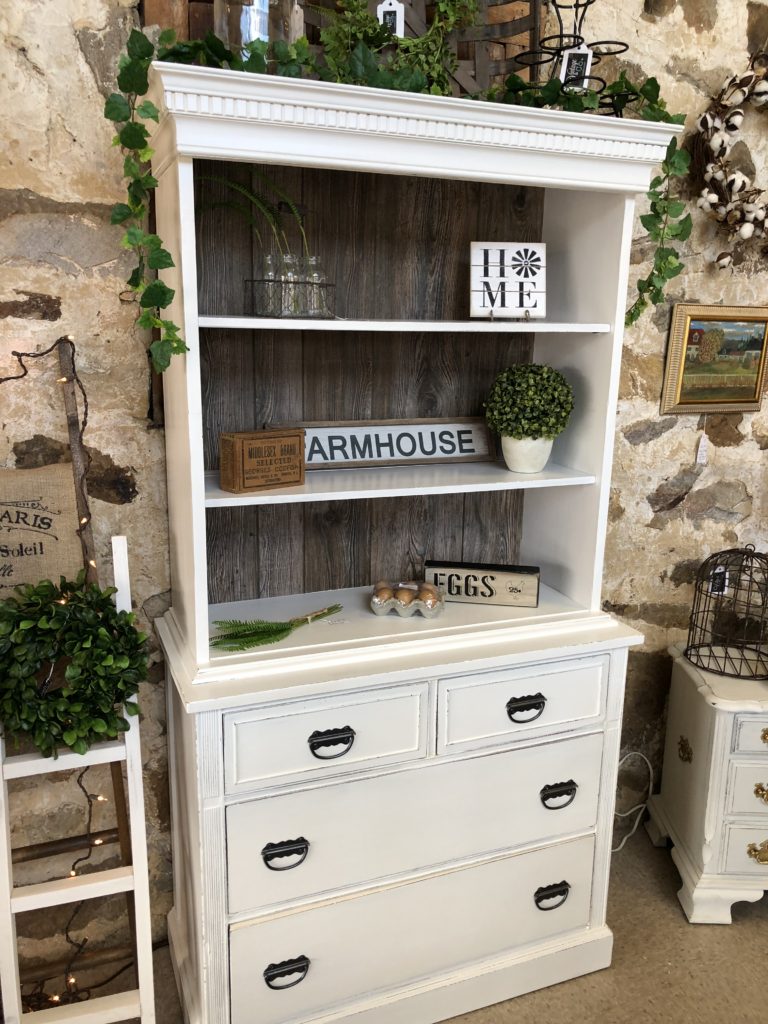 SOLD
This vintage china cabinet was given a total transformation. We love how it turned out.
The doors were removed, a barn wood panel was placed in the back, then we painted the rest with Country Chic Paint in "Simplicity." The hardware went from brassy to sassy with Country Chic Paint's metallic cream in "Trigger."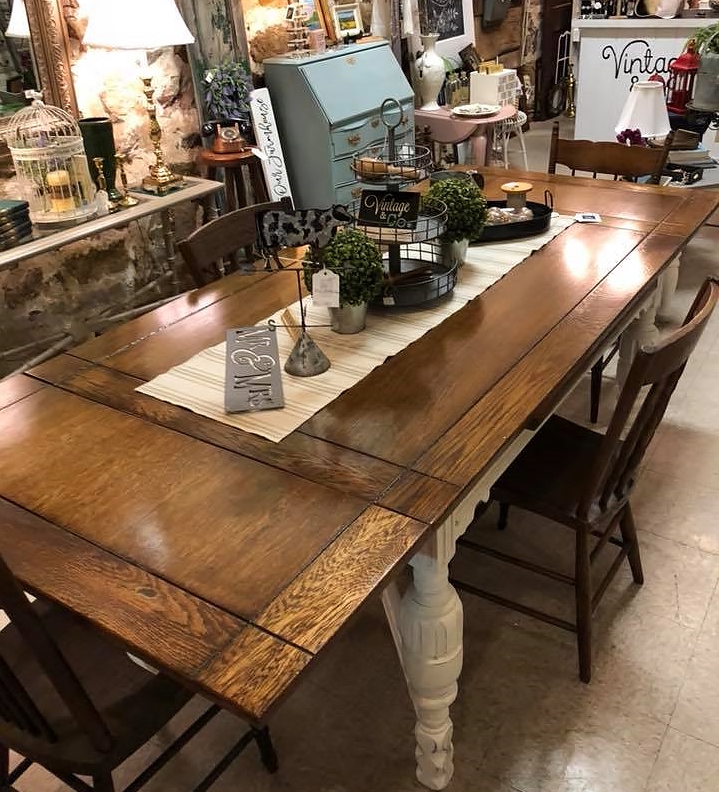 SOLD
This is one of our best selling styles in Farmhouse tables and it is a beauty!
The sides pull out and extend for extra seating. The base was painted using Country Chic Paint in Simplicity.
SOLD
This Spanish Revival buffet is wonderful for pairing with a large dining table.
It was painted with Country Chic Paint in the color "Simplicity" on
the lower portion and stained and varnished on the top.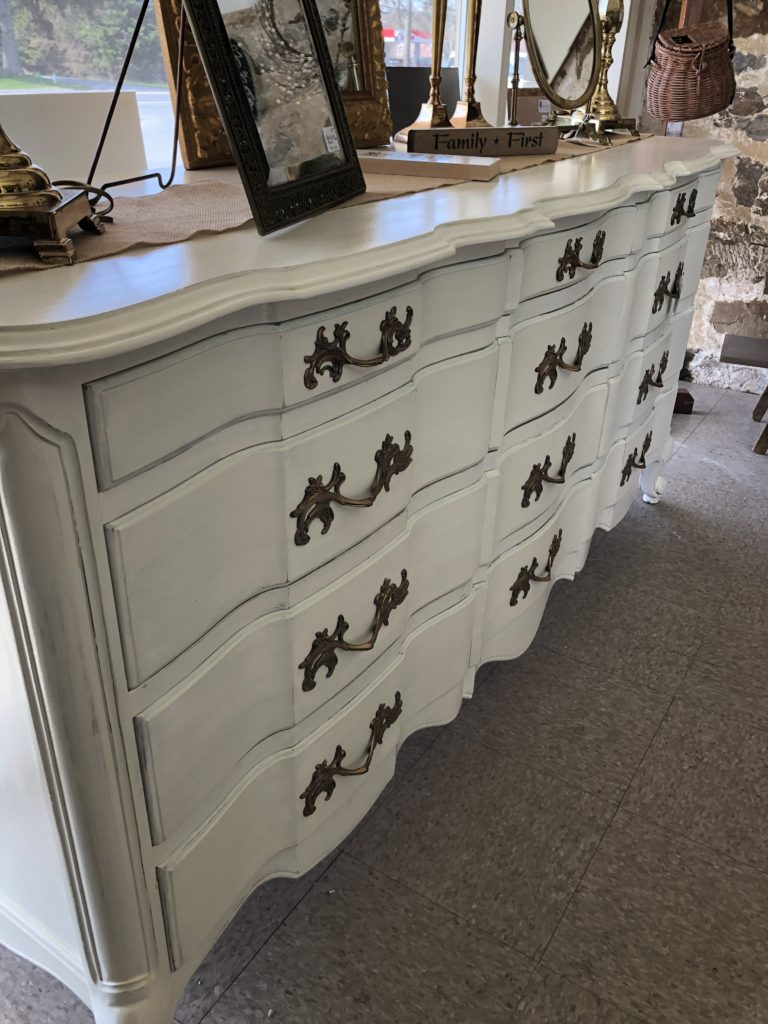 SOLD
We brought in this beautiful 12 drawer French Provincial dresser.
You will not be short on storage space with this lovely piece!
Very well made and is in good condition.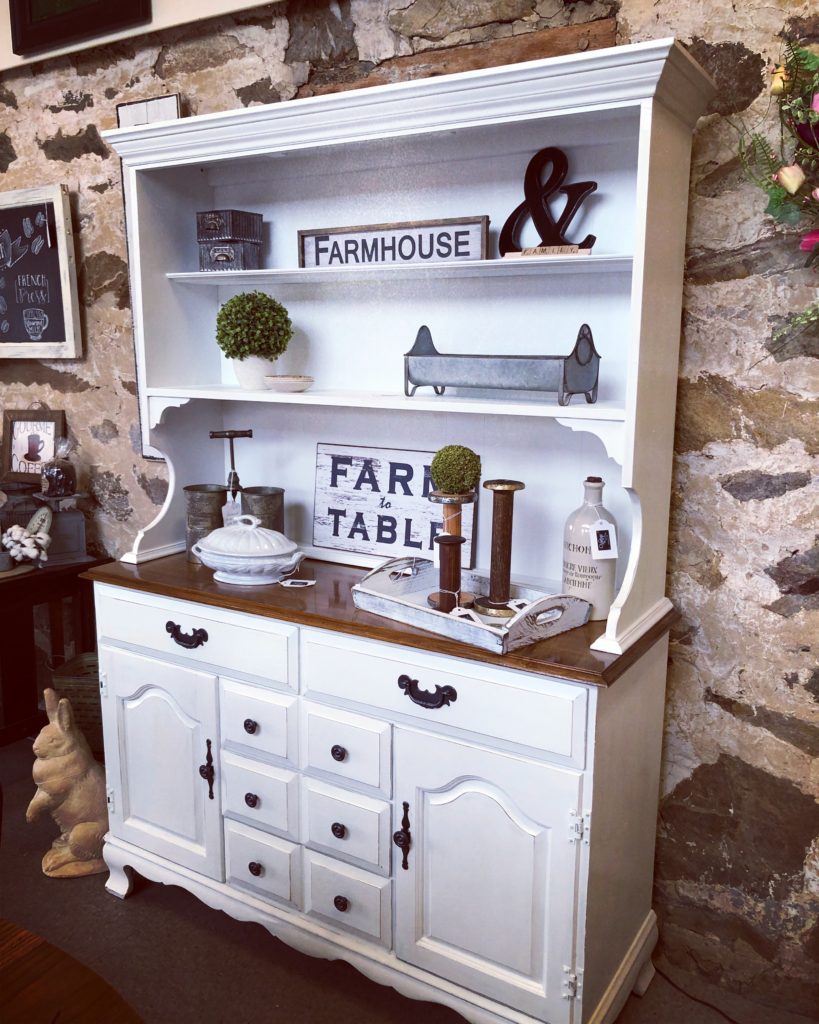 SOLD
We have this gorgeous white farmhouse china hutch in the store!
Love it! We used Country Chic Paint (clay based) in the color Simplicity.
The main counter area was stripped and re-stained and varnished.
5 drawers and two lower cabinets provide lots of storage space!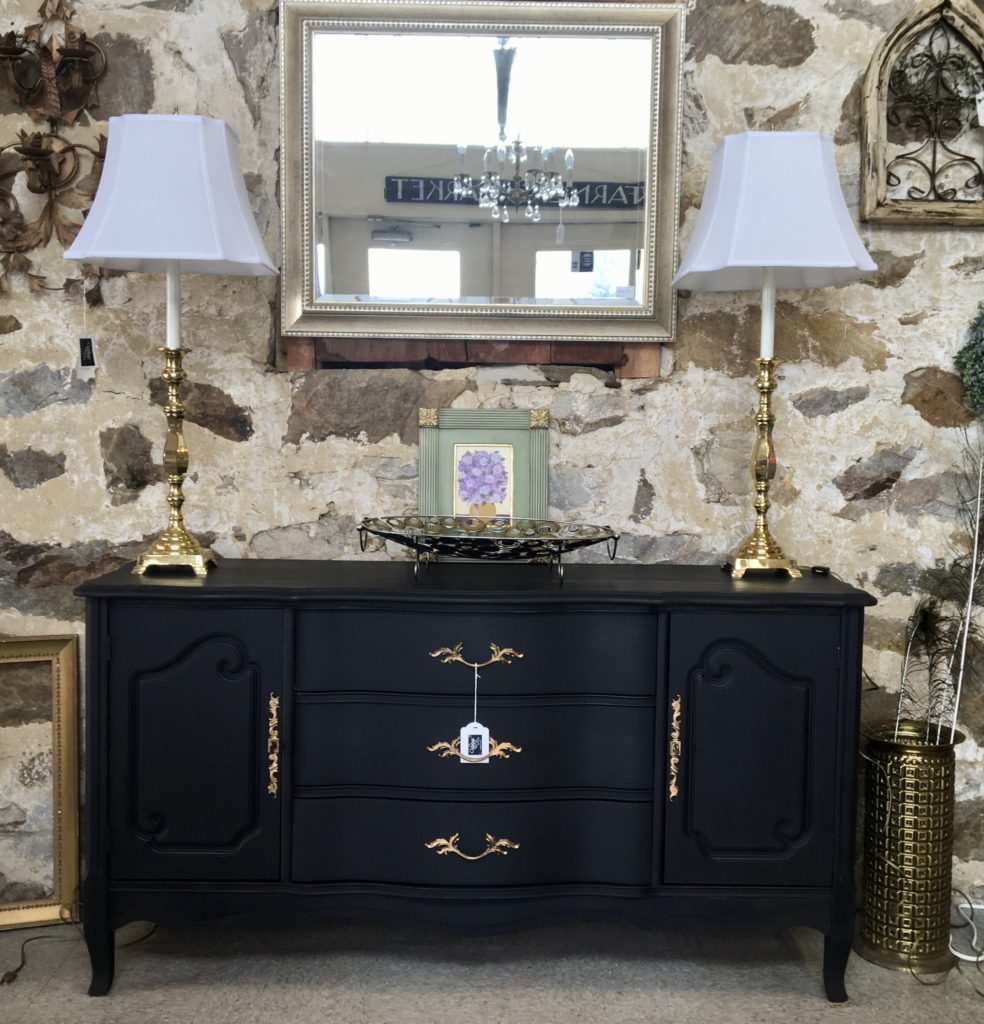 SOLD
This French Provincial buffet was given a makeover
using Country Chic Paint's black called "Liquorice."
So elegant and classic. The gold hardware just pops!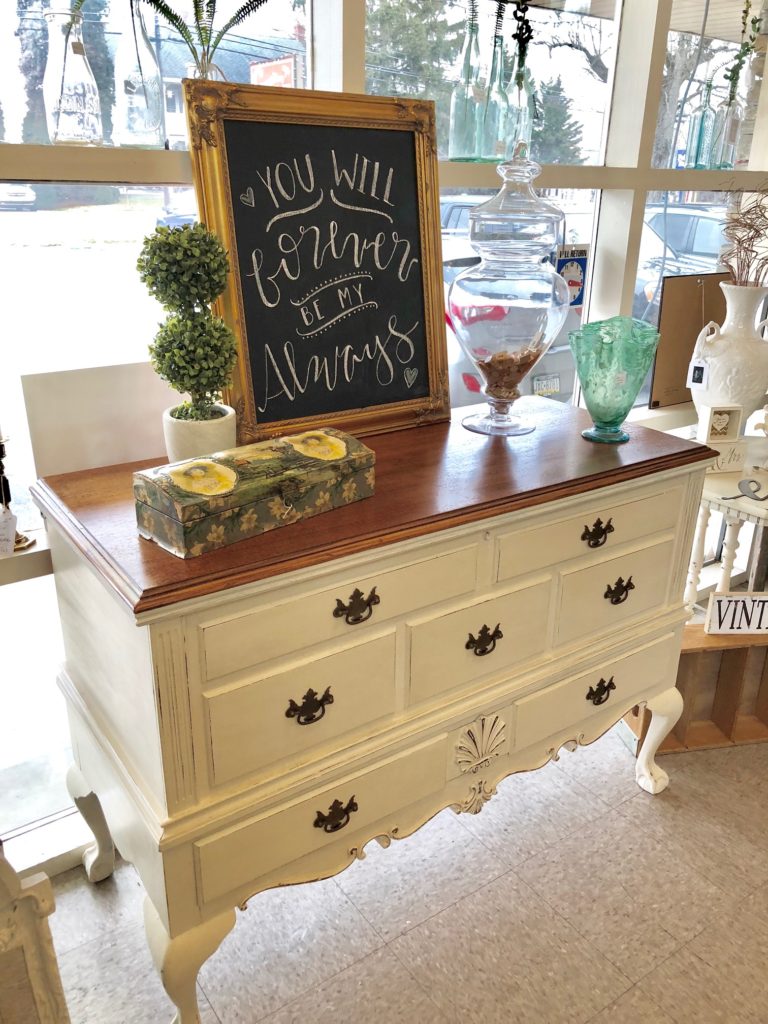 SOLD
This is a beautiful vintage cedar chest, painted using Country Chic Paint in "Cheesecake."
We used the Country Chic natural wax to give it a protective coating.
The lid was stripped and re-stained, then varnished.  It measures 45″w x 19″d x 32″h and is $225.00.

SOLD
A vintage étagère was given a new look with
Country Chic Paint in Cranberry Sauce.
There are four shelves for storage…
great for using as a coffee or wine bar too!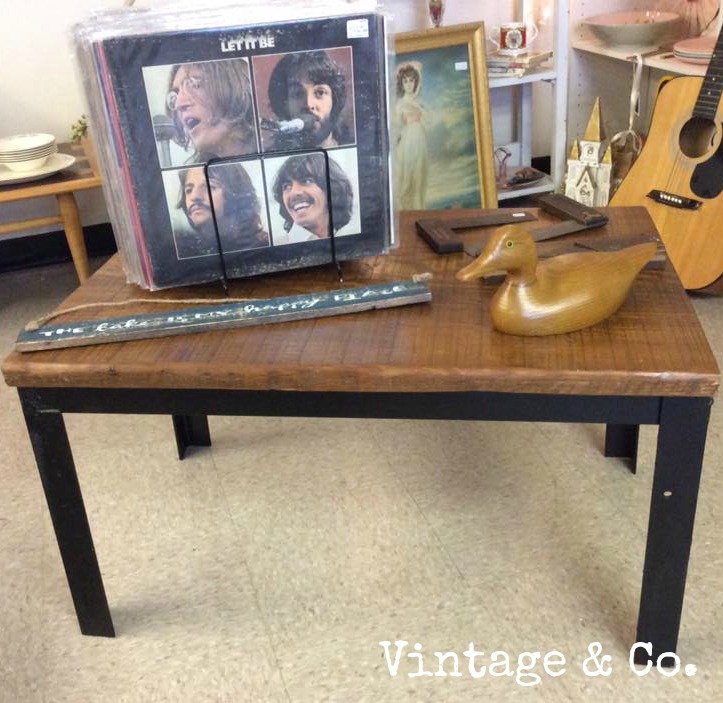 Another industrial piece for your living or family room!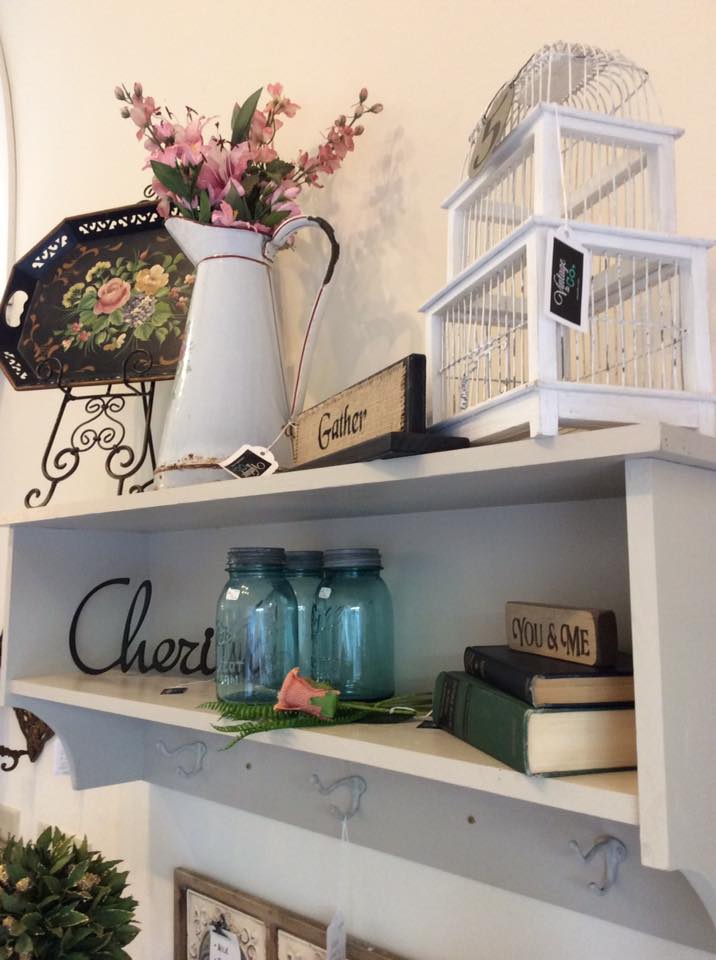 This neutral toned wall shelf is super handy
for organizing and displaying your stuff!
 $95.00
Our  Summer Store Hours
Wed 11 – 4
Thurs 11 – 4
Fri 11 – 4
Sat 10 – 5
Sun: By Appt Only
Mon & Tues – Closed
~~~~~~~~~~~~~~~~~~~~~