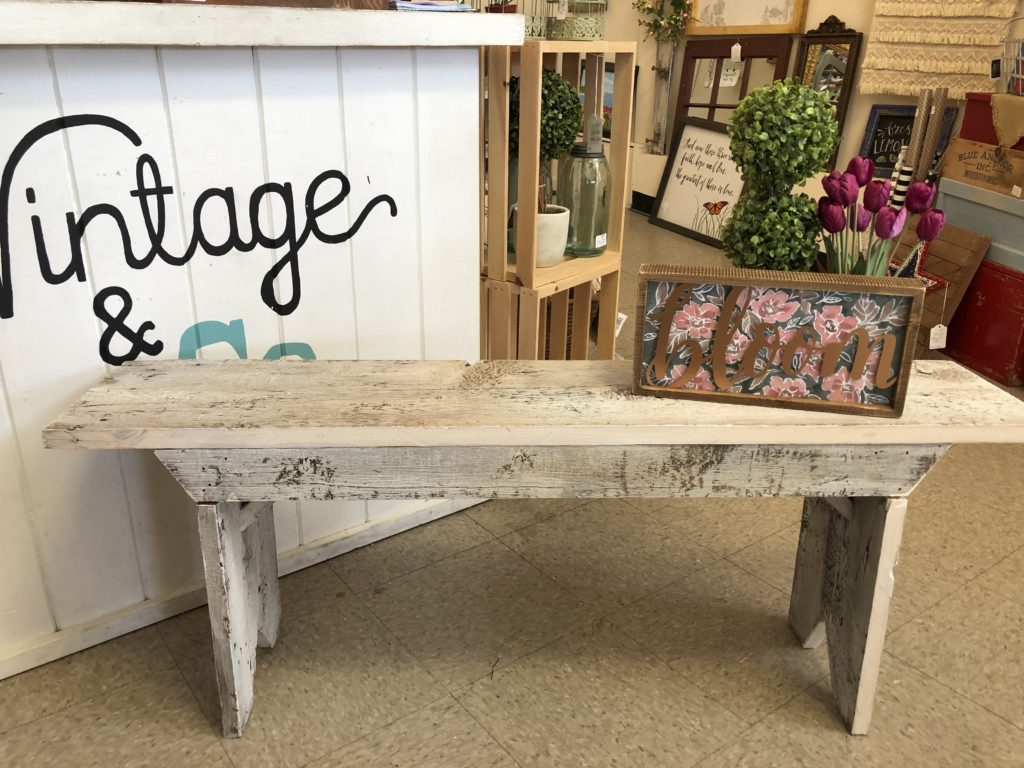 When we first opened Vintage & Co. we knew we were going to get creative with vintage furniture by painting old, well made pieces. We also knew it would be fun to make repurposed household items like the hand crafted, re-claimed barn wood bench, above. But there was something else we wanted to add… local, creative flavor in the form of art. Over the past four years we have had a fun journey meeting and getting to know each artist that we currently have in the shop.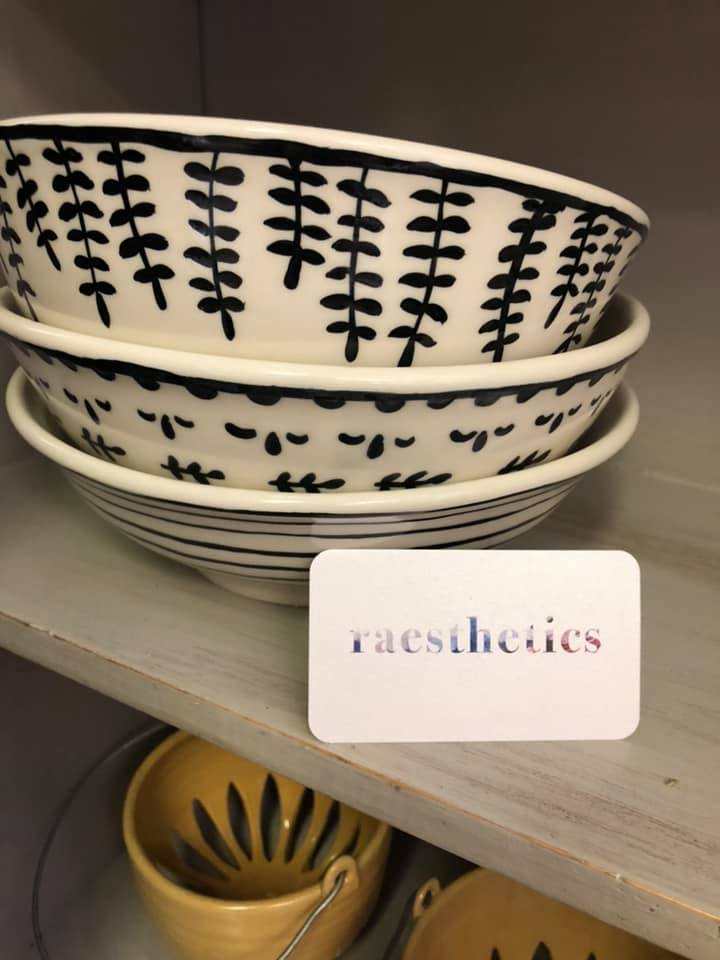 Our first resident artist was Rachel Cross. Rachel is a wonderfully talented person and can create many things, but in our shop, she has her pottery. Beautifully designed and so functional, we have enjoyed seeing her creations. From mixing bowls to mugs to cheese trays, she offers a wide variety of pieces for your home.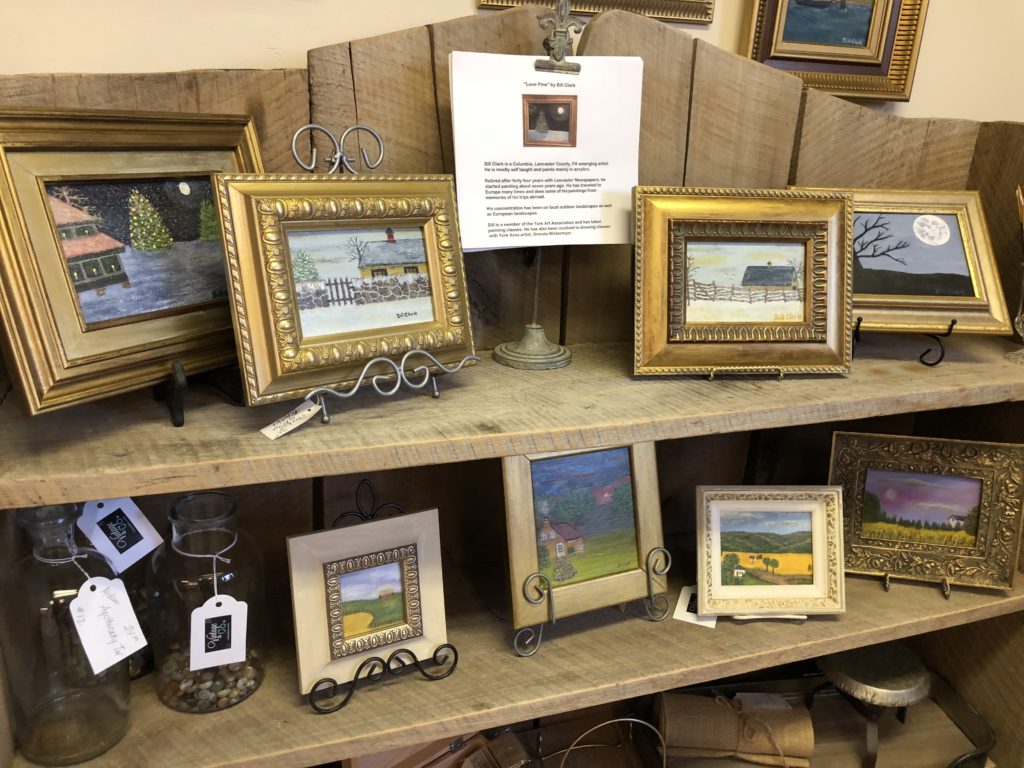 Bill Clark is another artisan in the shop and he is also a local resident of Columbia. So many people have come in the store and told me they were from Columbia. I usually then ask "Oh, do you know Bill Clark?" And they all say "Yes, we do! We know Bill!" I love that response as it gives me this great sense of community and that the folks from Columbia care about each other. Bill is a self taught artist who mainly works with acrylics. He paints from his memory of wonderful trips to Europe with his family as well as landscapes and bouquets of flowers. You will see his art all throughout the shop!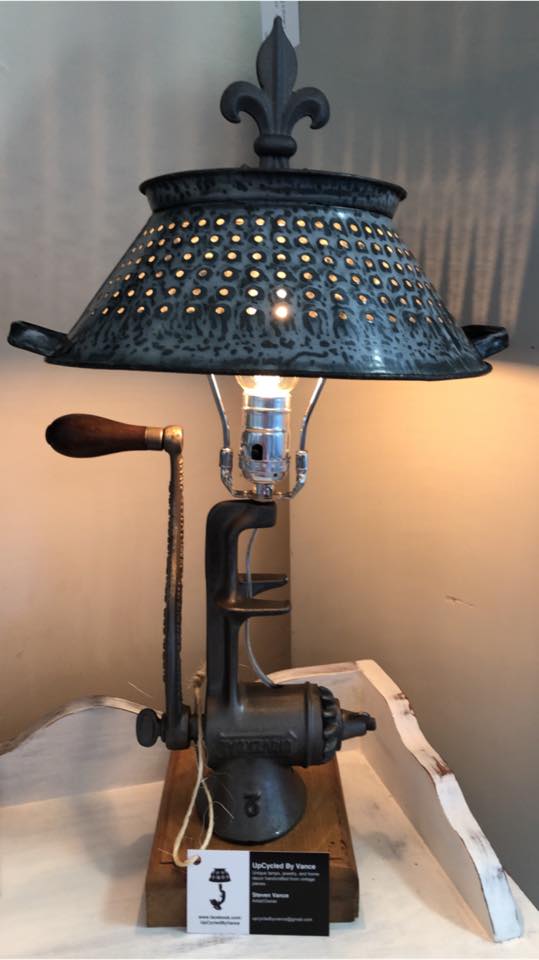 Also popular are these really cool lamps made locally by "Upcycled by Vance" which is the name behind creator, Steven Vance. He takes antique appliances and other cast offs and turns them into really unique pieces of usable art. He sees possibilities while we see old meat grinders and colanders. He has also made a lamp out of a car jack that has a coordinating lampshade made from license plates. (Pennsylvania of course.) We love seeing his lamps come into the shop and they usually don't hang around very long!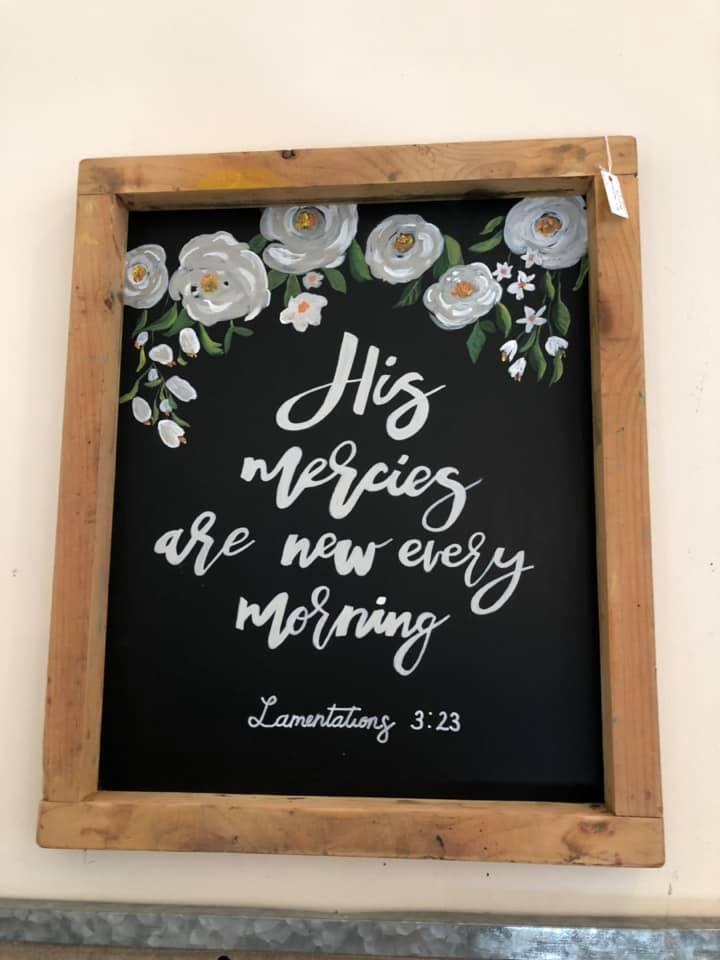 Very popular over the past 5-10 years are home decor signs. They come in all shapes, sizes, and themes. What you don't see very often are hand painted and hand lettered signs. It takes an artist to accomplish beautifully done pieces and we have Linda Rush to thank for her art in the shop. Her Bible verse signs, among other styles, are so encouraging and they are gorgeous!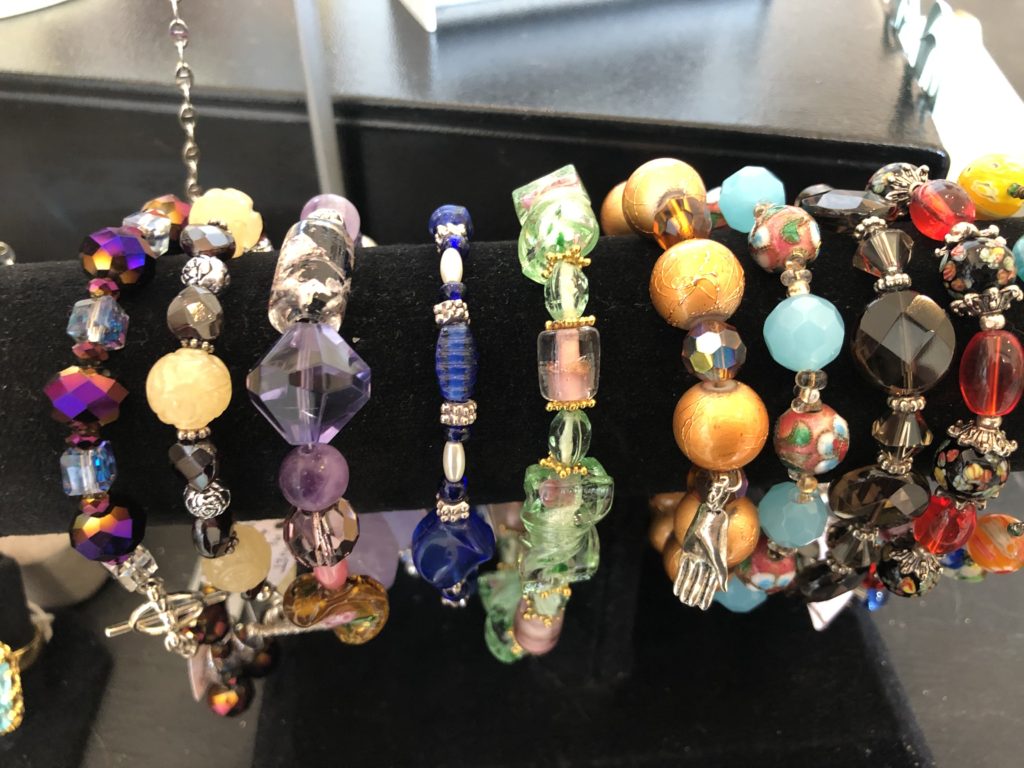 Our newest artisan, Geneane, is also a woman of many talents. She had just brought in her beautiful bracelet and earring sets when we were forced to shut down.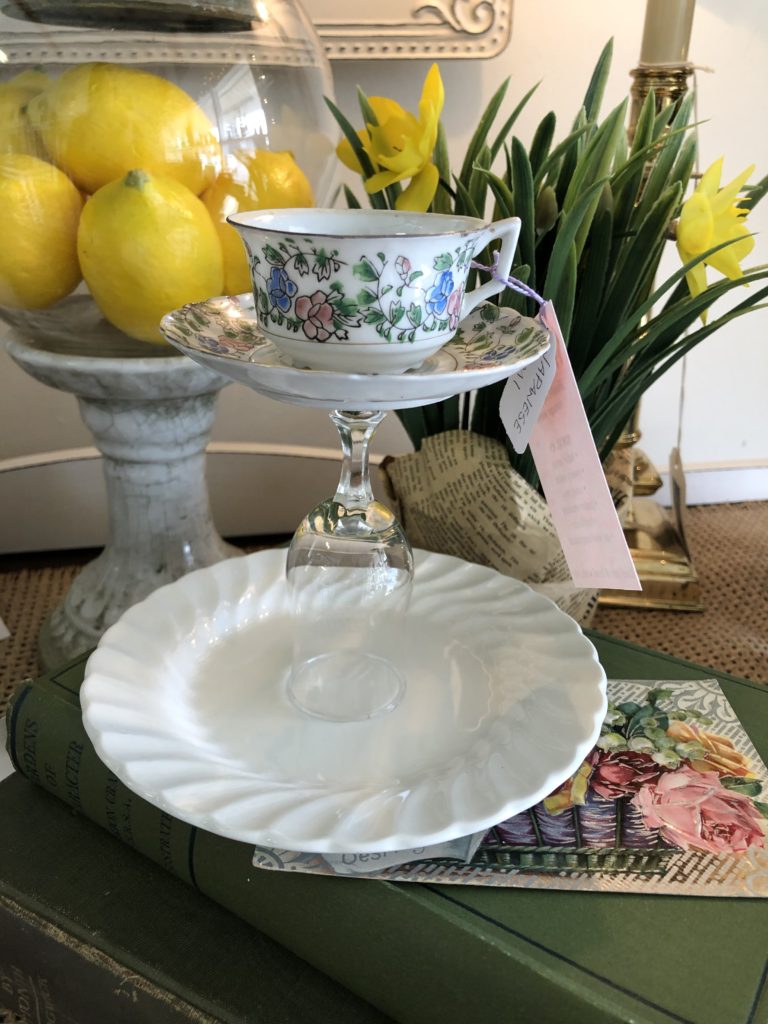 She also makes the cutest, petite tidbit trays out of vintage glassware and china. We hope we get to see more from her in the future!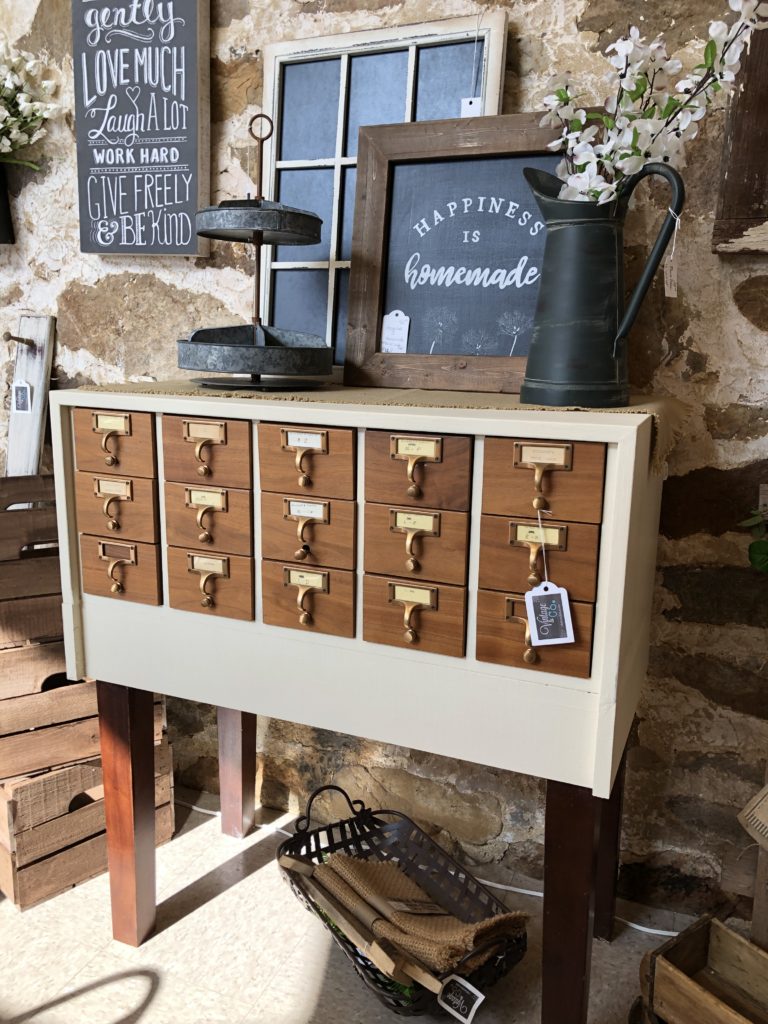 I love being creative and I love being able to support other local artists. What we don't know is how this will all pan out for the rest of 2020. We here at Vintage & Co. will continue making old things new as we go forward in this Covid-19/Quarantine world… but we hope that our artisans will be able to keep selling their wares in our shop too when we open back up. I wanted to highlight their unique qualities…. having them in the shop brings an extra element for our customers to enjoy. Keep an eye on our Facebook page… we have some new beauties to share with you soon… both our creations and some of theirs!