It is hard to believe the Christmas Open House came and went so fast! We had a fantastic turn out
and such a good time chatting with customers and helping folks find just the right pieces for their space.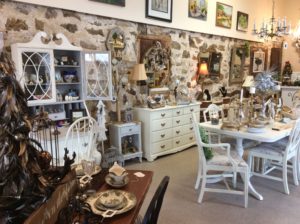 The store was decorated throughout for Christmas, of course.

The front room as well as the back room, each with its own style.

We added new pieces of furniture for sale.
This one, a nine drawer dresser painted in Country Chic's Vanilla Frosting.

I couldn't have been happier with how they turned out.
This French vanity was painted by my husband
and he used Country Chic Paint (All in One) in Sunday Tea.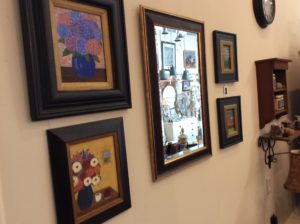 We also introduced the works of two Lancaster County artist's into the shop inventory. 
Bill Clark and Malinda Saunders. I love both of their work. 

Bill is self-taught
and has wonderful winter scenes plus other beautiful paintings of

landscapes, sunrises, and flowers. 

Malinda's work is brightly colored and has paintings

of sheep, farms, water lilies,  and still-life arrangements to
offer in the shop. Stop in and see them in person… they make great gifts
for the art lover!

Speaking of gifts, we also offer gift certificates for the shop,
gift certificates for Country Chic Paint, and we offer a
lay-away plan to help you with your Christmas shopping.
We're open Tues-Fri 11-5, and Saturday 10-5. (Wed-Sat in the Summer.)
We hope to see you there!