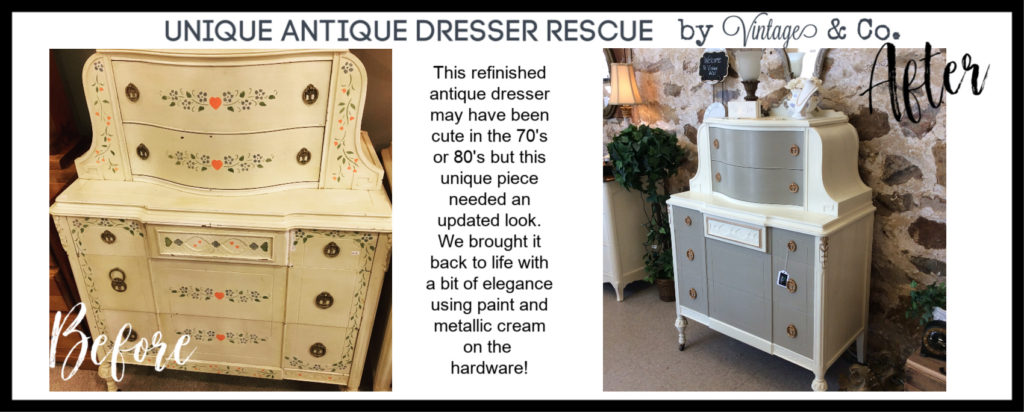 Spring of 2020 marked a new way of life for us at Vintage & Co. but it also was the arrival of our 4th anniversary since opening the shop. We decided to do a fun series of "Before & Afters" and take a trip down memory lane.
The photo above shows the before and after of a very unqiue dresser we found in need of rescue. It was in good condition but the 80's called and wanted their dresser back. We knew the cutesy hearts, leaves, and vines had to go so we gave it an elegant classy look using two different shades of paint. I can't remember if this was before or after we started using Country Chic Paint so I won't name any colors but it was beautiful! We gave the hardware a bath in gold metallic paint to really make 'er sparkle. This piece went to be used in a young lady's room I believe. Lucky girl!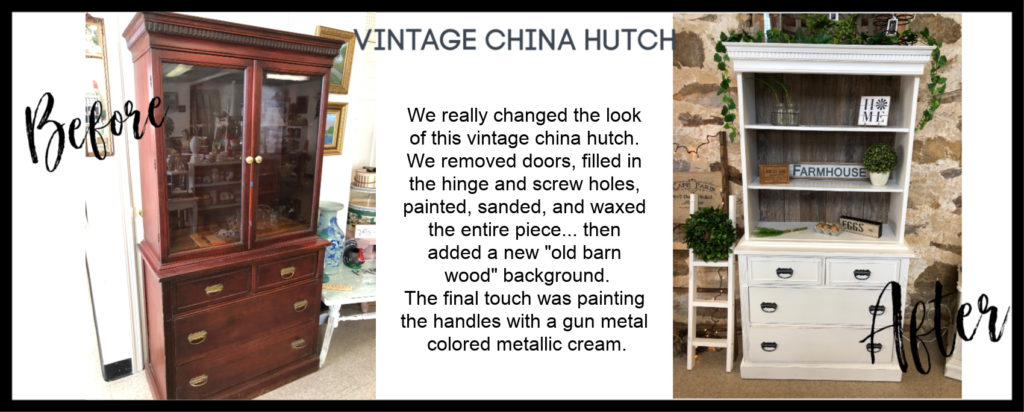 This was, as you see, an old china hutch. With doors. China hutches with doors were our parents and grandparents thing. Not so much now with the modern farmhouse look and Boho Chic. There was even a hole in the back panel so we had to replace it with something. We chose a faux barnwood piece. It really changed the look without being too expensive. Voila! It sold pretty quickly so we went from big project finally completed to "time to find a new replacement!" Not a bad problem to have and I never complain about that!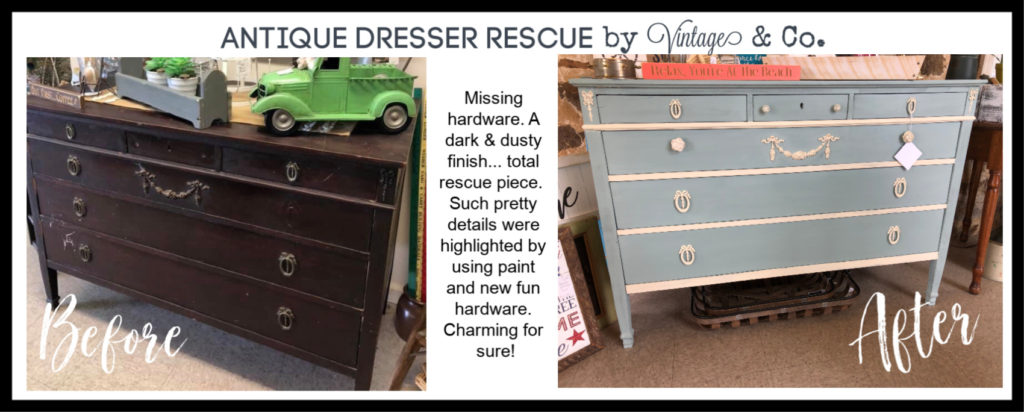 This piece was destined for a trash heap. It was old and dilapidated. But what we could see was some beautiful lines and gorgeous hardware. Once you have a vision, the rest is easy! We literally took this piece from drab to fab! If you've ever seen some of the old porcelain "Wedgwood" pieces you would think it was copied from their design.
Is that similar or what? My Hubby painted this piece and he has a very steady hand, unlike me. I give him most of the tedious painting jobs! We had to add five pieces of hardware to this dresser to make it complete again and the little off white roses couldn't have been any more perfect.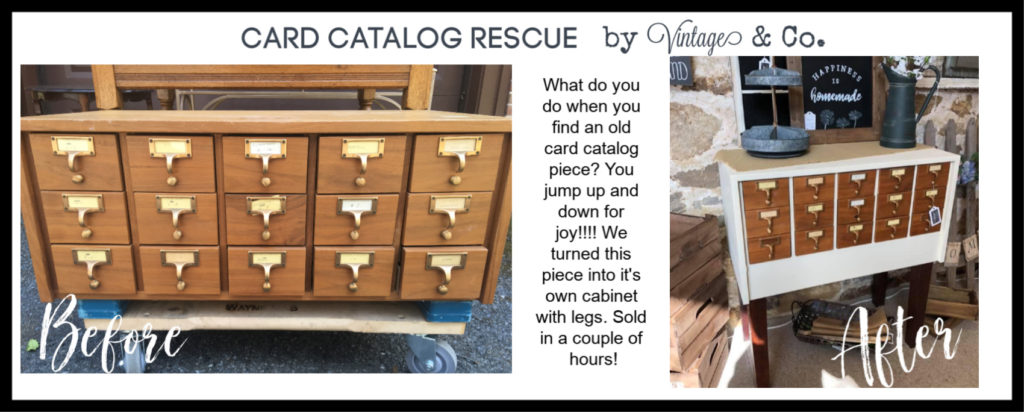 Hands down this would probably my hubby's favorite "upcycled" piece. He found an old library card catalog unit… may have been the top portion to another piece? He designed a cabinet around this unit and added legs. It was really cool. We were having one of our open houses and a customer told us she was driving by and felt compelled to stop in…that something was there for her. She walked in and saw this piece and she was either a librarian or a teacher and she had to have it! True story! This is why we love having a shop you can walk into… versus the online selling. The people make it great!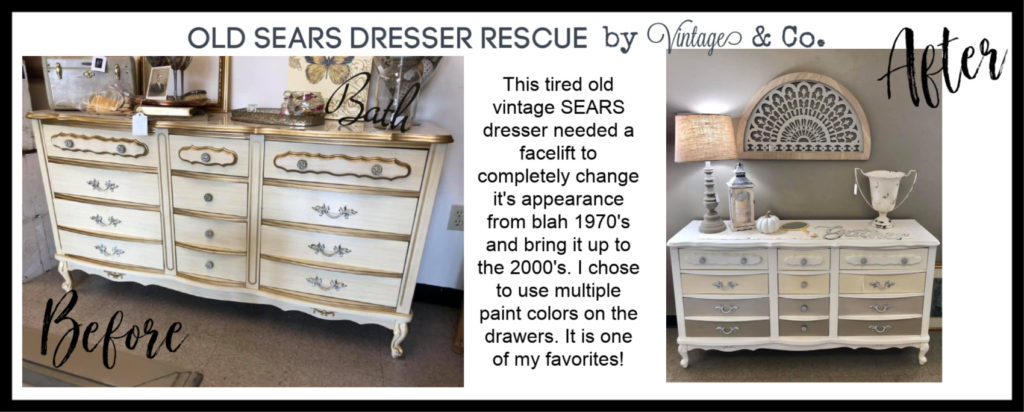 This was one of those "girls room" sets you could purchase through the SEARS catalog or in their stores. Most likely from the 1960s – 1970's. I loved the French Provincial lines but the faux weathered wood and gold just had to go. I was in a mood to paint it all white but then I paused for a little while and decided to go with multiple neutrals for the drawers. I really loved how it turned out and was happy it found a home but sad it wasn't in my shop anymore! The ups and downs of buying/refinishing and selling!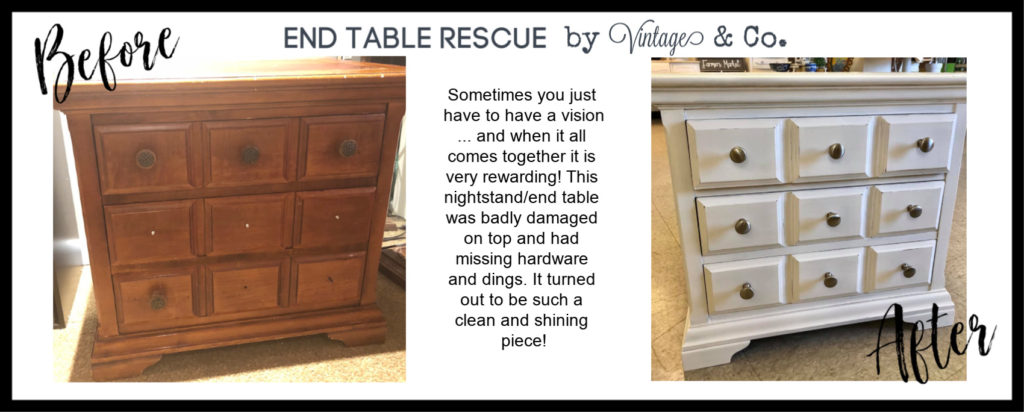 I found this piece and saw the "individual" cubbies and had to lug it home for a future transformation. I probably held onto this thing because I wanted to do the right thing with it. The problem was, I couldn't decide on a color scheme. I had off white with different pastel colors in mind… then I came up with black and country colors on the cubbie drawer fronts…. and then one day a couple walked in and said they need a small cabinet to store extra things for their kitchen, under a counter. (We get some very unique scenarios from our customers! We try to fulfill the need, no matter what!) So this piece was given a wonderful updo in all white. It really turned out so crisp and clean. I loved it. And by the way, there are only 3 drawers, no cubbies!
I'll leave some of our other fun "Before & After" stories for another post.
Enjoy the day and if you have a project you've been putting off… our Country Chic Paint is SO easy and that is how we get all of our projects done. Go ahead, take the plunge! You'll be glad you did, too.