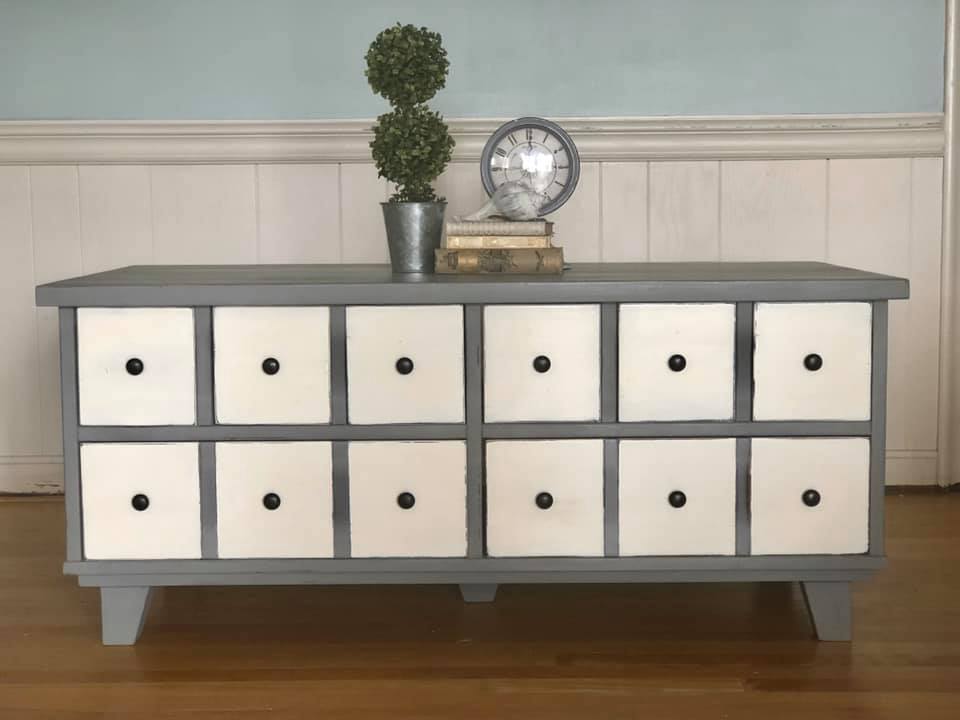 One of the hardest things to do is pick out a paint color. I mean, doesn't it seem so important? This is the color you will be looking at for many years to come. (Except in our case, the customer will!) For the shop, we try to stick to neutrals. We have so many different neutral choices now in the Country Chic Paint line. The colors in the piece above are Cobblestone (Dark gray) and Vanila Frosting (A very light cream) The contrast really sets off the little drawers and makes them pop!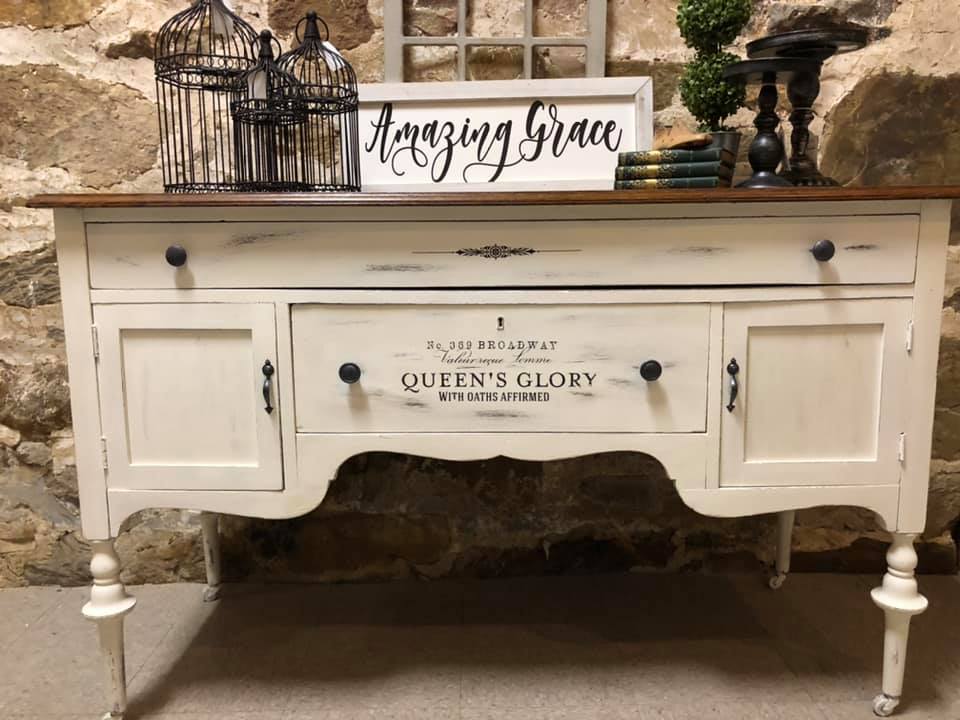 This antique buffet above was done in Vanilla Frosting which is one of the most popular Country Chic Paint colors. It goes with everything and feels like a safe choice. It is not a white and it is not too yellow. It goes perfect with wood stains and shows off distressing really well.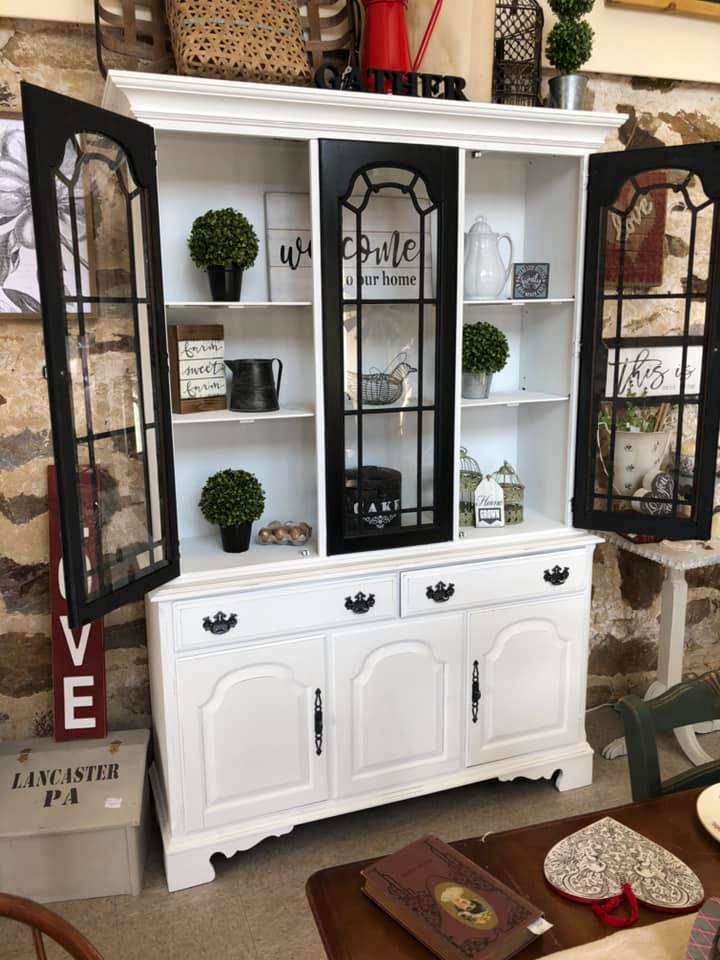 Here I chose our whitest white, Simplicity and our black color, Liquorice. I LOVED how this piece turned out with the contrasting doors. How can you go wrong with classic black & white? The challenge for the piece was painting the center glass "door" which didn't open or have hinges. I had to paint around it several times to get it right! I could have taken it out but it was set in there very well so I worked around it.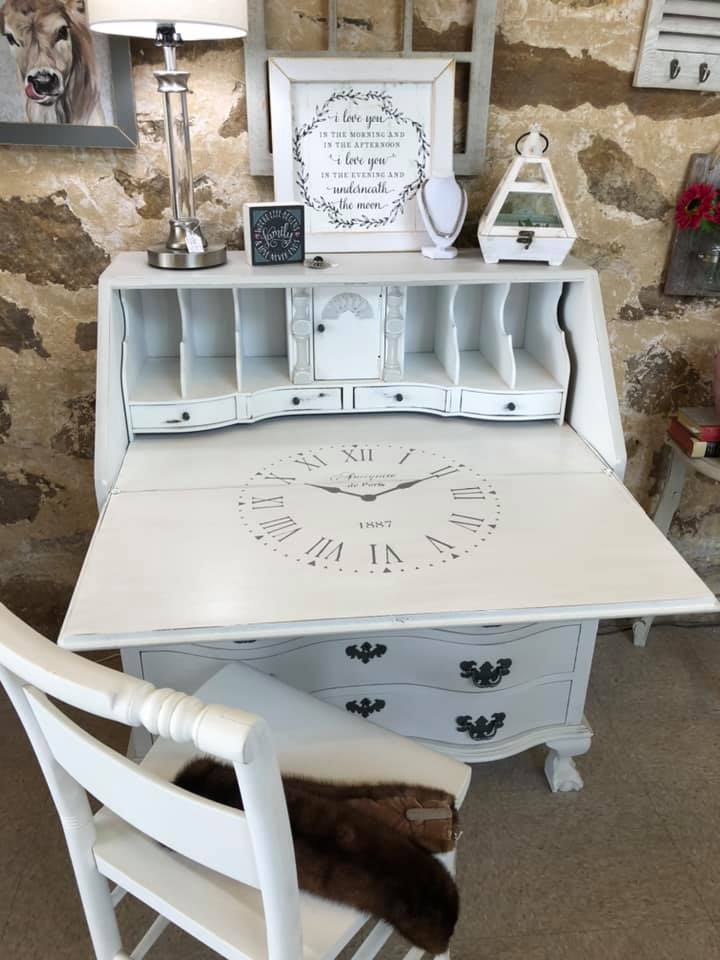 For this secretary desk, I chose Lazy Linen. It almost looks white but it is actually a light gray. You can see on the inside, there is a little cabinet door that is painted white. Don't forget about the hardware. Sometimes that choice is almost as important as the main color of the piece. You don't want to pick a color that clashes. Here we chose a metallic cream called "Trigger" (a gun-metal color) by Country Chic Paint.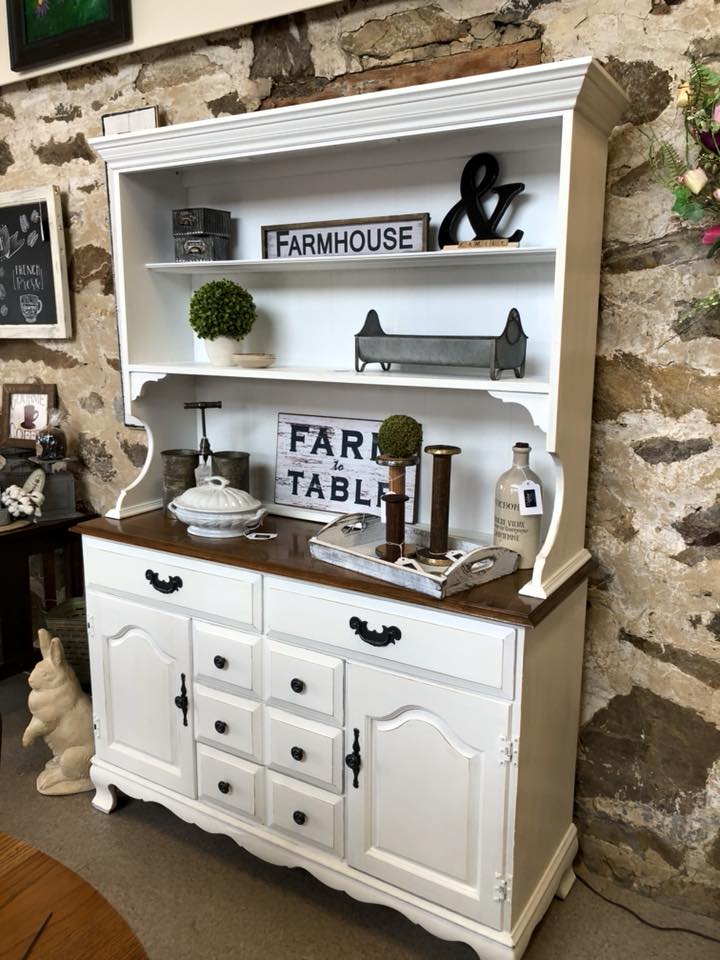 This is our whitest white called "Simplicity." Also very popular because you can't go wrong with white. The next color down from Simplicity is Crinoline. Also a white but goes better with older, weathered styles as it has a slight off-white tone. We use Crinoline a lot in the shop. The hardware was done in a metallic cream in the color "Trigger."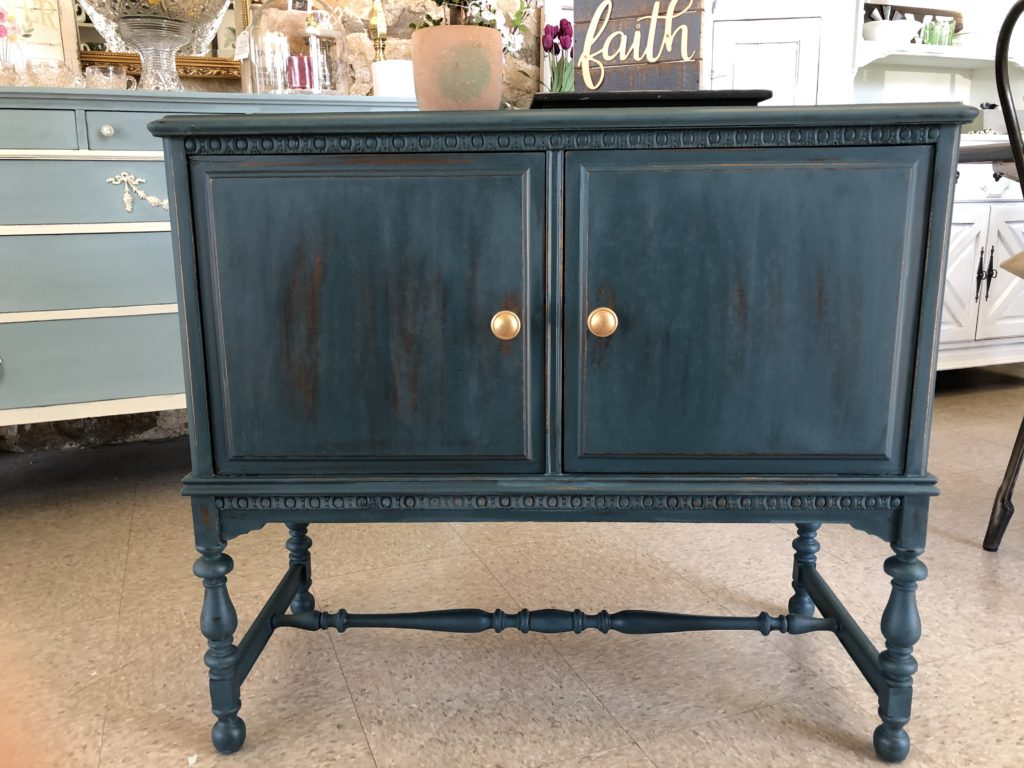 The blue/green cabinet above was painted in the color Jitterbug, one of my favorites. I'll admit I have many… but who can resist this deep rich teal? Everything we paint in Jitterbug sells which is why I usually don't have a piece in the shop to show as an example. So, although this is stepping out of the neutral comfort-zone, it is a popular color and goes well with neutrals.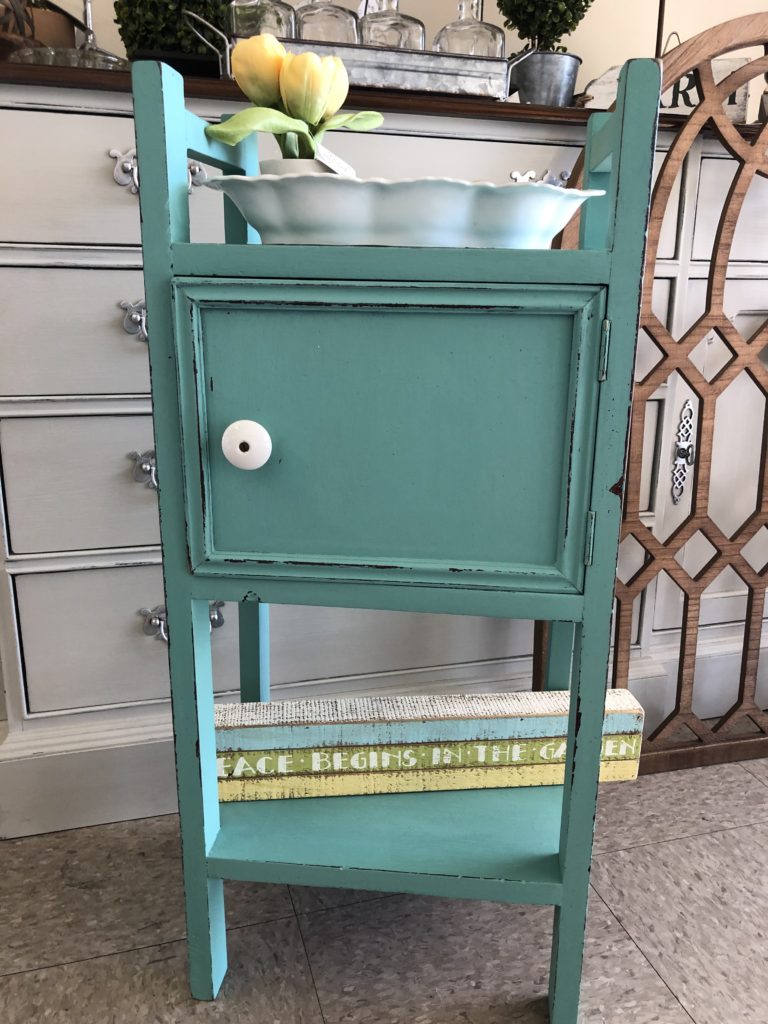 Another blue is this aqua color called "Bliss." Such a fun splash of color… I tend to use it more in the Spring and Summer. Again, the furniture painted in this color is popular and sells quickly so I am usually left without an example of it in the shop.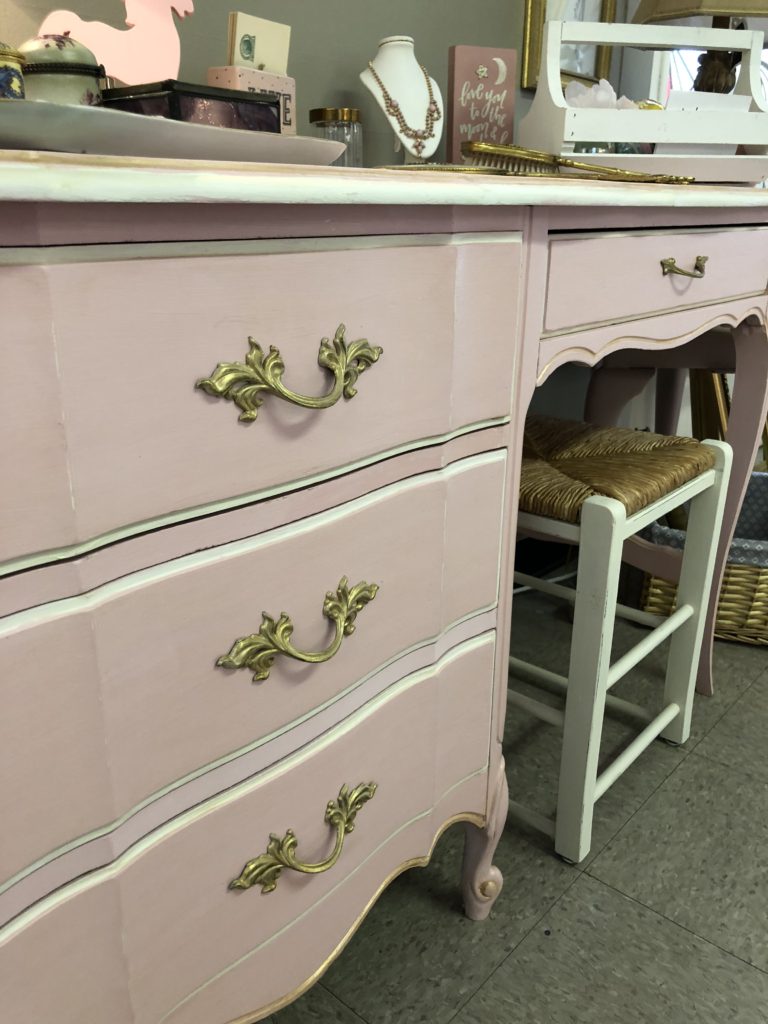 I am a pink lover through and through. Seriously, if I could, I would paint half of our stuff pink. But, I have to refrain from doing this because I it takes longer for pink pieces to sell. But I still love it! It is PERFECT for a girl's room or baby's nursery. You can even mix in some white or off white to make it less, well, pinky. This vanity/desk was painted using Vintage Cupcake and Vanilla Frosting. For the hardware I used the metallic cream from Country Chic Paint called "Pocket Watch."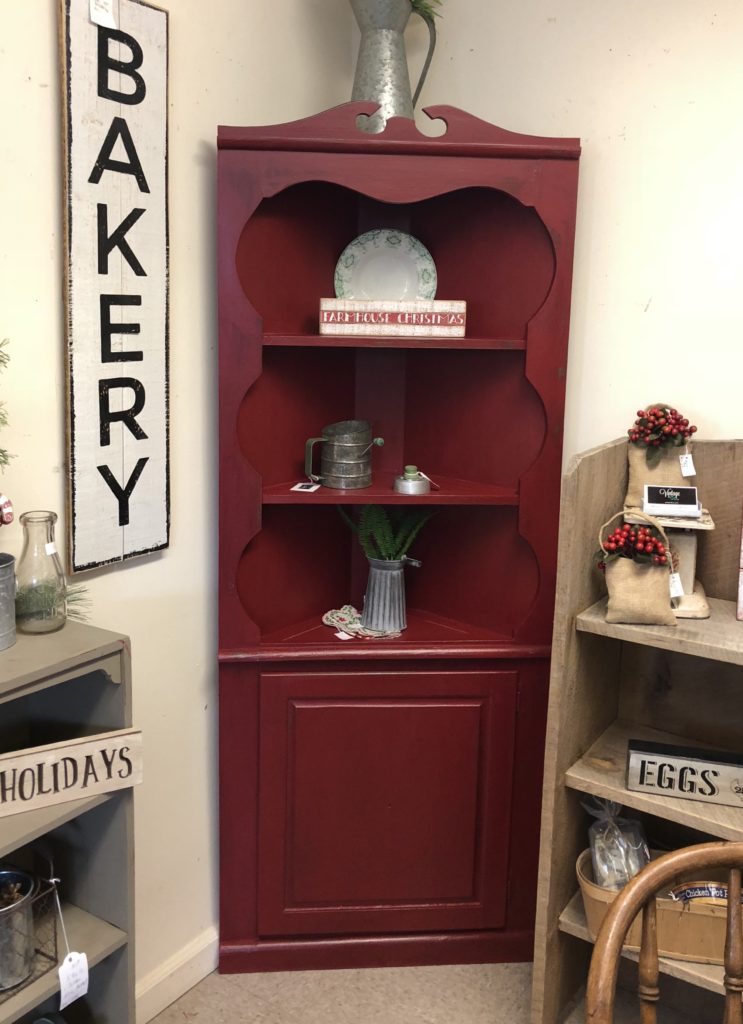 If you want a real pop of color go for a RED! This color is called "Cranberry Sauce" and is one of my favorites because it is not too red. It has a rich, deep tone and goes well with other colors in this line… Peacoat, Simplicity, Liquorice, Hurricane, Wanderess and more!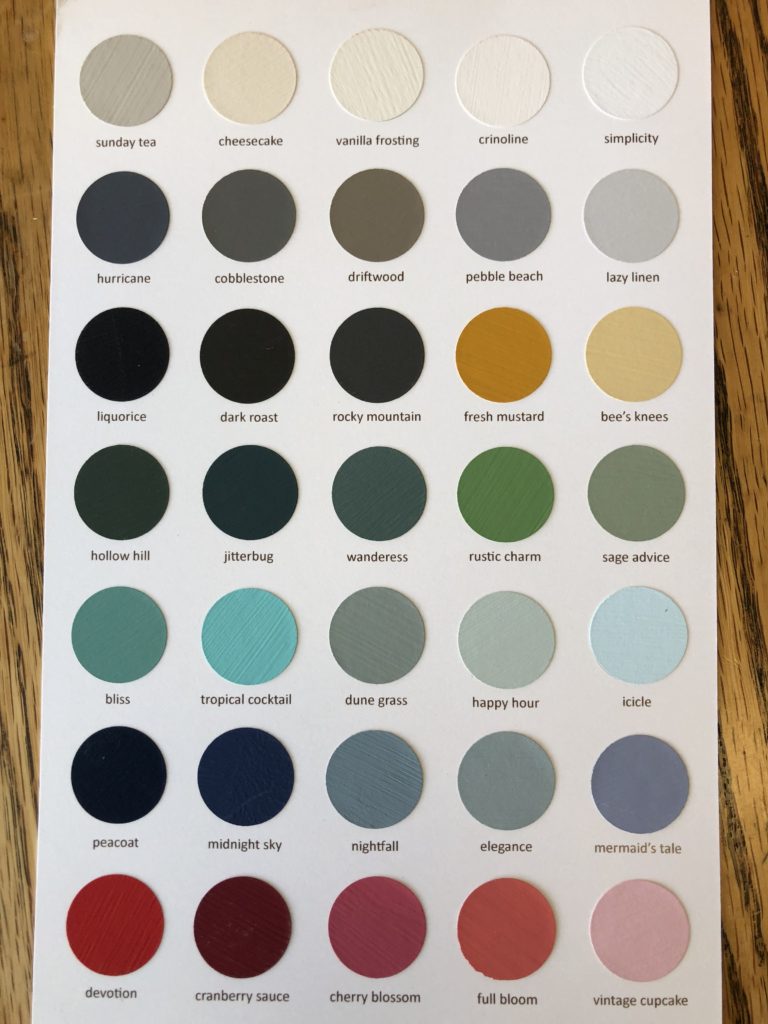 Here are the original colors Country Chic Paint started with. There is another line now called "The Lustrum" colors. If you stick to the neutrals, it is not as overwhelming to make your color selection… but sometimes I can't make the choice very quickly and take some extra time to mull it over.
Below you will find the "Lustrum" Collection of colors. I do not carry as many of these but I tend to carry neutrals. Feel free to contact me if you are wishing to purchase a color and want to make sure I have it in stock. I usuall have Fancy Frock, Pop the Bubbly, Piece of Cake, Soiree, ad Ooh La La.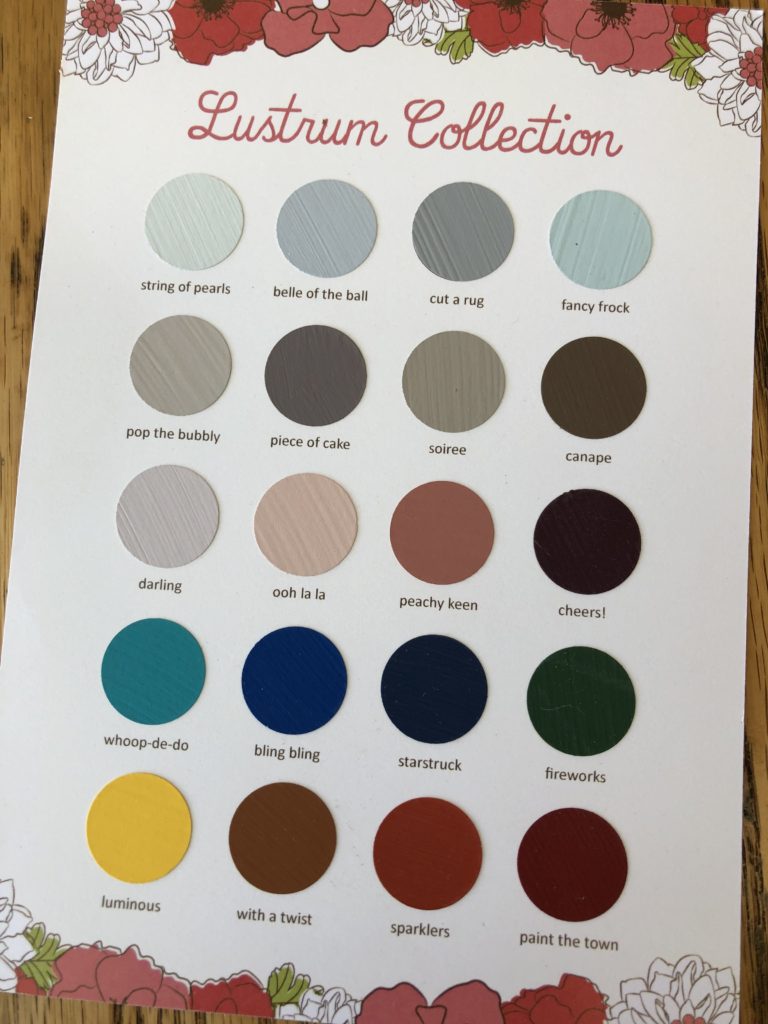 Stop in and let us help… the one thing that is a definite – you will be SO glad you painted your piece, they turn out so well!