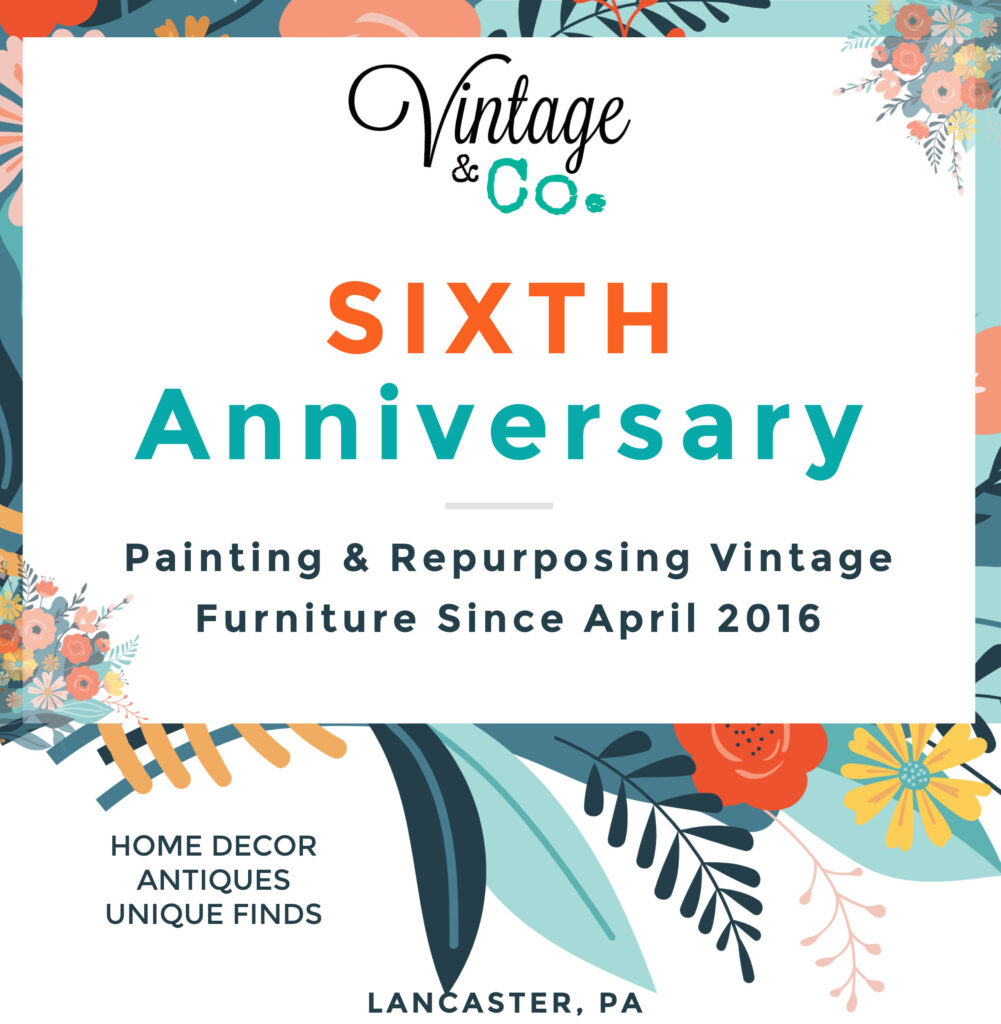 Time does fly, doesn't it? I mean, who could have ever imagined we'd be still painting vintage furniture? We must really LOVE it! Actually, there is something very satisfying and rewarding about taking something OLD and making it NEW again.
And if you asked me how many pieces we've refinished since we began back in April of 2016, I would have to say that I really have no idea. My answer would probably be "A LOT!" I do have my favorites, however. Some that I transformed and some that were Andrew's creations.
Here they are, in no particular order, my top 10 picks of the furniture we've painted: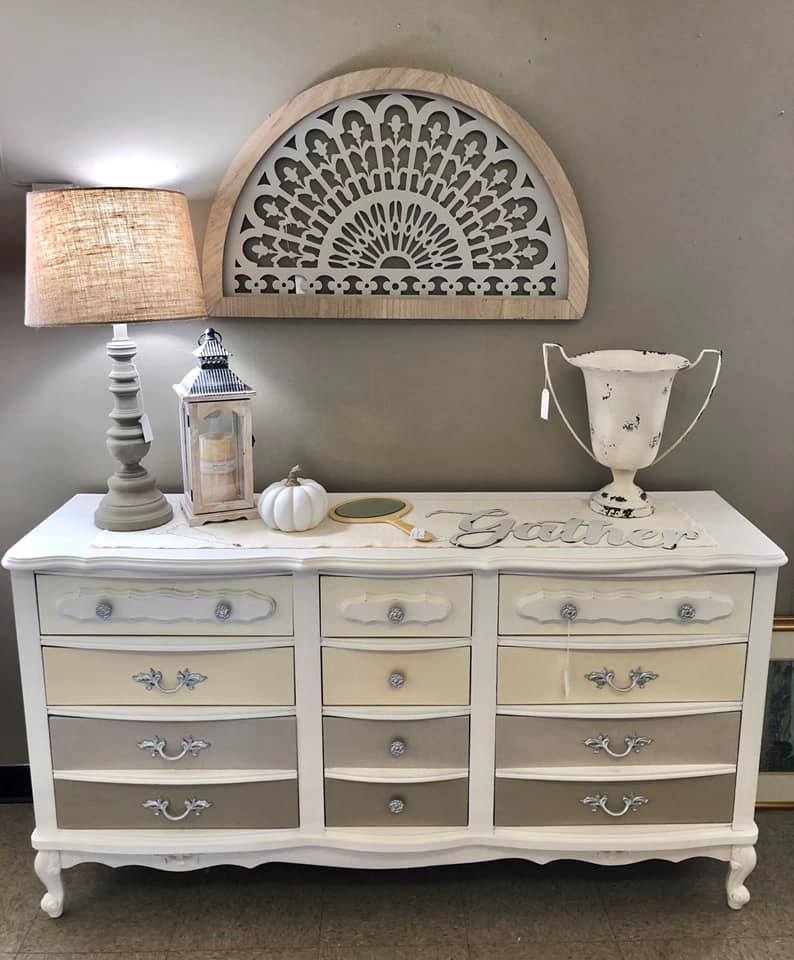 I just love this piece! With the different neutral hues mixed with the feminine details, it just catches my eye when looking back at everything we've painted in the past.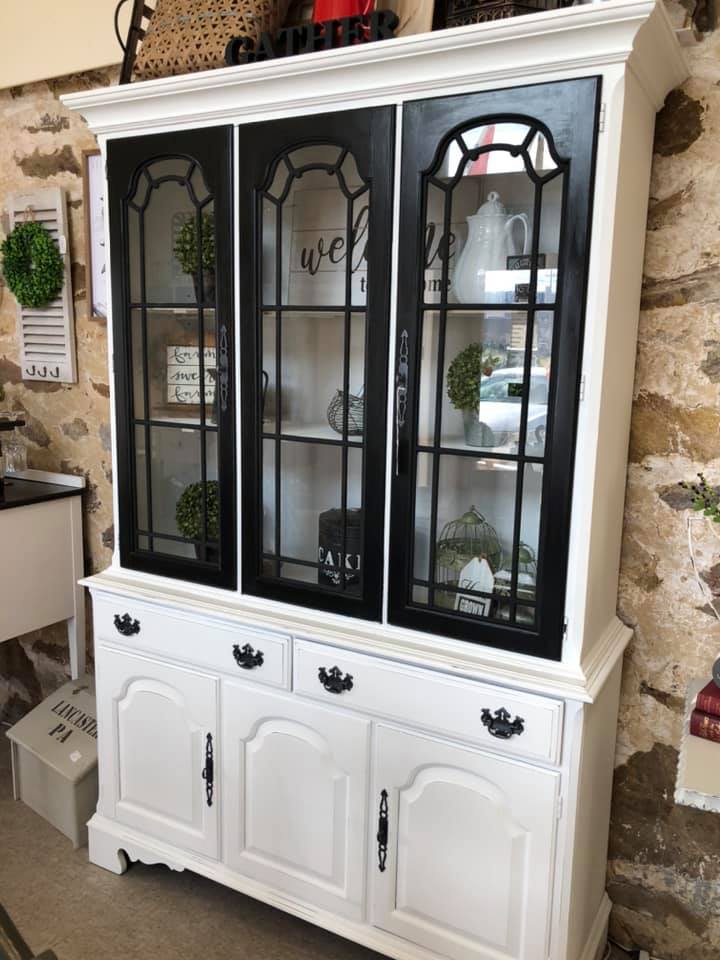 This piece actually reminds me of the "LOCKDOWN" in March of 2020. It had just sold right before we were forced to close for three months. But all of that aside, I still like the contrast of the black against the white… I hope the new owners loved it just as much as I did!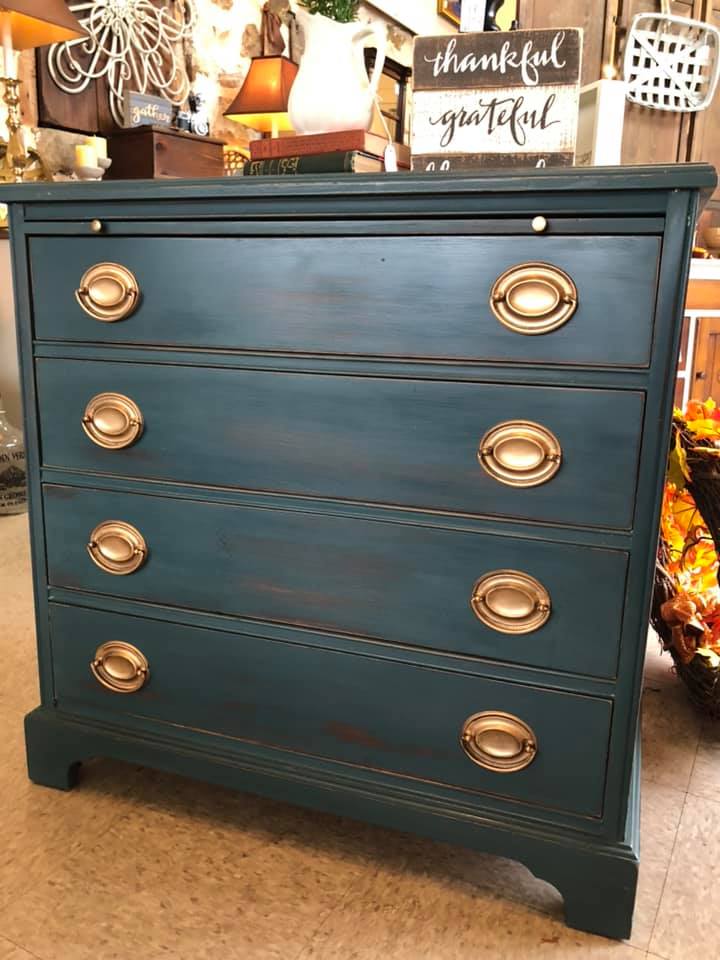 This piece is cool all on its own…. with a pull-out workspace above the top drawer, it's super handy to have as a nightstand or small desk. But once we painted it with Country Chic Paint in the color JITTERBUG and gave the drawer pulls a bath in gold… wow! Yep, still one of my favorites! We don't get to paint using too much color, since neutrals sell easier, so this was definitely more fun for us.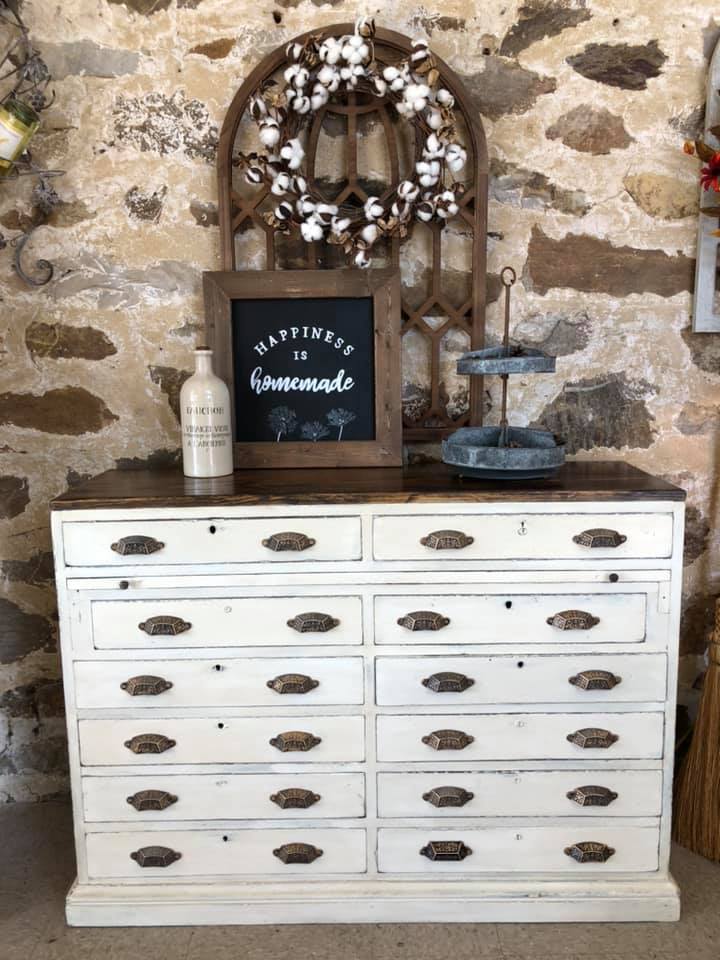 AHHHHHH! This! THIS piece was totally cool! What had been an old, beat-up tool chest was now a vintage beacon of industrial chic! Andrew had to really work this one into shape. He did a great job.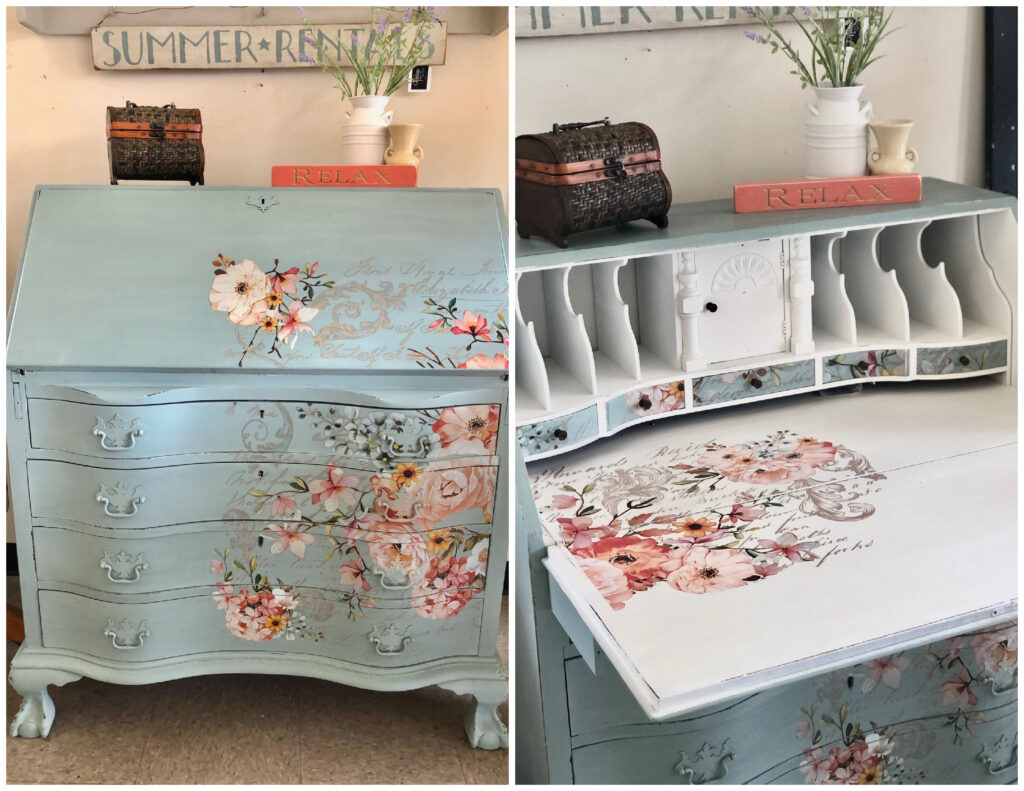 Once I started working with transfers I was hooked. I still love each and every piece that gets a transfer because they are so uniquely custom designed for each piece. I'd put them all in this list, but I could only pick a few! I love the colors used here… from the blue green paint to the coral in the flowers. And then the inside received decorating too! Lovely. I should just make a separate top 10 for my transfer pieces, but I'm trying to keep this simple. Ha!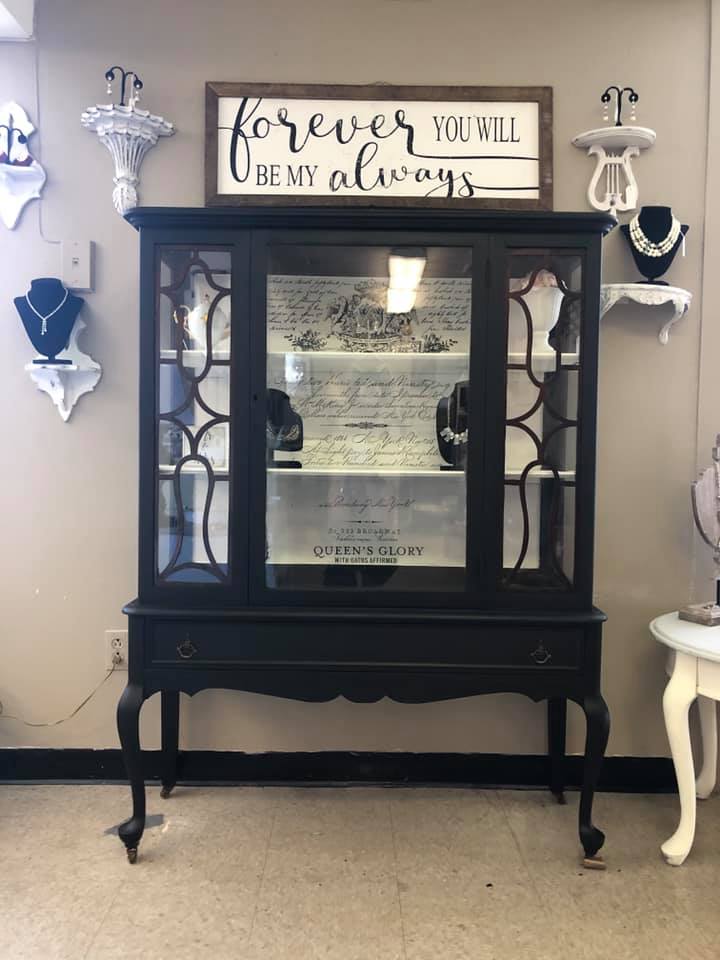 I combined my love for black and white with a transfer and this piece still remains one of my fav's! Classic elegance.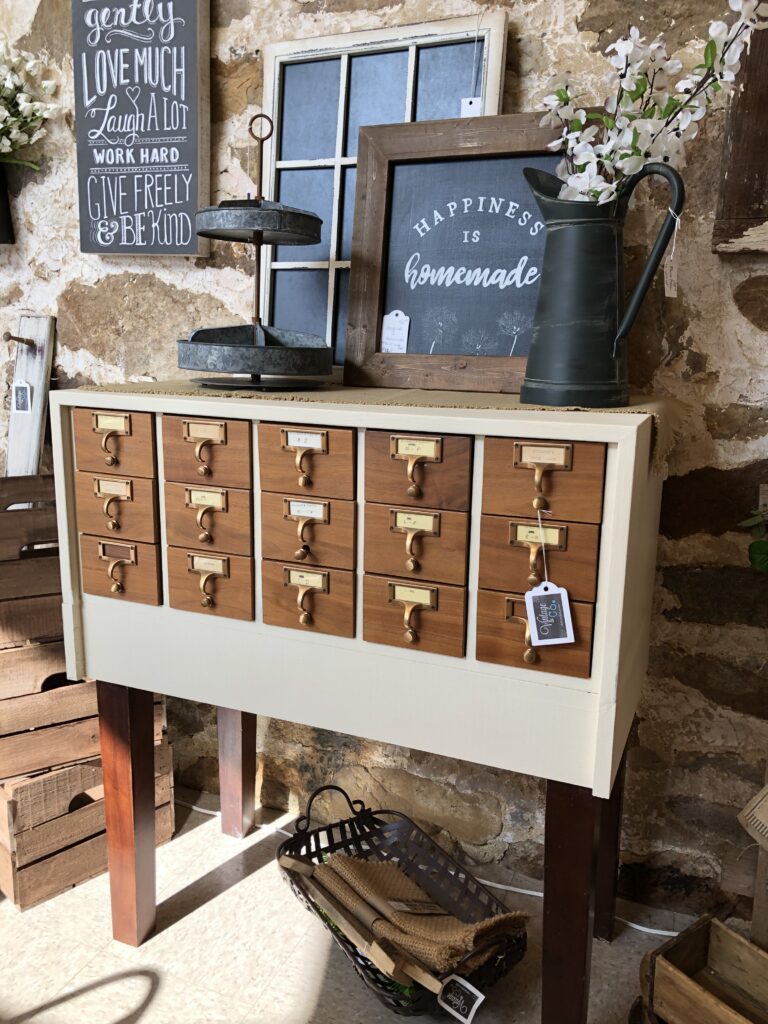 This piece was custom made by Andrew and he really did a great job turning a small card catalog into a stand-alone unit!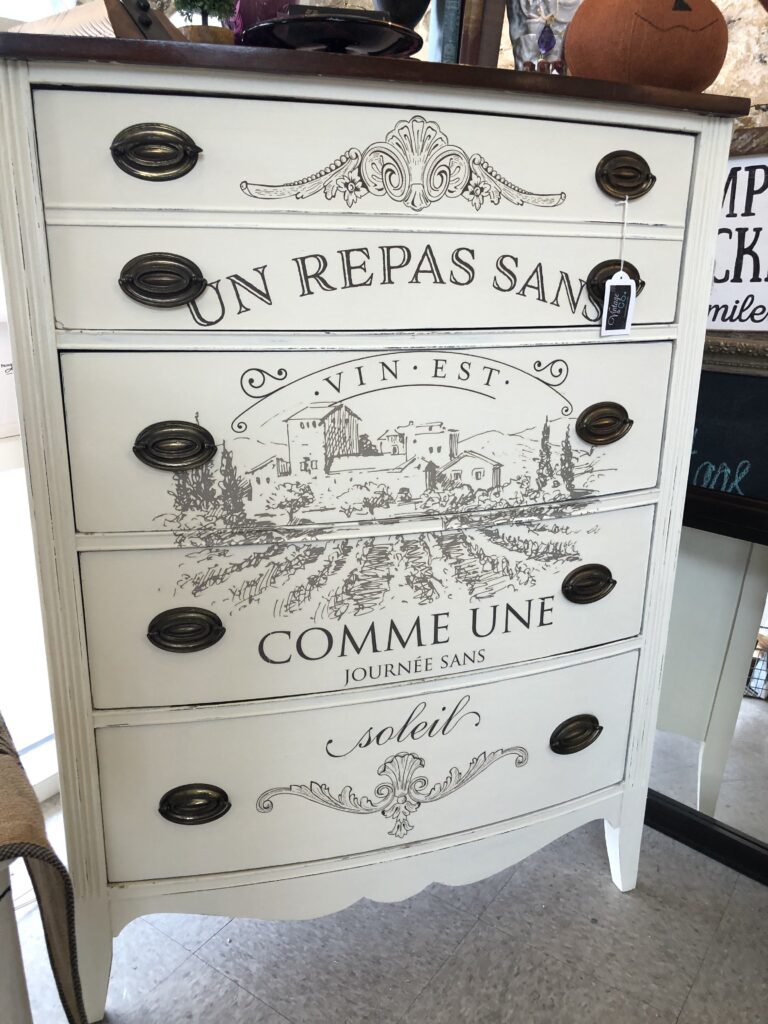 This piece makes me just want to go to Europe and tour the vineyards, so it is still one of my favorites! Way back when, when I was single, I toured Europe. Great memories so this piece is a keeper on my list!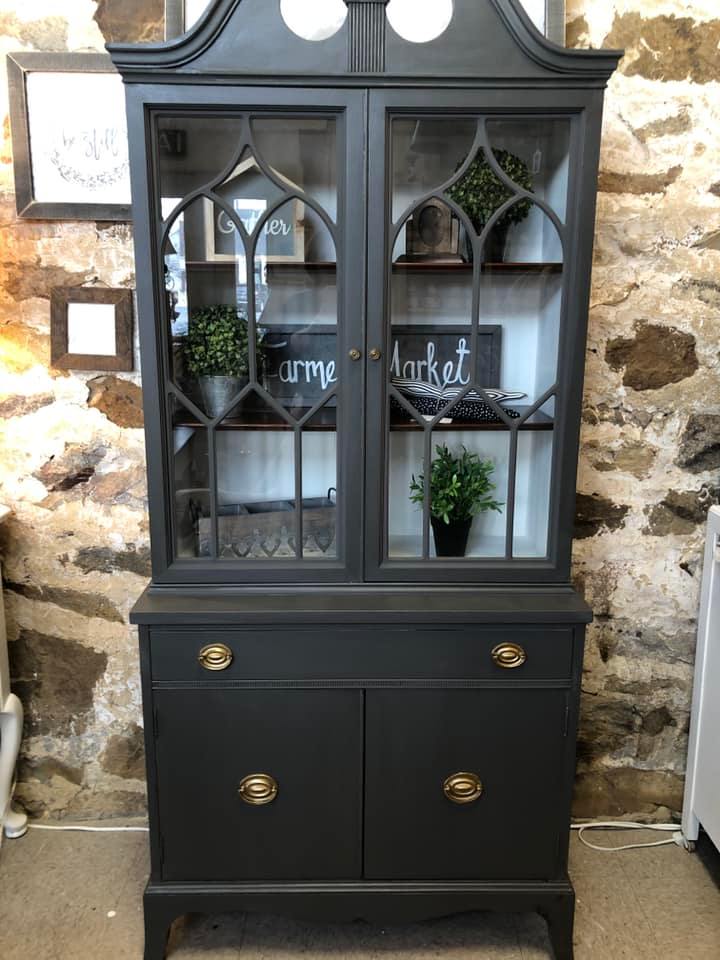 This piece is one of our more recent refinishing projects, but I decided I really like the color Rocky Mountain, so it is one of my new favorites! Again, contrasting colors with the white inside… and then the shelves were left in their original finish, which really gave it a classic look.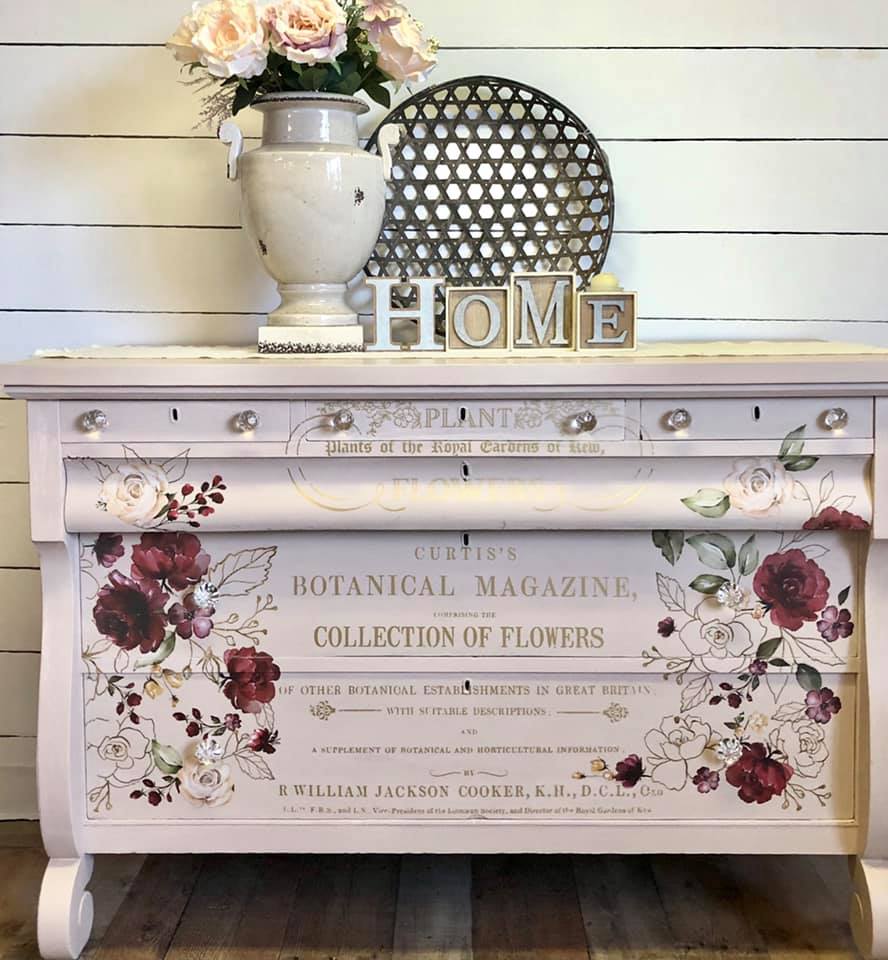 Again, a transfer, I know… but this piece was completely custom designed. I used two different transfers and combined them into one unique and beautiful layout. New hardware too. It was quite the makeover!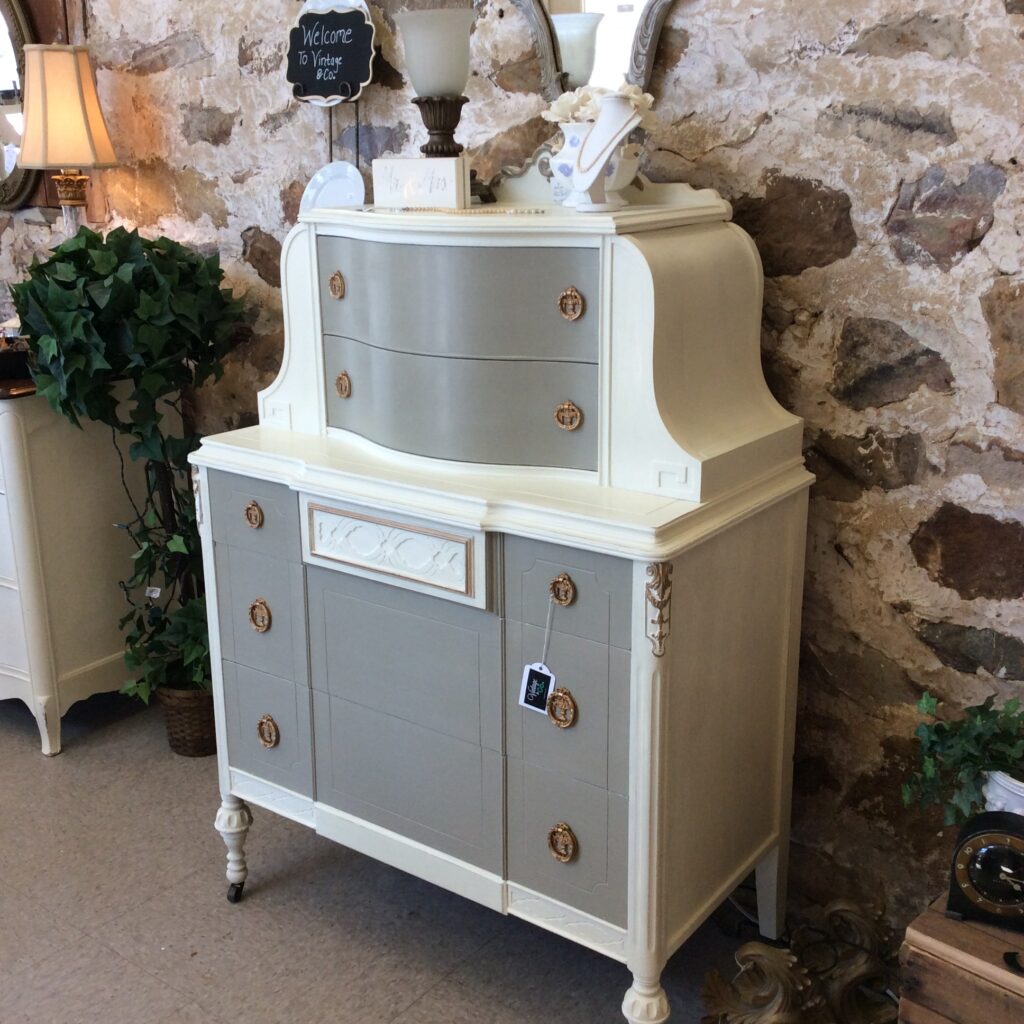 And I know I said I would choose 10, which I did, but I left one out that Andrew still loves. It was such a unique dresser. And he was meticulous about how he wanted it painted. Another beautiful piece so I'll just call it a "First Runner Up!"
We really have enjoyed our adventure in furniture refinishing immensely. When we opened, we were really just trying to find a way to sell the stuff we would buy as a hobby. We used to have antique booths in antique malls. Here is one of them … about 10 to 12 years ago.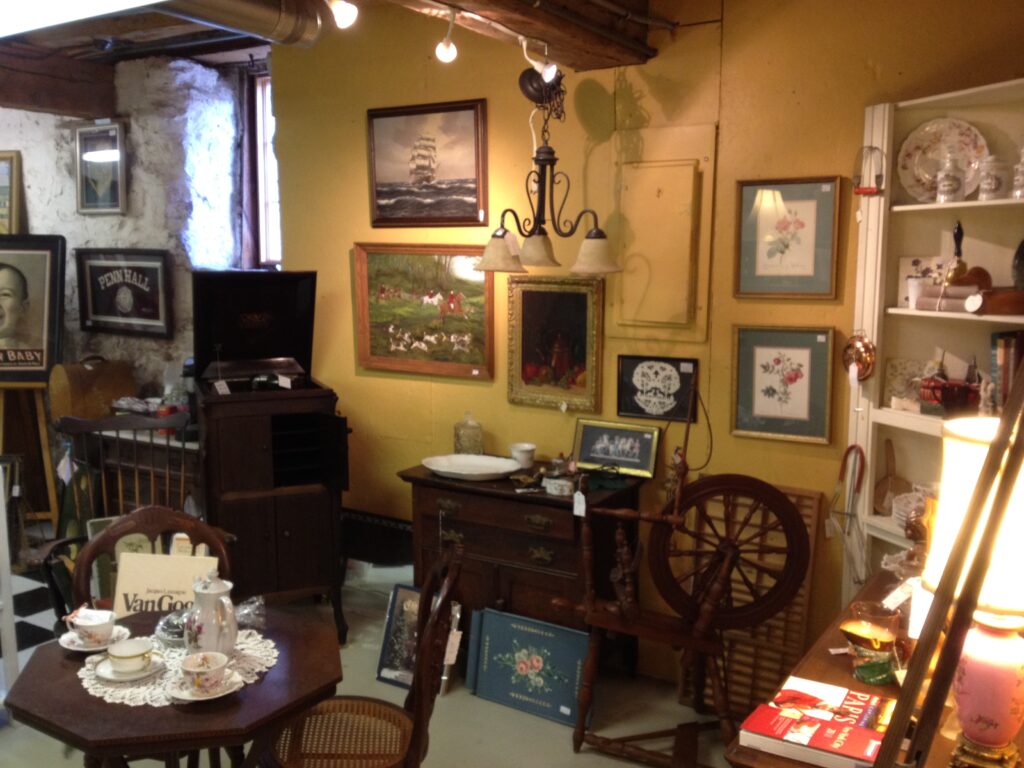 Our look and style have completely changed! Partly because the trends have changed and if you don't go with the flow, you literally get left behind. And, I have always been a creative type so painting furniture is a great way to channel that creativity into each custom painted and designed piece.
We look forward to this next year, we don't know what it will bring but we hope it brings as much joy to you as it has for us over the years!