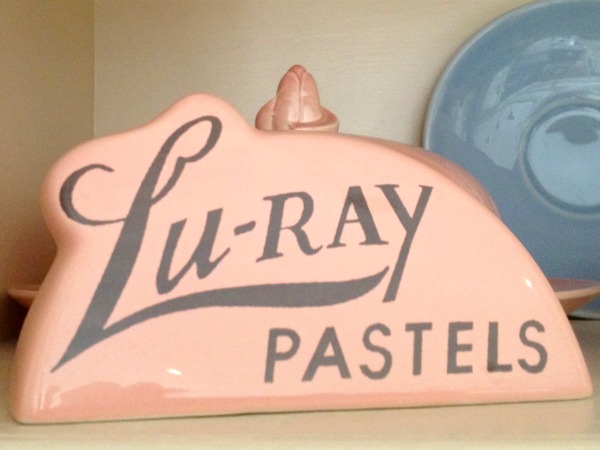 If you are a Lu-Ray collector this post is for you! If you've never seen these perfectly pretty pastel pieces then get ready to feast your eyes on this post! (Collector's note: I found this cute reproduction store sign on eBay many years ago.)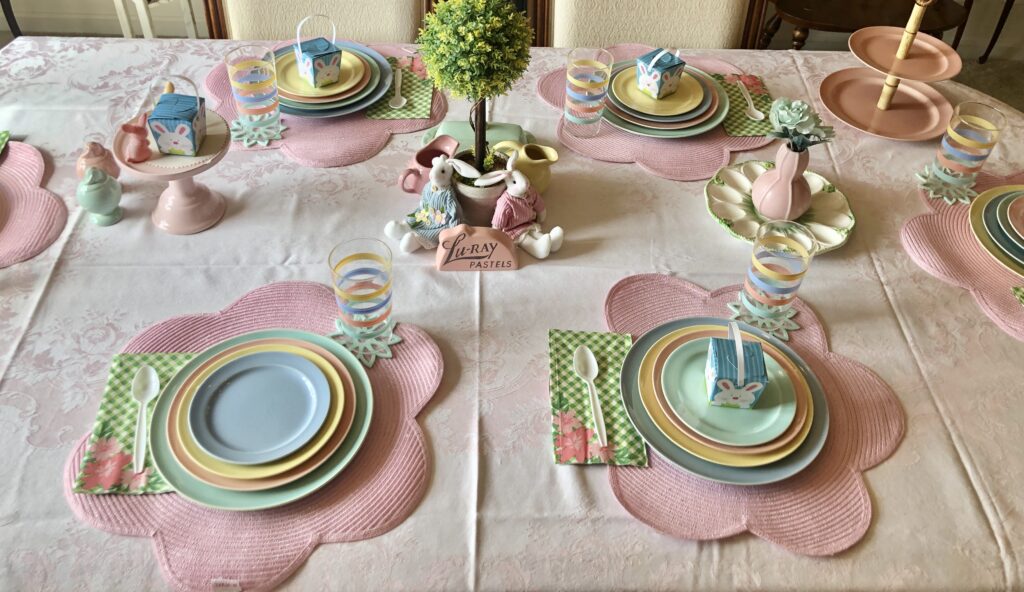 It's pure joy to break out my Lu-Ray Pastels dinnerware collection each Spring and I have written about it often.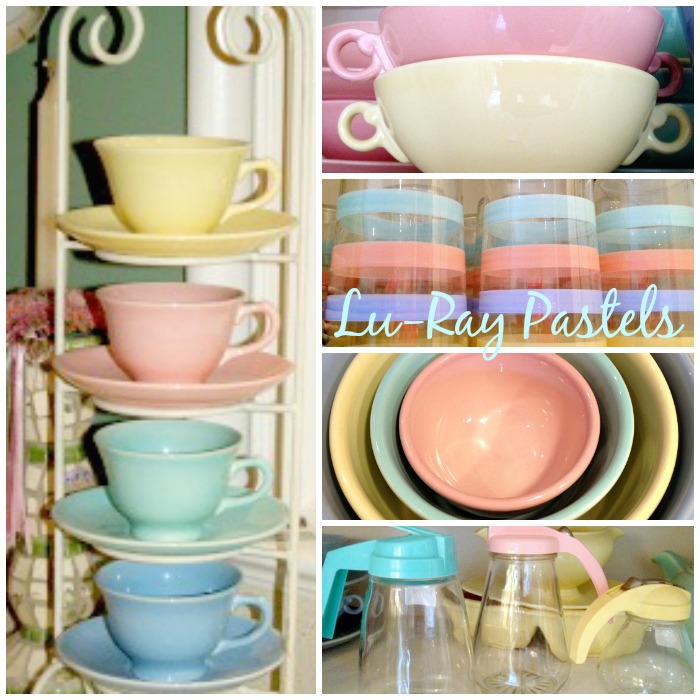 But it just occurred to me that last year my collection was 30 years old! And I missed writing about it… how did that happen? Time flies when you are having fun, my friends!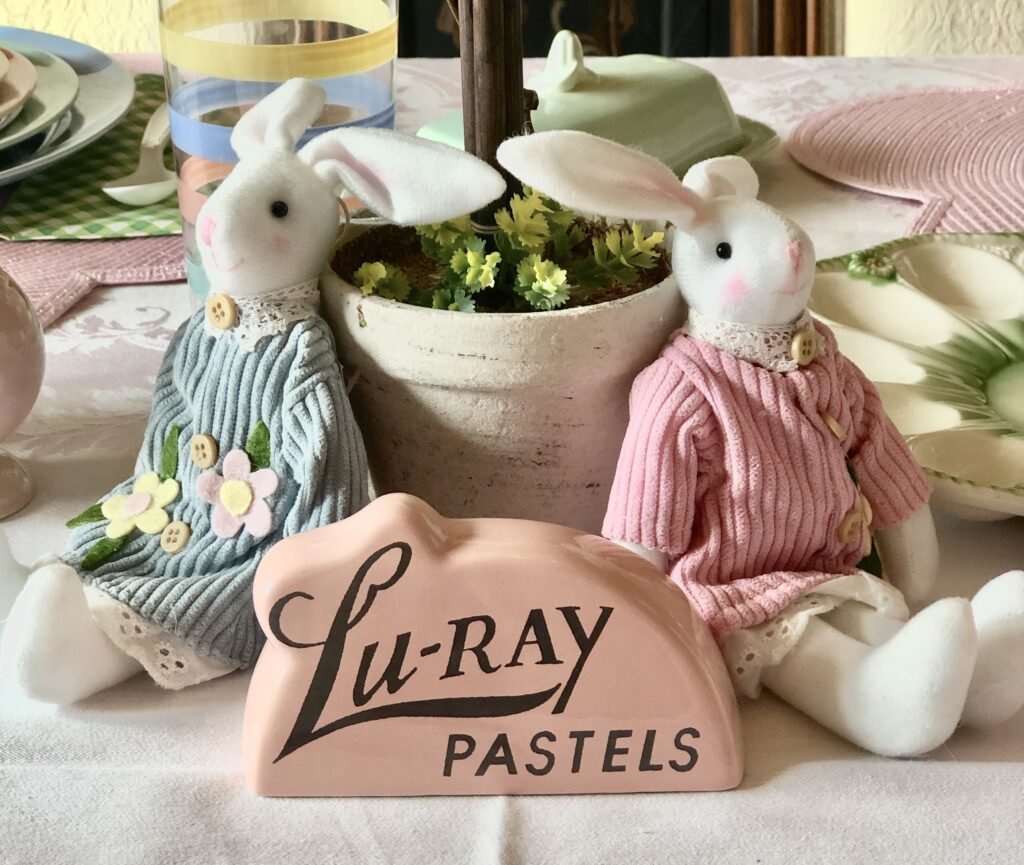 If you are not familiar with LuRay pastels, here is a quick background: Lu-Ray pastels were produced by the Taylor-Smith & Taylor company in the late 1930s – the early 1960s. They were made in five colors, of which I only collect four. They were: Windsor Blue, Sharon Pink, Surf Green, Persian Cream, and Chatham Gray.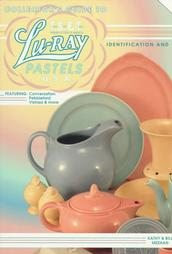 If you are reading this post and are a LuRay collector, you might want to look into getting this book. The prices may or may not be relevant in 2023 but it's still a great item to have.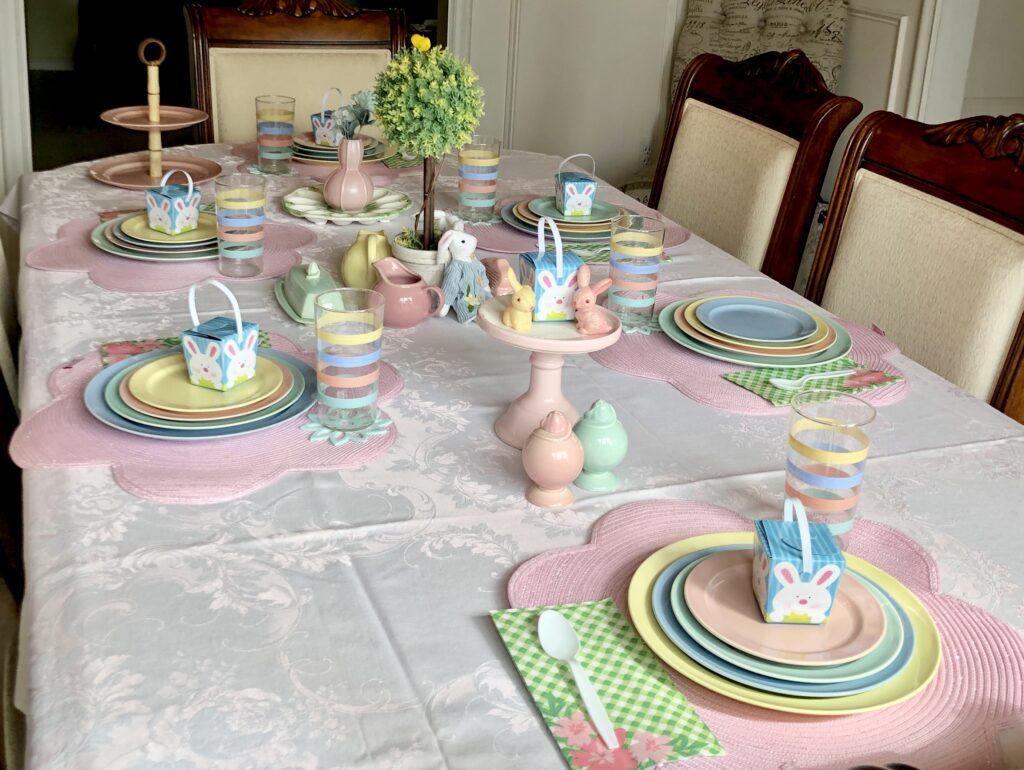 This year I decided to have fun with my Lu-Ray post.
The first step: The picture taking. Gather up all of the pieces you want to highlight. My recommended second step: Add creativity! This means adding cupcakes and cookies to decorate with and a few little accessories… and well, rabbits too! A light pink vintage damask tablecloth was the "canvas."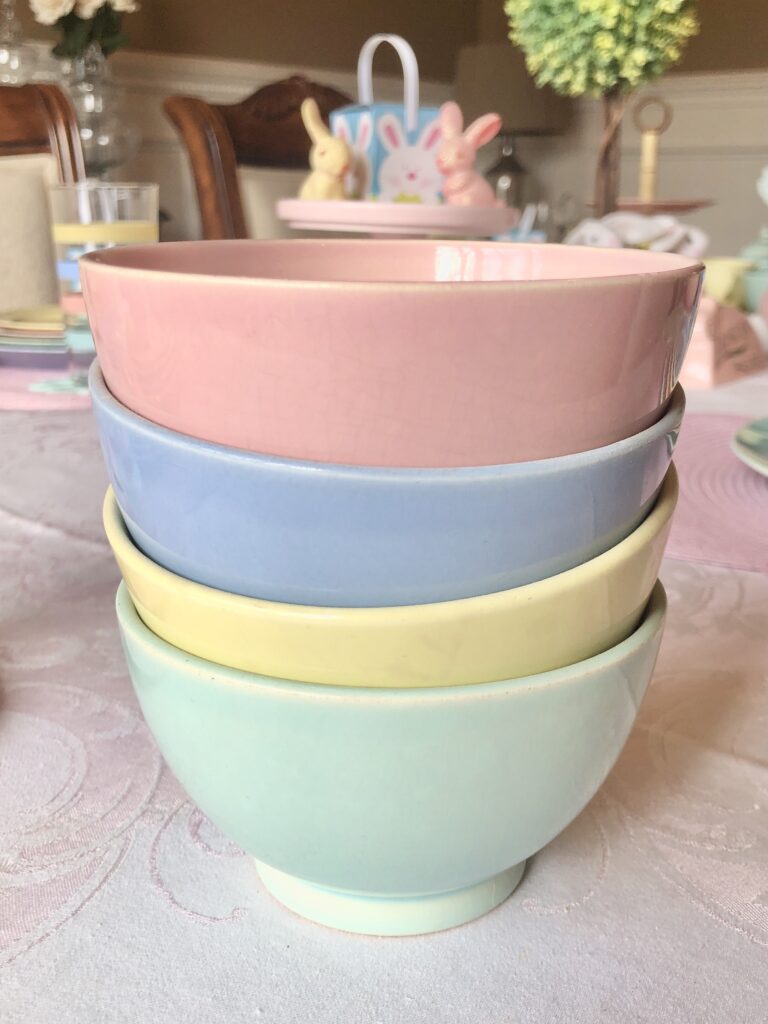 To give you a brief history of my collection… it all started when I bought a green 36's bowl at a vintage shop in Ocean City, NJ. The photo above shows what they look like. I only have four. These are great for mixing sauces or having ice cream. Or oatmeal. Or whatever else you like. To be honest, I don't use these anymore. We are in a phase right now where dishes are broken too easily. (Running back and forth to school and dance classes keeps our mealtime busy.)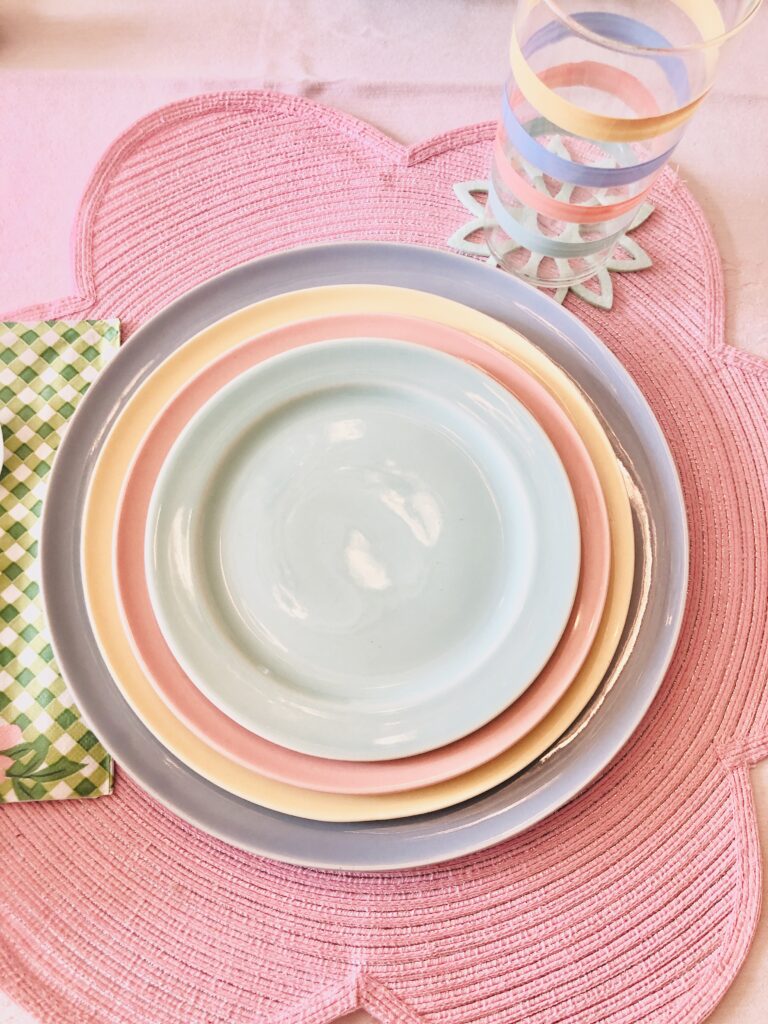 And pretty much the only plates we are using are the smallest-sized bread plates which we use for danishes, desserts, or snacks.
My solution to keeping the chip factor down.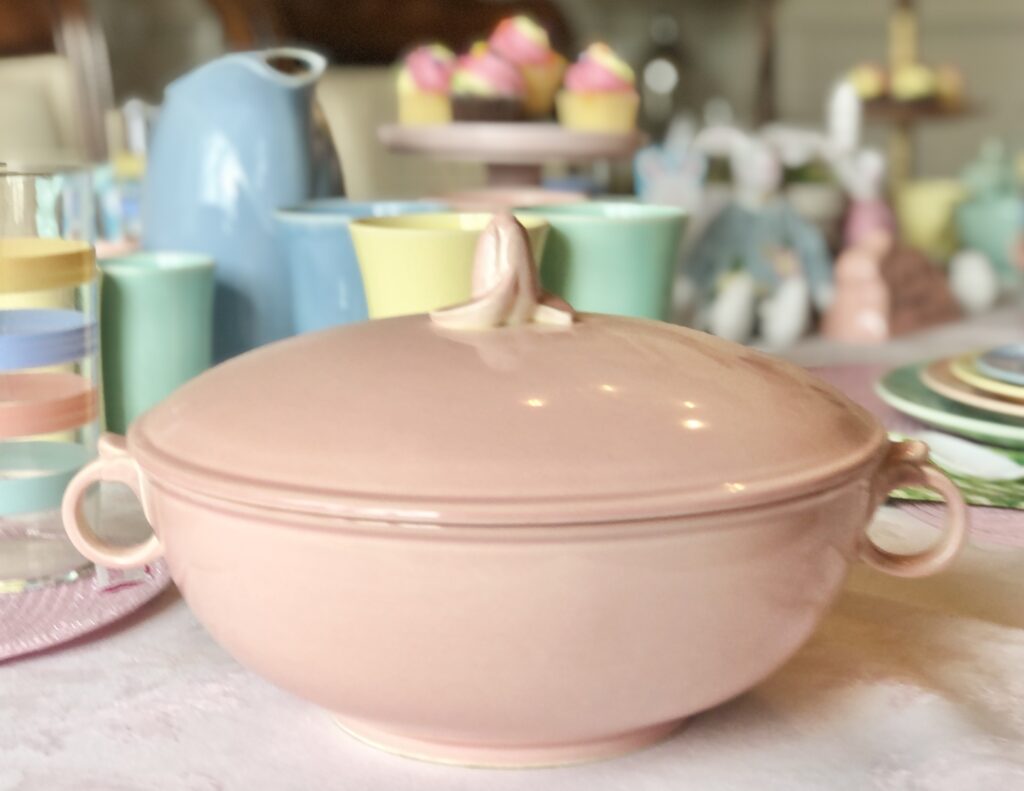 So this is my latest piece… I don't think I have shown this before. The Sharon Pink casserole! I waited so many years for this piece. At some point, I will need a bigger storage/display space to show everything off. Or, maybe I should pack up all of my Go-Alongs. I have quite a few of those. It's almost just as much fun collecting them as it is the original LuRay pieces.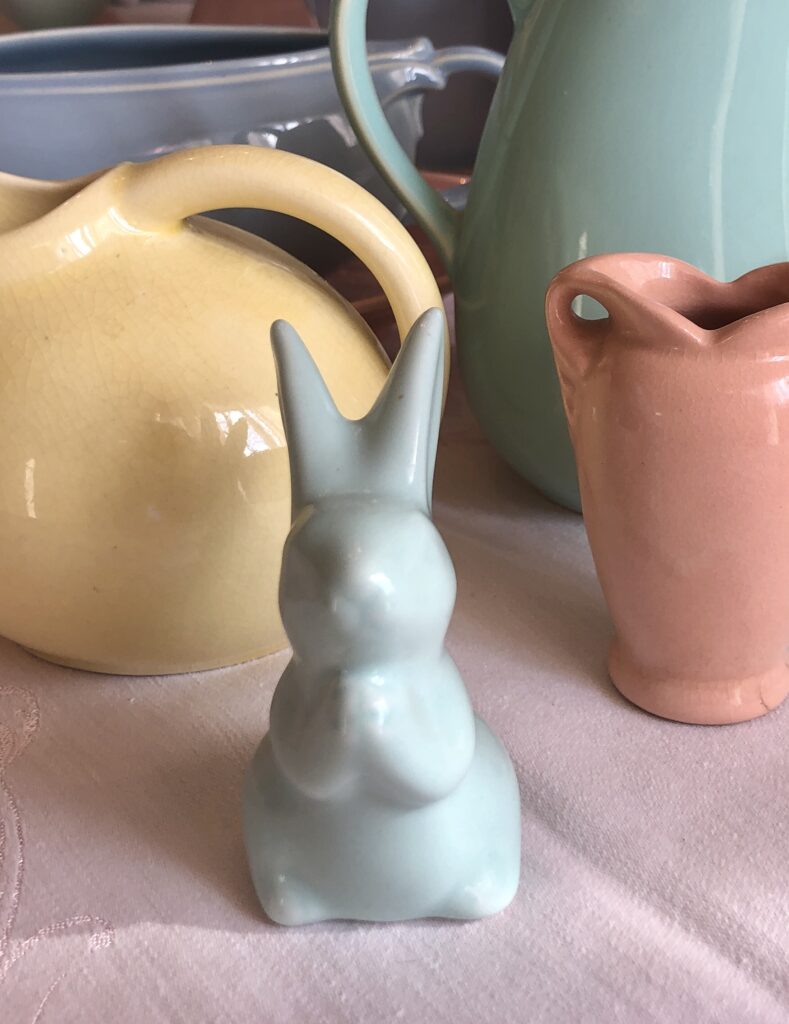 I found this little guy too last year. What are the chances? A "Surf Green" colored rabbit figurine? It's perfect for Spring!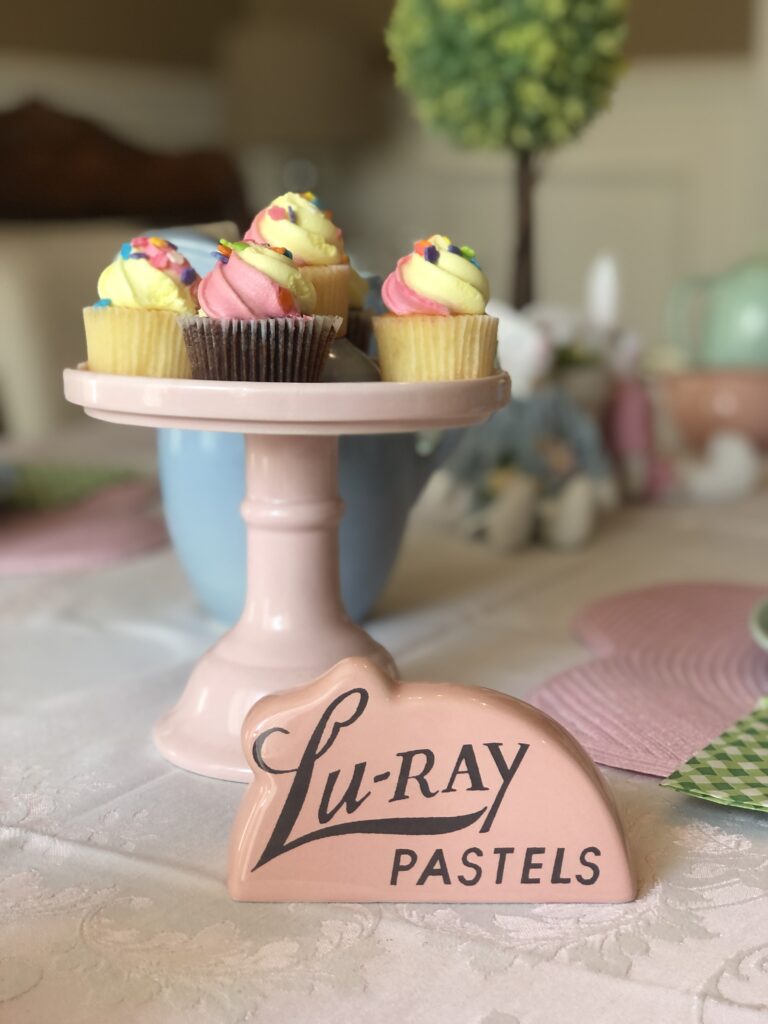 And this mini pink cake stand. Too cute!
(Found at a craft store we had called AC Moore which has since closed.)
And these mini cupcakes called out to be displayed there for my "photo shoot."
I could hear them saying pick me, pick me! So I just HAD TO.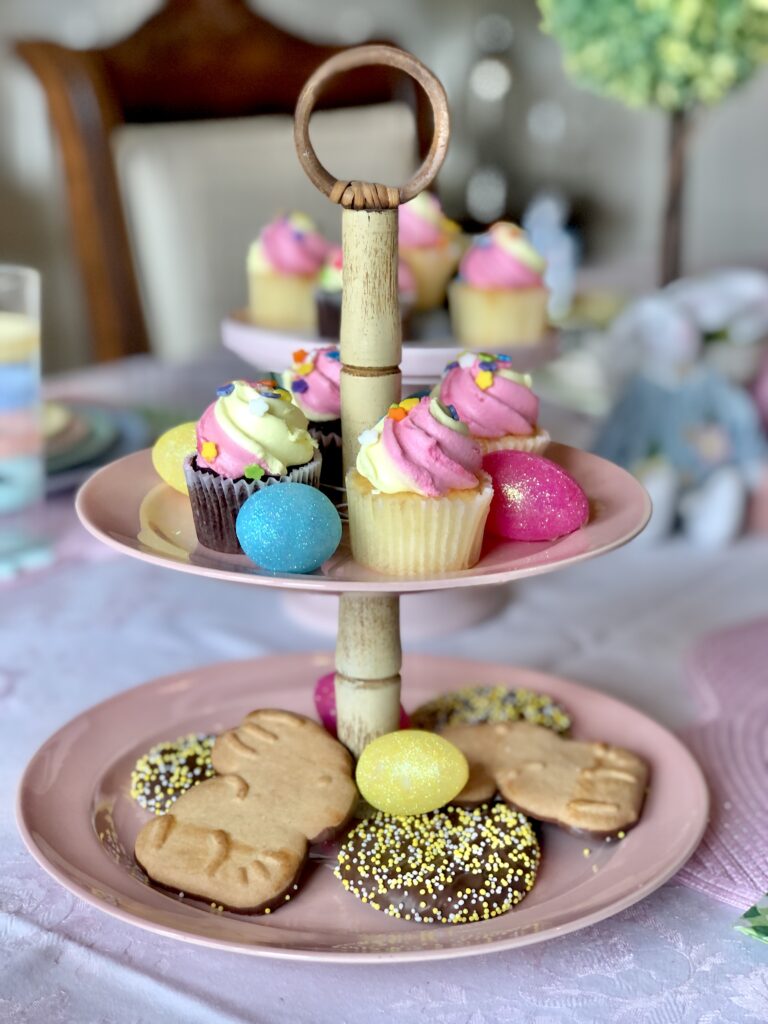 They also look lovely on this piece. It's one you don't see very often. I have a two-tiered tidbit tray (Say that five times fast) and I rarely ever see it up close as it remains in a cabinet above the refrigerator. Today, I carefully pulled it out and placed it on the table. Doesn't it look cute with all of the treats? This was purchased from the antique store in Ocean City in the early 1990s.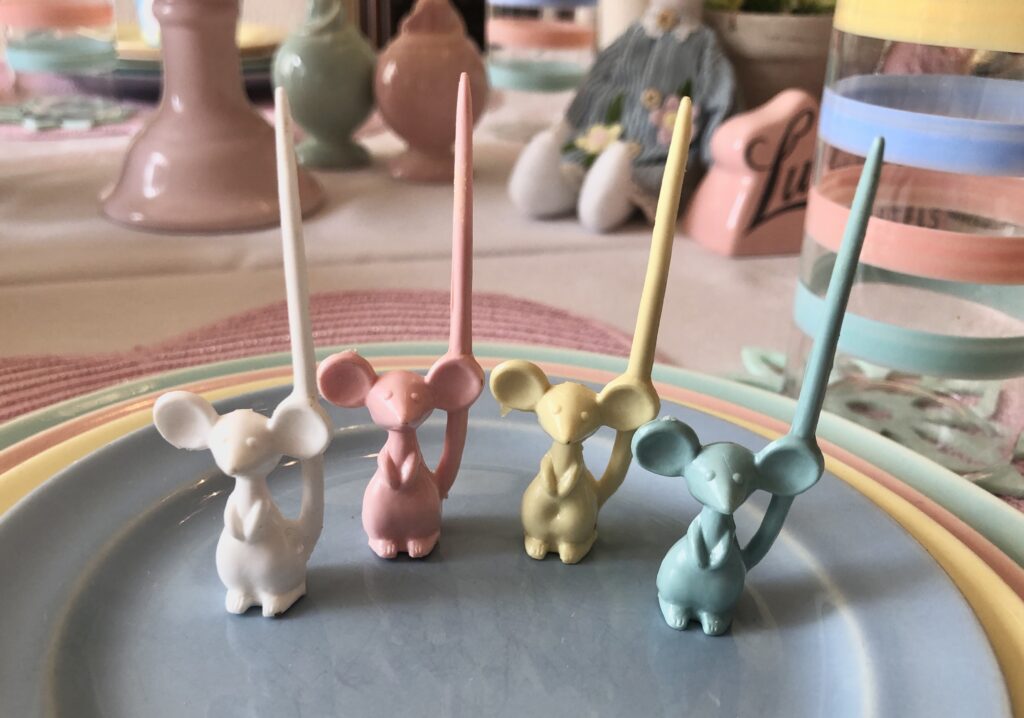 Also cute are these fun "Go Alongs" … mouse-shaped cheese pixies!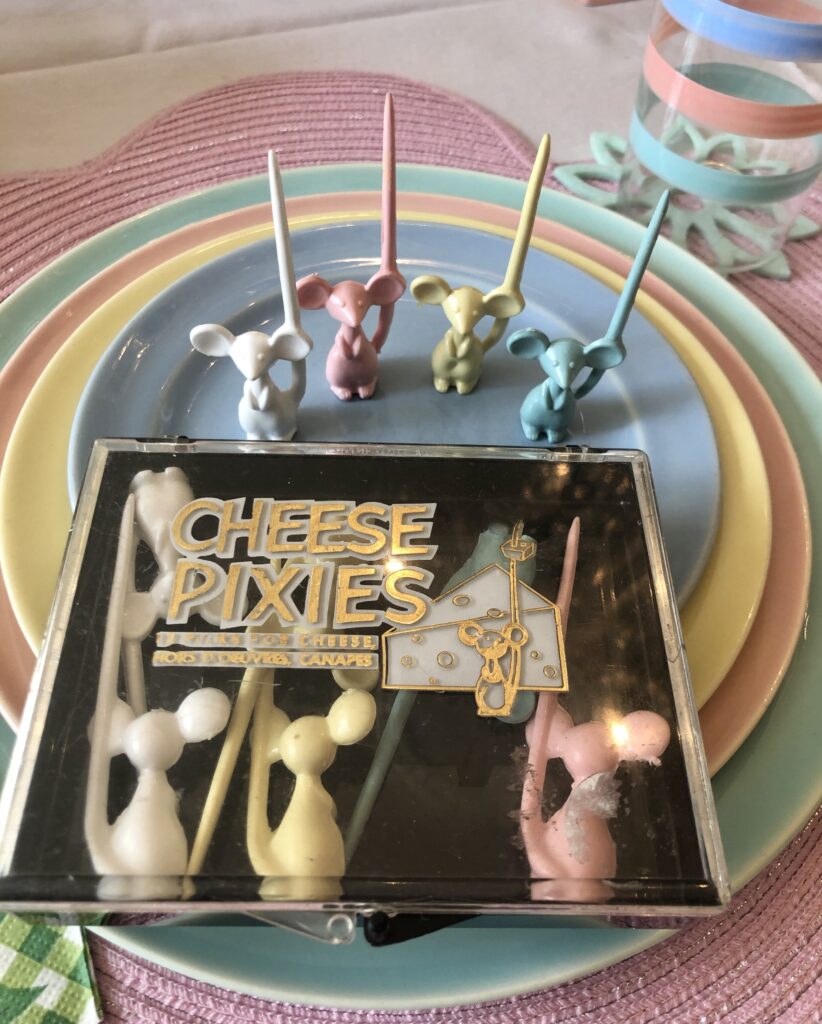 I really have no idea how old these are but I'm guessing they are from the 60s or 70s? (Must use them with cheese in my next photo shoot.)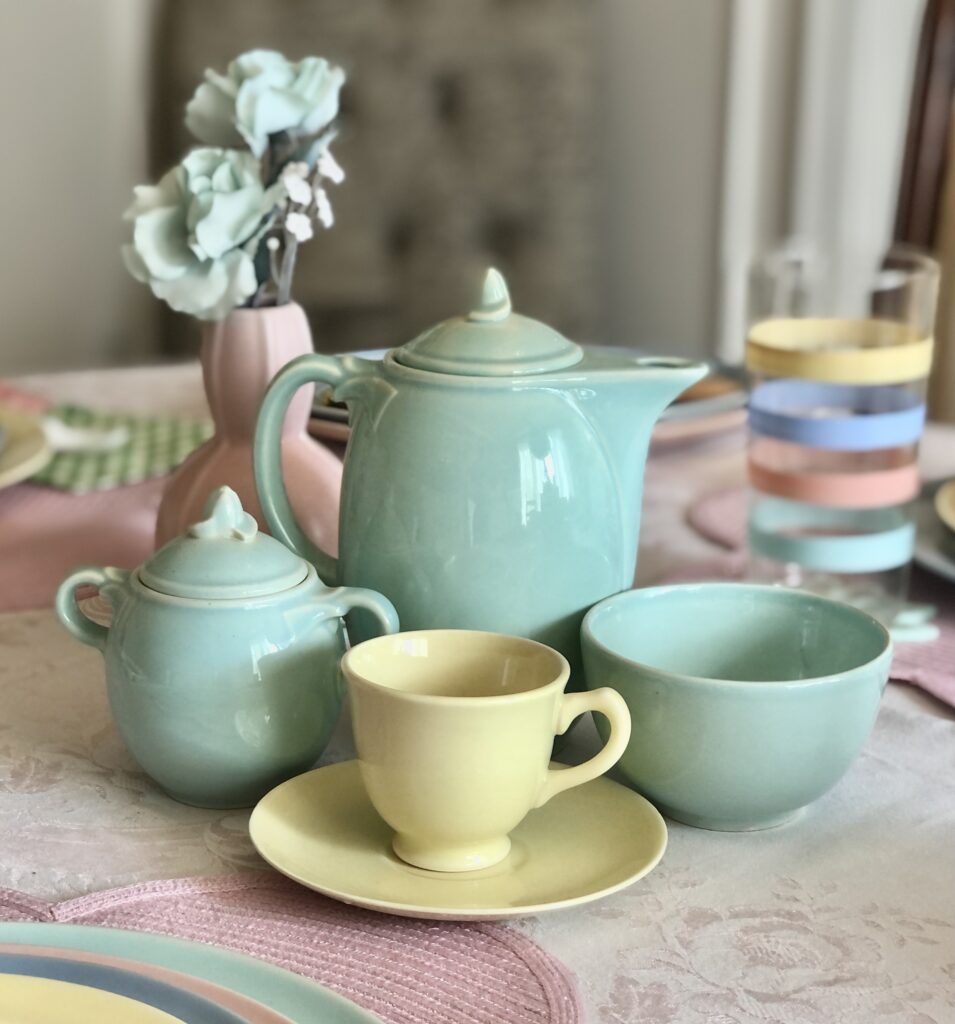 This is what the demitasse pieces look like. They are sweet, smaller versions of the teapot set. I've never really used the demitasse serving pieces… but they are so cute! A must-have for the LuRay collector.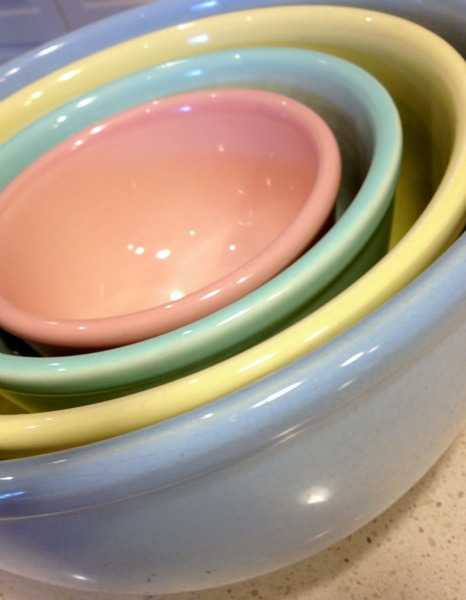 The mixing bowl set was something I started collecting early on.
They are pricey but I learned to sell the things I didn't want to make money for the pieces I wanted. *Fun Fact: This is basically how I became an antique dealer!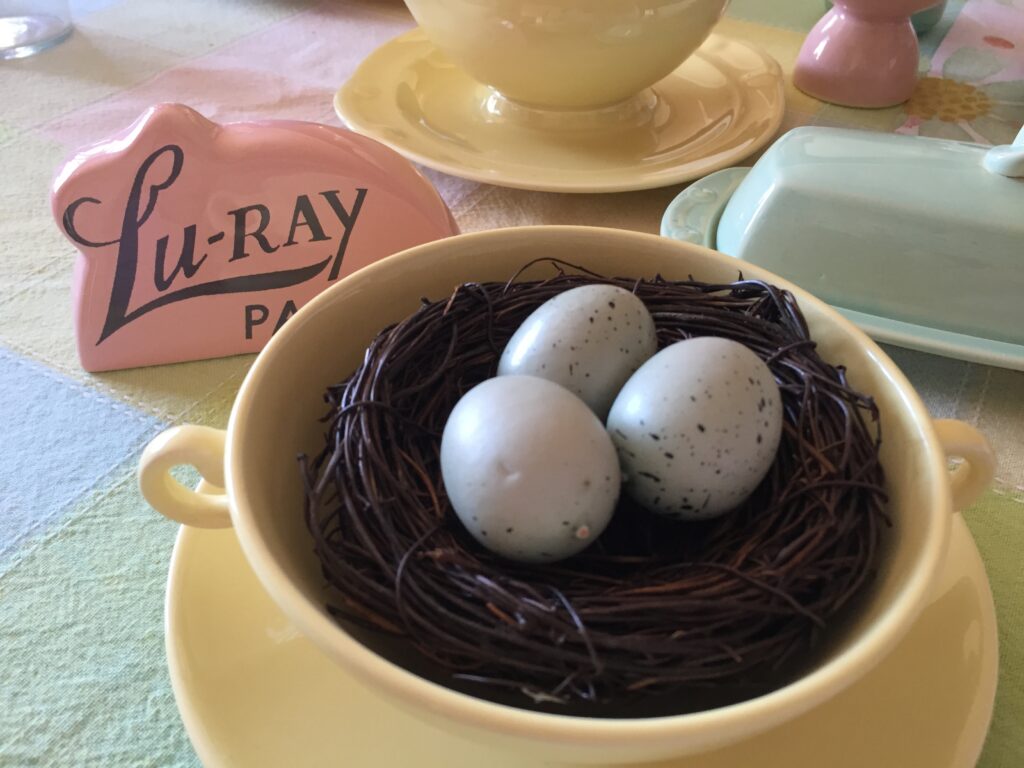 Here are some other hard-to-find pieces: The cream soups.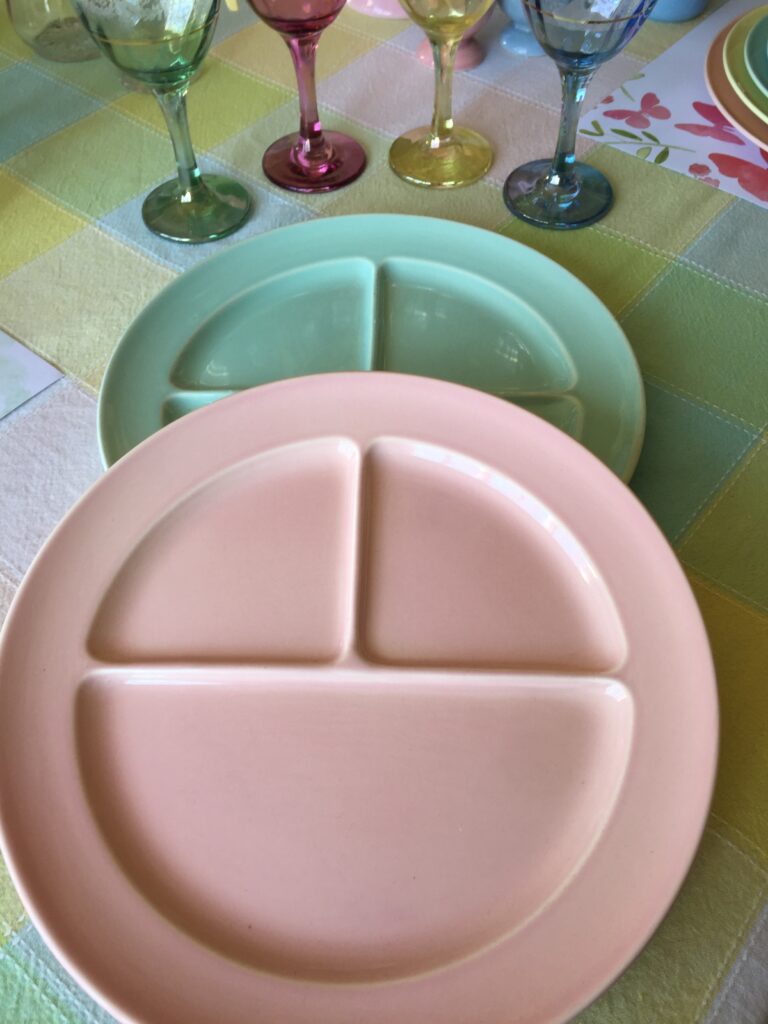 Grill plates are also not so easy to come across.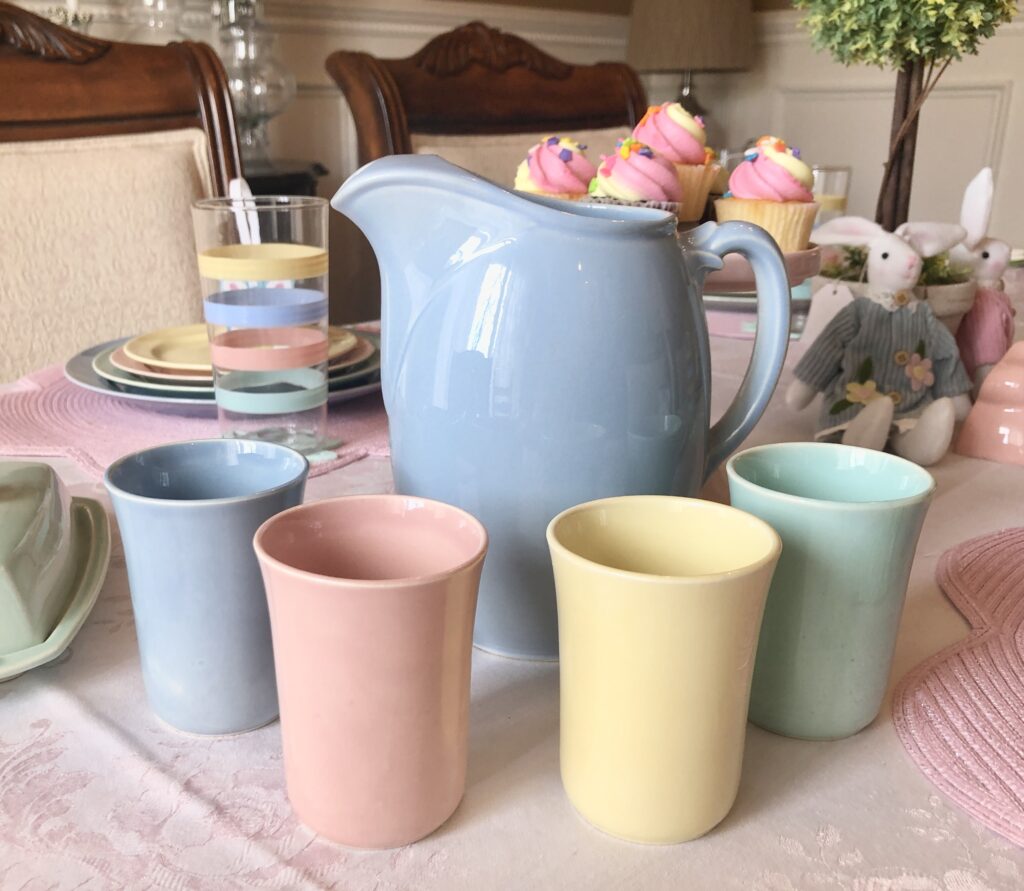 Still sharing the hard-to-find pieces… this is the Juice pitcher and the juice cups. Also pricey but when you collect them one at a time it's not too hard on the budget.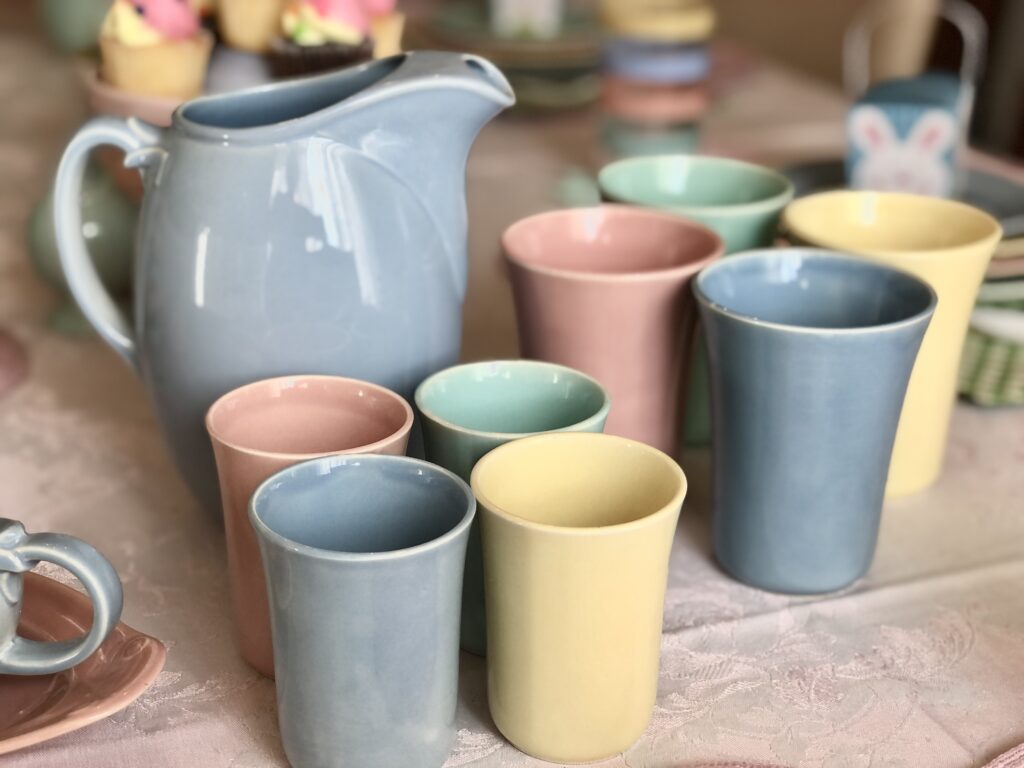 I only have four of these and four of the larger water cups as shown in this photo. They are a bit larger and are a little more tapered.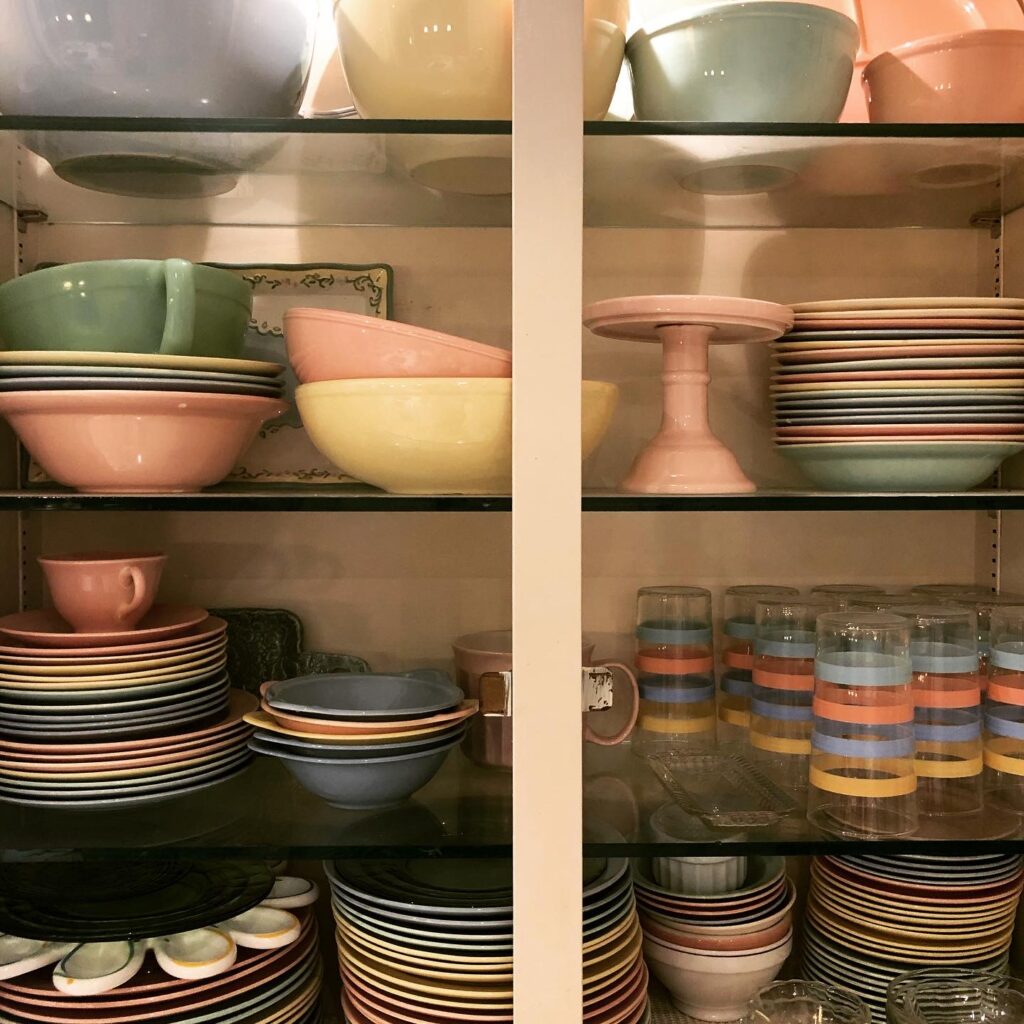 The hubby put in glass shelving and replaced the door panels with glass.
Here is a wide shot of my kitchen cabinet. You can see the striped water tumblers that I found after searching for something to go with the Lu-Ray. I searched FOR YEARS.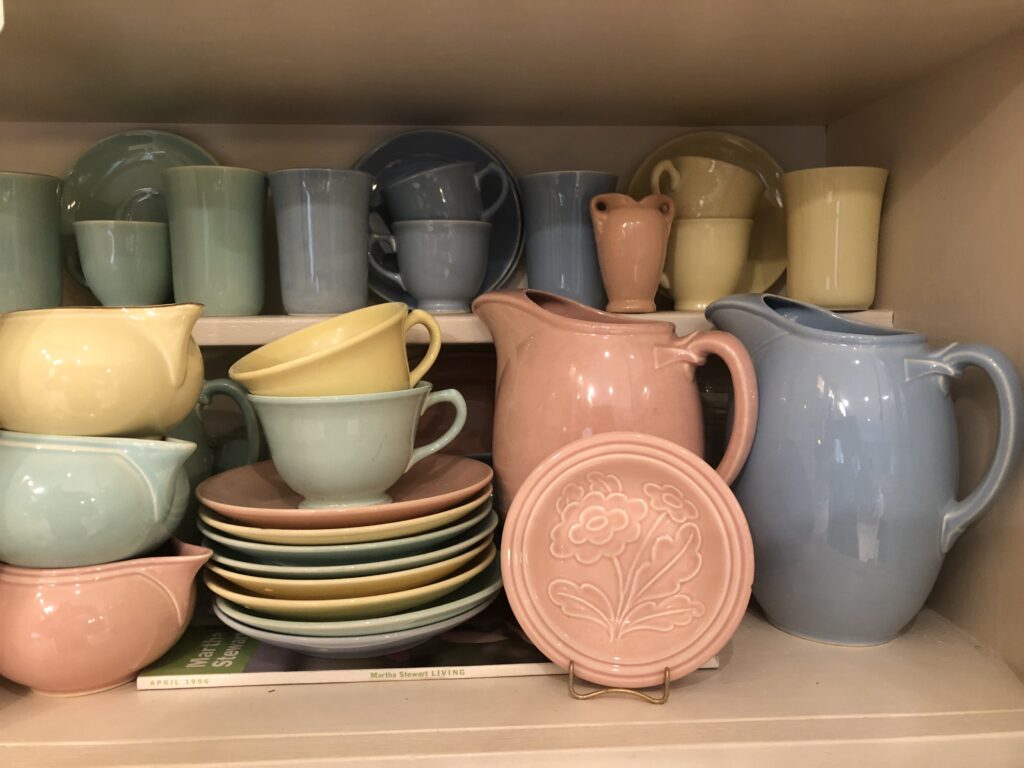 These last two photos were taken in 2020. I must have been bored during the "lockdown" and snapped a few pictures. This little nut bowl with the flower on it has since been broken by my little Sweet Pea. This is a very rare piece and to say I was upset was an understatement. But with everything that has been going on in the world, this pales in comparison. So, I saved the pieces and will glue them. It was chipped on the underside when I bought it so it never really was in mint condition anyway.
The Martha Stewart Living magazine that is sitting there has an article about Lu-Ray in it, so I saved it too, with the collection.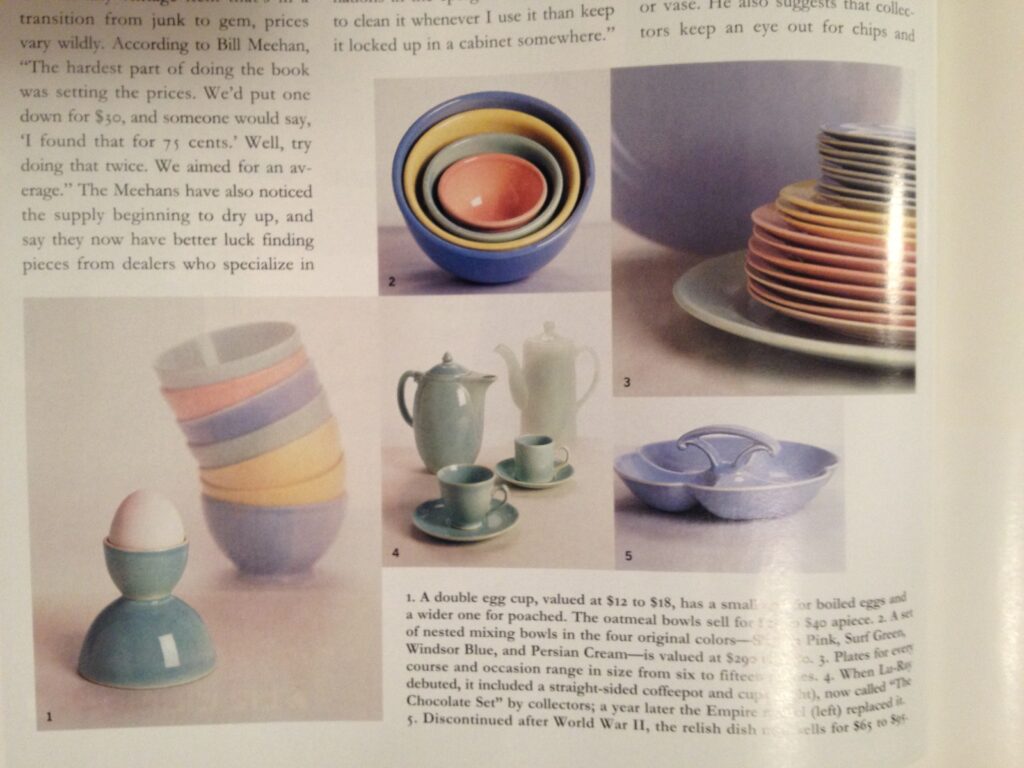 I still don't have the relish compartment dish that is listed as number 5 in the photo. There's still time left to keep adding to the collection. I think the fun stops when the collection is complete!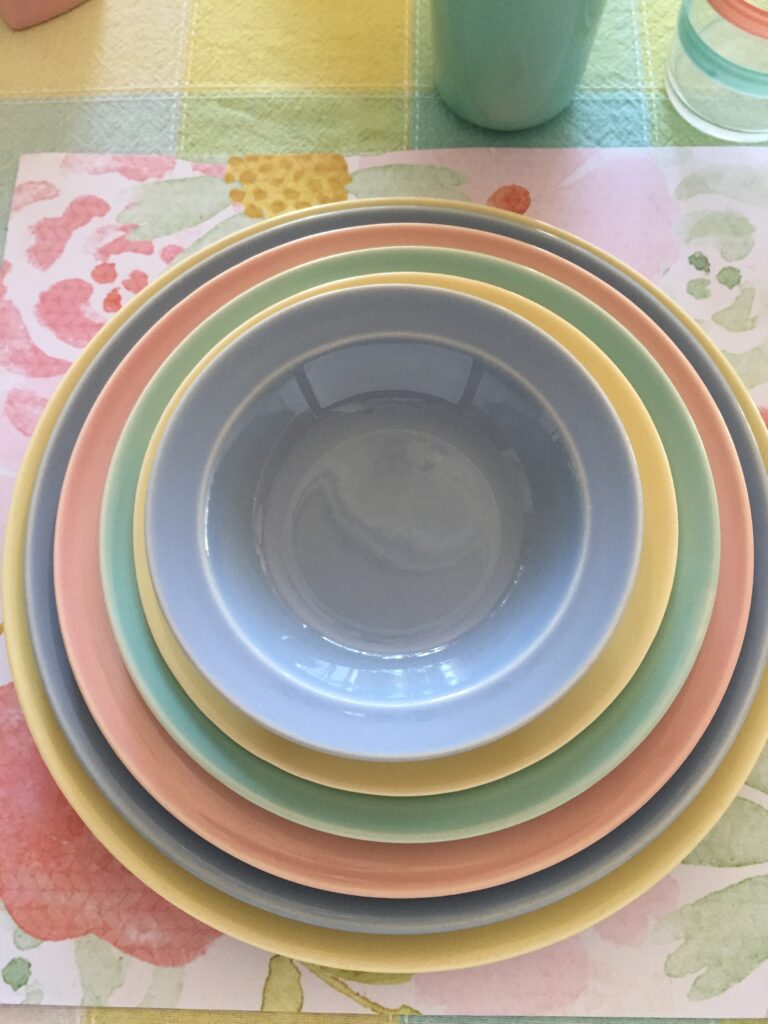 Here is what all of the plates and the berry bowl look like when stacked on top of each other.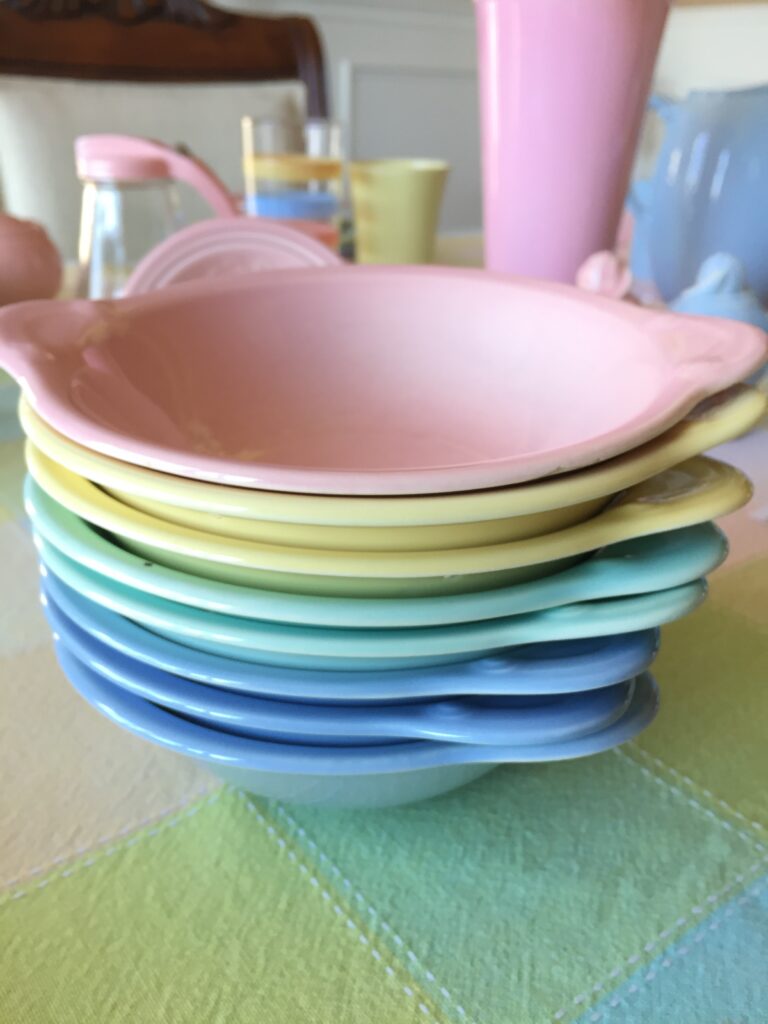 The tab soup bowls are somewhat hard to find… we love using these for soup and they are getting chipped during this busy season of our lives. Thinking I need to get some "plain jane" everyday bowls for us to use!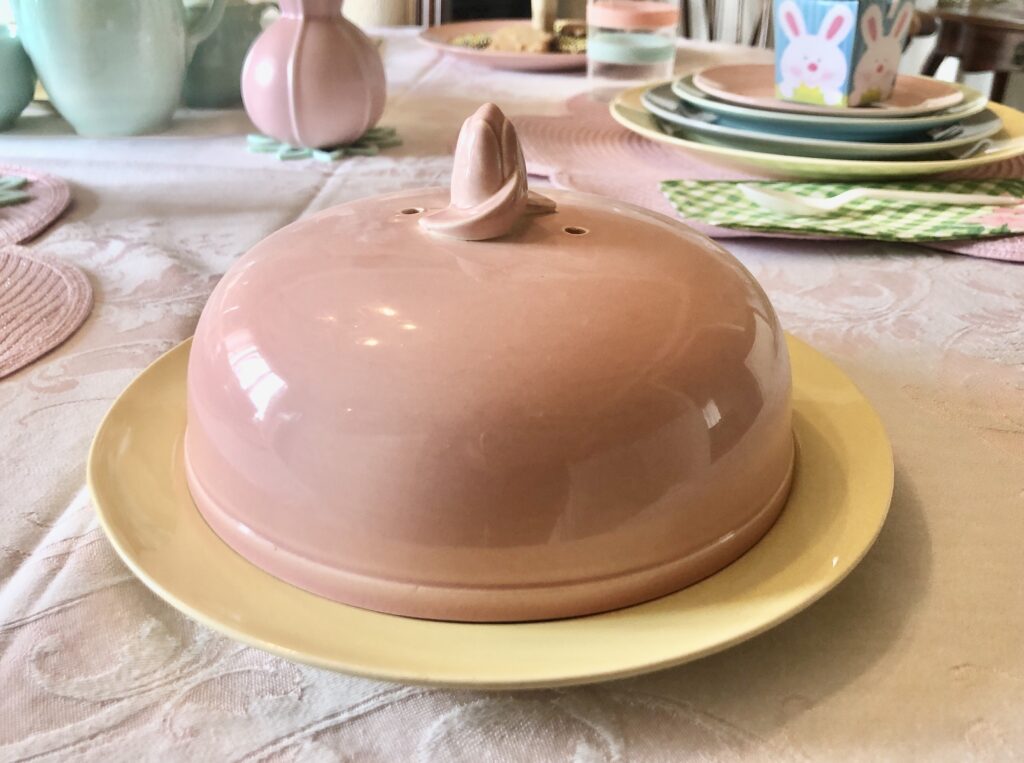 Also hard to come across is the muffin cover. It fits well on the 8″ plate.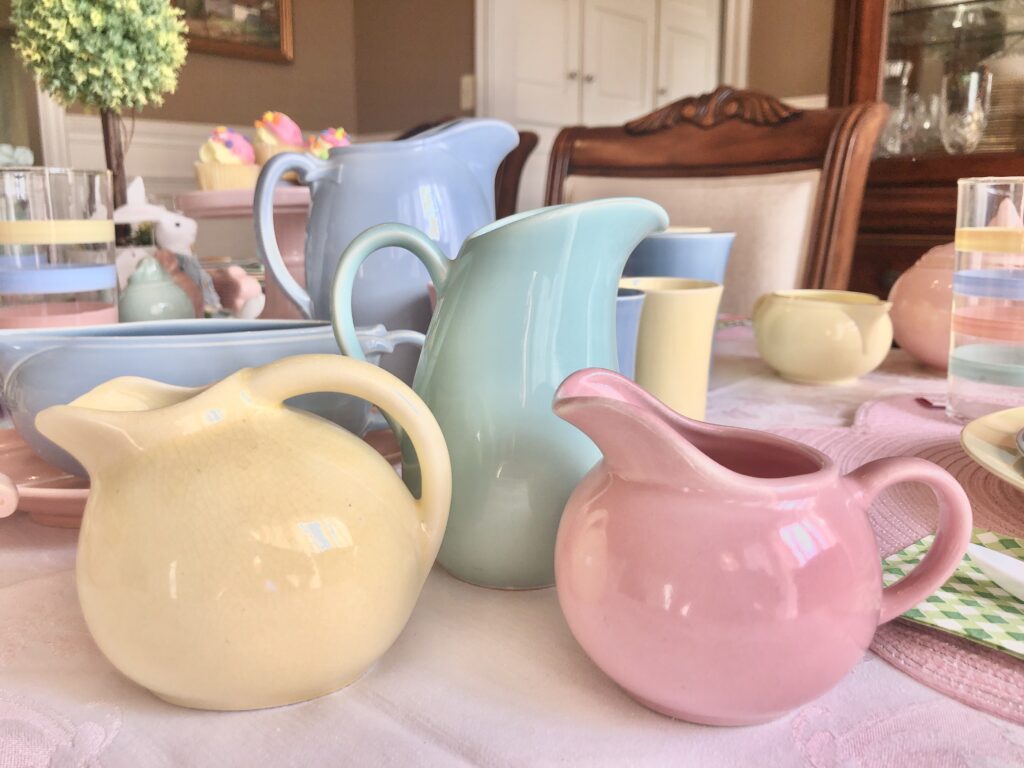 Here are some of my little "Go Alongs." Aren't they cute??? They look like miniature versions of the ball-shaped water pitchers.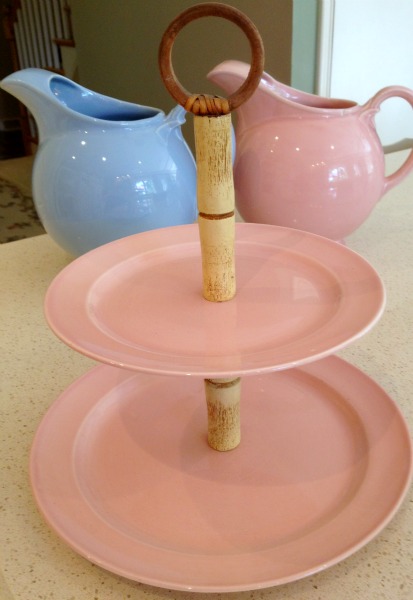 They are shown in this photo behind my 2 tiered tidbit tray.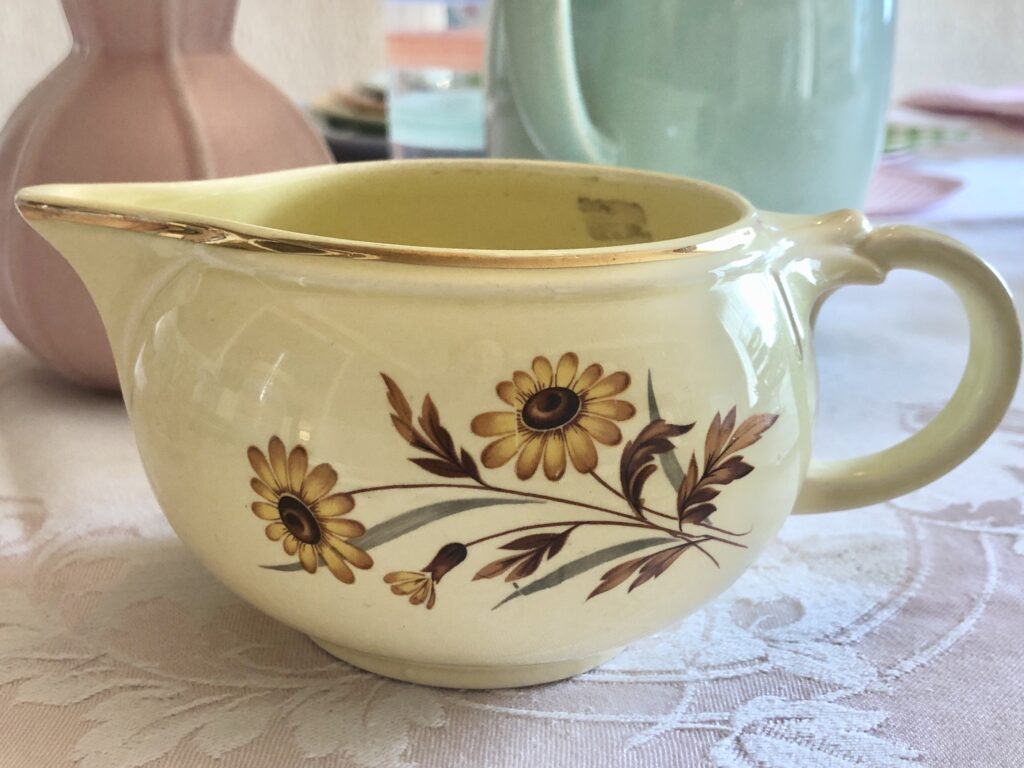 Another interesting piece to the collection is a Lu-Ray creamer in Persian Cream but it has a transfer on it. I have read that they made LuRay pieces for retailers with decals or gold trim on them. It could have been a special order for a customer. I wonder if there are more that match my creamer.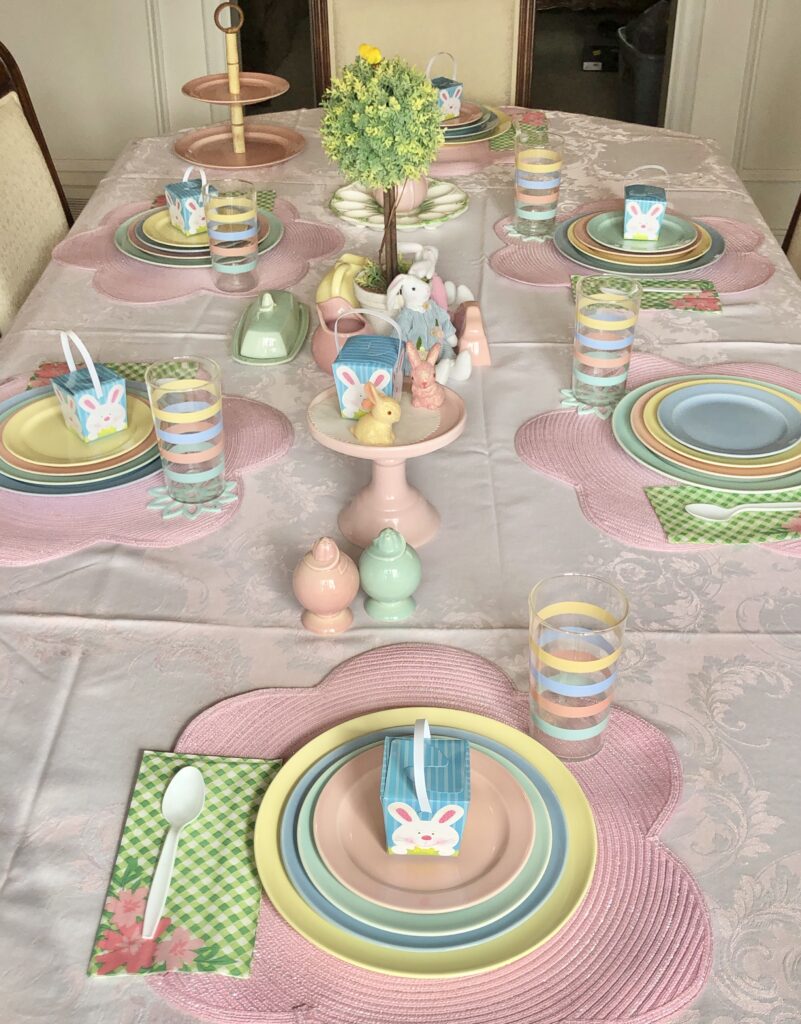 I could seriously go on and on with more pictures and gab about these perfectly-pretty pastel pieces… because I still haven't shown the butter dish and other things…but I won't blabber on. Attention spans are shorter these days and I'm sure I went over my limit.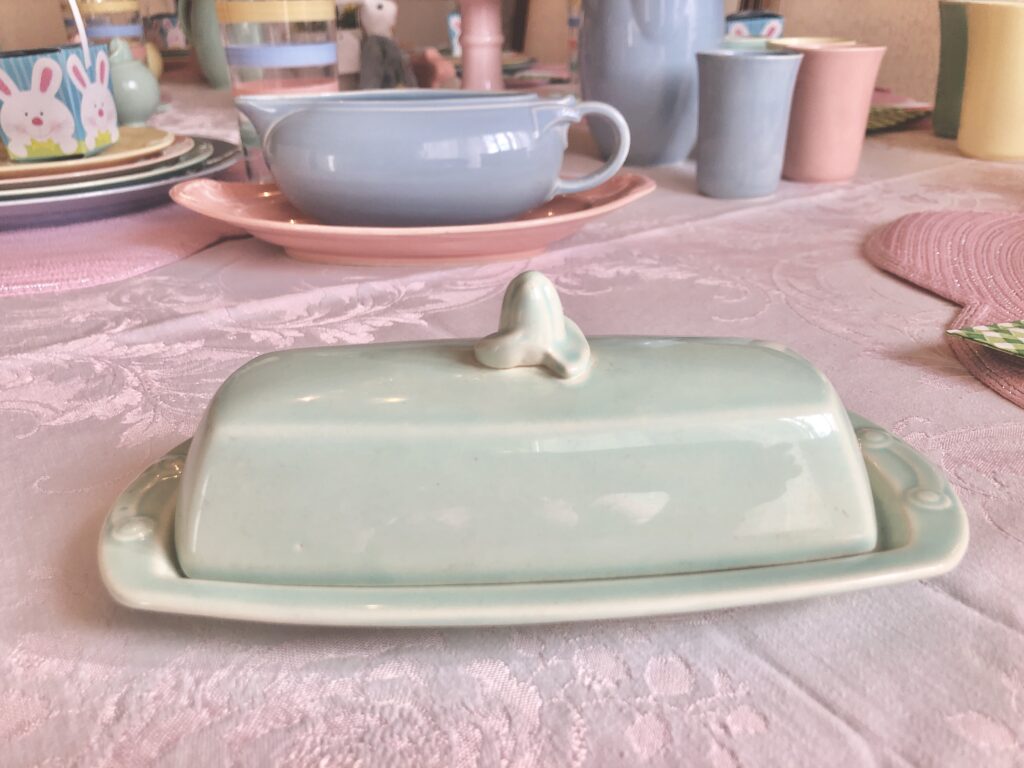 Well, what's the harm in throwing in one more photo? If you take a quick glance in the background you can see the gravy boat with underplate which I forgot to mention too.
And the egg cups, but no photo.
(You can see one in the Martha Stewart Living article I mentioned earlier.)
Okay, I'm done for today. LOL!
I hope you've enjoyed my Spring tablescape of vintage Lu-Ray pastels dinnerware!
May you have just as much fun with whatever you collect. Feel free to leave me a comment about your LuRay dinnerware or any other collection you may have.
Happy Spring!