Welcome fellow vintage lovers!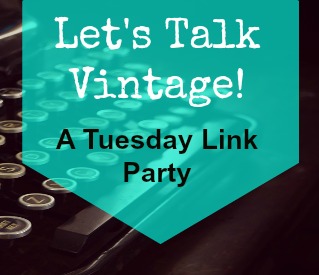 It's Tuesday which means it is time for Let's Talk Vintage!
All are invited to link up blog posts about anything vintage. 
Things you've found at a thrift store, flea market, antique shop, you name it.
Projects you are working on, too.
~~~~~~~~~~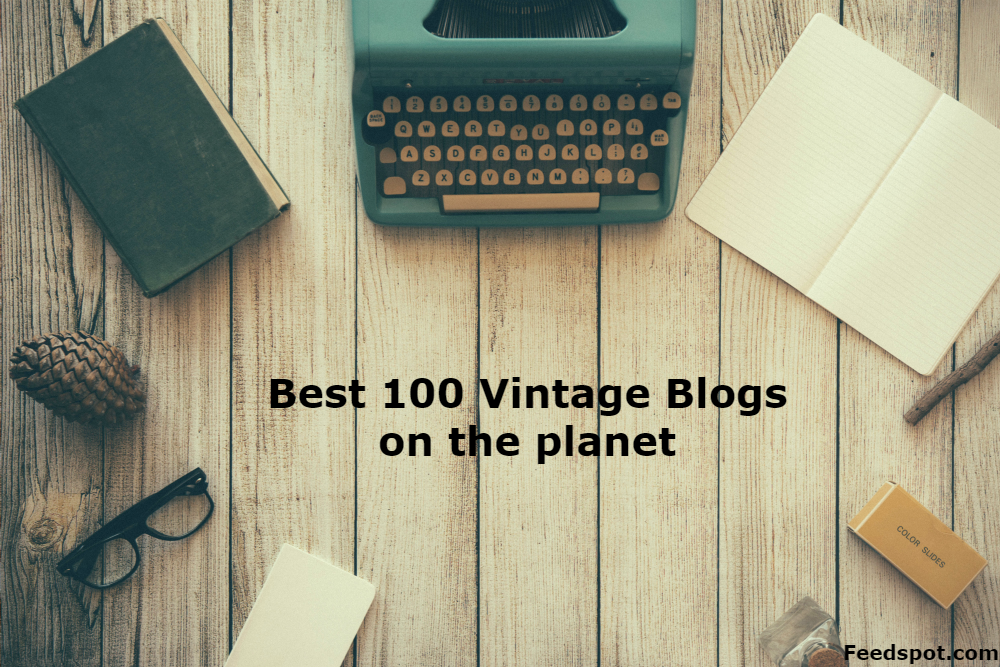 We've been very busy at the shop and we've been recognized
on the internet  by the website Feedspot  as one of the
Top 100 vintage blogs!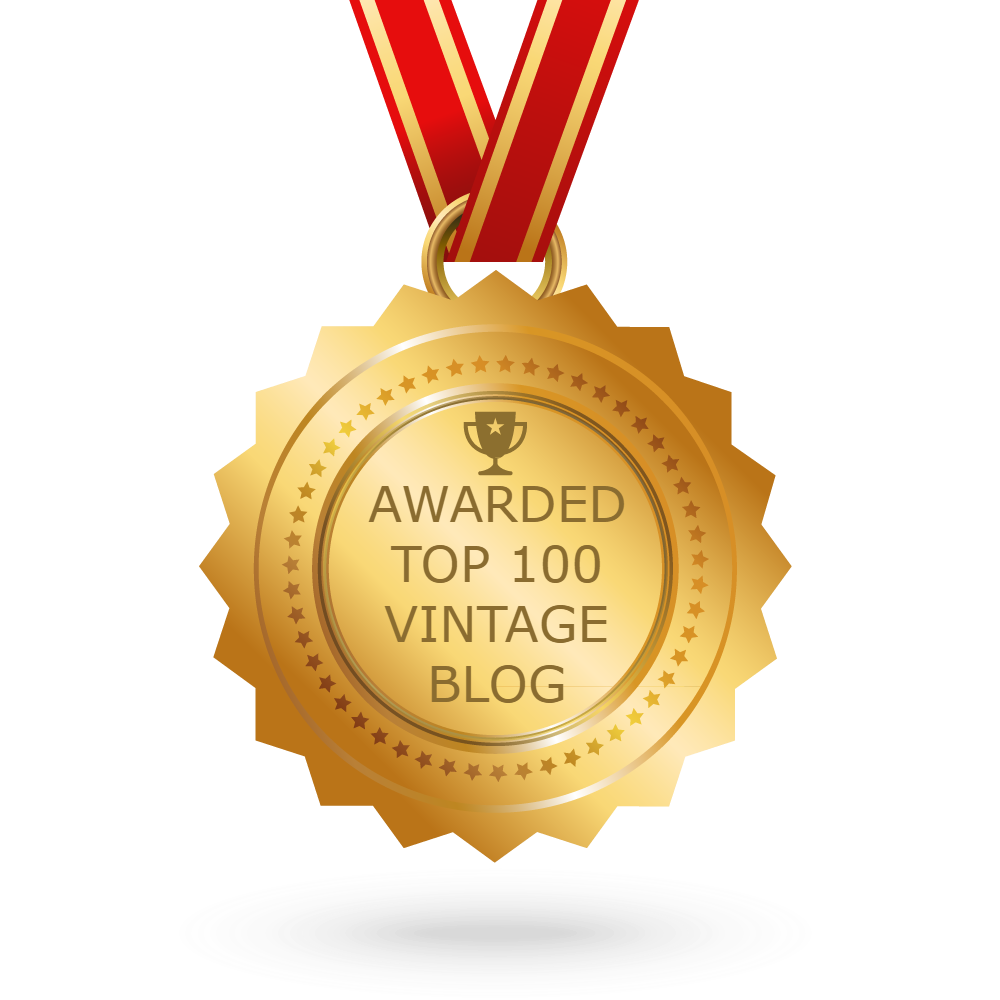 We were #48! Yay!
So blessed by any and all support
we receive both online and at the store!
~~~~~~~
Now back to what goes on inside the shop!
I am always surprised by the
 "after Christmas shoppers" vintage shops receive. 
We are definitely ok with that… and very thankful.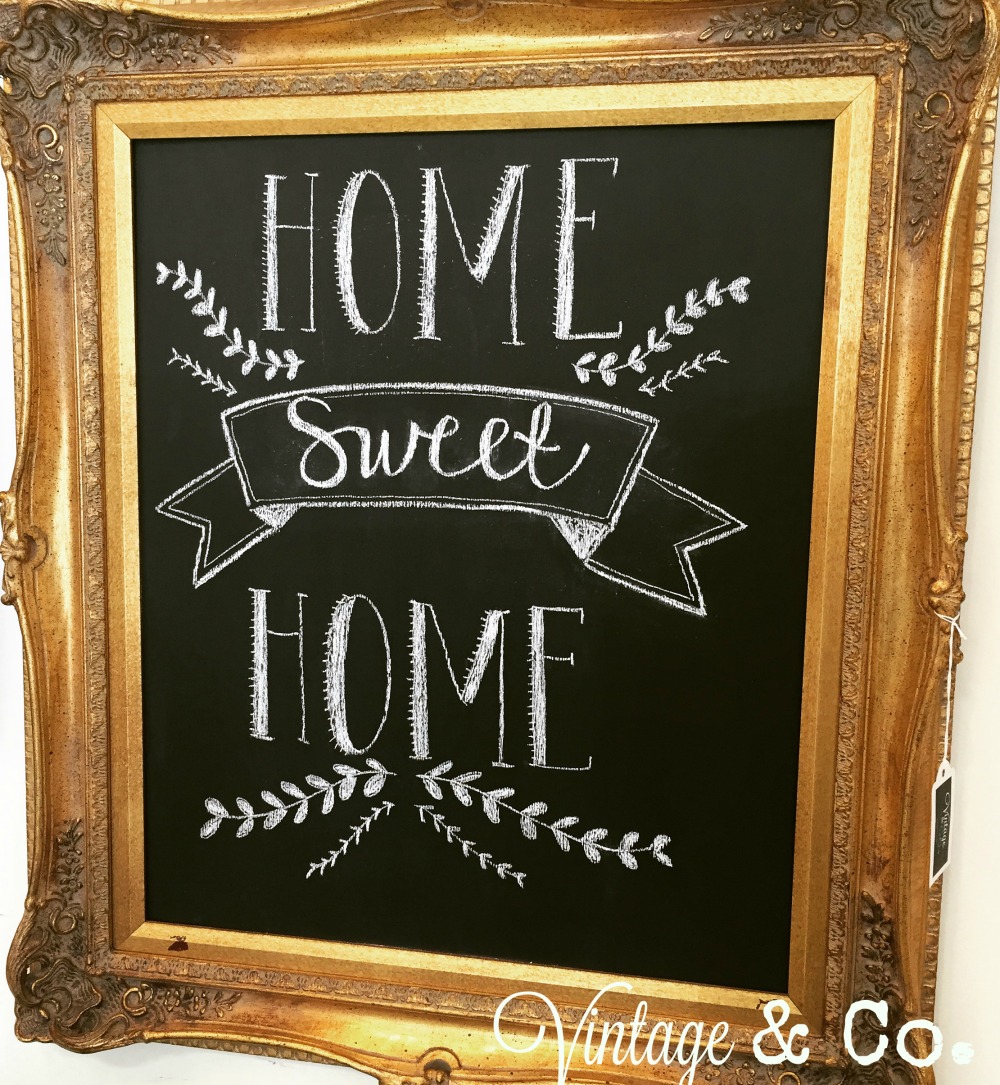 This "HOME SWEET HOME" chalk board picture frame sold this past week…
I was taking down the "OPEN" flag, and about to close up when a couple was getting out of their car
to go get dinner at the pizzeria next door… and the young woman asked "ARE YOU OPEN?" 
I asked back "Are you coming in?"  She said "Yes, I'd love to look around!" 
After a little bit inside the shop she saw this picture frame
chalk board and had to have it for her upcoming wedding.
Perfect buyer for this piece. I love it when that happens!
(I would love to take credit for all of the chalk board writing
in my shop but I can't… my helper Rachel does it all and she is so talented!)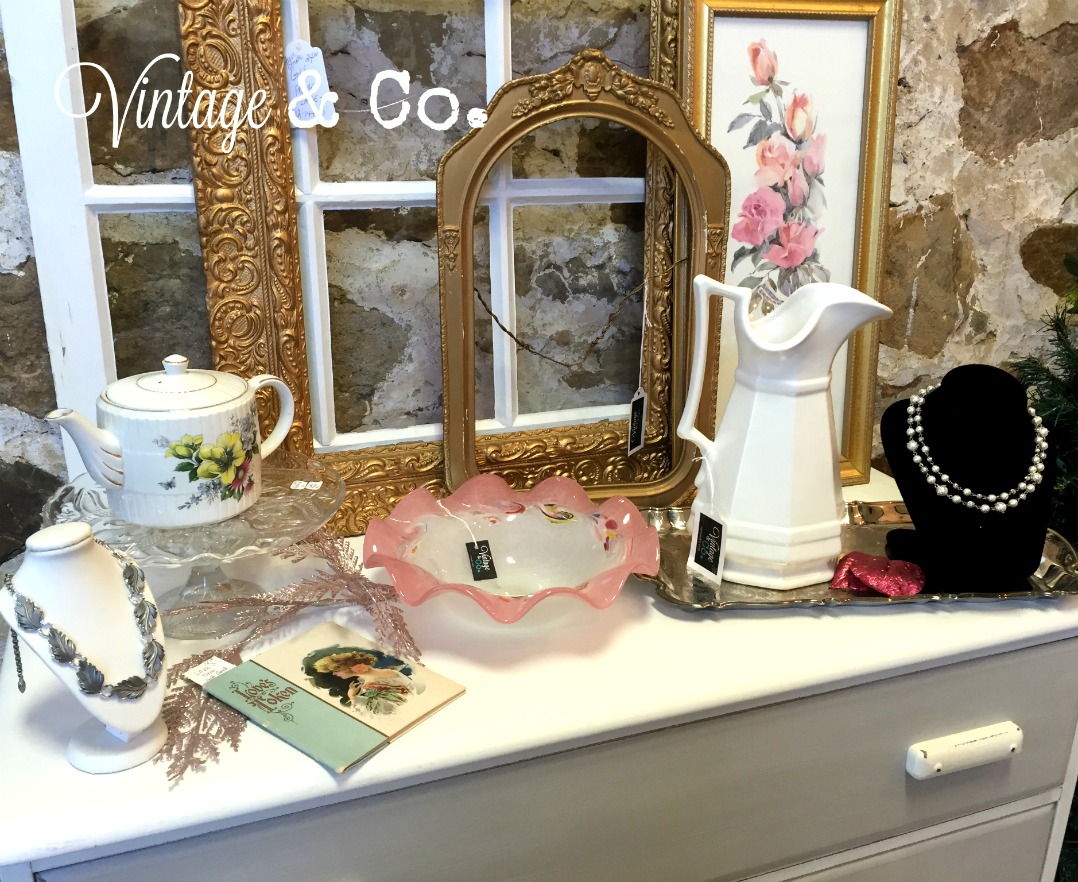 This past week I've been "fluffing." I don't use that term very often but I think
it applies here because I am trying to soften up my décor and bring in a little romance.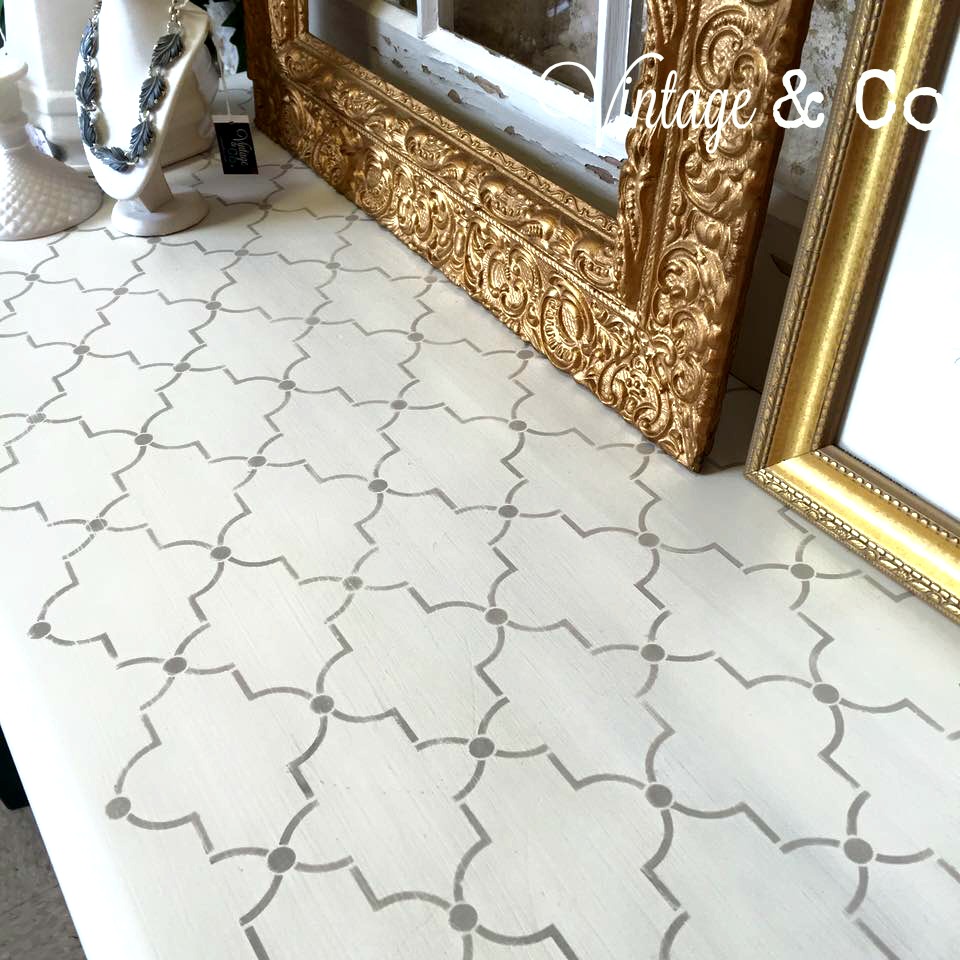 Plus, a stencil was added to the top of this dresser.
Gives it a unique and interesting look or texture.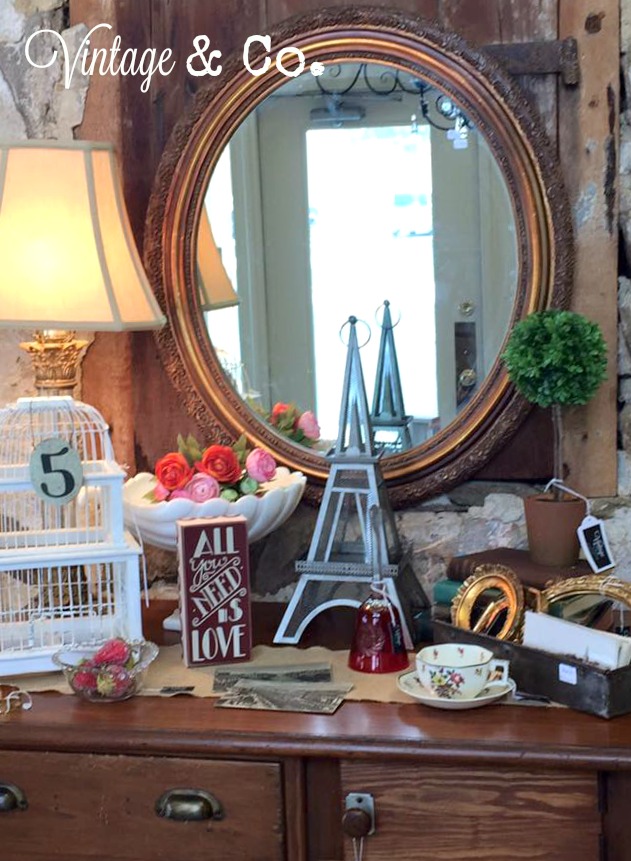 For the romantic look of the shop I'm adding in small pops of red,
teacups, roses, hints of Paris.
I try and change up the look of the shop as each season changes.
This way my regular customers will always see something
different… plus it is fun for me!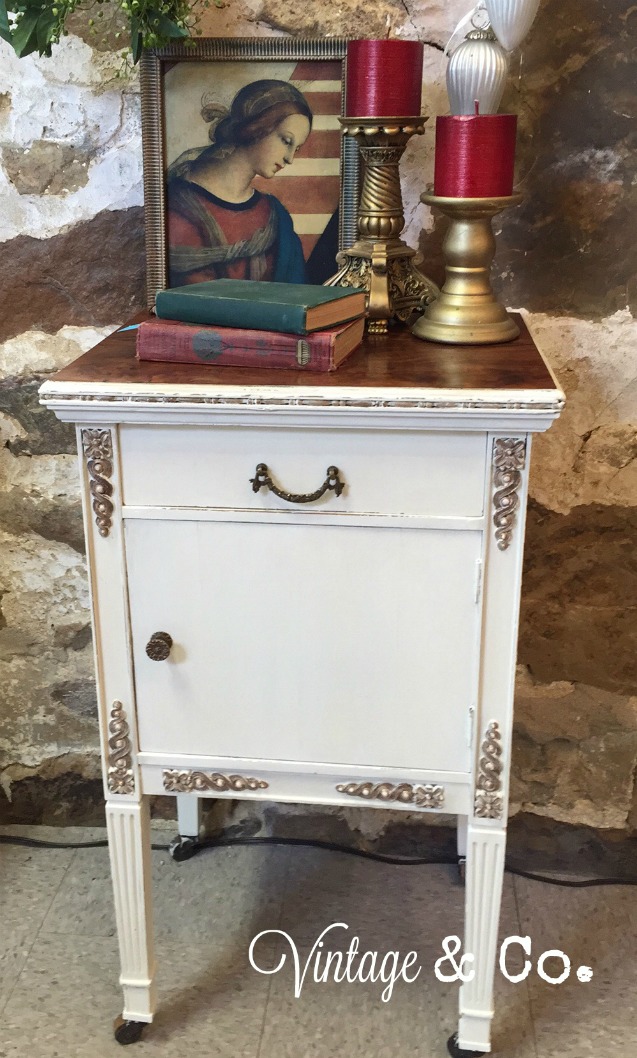 We've been bringing in furniture pieces, too.
This is a stand my hubby worked on…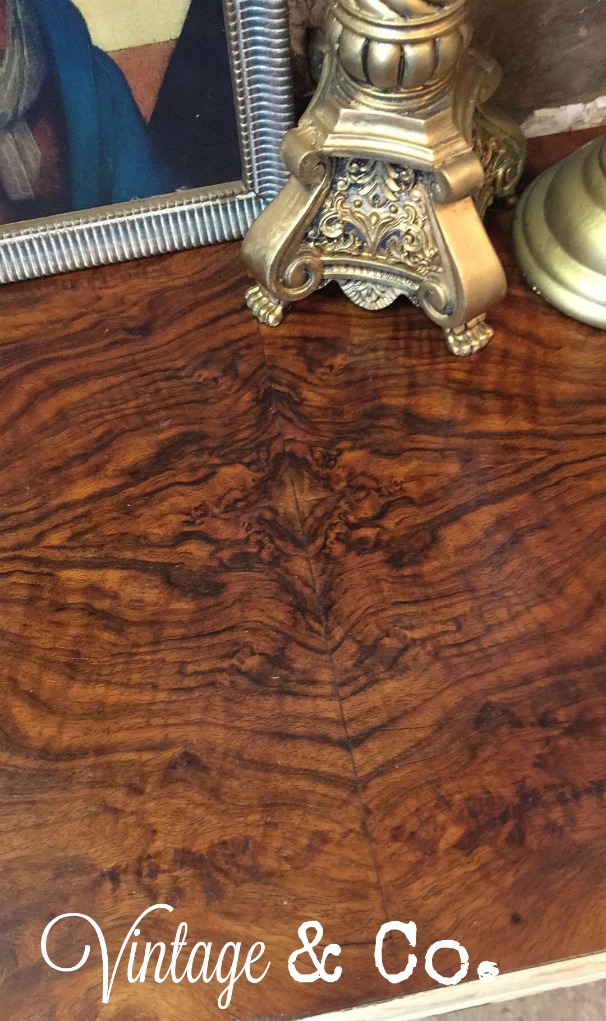 We both thought the top veneer was so beautiful
that we thought it best to leave it as is.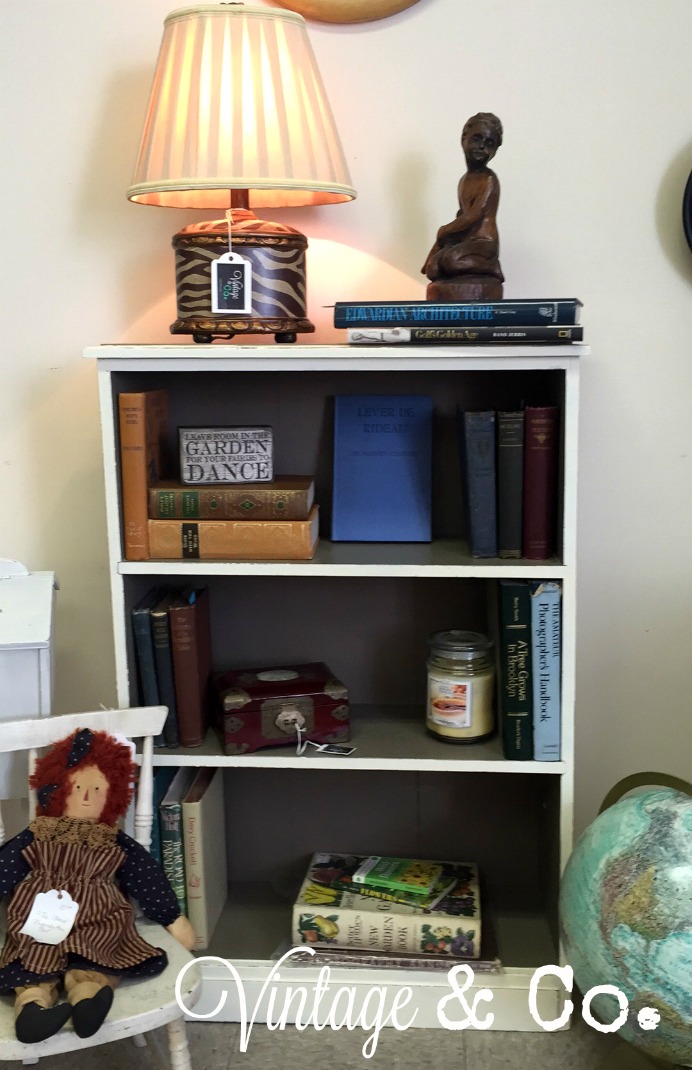 This bookcase was given two different colors of chalk paint.
Loved the contrast and so did one of our Facebook
followers. It has sold already.  Never underestimate the power
of social media!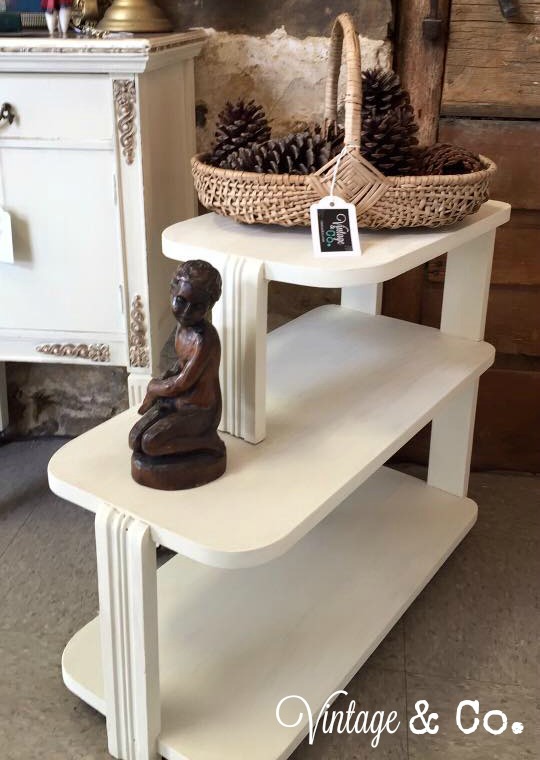 My current project is this art deco/depression era end table. 
I'm so close to being finished! It's the sanding that is holding me up.
I have such a terrible (upper respiratory) reaction if I sand indoors
so I am waiting for a warmer day to take this piece outside! 
It is going to warm up this week so I will
have it completed soon!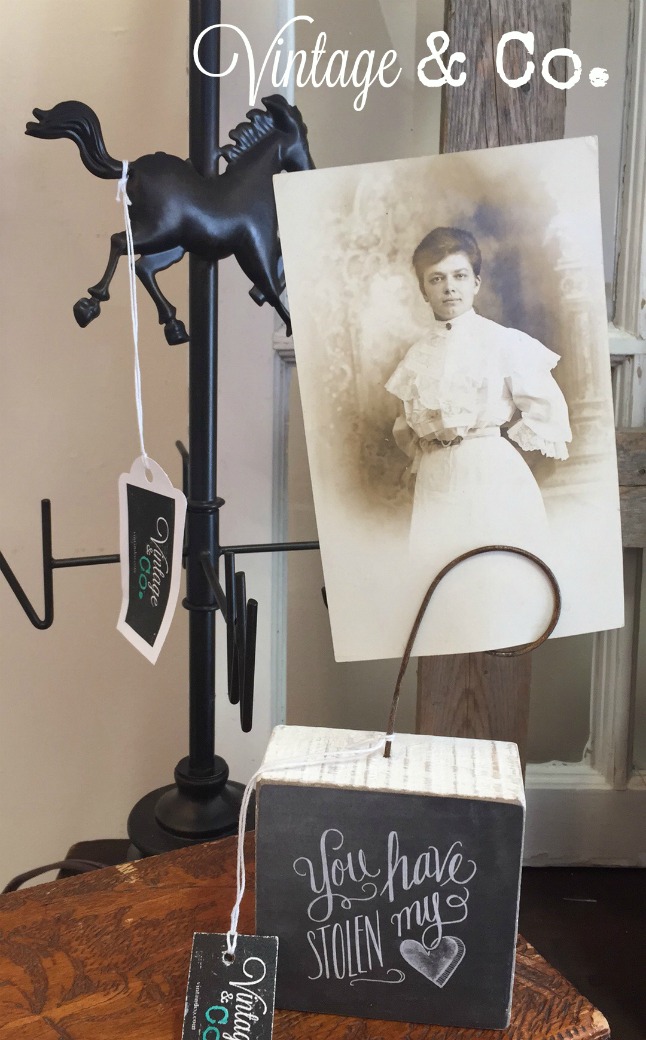 I'm slowly adding in a few new Valentine pieces.
I think it is fun to have some seasonal items
even if they are new, made to look old.
~~~~~~~~~~~~~~
And that leads us right to  features of the week.
Unfortunately… there are no features this week due to a technical
difficulty with Linky Tools! Somehow the list expired. My sincere apologies!) 

Now it's your turn. Let's Talk Vintage!