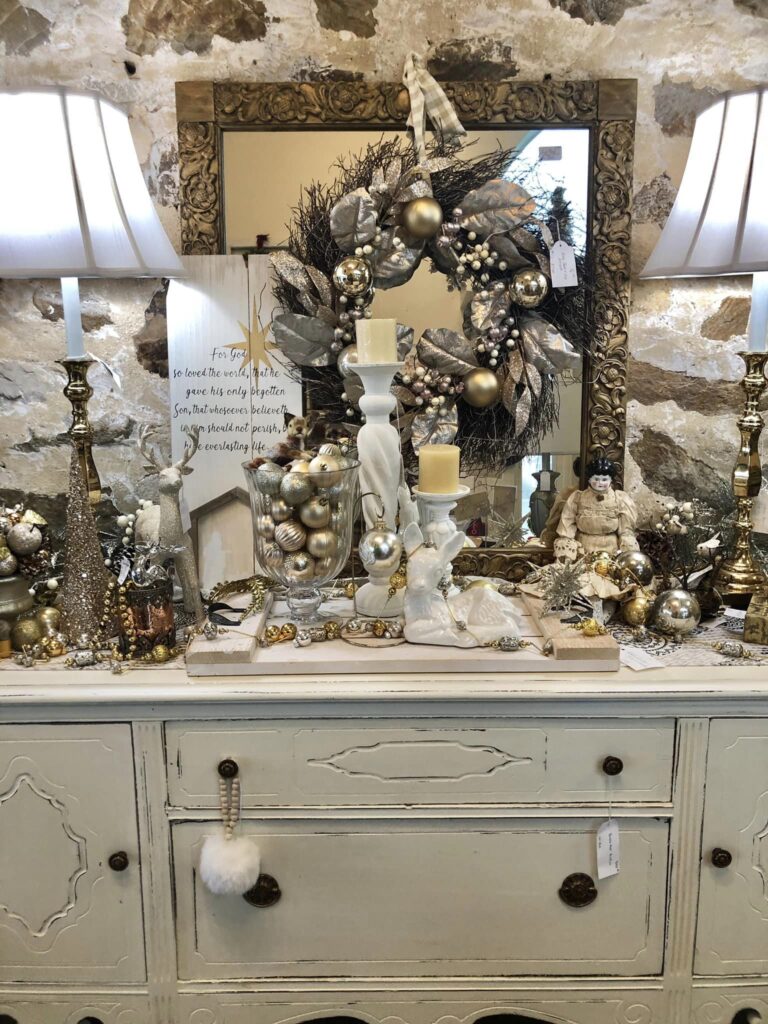 The holidays are my favorite time of year to work in the shop. I'm not going to try and hide my JOY because it's just too good to keep to myself. It is SO MUCH FUN decorating! Yes, I said it! I love decorating my two rooms. The front space is what I refer to as "My Showroom." It is not a grand shop in downtown Manhattan, I realize this, but it is my little shop to have fun with!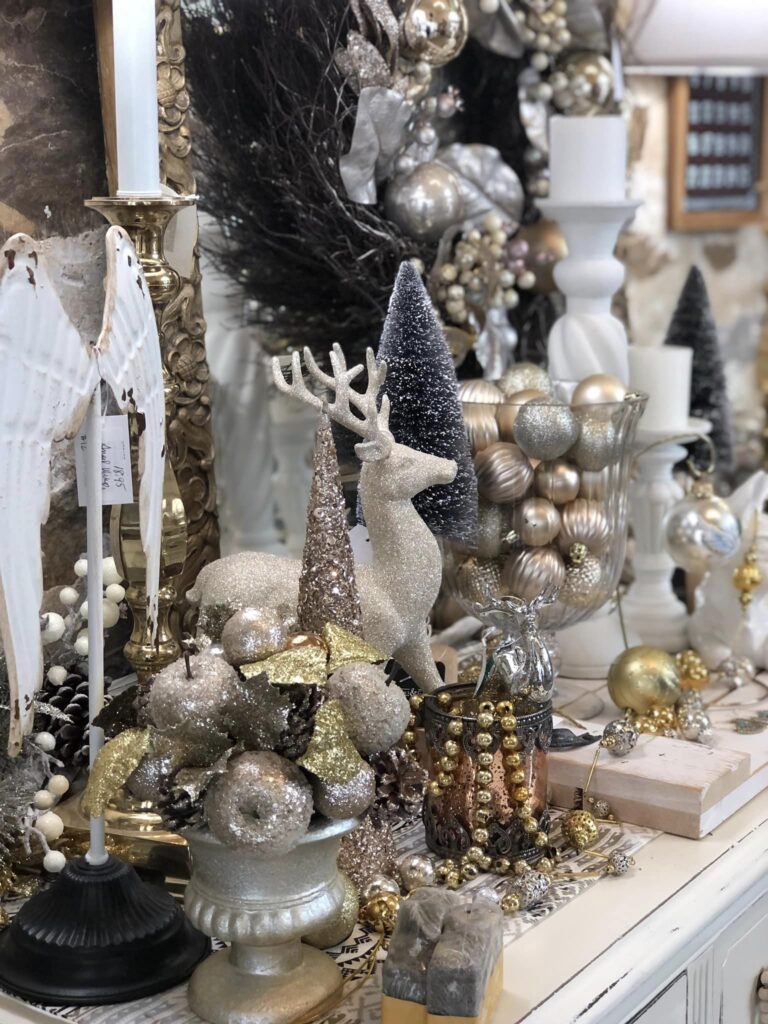 There's really not a whole lot of "science" to this. I've never taken a class on how to decorate. I just enjoy putting arrangements together. It could be an OCD trait of mine… organizing by being creative. I'm really just matching colors together or in other words, creating color schemes out of what I have. Sometimes I do themes. This display, above, has many layers, which can be fun.
People tell me all of the time they like how I display everything.
So, I must be doing something right. And I really appreciate their positive feedback.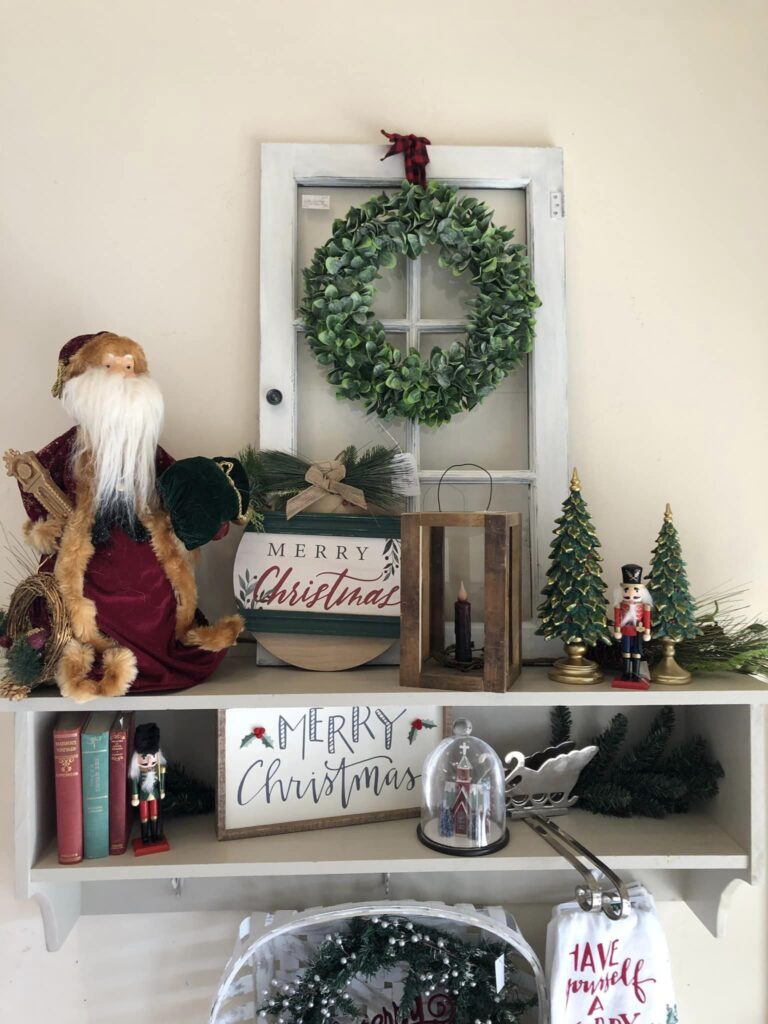 Here I realized I had several ways to say "Merry Christmas" so I arranged them together along with a Santa and some Nutcrackers. Subtle because I'm sure no one noticed. But I knew!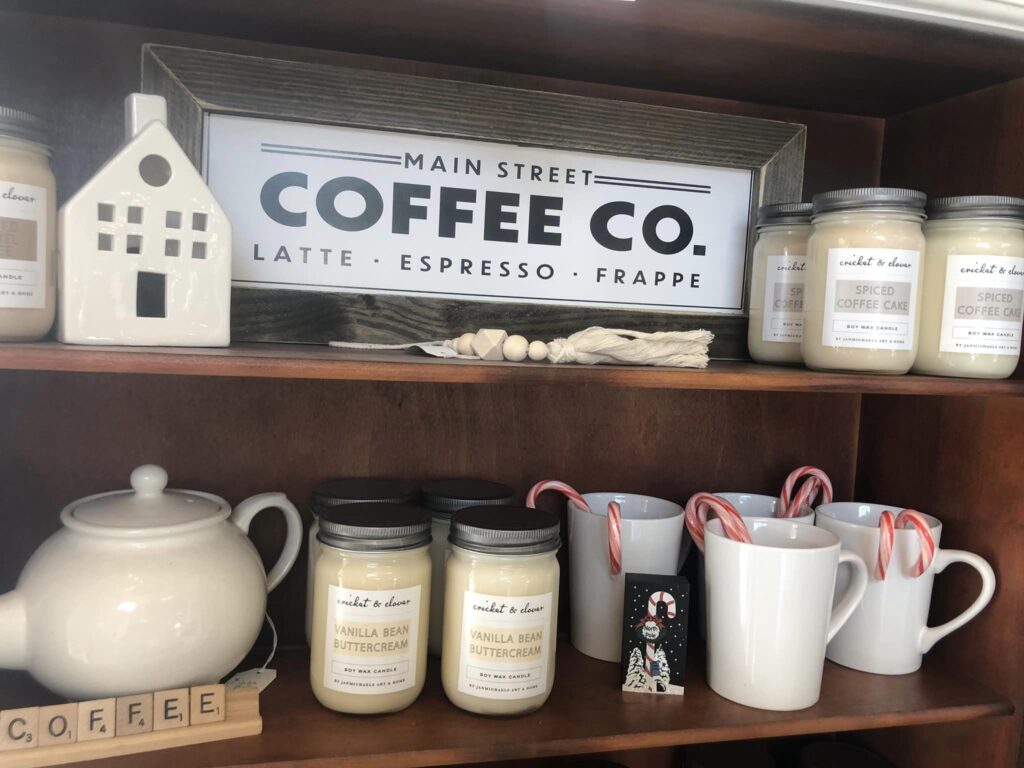 This was an easy one. Needed a place to set up "Coffee Bar" items and the cabinet of our upright secretary desk worked perfectly.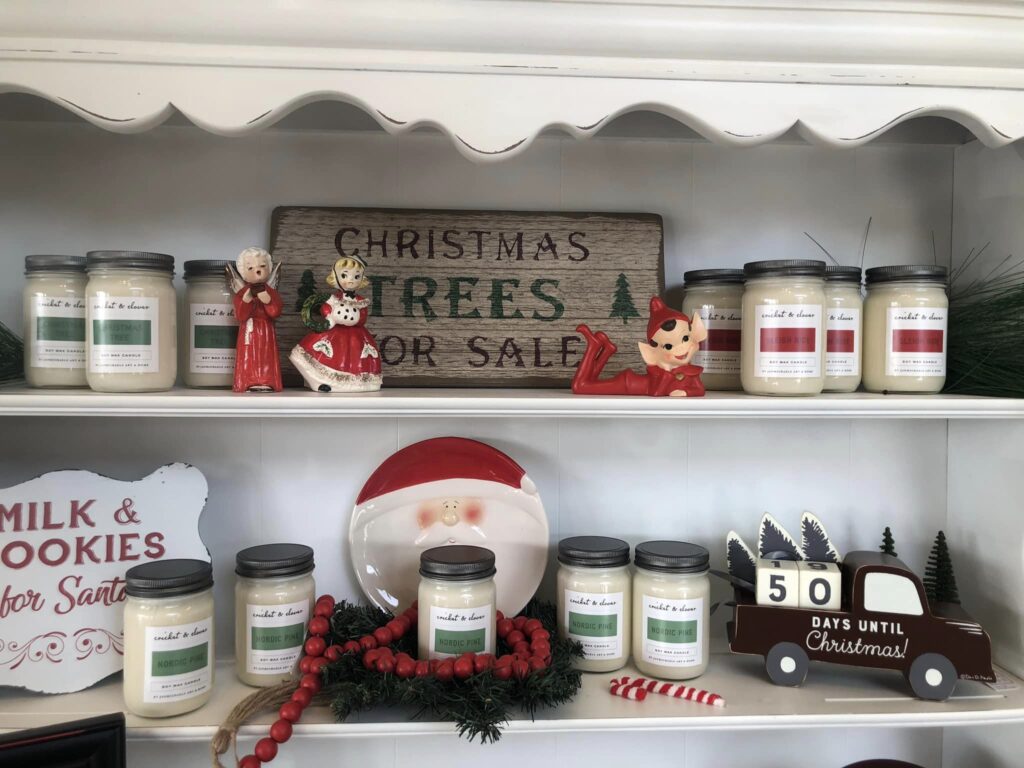 Here I was adding retro Christmas items mixed with new candles for a fun display. Until the china hutch sold and I had to find a new home for everything. A new challenge, a new arrangement, which I enjoy creating! A win/win!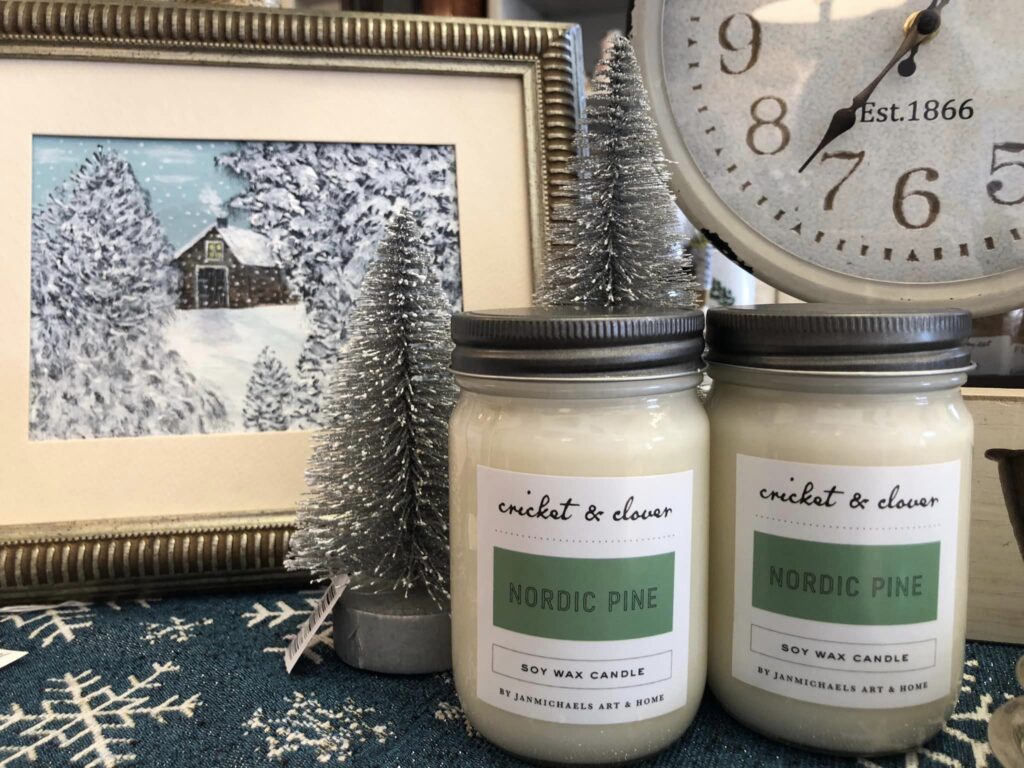 Here I simply used the title of the candle to play off of. The bottle brush trees look like pines and there were similar trees in Bill Clark's painting… a match! (I have to admit I don't have much time to come up with these displays so they usually happen quickly and on the fly!)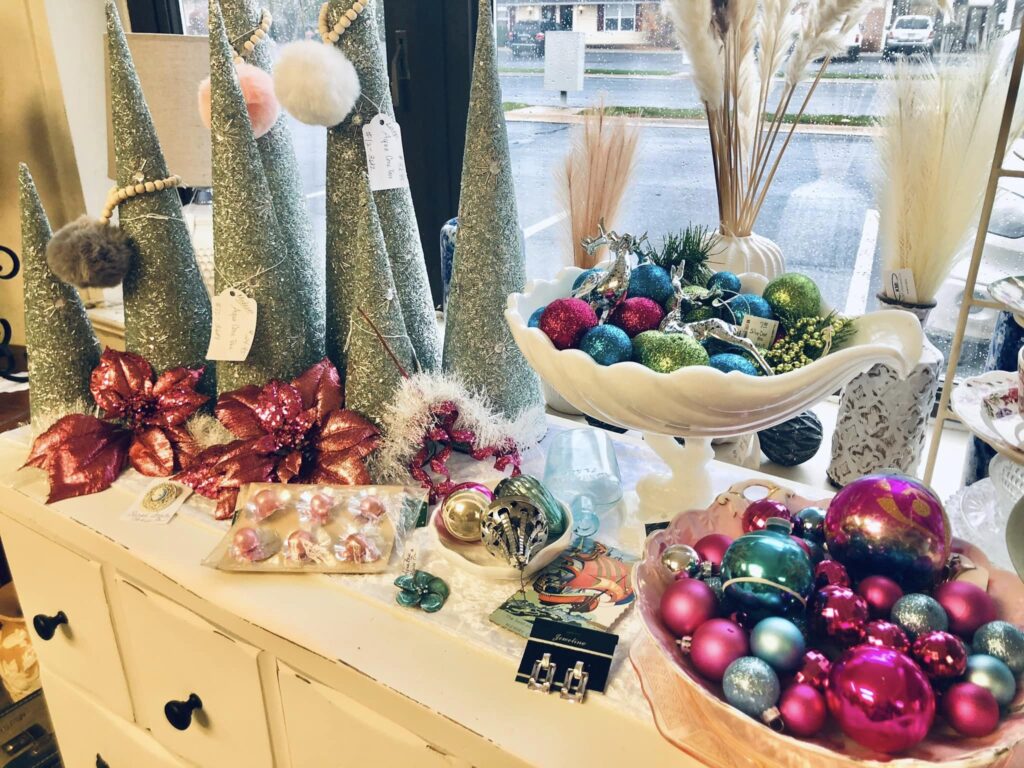 What can I say? I just loved all of the yummy colors of the ornaments and filled the tall milk glass pedestal dish and went from there. The color is slightly off in the photo due to the outdoor light clashing with the indoor lighting. Looks much better in person.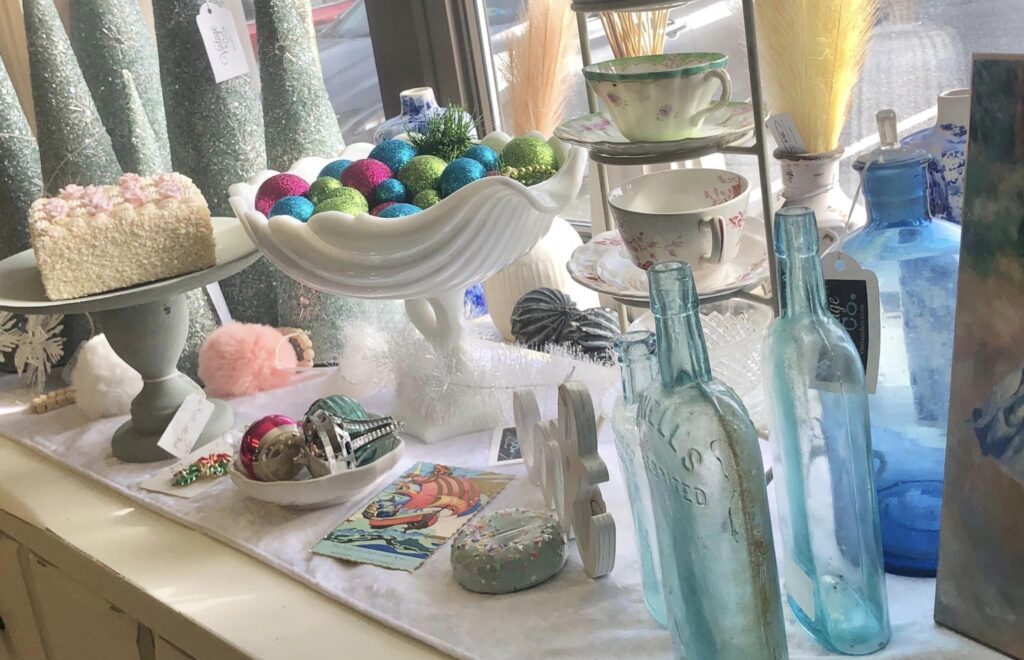 Here's a quick shot with better lighting. Aren't these colors fun? This was before I added the second bowl.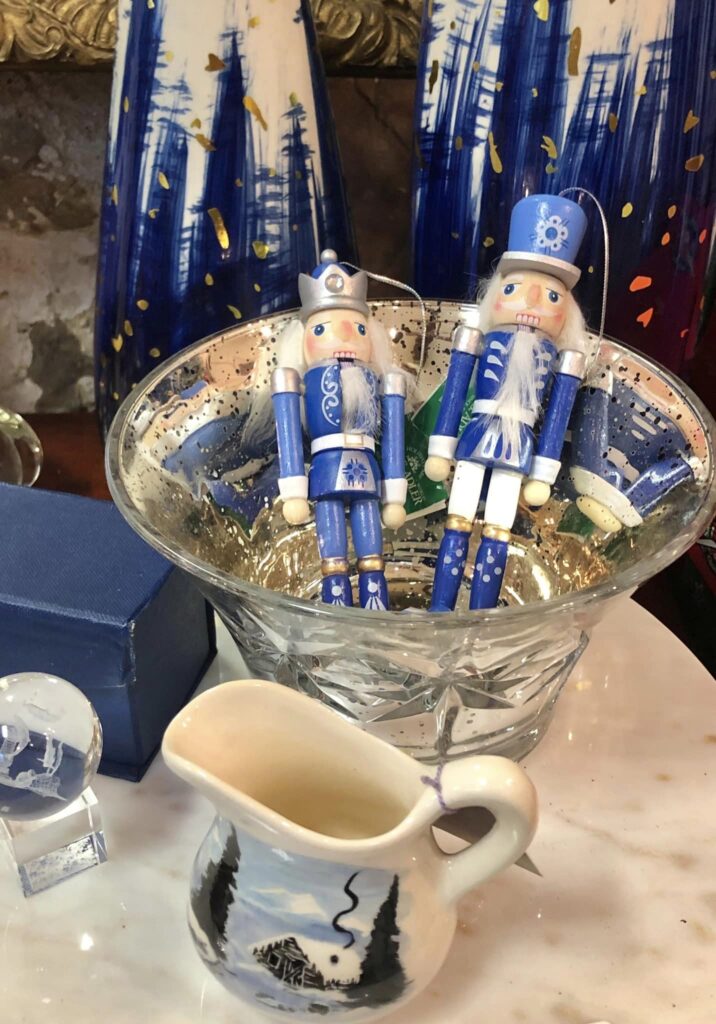 You can easily guess I was just going for blue. I ended up really liking the whole display but this photo doesn't show enough of the entire thing.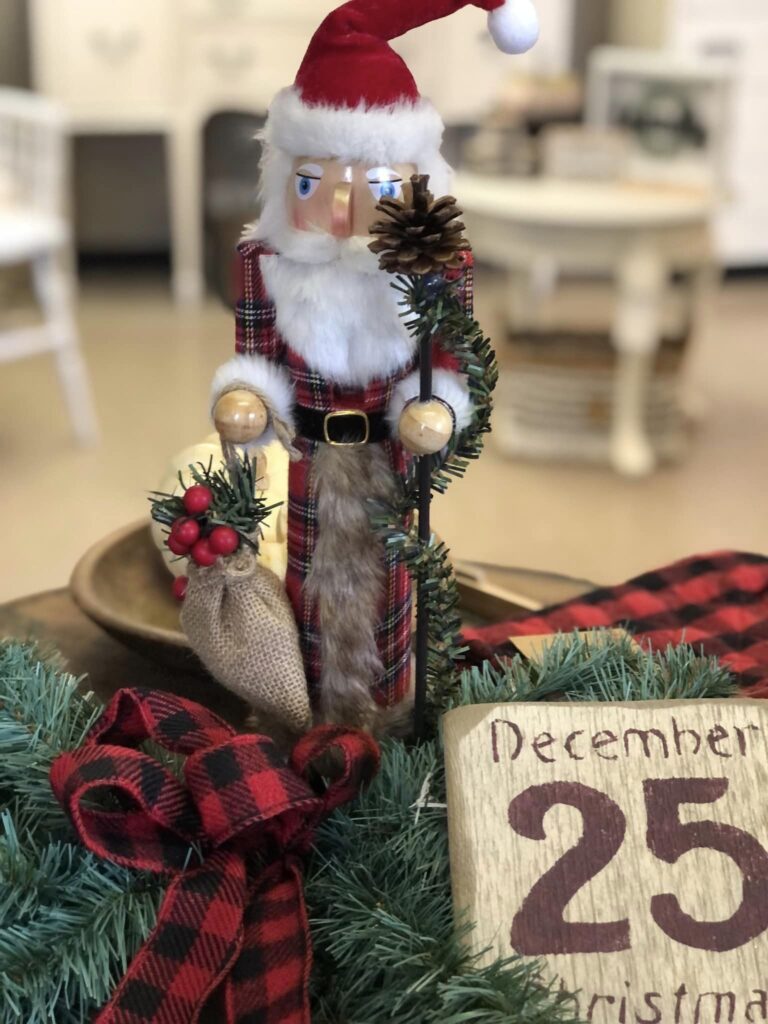 The inspiration here was the hexagon table these items are sitting on. I painted the table legs red so I just went from there, finding pieces that would match. And not just match really, they had to be pieces that were a bit rustic or cabin-ish. Yes, that is a new word. CABIN-ISH.
Definition: Things that might go in or near a cabin.
I joke but it's just imagination. And it would really help here if I had a full picture of the table for you to get what I am writing about.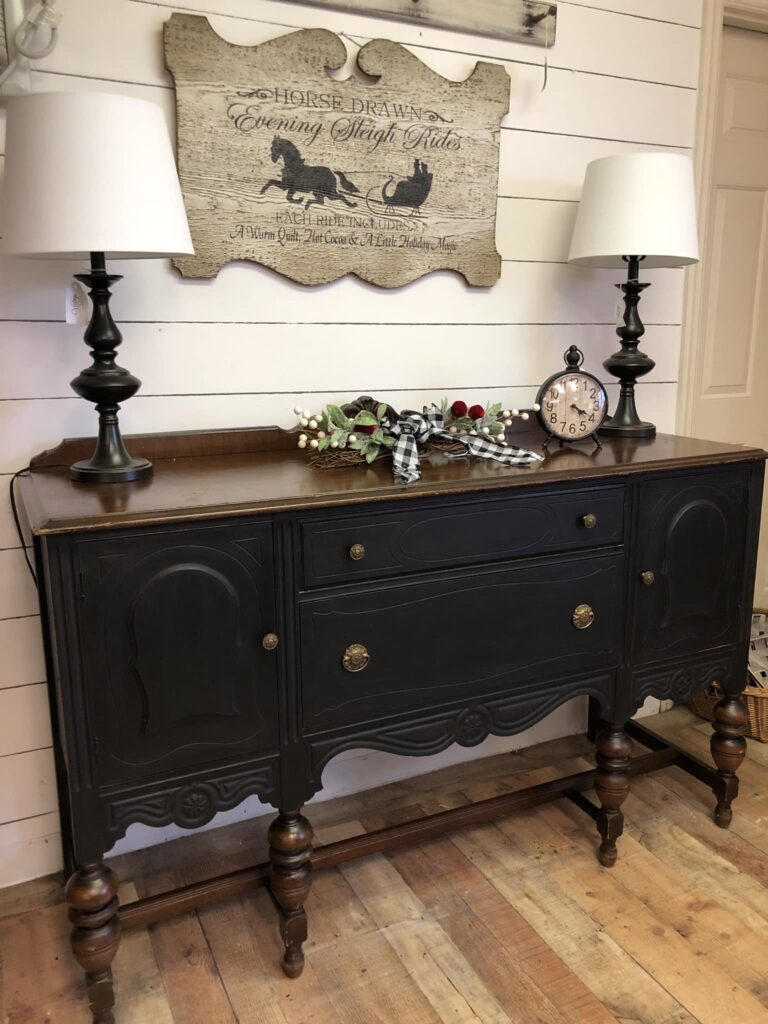 I'll end here with a shot of the antique buffet that just sold. I took most of the items off for the photo so sometimes it's really nice just to have a minimal amount of THINGS in your display.
I really like how this looks and hope I can find another piece to paint black because, in the end, this buffet was painted black because I found this awesome "Sleigh Rides" sign. Yep, that was my inspiration! If only I could fit all of these things in my house.
Thank you for taking the time to read about the Christmas displays in the shop and what inspires me. Definitely the most wonderful time of the year!
What do you like about decorating for Christmas?