Hello friends! We have been super busy working on bringing new and exciting pieces to the shop.
Here is a quick look at our latest furniture pieces: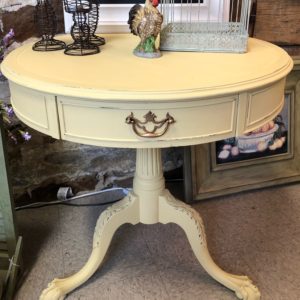 This is such a pretty table, I love how it turned out.
I used Country Chic Paint in the color "Bee's Knees" and used their Natural Wax.
It has ball and claw feet and one real drawer while the other two are just for looks.
I did distress it slightly, not a lot, and I think it turned out just right.
This piece was in my formal living room for a long time.
I got used to it even though it was in that dark mahogany stained, vintage style.
We decided to give it a makeover. The lower half was painted in Country
Chic Paint's "Cheesecake," The lid was stripped, re-stained and then varnished. Love it!!!!!
It was too good not to share it with our customers.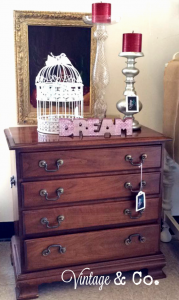 This end table or nightstand was in the shop, unpainted,
for a very long time.  I loved it with the 4 thin drawers, it was so unique!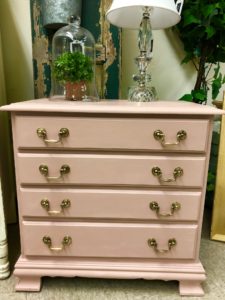 I decided to give it a coating of Country Chic Paint in "Enchanted" and it is now in a customer's home.
The color blush is very popular this year with designers so I plan on painting with this color again.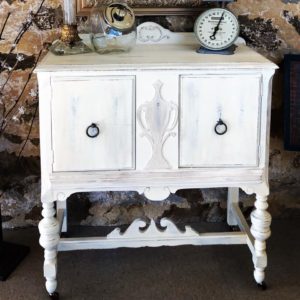 This 'old gal was given a coating of Country Chic Paint's Vanilla Frosting,
distressed and given a coating of the Natural Wax but in other areas, we used the Antiquing Wax. Gave it an
aged look.  It sold already but I wanted to share it in this post. We displayed it as a coffee bar!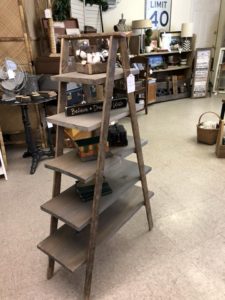 This ladder shelf goes very well with industrial or farmhouse
styles. This one sold in four hours! We have added another to the shop since.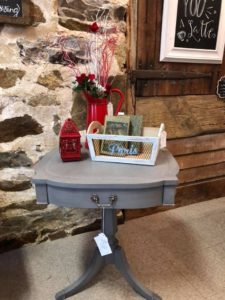 This is another pedestal table, a little smaller
and has one drawer. I painted it with Country Chic Paint in "Pebble Beach" and
coated it with their tinted Grey Wax. It gave it such a soft velvety looking texture.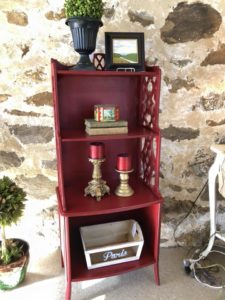 This piece was in the shop for many months, unpainted!
As soon as I gave it a coating of Country Chic Paint in "Cranberry Sauce" it really popped!
It too has already sold and is off to its happy home!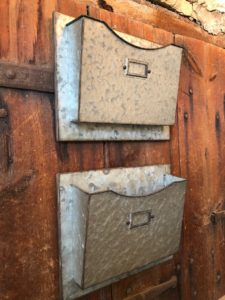 This next batch of what we call "Smalls" are perfect for
that farmhouse look which is still very popular.


Galvanized file folder wall pockets, the galvanized "windmill" fan blades,
and the signs mix well together.

Stop in and see them in person! We are open Tuesday thru Saturday. (Wed-Sat in the Summer.)
Tues -Fri 11 to 5
Sat 10 to 5
Our latest update…  Spring is right around the corner and so is
our woodshop/workshop! We are getting plans ready for some
hand crafted, custom made pieces to hit the sales floor.
Stay tuned!