Happy New Year everyone! Time flies when you're having fun, doesn't it? It flies when you are busy too. We definitely had fun in 2022 and I want to take a look back at our favorite furniture projects that were satisfying and gave us motivation and purpose. (Something I didn't realize would really matter when running your own business!)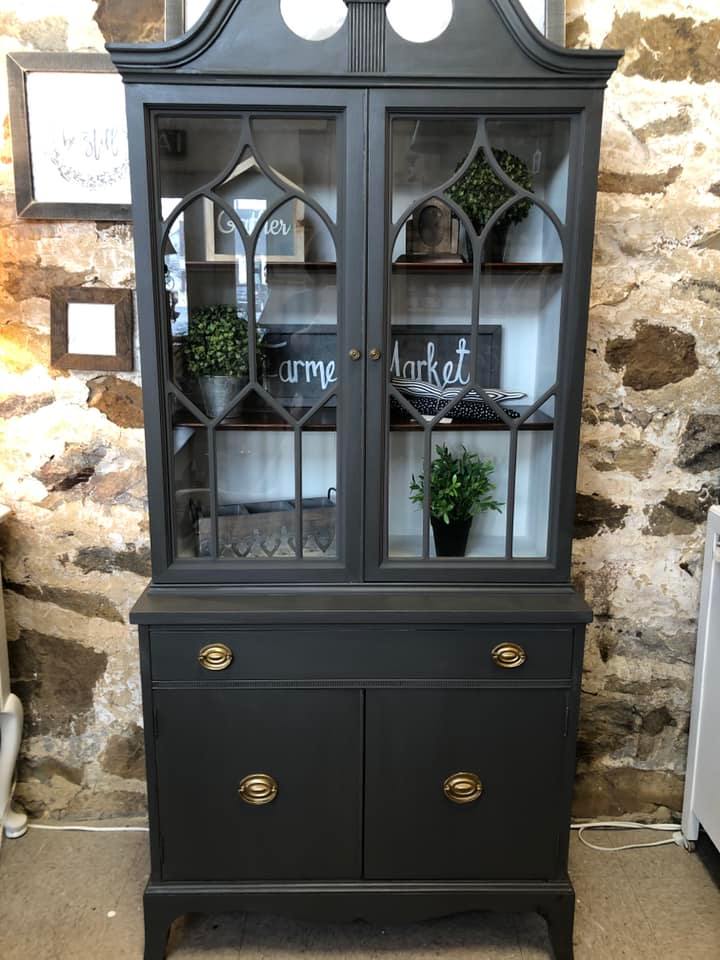 This vintage china cabinet turned out so lovely! I went in a different direction and chose a deep gray, Rocky Mountain, which I now love. This was a stand-out piece from the white interior to the shelves in their original finish to the gold hardware! And it sold quickly too. I will have to try this combo again!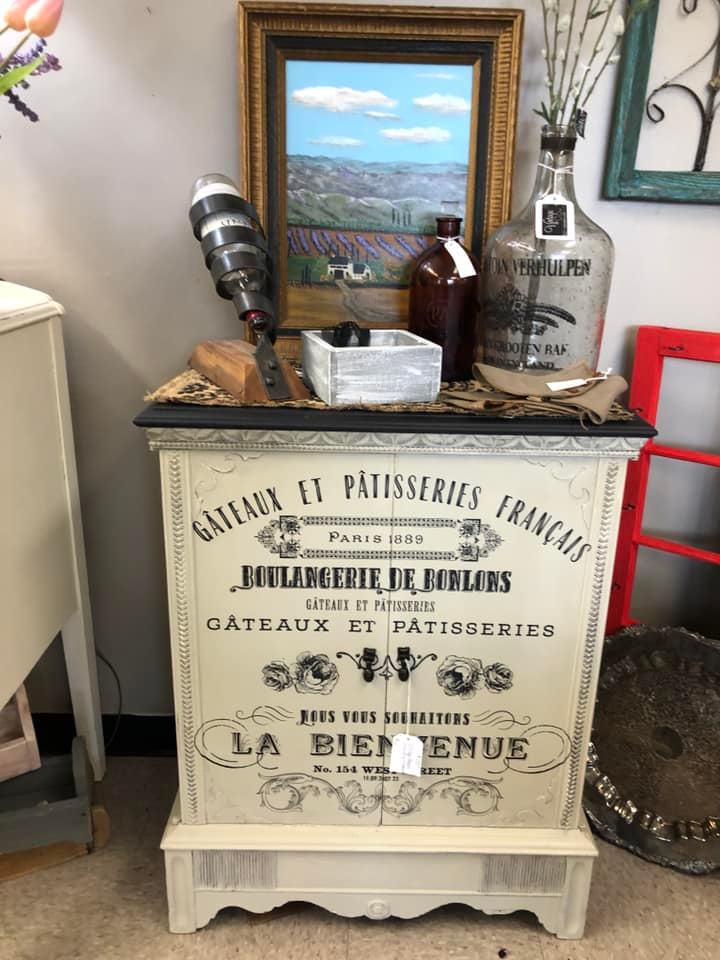 This little cabinet was very unique and had plenty of character. It just needed an update while still keeping its vintage style. After painting it in "Fairy Ring" (greenish neutral)) and "Liquorice" (Black) by Country Chic Paint, I used a French themed ReDesign with Prima Transfer.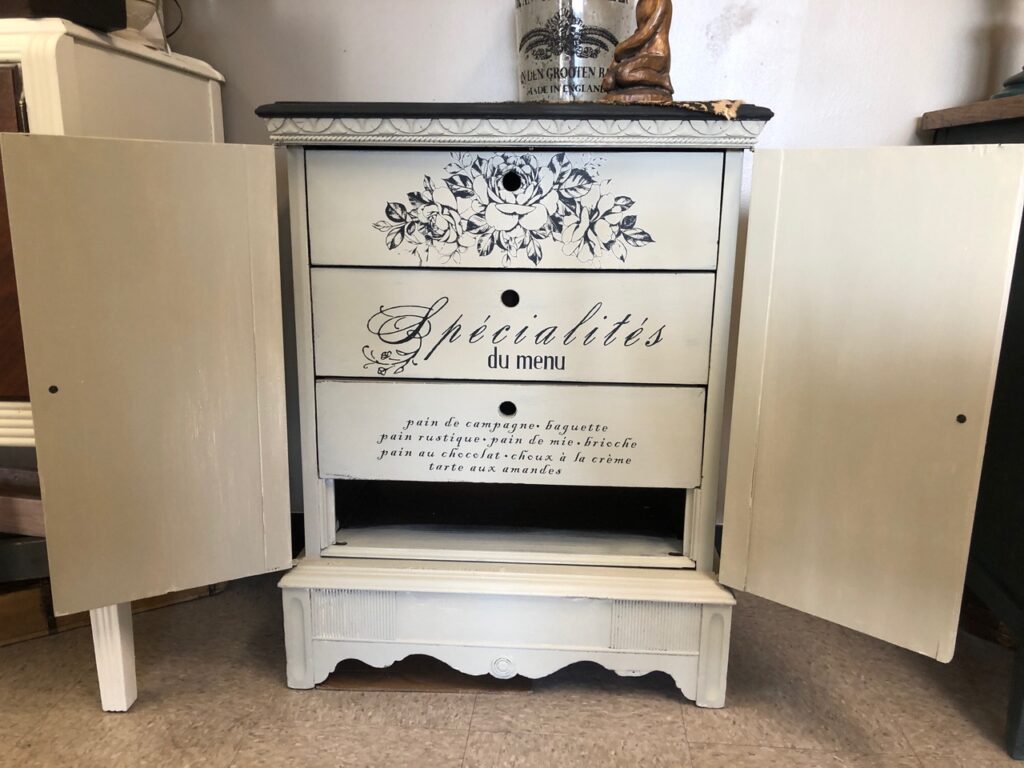 I continued the French theme inside, too. There were these unexpected drawers. I'm not sure what this cabinet was originally made for but it will be a keepsake due to its one-of-a-kind attributes!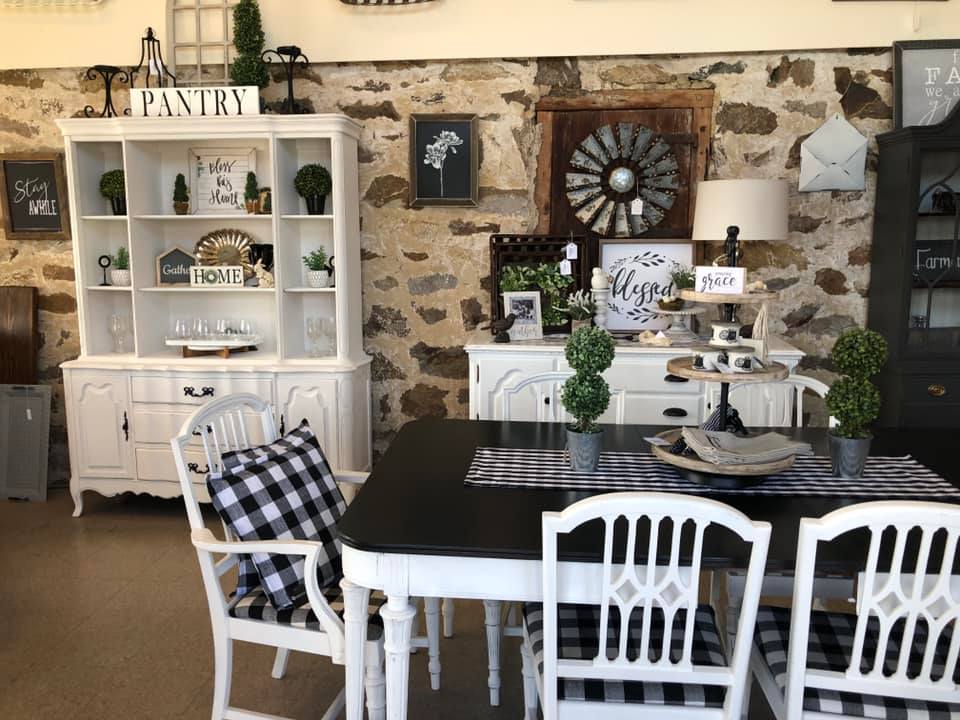 I'm sharing the two pieces together in this photo. The china hutch and the dining room set. One of our customers purchased both and the two pieces looked so beautiful together in the home. I love it when I get to see the new homes of the furniture we paint.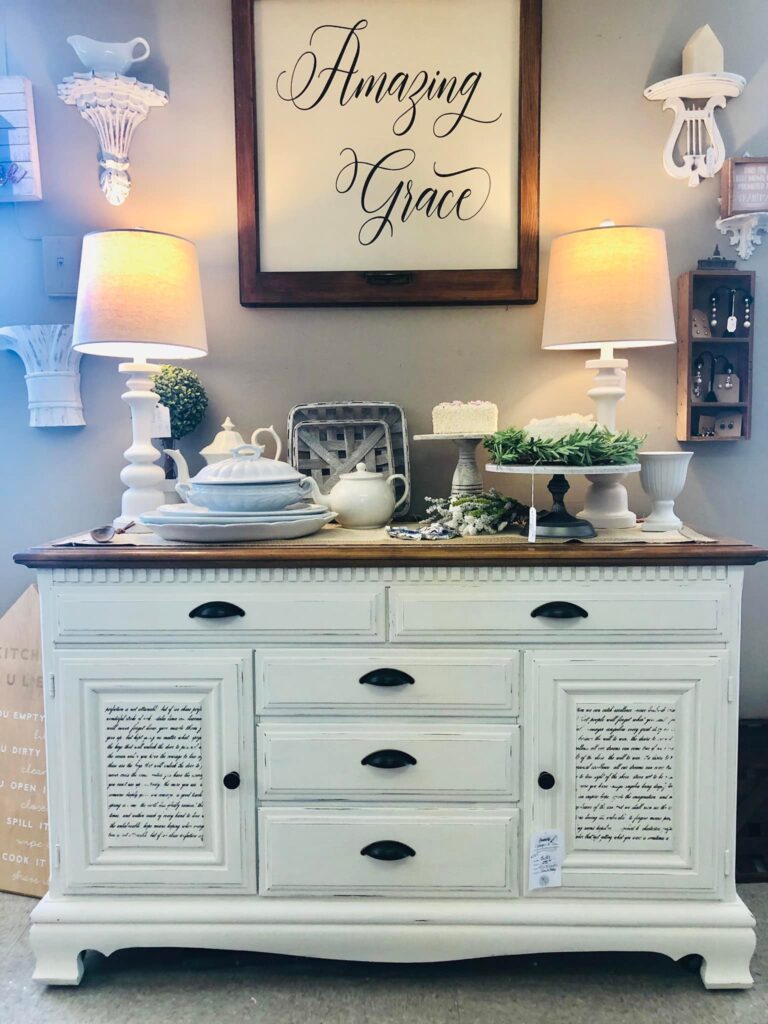 There are pieces of furniture that sell more often and a good solidly made buffet is one of them. Things like china cabinets, dining room sets, dressers, side tables, vanities, and mirrors are also the most often purchased pieces. We gave this piece a fresh coat of Vanilla Frosting, changed the hardware to cup pulls, added the French script transfer and left the top as is. I love how it turned out. A new look while keeping it in a classic, conservative style.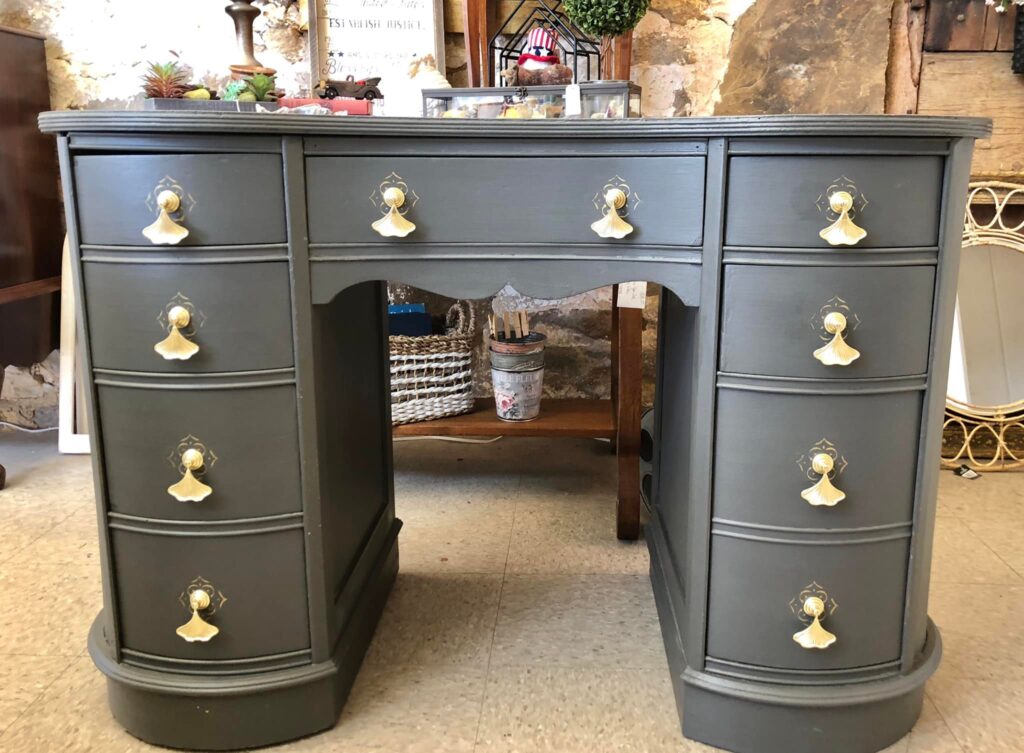 Now this kidney bean-shaped vanity was a commissioned, custom paint project, and again, I fell in love with the deep gray tone of "Rocky Mountain" by Country Chic Paint. The gold, gingko-leaf drawer pulls just popped against the background. I added a gold stencil design behind each pull, which was a last-minute decision that I'm glad I made! Our client really loved it.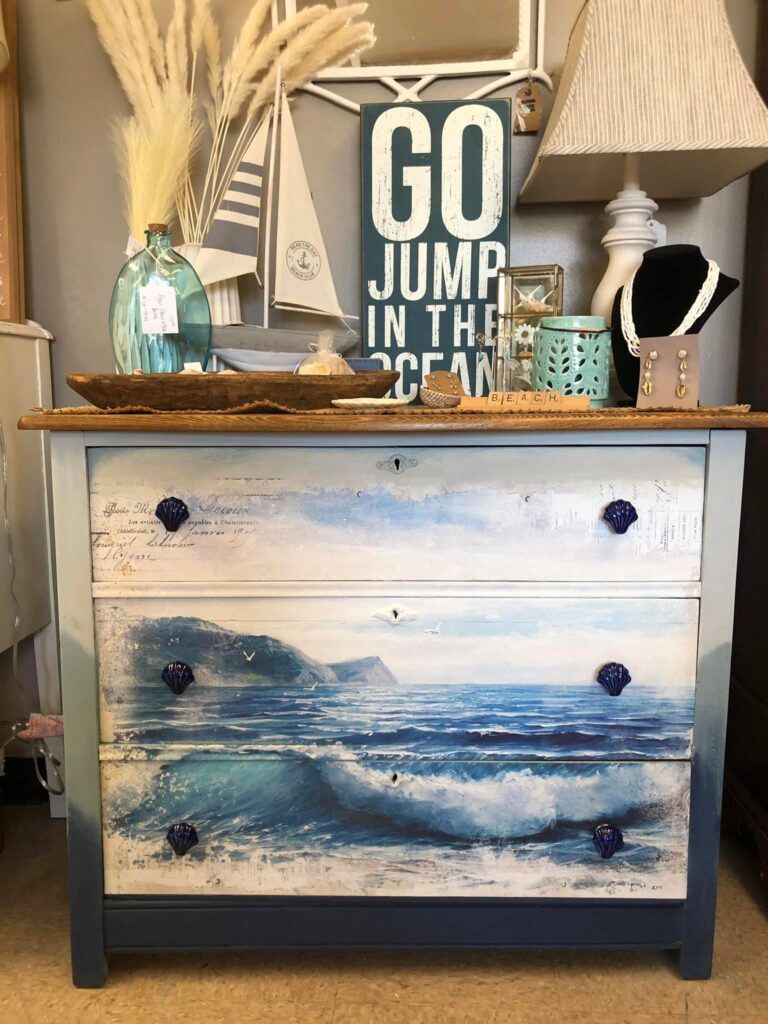 Whoever thought of creating these furniture transfers was a genius. Seriously, what a great way to transform an old piece. Between the quality of the clay-based paint to the smooth coverage of the transfer, you really can't go wrong. And as far as the ocean theme, you can't take the Jersey girl completely out of her seaside element. It somehow finds its way back! This one sold so I would love to do this on a piece for myself.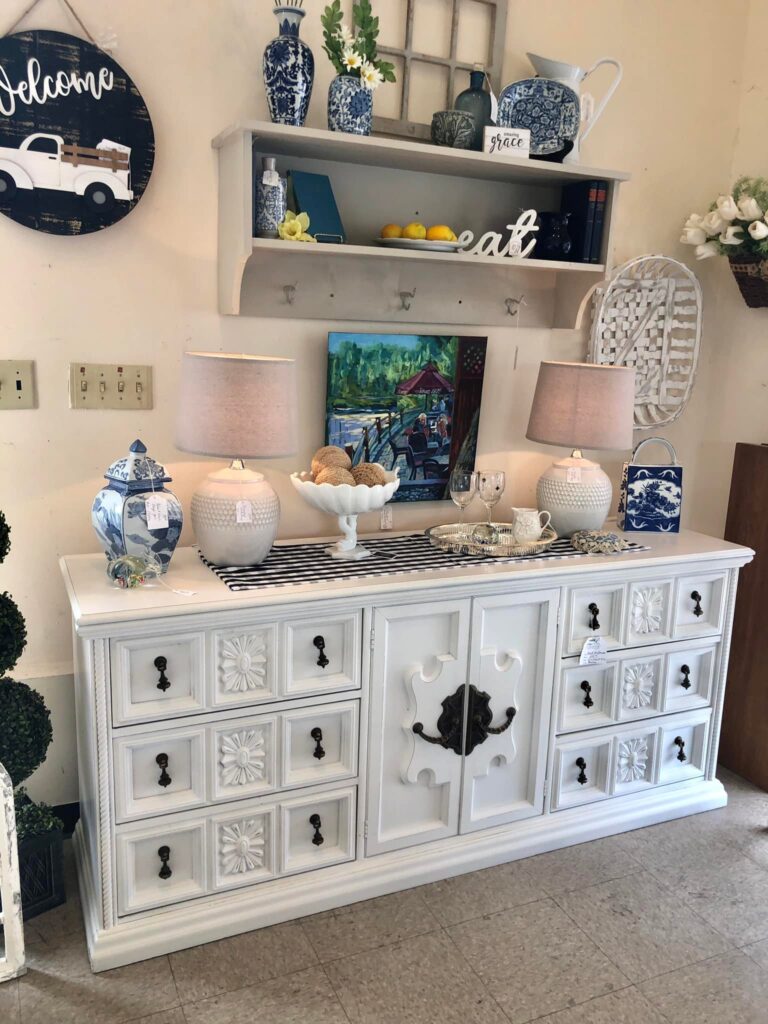 Large dressers are not easy to transport. But when you find one as unique as this, you find a way! There was just something about this piece I really liked. The Hubs, not so much. We had to move it from a second-floor home. Did I mention the stairs were tiny? We managed to get it down, into the truck, painted, and into the shop. It sold pretty quickly and the customer loved it just as much as I did.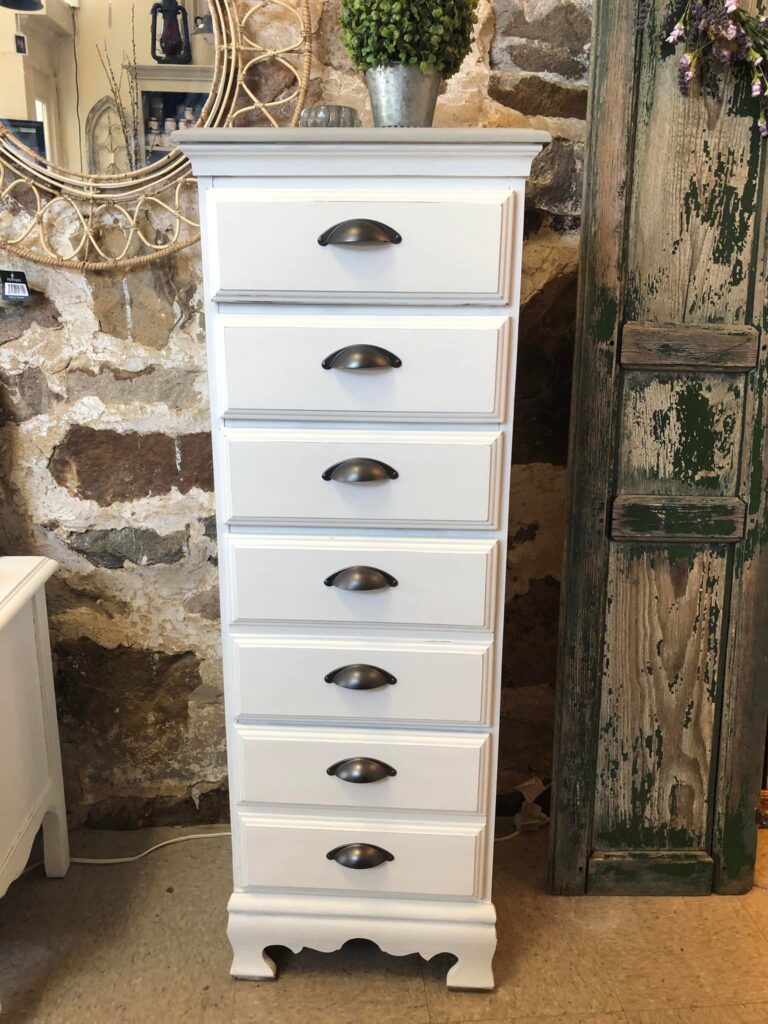 Who doesn't love a pretty lingerie chest? The amount of storage in this is worth every penny! We gave it a new look using Country Chic Paint in "Crinoline", then painted the top in "Pebble Beach," and changed out the old hardware for these brushed nickel cup pulls. Sweet new style! It sold right away, of course!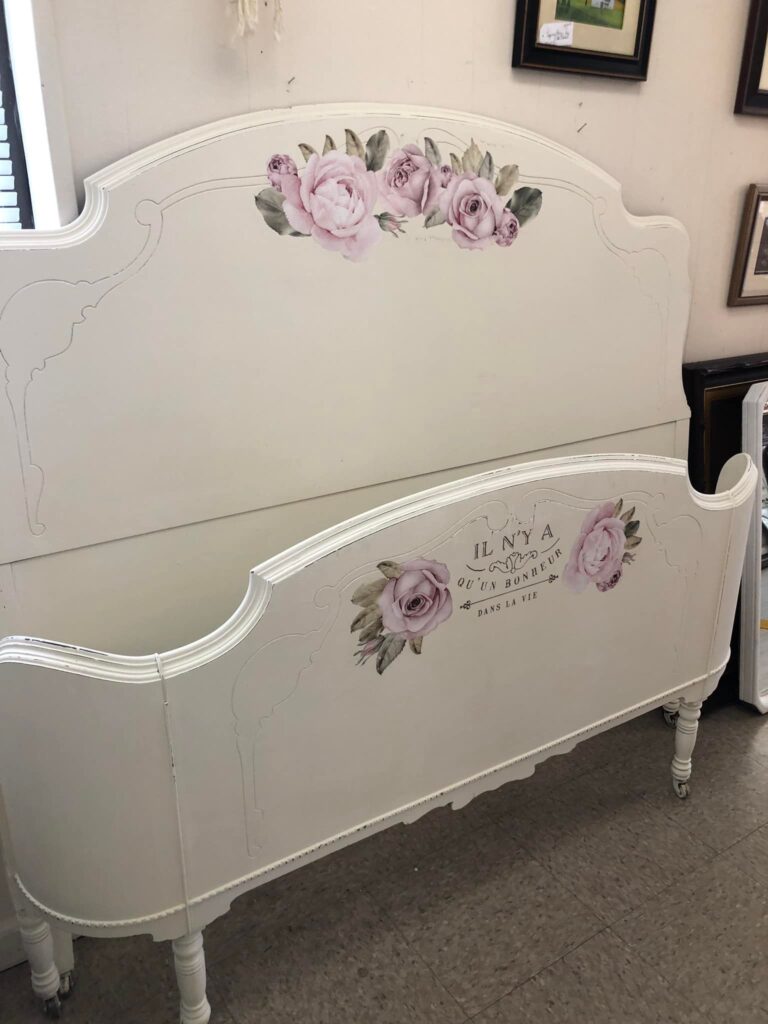 We rarely have headboards/footboards available in the shop but this one was so pretty and was perfect for a romantic French ReDesign with Prima Transfer. She didn't last long!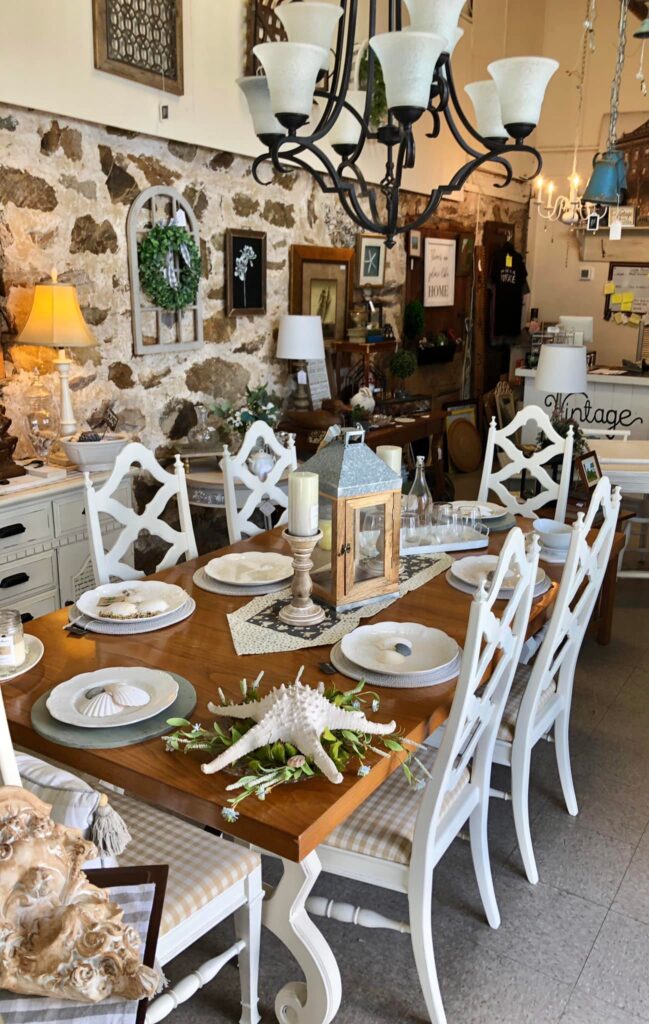 This Thomasville dining set was one of my favorites! Loved the French Country style and it was a seriously large piece, perfect for entertaining a large group. We gave it a warm glow with Country Chic Paint in "Vanilla Frosting."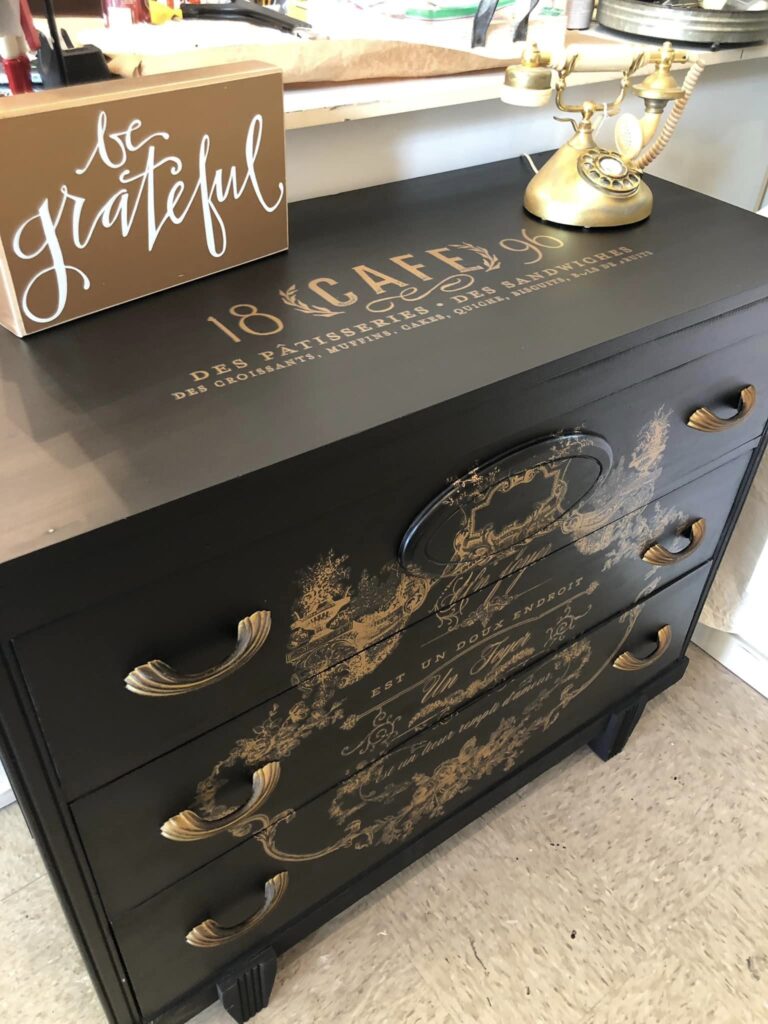 This is an awkward photo of this black and gold dresser but I wanted to show how the top was done with a transfer as well as a different transfer on the front. I kept the original art deco hardware and it matched perfectly. This almost never happens! But this time it did and the customer loved it all. Again, I just can't help but give kudos to the transfer fairy genius.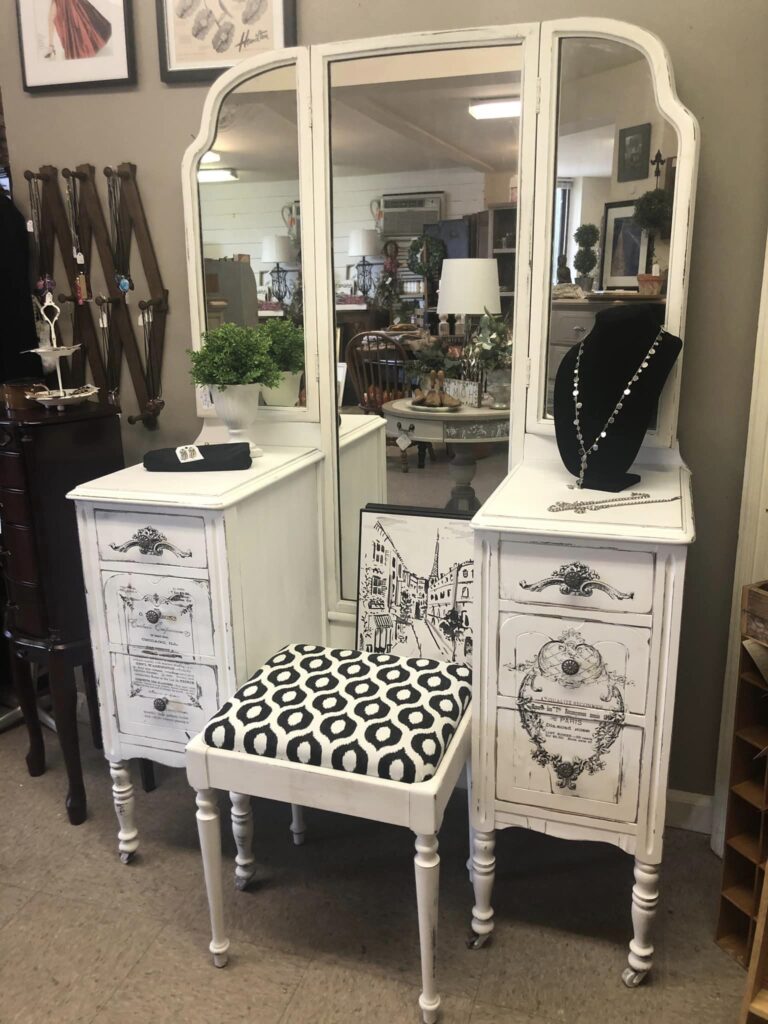 The Hubs for the win on this one! It was his first time trying the ReDesign with Prima transfer and I have to say, he did a GREAT JOB! This piece sold quickly too.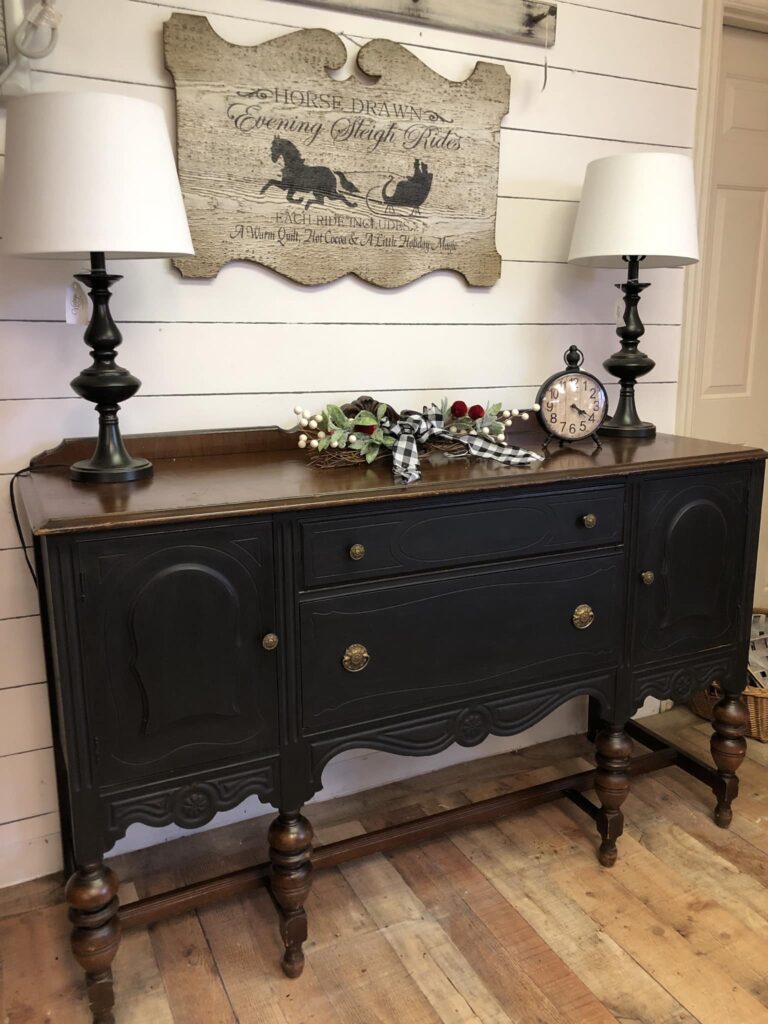 This piece was inspired by the "Horse Drawn Evening Sleigh Rides" sign. Loved the sign and wanted something to compliment it and this antique buffet was the perfect candidate due to the swirled/scalloped edge. If I had a chance to move into a large farmhouse styled home, I would put this piece in my family room. LOVED IT!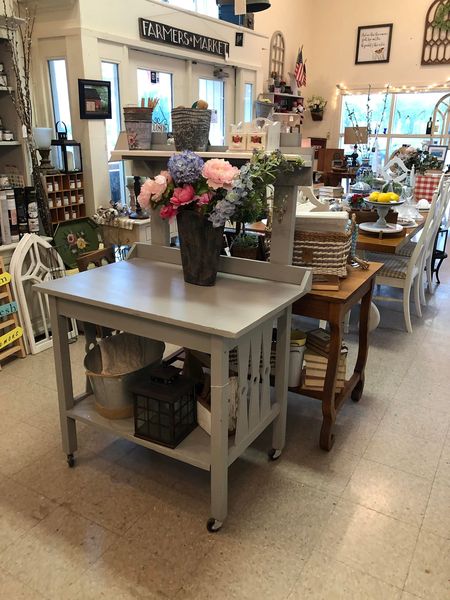 Honorable mention number one goes to the Hubs and his potting bench/cart. I had always wanted one for the shop and he created this out of a table we already had in storage. He is amazing and can make almost anything I have a vision for.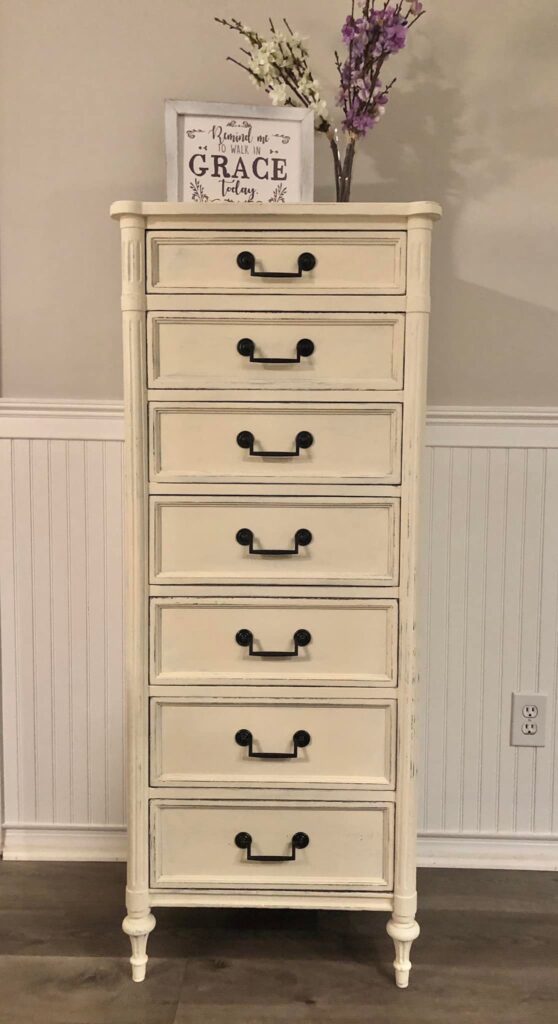 Honorable mention number two goes to the redo of my Sister's lingerie chest. It was given to her for free, the hardware was cool enough to stand the test of time, and well, we were in Florida so why not. Don't all people do furniture makeovers while on vacation?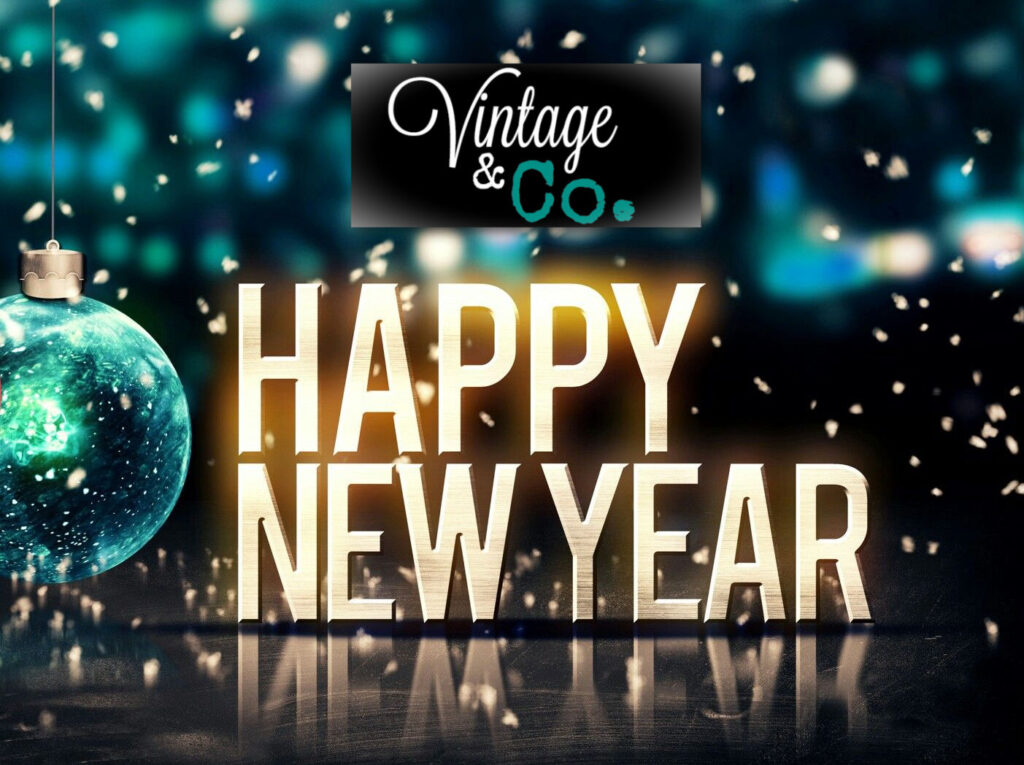 We look forward to more projects in the new year and as always, we enjoy helping you find the pieces you want for your home! Cheers!